Getting A Round To It
Nothing like starting your post with a bad pun, am I right? Hey, this is an awards show. The writing is supposed to suck. Last week we gave out the Shutter for Whiny Bitch of the Year, and Suzann Pettersen accepted it with great pride (no, not really). This week we'll drop the vitriol and spread some love to a player who shot golf's round of the year. Hopefully they don't fight over whomever I select as the winner.
And the nominees are:
Hiroshi Iwata, PGA Championship 2nd Round (63) – No one even knew Iwata was in the field of the PGA Championship until he lit up the Straits Course at Whistling Straits in round 2. First round 77s can have that kind of impact, especially when you're foreign and not ranked in the top 100 players in the world. All he did on Friday was improve by 14 shots and take advantage of the relatively benign conditions and soft greens left behind by the Thursday dusk storm. His score also tied the lowest round in major championship history with 20 some other guys.
Those don't grow on trees, and they're all going to get erased some day when Rory shoots 62 at a British Open. Hey, its still a historic round. And he went 7 under on holes 12 through 18 on the back 9. I've played there. I can't fathom that.
Jason Day, BMW Championship 1st Round (61) – Can you win the Shutter for Round of the Year when you didn't even set the course record? Of course you can, Phil did it two years ago. It all depends on how you did it, when you did it, and why it mattered. Day's 61 at Conway Farms loses a little luster thanks to Jim Furyk's 59 round on the same track two years ago. On the other hand, 9 birdies and an eagle to back up your prior win at the Barclays and your first major a start before that….that's being a boss.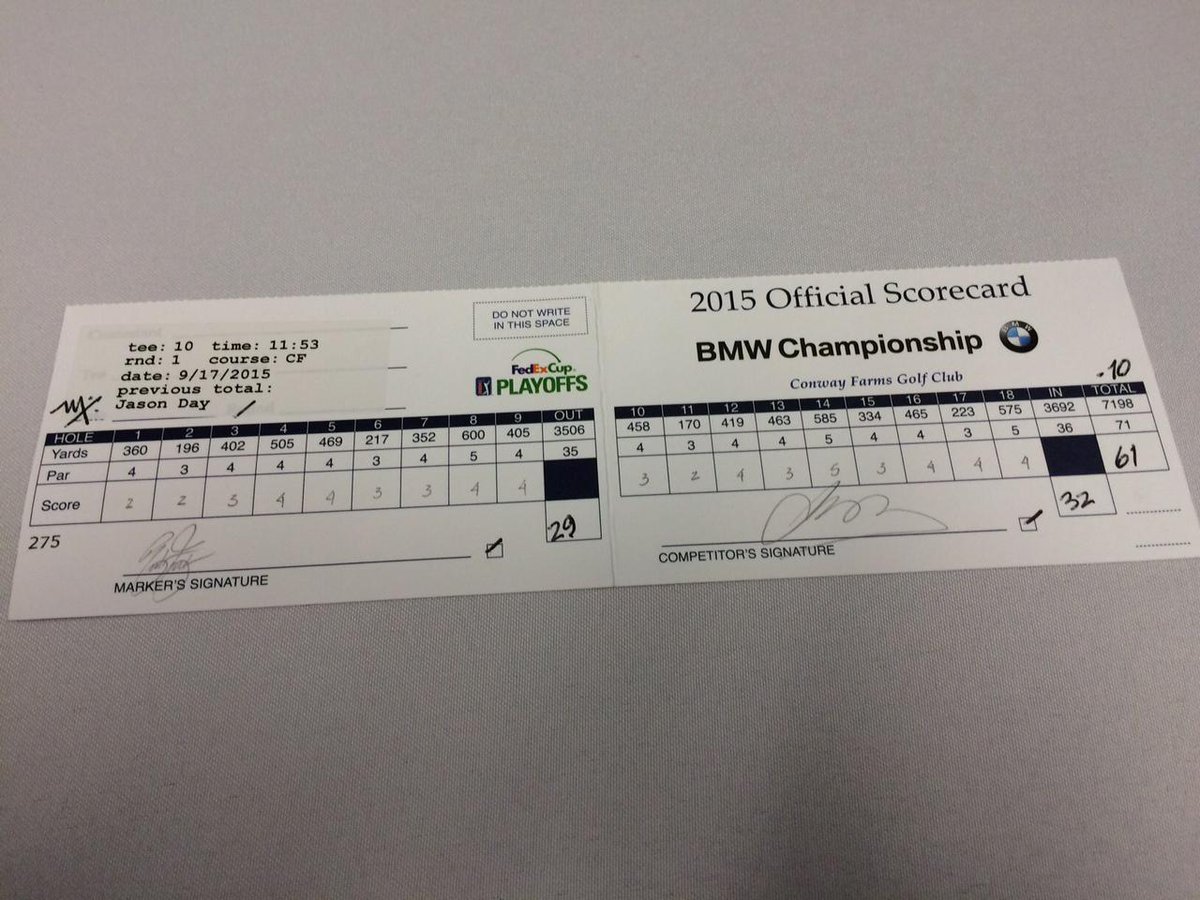 Day's 61 was unique because he was forced to wait to finish the final hole due to a weather delay. He slept on the fact that he could hole his next shot for a 59. Yes, it was possible, he was only 44 yards away from the green in the rough. It could have happened.
Rickie Fowler, Players Championship Final Round (67) – Sixty-seven and you're a nominee for the Round of the Year? You bet your fucking ass you are when you play the last 6 holes of TPC Sawgrass in 6 under par. Oh, and that merely got you into a playoff? I'd say he deserves the nomination. Fowler was electric on Mother's Day in May down the stretch in the Players. He wasn't even a blip on the first page of the leaderboard until he got hot. He was over par for the day before he teed off on the 13th hole.
Nobody does what he did, not there, not on that course, and not in the final round to get into a playoff.
Lydia Ko, Evian Championship Final Round (63) – While everyone knows 63 is the magic number in men's golf for a major championship, they probably have no clue what the low equivalent is for women. It is 62, by the way. While Ko didn't break that record with her final round 63 at Evian, she did just about everything else. She won by six and pulled away from fellow teen phenom Lexi Thompson with her effort. She became the youngest golfer (either gender) to win a major. And she's the only woman to ever shoot a final round 63 in a major.
If Tiger Woods circa 2000 had shot 64 at Augusta, on Sunday, to pull away from Sergio Garcia to win the Masters we would remember every shot he hit that day. For Ko, because this tournament was in France and because the ladies' game gets so few eyeballs on it, many golf fans don't even know her 63 happened.
Jordan Spieth, The Masters 1st Round (64) – Speaking of 64s at Augusta….. well actually, you don't often speak of them. They're pretty rare and have become even more so thanks to all the Tiger-proofing done to the course over the last 17 years. For Spieth, who was considered a Masters favorite after a 2nd place finish in his first go around in 2014, to come out with that kind of pressure and fire an 8 under round to set the pace for the week is beyond my comprehension. Perhaps he doesn't feel pressure that way. Whatever is in his DNA, it seems to make him respond at the height of all expectations.
For the record, the 64 includes a bogey at the par five 15th hole. A par there and who knows what we'd be calling his opening round. Spieth is already the golden boy. Can he grab another award to cap off his brilliant 2015?
And The Winner Is…
Not Hiroshi Iwata, that much I can tell you. And I'll eliminate Jason Day's 61 right now too. That leaves Fowler, Spieth, and Ko to battle for the crown. I can't give it to Jordan. His round was incredible, but I think the heroics of Ko and Fowler doing what they did in FINAL rounds makes what they did more brilliant. I'm going to go with Fowler.
While it may only have resulted in a 67, I'm not sure anyone has ever played a 6 hole stretch better, with that kind of pressure, in any professional event with the kind of cache the Players Championship has. Look at that highlight reel from the round above. And then he stones it dead at the playoff and walks off with his model girlfriend while her tits are hanging out….yeah, winner. Well done, Rick.
So what do you think? Did I completely blow this? Should Ko have won? Spieth? Weigh in with a comment or hit the poll.