20 Somethings Reign
The 2016 PGA Tour season has started with 3 young guns winning, all under 25 years old, now that Justin Thomas has won the CIMB in Malaysia. Thomas is the umpteenth Tour winner in a row in their 20s. I've lost track, honestly. Be young or go home. That is the current way of life on the PGA Tour. Thomas' win is the least surprising of any of the recent kid's victories. He contended in several events throughout 2015 and was 3rd in his last start at the Frys.com. His win was simply a matter of time, and that time was today, while most golf fans in America were asleep.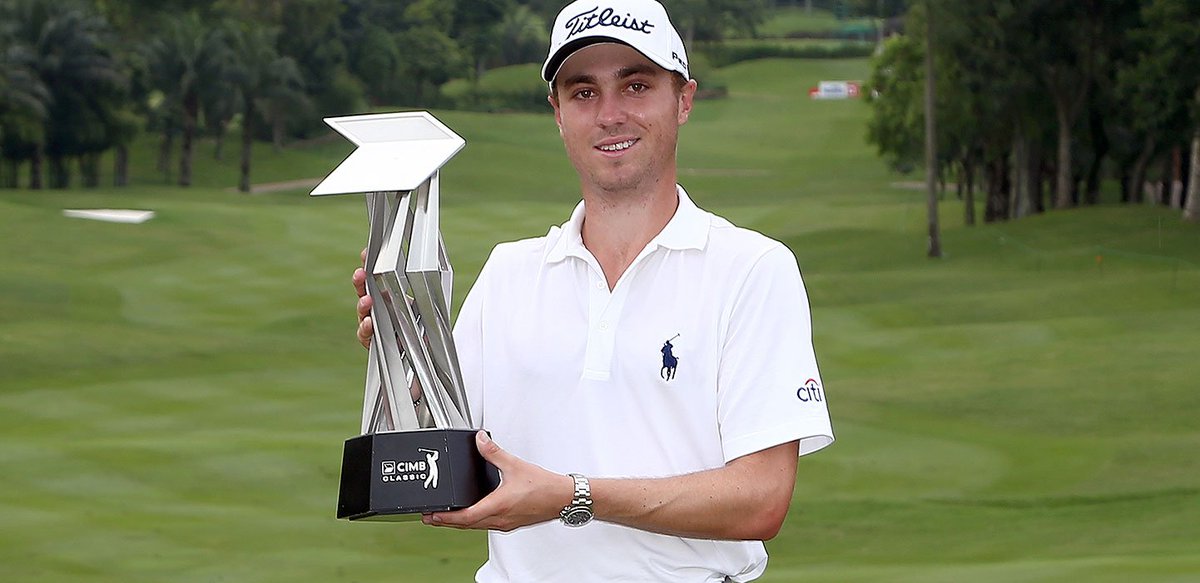 Justin's victory wasn't a cake walk. He had to fight off personal demons, as well as tough competitors like Kevin Na, Adam Scott and Brendan Steele. Thomas's day began a little sleepy, for him. All pars and an easy birdie on the first par 5 were the first 7 holes of his Sunday round. That is just about when I turned on the broadcast. Golf Channel analysts said that Thomas looked to be pressing, not having fun, not smiling….whatever that means. Not everyone needs a goofy FIGJAM smirk to be a champion. Thomas' tee shot on the par three 8th hole wasn't ideal. He hit the green but had 50 some feet for birdie. He looked frustrated after the tee shot. Then he canned the bomb of a putt to get the rest of his round started. Homie eagled 10 and birdied 13 and appeared to be in total control. But a fatted wedge into the hazard on 14 resulting in a double meant he now had to regroup to earn his virgin victory.
For Thomas rallying would be no problem. Stick in on the par three 15th hole, birdie. Wedge it close on 16 and make the putt, birdie. Repeat that on 17, another birdie and the solo lead standing on the 72nd tee. Adam Scott playing one group ahead had an eagle putt to get to 26 under and tie Thomas. He missed low. A simple par for JT would win. After running his birdie putt by the hole, his slider from 4 feet went in for the win. He seemed pretty calm throughout the roller coast last 6 holes played, except for when he ran to the pisser between 17 and 18.
Like several other bloggers, I'm a huge fan of Thomas. I'd take his swing over any other player's on Tour right now. I'd also love to have his Titleist contract and equipment. But where I really envy Justin is in his shoe game. Look at these badass Footjoy Icons he's been rocking for a few weeks.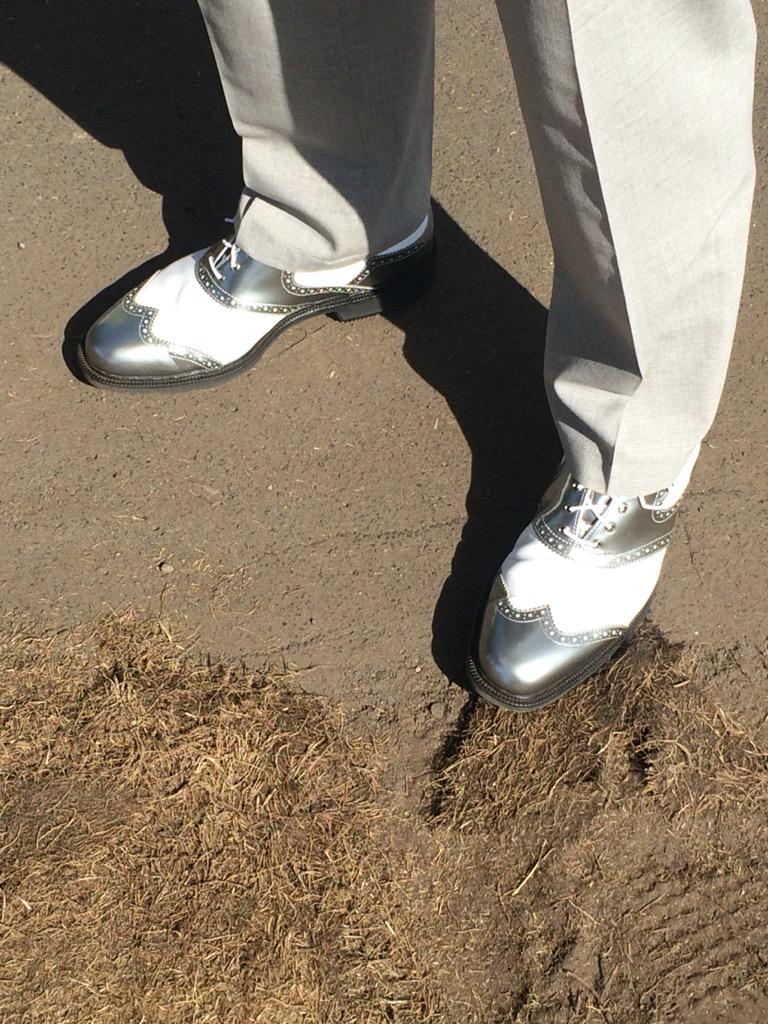 Those are the balls. And they summarize Thomas' game if you ask me. Lots of style, lots of flare, and too much talent to be denied. For more on Thomas' rise, the leap, and the bullshit journo narrative on JT, I highly recommend No Laying Up's post from early Sunday morning.
The Field
Solo 2nd, tied 2nd, and tied for 3rd are the finishes for Kevin Na to start the new season. That's pretty damn good for someone who has about half the talent of a Justin Thomas. And his bank account certainly shows the impact of his play. Kevin Na is out of his mind right now, but without a win in that bunch he'll be called a choker, a guy that can't finish, etc. That narrative isn't fair to most guys, but to Na the proof is there. Time and time again Na does something down the stretch of a tournament to let it get away. A foul ball, a missed short putt, a bad decision…..it is all mental for him. I'm not sure he'll ever get passed it.
Brendan Steele shared 3rd with Na. He played well all week and bounced back nicely from the Frys where he was the 54 hole leader and shot a final round 76. He seems to be close, but unlike Na I expect Steele to win this season. He's picking his spots in these weaker field events. That is a nice way to make money, gain Fed Ex points, and assure yourself of a good season before the big boys show up.
Speaking of big boys, as noted Adam Scott finished 2nd at the CIMB. His game looked as good as we've seen it since he was World Number 1 not too long ago. If I had to pick someone to win the WGC event next week, Scott would be my first choice. Now if he can just shut up Stevie Williams he'll have less distractions to worry about.
John Peterson somehow found his way into the 78 man limited field in Malaysia. Don't ask me how (no offense, John). John found himself in DFL place (besides Danny Lee who WD'd) on Sunday morning and decided to get his round started with a crowd pleaser.
Nice. And only fitting that Total Frat Move picked it up. Happy….errrr…..I mean, John, found something in his laid back approach. He shot 66 when he hadn't been under par all week in the previous 3 rounds.
Shot Of The Day
This is a tough call. Justin Thomas' fading long iron to find the green from the trees on the front nine or his holed bunker shot on the 13th hole to grab control of the tournament on the back nine? I'll take the bunker shot. That saved him a shot and he won by one.
That's the kind of shit that goes your way when you beat a good field for your first win on Tour.