Who Are These Guys? 
The PGA Tour slogan is "these guys are good". Or it was, perhaps they've moved away from that and I haven't noticed. During the early 2016 events (obviously played in this fall) I often catch myself wondering "who are these guys?" I follow professional golf closer than the average dope. I know who Kevin Na is. I know who William McGirt and Jason Bohn are. Before Sunday, I had no fucking clue who Smylie Kaufman was. Now, just like me, you know him as the latest 20 something winner on the PGA Tour.
Smylie is a Web.com graduate who earned his stripes on the development tour in 2015. He's also the grandson of UAB's former golf coach who worked with Graeme McDowell when he was a Blazer. Kaufman, an LSU boy himself, played his way to the big tour and came out gunning in only his 2nd event last week in Vegas. He made the cut yet found himself teeing off on Sunday 2+ hours ahead of the leaders. His 32-29=61 final round was posted before the leaders made the turn. However, once Smylie's final putt dropped on 18, he was the new leader at -16 in the clubhouse.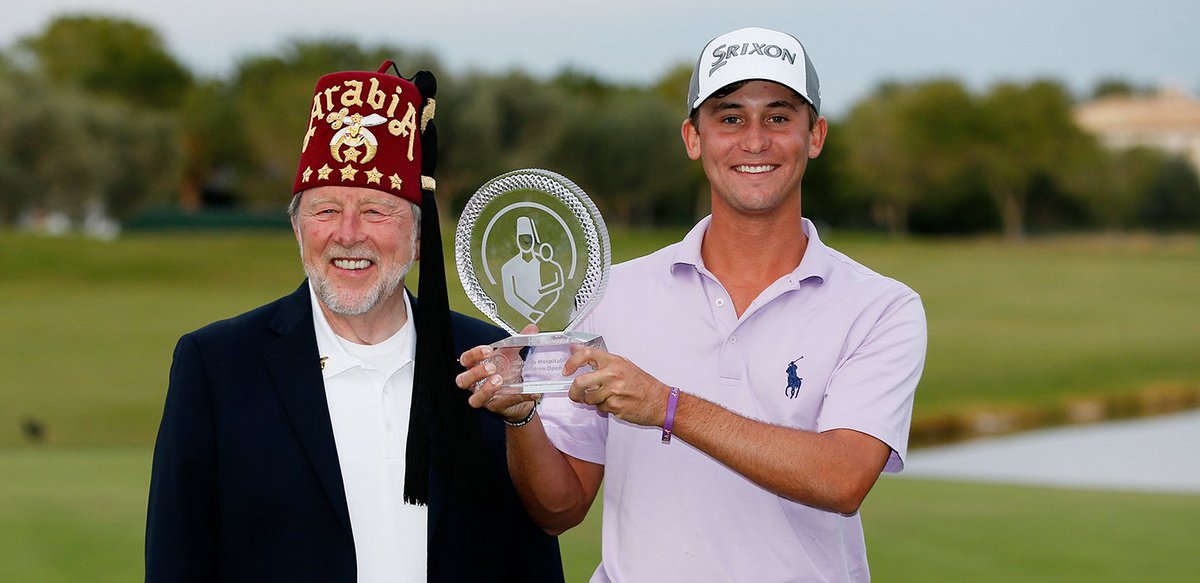 Kaufman's amazing final round held up as 6 players finished T2 a shot behind him. I have to say, if you're going to win early in your career like this, posting early and waiting out your challengers seems like the easiest way to do it. There's far less nerves in play when you're making birdies with no clue what score will win. Things sure would have been more interesting had someone tied him and Kaufman found himself in the playoff. I am not trying to hate on the kid, for the record, he was tremendous on Sunday. That 61 can't be taken away from him. He was also entertaining and engaging when invited into the booth with the Golf Channel crew. Here's his highlight reel as edited by the PGA Tour:
And who could be happier than Kaufman about the win???? Yes, his girlfriend. Oh honey is going to work for that ring now. That's her below. I know nothing of her other than her name is Francie Harris and she appears to have nice…..teeth.
These broads and their sunglasses make ogling a complete guessing game.
Seems as though she was an Auburn cheerleader.
https://instagram.com/p/9UWOgFyGLt/?taken-by=francieharris
That bottom one is from Sunday night with her man in Vegas. Smylie might be getting her in her prime.
The Field
Last week at the Frys.com Kevin Na lost in a playoff to Emilo Grillo. He made the playoff on guts. He lost the playoff because he got a little nervy with his attempt to hit a driver off the deck. On Sunday in Vegas, Na's demons showed up again. He birdied both back 9 par 5s to reach -16 and tie Kaufman. But in typical Kevin Na fashion he made a costly bogey on 17 and failed to birdie 18.
This isn't a fluke. It is a pattern. Na seems to be just good enough to not win. I think his negative thoughts and energy create a self-fulfilling prophecy that leads to defeat. He isn't a winner, but he's paid very well to play a game for a living and not win. I have no pity for him.
Cameron Tringale played great all week. He shot 66 in the final round, but sloppy bogies on 14 and 15 on a course as easy at the Vegas layout won't get it done. He finished T2 and probably didn't sleep well Sunday night knowing he was one shot out of the playoff because of a stupid penalty he incurred earlier in the week. Jason Bohn finished a shot out of a playoff last week in Napa Valley and did the same again this week in Vegas. He hasn't won since New Orleans in 2010. He came up short again this week, but unlike Na he I feel like he's just might get one soon. Nick Watney also appeared from nowhere to contend a bit in Vegas. He finished T11 at 12 under. That doesn't sound impressive, but Nick has been MIA for quite awhile. Welcome back.
Then….in DFL after a DQ there's Ben Crane. I like Crane about as much as I like Kevin Na. Both players bore me to tears. At least Na has a trainwreck-like quality that draws me in to his back 9s on Sundays. Crane is just boring. And so are his "look at me" Youtube videos. Crane DQ'd in Vegas due to a rules violation he called on himself. He explained via Twitter: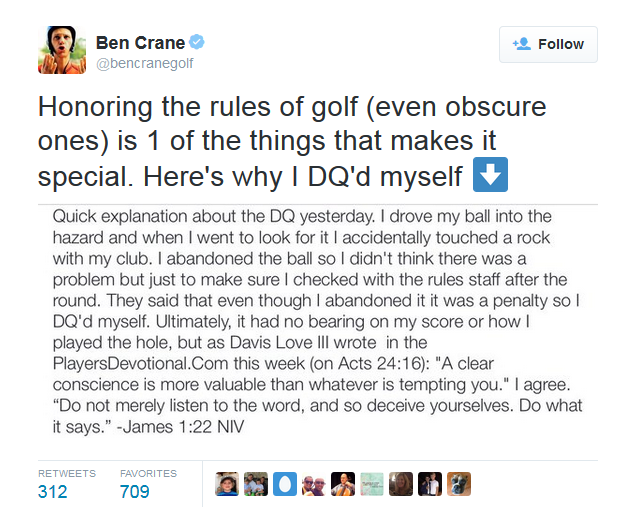 Oh, ok, great. Thanks for that you lily white mother fucker. Crane shot even par 71 in round 1. He wasn't likely to make the cut anyway. So he takes the high road and DQs because he touched a rock in the hazard with his club. That part is fine. If you had done that and gone about your business I wouldn't bat an eye. If you had done that and said why on Twitter, that would be fine too. But to go suck DL3's ass in your message and reference the bible twice on top of that? Fuck off. Hey, believe it or not, I'm a Christian. I love Jesus. But God, Jesus, and the Holy Spirit don't worry about what Ben Crane does in a golf tournament. If his violation really had mattered, the golf gods would sort it out. Just ask Colin Montgomerie.
Shot Of The Week
You could pick almost anyone of Smylie Kaufman's shots shown in the highlight package above as the Shot of the Day. But none of them would be better than what Tony Finau did on Friday during his 2nd round. At the par five 13th hole, Finau dropped his 5 iron shot from 236 yards for an albatross. You read that right. Great fucking shot Mr. Finau. Alright PGA Tour, roll the footage………what…..what the fuck do you mean you don't have it? How can that be? Aren't you supposed to be showing live action on line during Thursday and Friday action? What do you mean you don't do that during the fall events? Are they not important enough to you? Aren't your subscribers paying $5.00 a month for that service? Hmmm……this all seems like a short sighted rip off. But I guess that isn't my problem.
You kids will just have settle for the laser 3 wood Tony hit at the drive-able par 4 15th hole later in his round.
That was pretty saucy. And I really dig the reverse angle pro-tracer. The PGA Tour giveth and taketh.
How Many Beers? 
We haven't played this game in a while, have we? I probably owe BustedCoveage.com some sort of royal for his, but that is Joe's problem. In case you can't tell, the image below is of Lexi Thompson. She's 20 years old now so we can pose these kinds of questions and not be seen as complete scum of the earth. And hey, she's the one broadcasting so much skin on the internet.
So you've got this far, you've made it past the tan lines…..how many beers? She's fit. There's no evidence of her having a penis. What is your number? Me? Oh no….no, no, no….there are not enough beers in the world for me to get passed her uni-brow. But you go right ahead. Hit the poll. Maybe I'm crazy.