So What If I Didn't Call It The Frys.com Open
The Presidents Cup was a week ago. You blinked. And now the PGA Tour off-season has ended. The 2016 season started last Thursday in Napa Valley, California with the Frys.com Open. What the fuck? You weren't watching? Hey, I can't make you tune in. I know Fan Duel has you in a tizzy about your 37 different fantasy teams on Sunday afternoon. Wipe that nacho cheese off your face and find the Golf Channel during commercials once in a while. That's the only way you'll see young guns like Emiliano Grillo doing their thing en route to their first PGA Tour victory.
That's Grillo, above, your newest PGA Tour winner who is also one of its newest members. Grillo just won the Web.com Tour Championship two weeks ago. Shit, he's not even verified on Twitter yet. This week he kept the train running by taking the Frys.com. Next he'll win the Masters.com. Ok, that's a bad one. You get the point. Grillo is a young Argentinian who you should have known about before Sunday. He's been ranked in the top 100 in the world for a while and has made some noise playing in Europe in recent years. He's also another member of the great 2011 class that contains Justin Thomas, Jordan Spieth, Daniel Berger, and others. Grillo was even recruited to play with Spieth at the University of Texas but turned pro instead of being an NCAA indentured servant for a few years. He turned 23 last month.
Grillo started the day looking up at 3rd round leader Brendon Steele. Once Steele puked all over himself the tournament was wide open for the rest of the field. Grillo posted 15 under early and watched as challengers like Justin Thomas, Jason Bohn, and Kevin Na tried to birdie the final hole to force a playoff. In the end it was only Na who could match Grillo and the twosome played the 18th in sudden death. The first time around Grillo looked like he'd locked up the win by pitching his 3rd shot on the par 5 to a few feet. Na had already missed his birdie attempt.
Brutal is accurate. Credit to Emilo for rallying and making the comeback putt. Na had new life, but screwed the pooch again on 18 and left Grillo a 10 footer to get down in two for the win. He made it and became golf's newest 20 something millionaire with one good weekend of golf in Wine Country. Two wins in two of your last two events….that's not a bad way to introduce yourself to anyone in the golf world who doesn't already know you. What's next for Grillo? Who knows. He looks like the next big thing, but lets not crown him just yet. He might just be the next Jhonny Vegas (who was playing the Frys on a sponsor invite because he no longer has status on Tour). For now he's moving up in the rankings and headed to WGC events, the Masters, and any other tournament he wants in 2016.
Mrs. Grillo
Yes, at 23, Emiliano already has an old lady. It appears as though the happy couple was married just a few weeks ago. Marriage apparently agrees with his golf game. Here she is: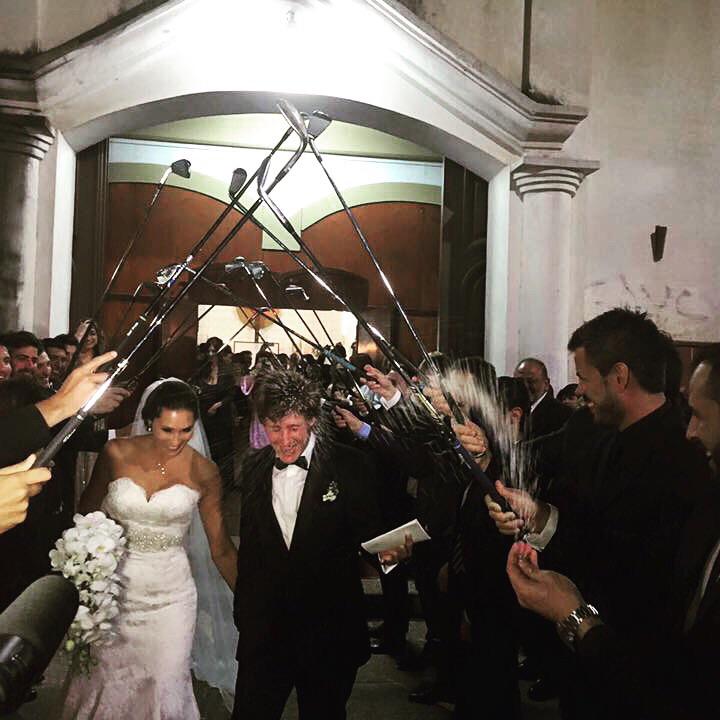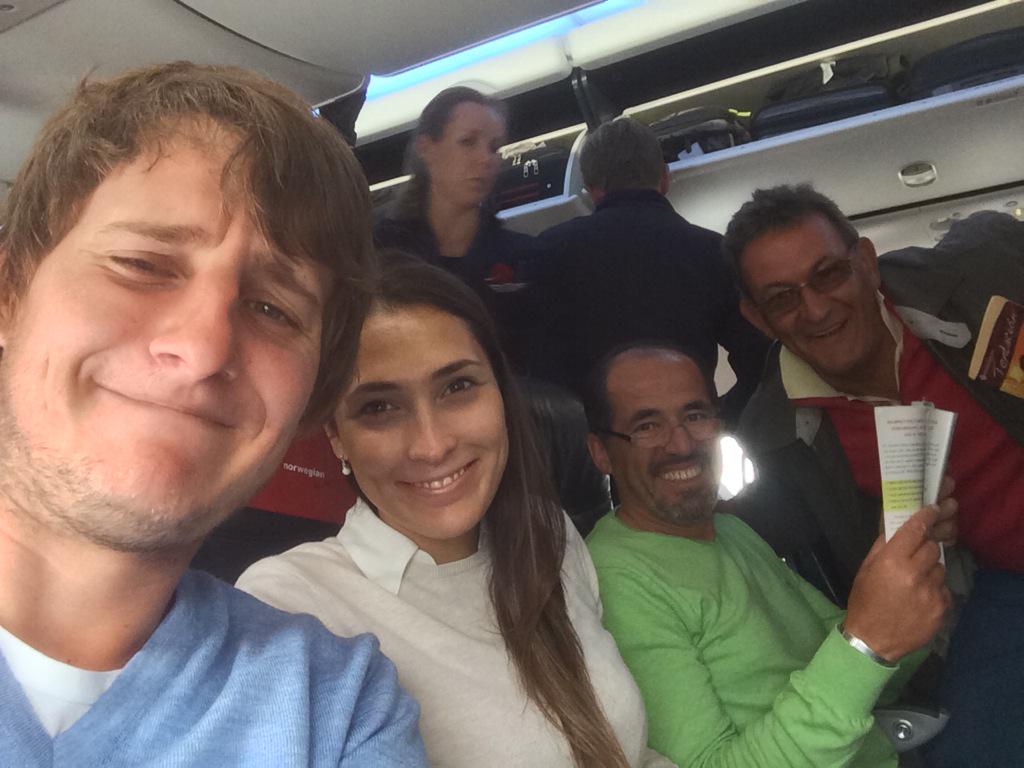 That's all I've got. I surveyed all of his Twitter pics just to find those. And no, I'm not going to comment on her. That is your job.
The Field
Kevin Na in any playoff means I'm probably rooting for the other guy. That held true this week too, but Na did win a part of me over during the bonus golf he and Grillo played on Sunday. First, Kevin gutted out a huge birdie after waiting for Jason Bohn to get a drop from a hospitality tent (probably felt like a normal pace for him). He got up and down from 55 yards for a birdie. His putt was dead center. Then after surviving the 1st playoff hole thanks to Grillo's yip Na went for broke from the fairway hitting driver to try to reach the green in two the 2nd time around. The effort was there, but the execution failed.
The Golf Channel guys are giving all the reasons why this is the right play, then Na does the only thing they didn't discuss by hitting a smother hook. I saw the ball above his feet and knew that's what would happen if I tried that shot. Na didn't back off his decision in the post round interview. He said he hit that shot 6 times all week, pulled it off each time and he'd do it again if he had the chance. Bold. That's a Kevin Na I can root for. Na also hit a FIGJAM-esque shot through trees in his attempt to recover from the duck-hooked driver. He's all guts. I love his spirit, I just hate his punk attitude and slow play. I will give him credit. He's getting better in every way he can in the interest of fan appeal.
Justin Thomas' name again showed up on a Sunday leaderboard. And again it didn't finish at the top. He's so close, but how much more can he keep rebounding from? The scars are growing. And he's too good to not eventually get his. This putt was what kept him from being included in the Na/Grillo showdown.
I would have thought Vegas would be the perfect venue for JT to get win #1. Strangely, he's not playing so he can rest for a few events in Asia he'll play over the next few weeks.
Charl Schwartzel made his way straight from Korea and the Prez Cup to Northern California. Charl played well and would have finished T3, 1 stroke out of the playoff, if he hadn't been dinged with a two shot penalty for being late to the first tee. The thing is, he wasn't even late. He was confused about his starting time and location and therefore was not present when the first player in his group teed off. Chest Hair Charl showed up just in time to hear his name called and hit his shot. Too late. Damage done. I knew that was a rule, but somehow Gary Koch and Peter Jacobsen didn't?
Rory McIlroy was in the Frys' field. He was -9 and finished T26 while putting like an amateur for much of the week. I'm still trying to figure out why he was there. He looked disinterested. Brendan Steele (who I noted was the 3rd round leader) probably didn't sleep well on Sunday night. His 76 dropped him all the way to T17 when a mere 71 for the final round would have put him in the playoff. Jason Bohn gagged too. He slapped it around for most of the final 3 holes to finish T3 and one shot out of the playoff. This includes a chunky 3rd shot at the par five 16th that lead to a bogey on one of the easiest holes on the course. Nerves are why some journeymen will always be journeymen.
Shot Of The Day
Winning on the Tour is special, no matter how good you are or how high you're ranked in the world. You have to play well, and you have to get a few breaks along the way to get the big check and trophy at the end of the day. Grillo had a bit of that on Sunday when he holed out from the greenside bunker on 10 for the SFG Shot of the Day.
Grillo's putt on his 72nd hole was a close 2nd, but I hate making putts the SOTD.