I Thought Captain Haas Was Trying To Lose
Haas made 3 brilliant captains picks and set a pretty decent line up on Day 1 of the Presidents Cup. His team did win, but other than that he was pretty shitty in his captain role. He's been lauded for being laid back and producing a relaxed vibe that is usually absent from the Ryder Cup. Well fuck, can't anyone do that? Didn't they say that about Davis Love at Medinah? Haas didn't win because of any moves he made past Thursday. He won because his players played marginally better. And lets face it, he had better players to begin with. An International team with Anirban Lahiri and Steven Bowditch shouldn't scare anyone.
A win is a win is a win, but I still feel like the U.S. Team lost. And that isn't a bad thing. In the end, Nice Price and the Internationals made the matches as close as humanly possible with only a 1 point defeat. That had to happen for interest in the matches to be sustained throughout the weekend. There were plenty of tweets saying the event was over after a Thursday white-washing by USA and a 4 to 1 lead. Not so fast my friends. If you missed it, the International team rallied on Friday and the two sides played to an exact draw from there on out. The one point margin from Friday held up until the final putt of the final match was conceded.
The singles line up set by Haas and Price did TV no favors. We should have had Day v. Spieth in a late match. Those two didn't face off. And Price used his hottest player in Bae, playing in his home country, as his anchorman. What if that point hadn't even mattered? Bae should  have gone out early to beat an easier opponent to set the tone. Captain Haas put his son, a captain's pick, out last in singles. He probably hoped it wouldn't come down to Bill, but why put him in that spot? Luckily for the Haas family Bill held up his end of the bargain (sort of, he beat Bae but neither player broke par). Both Jay and Bill were overcome with emotion after their victory.
The M.V.F. 
That's most valuable FIGJAM to you. Phil was the man of the matches. To pick him for the U.S. team could not have worked out better. He didn't lose. He rallied the troops. And he made the whole spectacle pretty damn entertaining. Tim Finchem should let him pick his own team and be a playing captain for the next 5 matches as a thank you. The only thing Phil did wrong was play the wrong ball on Day 2. Huh?
In foursomes (alternate shot) players can use whatever ball for whatever hole. I'm sure they alternate type of ball based on who is teeing off. In four ball players play their own ball through the hole, therefore the one ball rule is in effect. Phil forgot the rule and played a different model of Callaway ball on the 7th hole. When he realized his offense and reported it the official with the group said he was DQ'd for the hole. That was incorrect. He should have finished the hole. The penalty for Phil's gaffe was a hole adjustment after the current hole was completed. Phil and Zach Johnson were all square with their opponents prior to his fuck up. Zach lost the hole playing by himself after Phil picked up wrongly. After the adjustment they found themselves now 2 down 1 hole later. Who knew that could even happen?
After the round Bitch Tits seemed pretty proud of himself that he and Zach halved their match even with all the drama. Phil was a big part of their comeback thanks to a hole out from a bunker. He had this to say in his presser.
The man has a big pair on him, doesn't he? His reward for being 1-0-1 through 2 days was a seat on the bench on Saturday morning. That makes sense. Rest the big guy for the afternoon. He seemed content with that.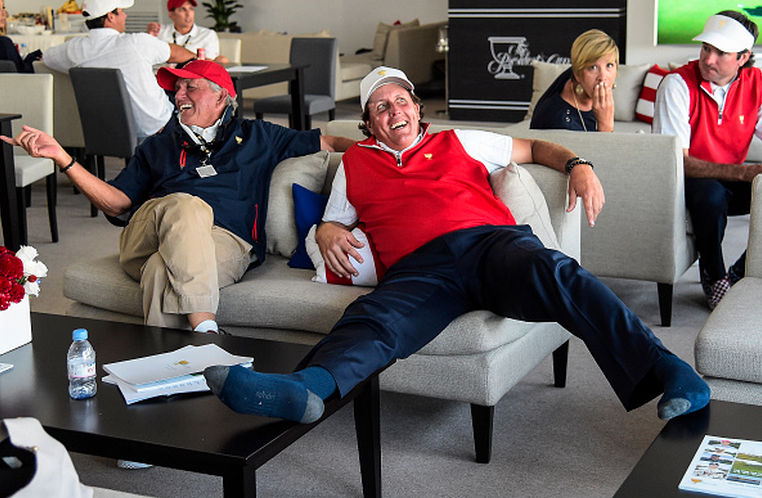 And everywhere you looked during those idle (for Phil) matches, there was FIGJAM rooting his mates on and adding a little levity to their experience.
I hear if you rub him twice he squirts. Good show, Phil. Don't ever change.
Shot Of The Week
I just told you what it was. Phil was the most valuable guy to the entire exhibition so he gets the Shot of the Week for the fairway bunker shot I previously mentioned.
That's a big shot for a big half of a point when your team only wins by one.
Better Than Wearing A Kilt
Remember last year when the Euros won the Ryder Cup and a picture of Rory McIlroy in a kilt celebrating victory went viral? Well, here's this year's version of that. Except this time we see a defeated Adam Scott in a kangaroo outfit with Fred Couples doing some kind of Crocodile Dundee thing standing next to him.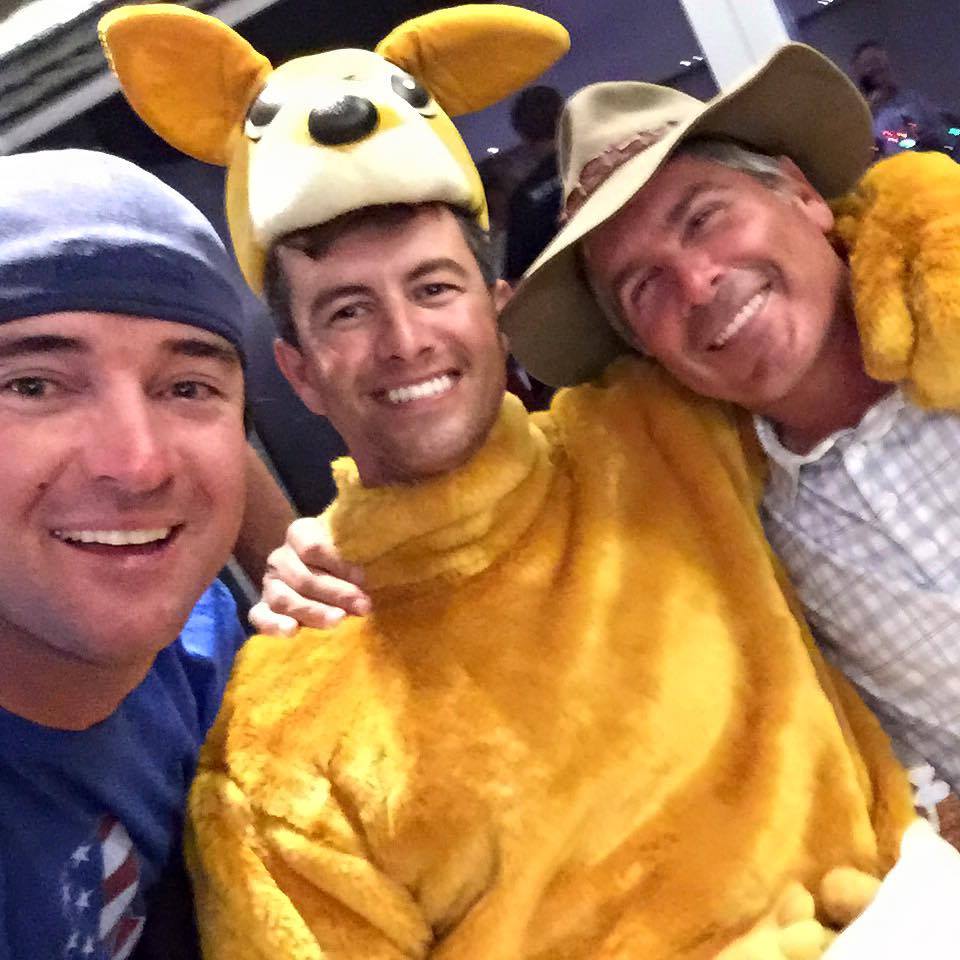 He must have lost a bet. The problem with this picture is that everyone looks sober except Freddie. The photo was tweeted out nearly 36 hours after the matches ended. Feel free to do your best to caption it in the comments. I've got nothing right now because I can't take my eye off Bubba's dumb look in it.
Grading Out
Twelve men on each side. Each of them played a role in how the Presidents Cup was decided. This is my attempt to grade them for their efforts, or lack thereof.
United States
Rickie Fowler: 1-3-0 Dude earned 1 point all week. That's not all his fault. He was weighed down by Jimmy Walker's heavy ass (shitty game). Rickie also got killed in singles by Adam Scott and didn't bring his model girlfriend to Korea. Are they on the outs? D+
Bill Haas: 1-1-1 Billy boy won when it counted and was a wash for the week other wise. B
J.B. Holmes: 2-2-1 He was awesome considering he was added to replace Furyk at the 11th hour. He also putted like I've never seen him. B+
Dustin Johnson: 3-1-0 I think Spieth carried him to a few wins. He should have beat Danny Lee and not halved his singles match. B
Zach Johnson: 3-0-1 Could have been a co-MVP with Phil, but that handshake thing that was his idea was stupid. A-
Chris Kirk: 1-2-0 If Lahiri didn't give him one he'd be getting a D. He was a liability this week but I'll bump him up a bit for having a hot wife that is way too good looking for him. C-
Matt Kuchar: 0-2-1 The big bagel for golly gee Matty in the win column. A boring half point makes his grade a D+.
Phil Mickelson: 3-0-1 Team stud, team good luck charm. I'd give him a perfect score if he hadn't played the wrong ball. A
Patrick Reed: 1-2-1 Reed lost more points than he won and he still probably thinks he was the MVP.
He's never shy on swag, even if it is misdirected. C
Jordan Spieth: 3-2-0 No shame in his showing. And I'm sure as world number 1 he was getting extra effort from his opponents. B+
Jimmy Walker: 1-3-0 I like Walker, but his only point came from Fowler dragging him across the finish line. He's been bad for months. D-
Bubba Watson: 2-1-2 All square, right. I'll give him this. He didn't let the cell phone cameras get to him. He didn't have any crybaby episodes (even when his driver broke).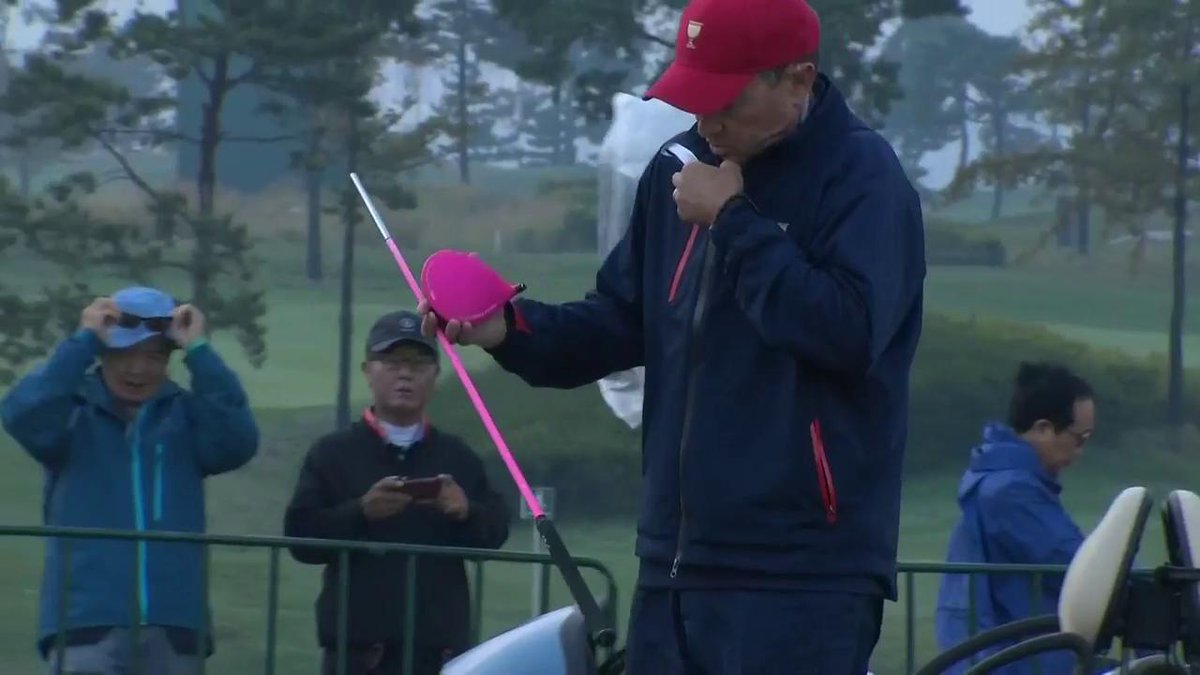 And he even made some clutch putts. B
International
Sang-moon Bae: 2-1-1 Sooooo good most of the week, then the choke job on the final hole in the final match in your home country right before you're exiled off to 2 years of military service. I felt bad for him. He was their best player for the week. But he didn't come through in the clutch. B
Steven Bowditch: 1-2-0 He won one more point than I would have figured. C+
Jason Day: 0-4-1 For a guy that is likely to be number 1 in the world again in a few weeks, he was awful. He's had a long year, I'm sure he's exhausted, and I'm sure he was distracted by his wife and family not being there due to her being very pregnant back home in Ohio. C-
Branden Grace: 5-0-0 What the fuck else is the guy supposed to do? He was perfect. Easy call. A+
Thongchai Jaidee: 1-1-1 Every time he popped on the screen I thought, how is he on this team? His performance says the same. He didn't matter. C+
Anirban Lahiri: 0-3-0 Its great that India was represented in the matches. Lahiri had a great season, but that didn't translate to Korea. Was the stage too big for him? His short missed putt that cost his team points in his singles match with Kirk sealed his fate. F
Danny Lee: 1-2-0 If Nick Price's squad had any chance in this fight, they needed 2.5 or more points from Mr. Lee. Didn't happen. Danny played for shit when you consider how hot he'd been since July. C-
Marc Leishman: 1-2-1 Leishman hits so many good shots. Then he turns around and has so many 'what the fuck' moments. More of the same this week in Korea for Marc. C+
Hideki Matsuyama: 2-1-1 He's become so solid and steady on Tour, he was more of the same in Korea. And we know he likes Nicklaus courses. B+
Louis Oosthuizen: 4-0-1 He and Grace were the best thing the INT team had going in team play. They were unbeatable. Louis also wore a bucket hat and rain gloves when things got sloppy. He looked like he was on safari.
Oh, Louis' wife was also the best looking International WAG. Bonus point. A
Charl Schwartzel: 1-3-0 Charl had a virus last week and couldn't go on Thursday because of it. Price didn't want to break up Bae and Schwartzel so he sat them both on Day 1. You can't sit Bae. Charl didn't play well otherwise to boot. C-
Adam Scott: 1-2-2 This one is simple. Price needed more from Scotty. Didn't get it. The only saving grace is that Adam started making putts in singles with his new legal flat stick. Then he whacked Fowler 6&5. C+ 
What You've Been Waiting For
An intercontinental team golf competition cannot be played without a bunch of obligatory WAG ogling. The PGA Tour takes care of the wives, girlfriends, and caddies in the events because they're all part of the team. So with that in mind I thought I'd show you a gallery of all the caddies…..
No, I'm fucking with you. Here's the best of the WAGs from this week in Korea: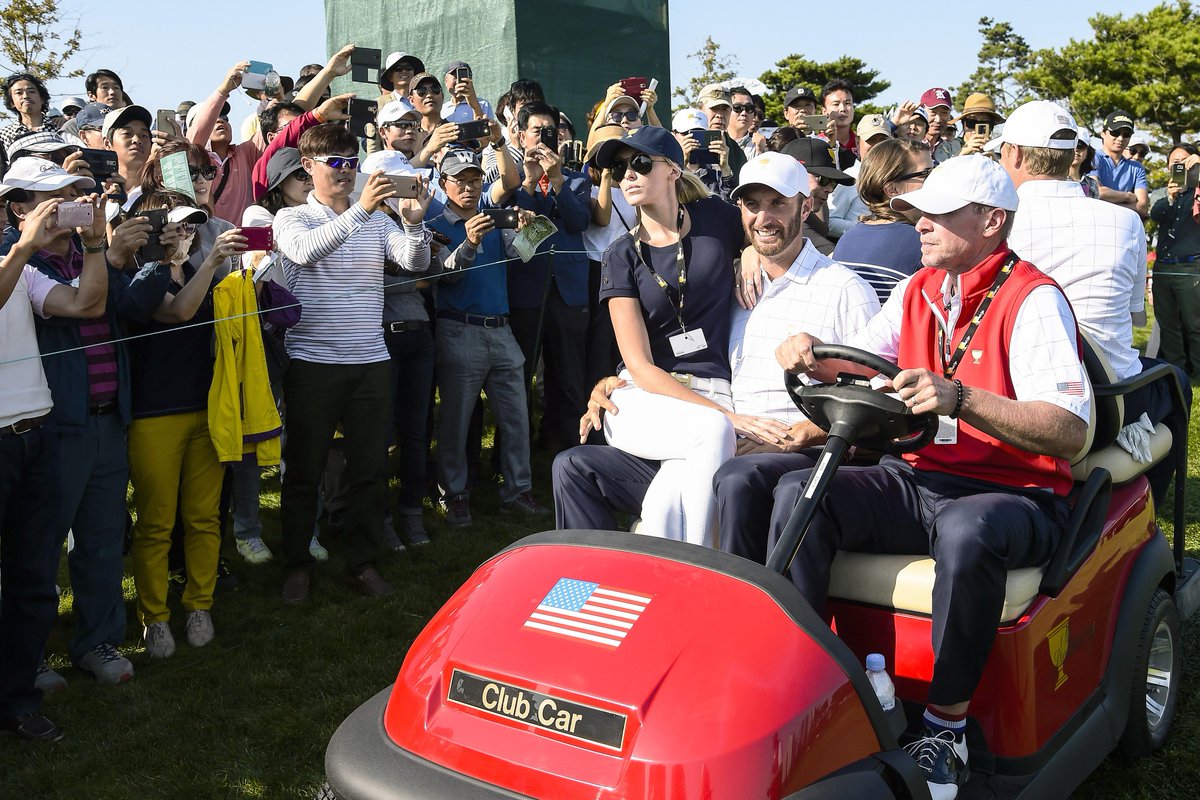 Paulina on DJ's lap with Strick driving. Priceless. She was back to her old Instagram self while overseas sans baby.
Team USA. Kirk's wife, 2nd row middle left, the best by far, right? Mrs. Walker is growing on me too now that she's grown her hair out. Who is that in the middle? Freddie's new girl. Her name is Suzanne Hanneman. I somehow missed her with his bag at the Masters Par 3 contest. She's hot, but looks more Fred's age for once. No boobies. She's no Nadine Moze (Fred's guest at the 2013 Prez Cup).
Mrs. Lahiri, Mrs. Bowditch, and Mrs. Choi are above. Mrs. Kuchar, Mrs. Walker, Fred's girl, Mrs. Holmes, and some old lady below.
You want more? Go to Golf.com's gallery with plenty more pics of the golf WAGs.