Ranked The 5478th Best Amateur, But Who Is Counting?
I love the U.S. Mid-Am because it is the truest form of amateur golf played at the national level. There's no future pros. There's very few young bucks. And not one competitor is considering turning pro. All eligible golfers with a 3.4 handicap or lower that are 25+ years of age can play. Just sign up, pay the fee, and pick a qualifying location. It sounds too easy, but that is how Sammy Schmitz became the 35th USGA Mid-Am Champion on Thursday.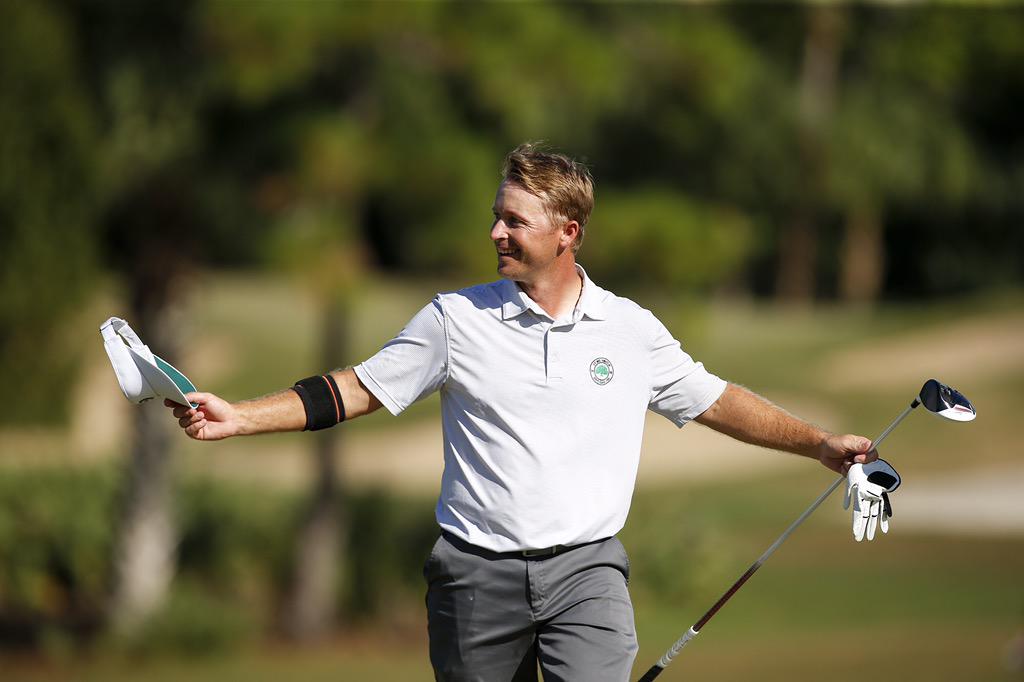 That is Schmitz, not to be confused with 1990s SNL spoof of Schmitts Gay…
Sammy's opponent in the final was anything but Dull….well, actually he was Marc Dull. Dull is a Streamsong caddie that lives in Florida. If he'd won and received the Masters invite that goes to the champ, his trip to Magnolia Lane next spring would have been on par with Francis Ouimet's victory at Brookline. A caddie qualifying for the Masters, in 2015? Get the fuck out of here. It almost happened. Schmitz and Dull's morning 18 ended with Schmitz up 2. On the 2nd loop around things got a bit sloppy. Holes were won with bogies. That is the kind of shit that happens when guys that aren't tour pros are playing that much golf. Fatigue is funny that way.
Dull began a rally that saw him get to only 2 down after being 4 down at one point in the match. Then Schmitz hit the shot of his life to send him to Augusta.
Sammy told Golf Channel that he was a little steamed after butchering the 14th hole and losing it thanks to having a buried lie in the bunker. Well, an albatross ace to go dormie should cool anyone off. On the 16th hole Schmitz halved with Dull to end the match 3 & 2. The Health Care Manager from Minnesota now gets to live every amateur's dream as a Cinderella story, about to play in…..the 2016 Masters.
Now Rid Us Of The Former Pros
I play in a U.S. Mid-Am qualifier every year. I've been eligible for 11 now and have played 8 times in qualifying missing only my first, my third because I was moving, and my 7th because of the birth of my 1st born. I know I only have about a 5 to 10 percent chance of making it, but the courses are great and the competition makes you feel alive. I schedule much of my golf season around it, preparing for it, and getting in ample practice rounds at the host site. And every year I leave my qualifier thinking to myself, "how many pros just beat me?"
What I mean by that is the fields in mid-am events, both at the state level and national level, typically includes former elite college players that have turned pro and regained their amateur status. They've had the advantage of playing golf for a living for a number of years with their only penalty of forgoing their amateur status being that they sat out amateur events for a year. How is that fair? Plain and simple, it isn't.
The U.S. Mid-Am Championship was created because the USGA realized that the U.S. Am had turned into a mini-tour event. Most players in the Am field are college players that will turn professional after their eligibility has expired or earlier if they're an uber talent. Once they make shit money for a few years and realize they're not going to make it playing for a living they can get their status back in a blink and compete against true ams again and clean their clocks. A guy in a state mid-am qualifier made 9 birdies at a qualifier I played in circa 2013. He Shot 66. Eat a shit burger, guy. Why are you here? Oh, that's right. You played D1 golf, turned pro because you were first team All-Patriot League, then couldn't make it on your own and daddy invited you home to help him manage hedge funds.
2015 Mid Am Champ Sammy Schmitz is a former pro. I'd bet 25% of the field was. Sammy played at tiny St. Johns college in Minnesota and then took his turn at the professional ranks before giving up to be a desk jockey. He's probably close to a decade removed from being a pro. Perhaps the solution is to extend the amateur reinstatement period to 10 years instead of 1. But then there's guys like Jess Daley (shown above). Jess was an NCAA champion at Northwestern when Luke Donald was there. He played on the Web.com Tour and had a cup of coffee on the big tour. He's made over $500,000 playing golf for a living. Yet he was in the mid-am field this week in Florida. I'm sure he's a nice chap, but go fuck yourself. There is a reason as to why heavy weight fighters have a weight class. Jess, you aren't a amateur. If you want to play golf still, play in your local professional events. And if the USGA wants a championship that is played in Bobby Jones spirit, they'll have to fix the issue of former pros being eligible for the Mid-Am.