There Is A Truther In All Of Us
You already know that U.S. Presidents Cup Captain Jay Haas picked son Bill Haas and Phil Mickelson for his two captain's picks for this week's matches in Korea. You also probably know that Jim Furyk was nursing a wrist injury that has forced him to withdraw from the matches and be replaced by a 3rd selection by Captain Haas. So who did Haas pick? Well, not Brooks Koepka. Not the 12th ranked player in the world who is higher than over half the Americans on the team. Not the guy that would have made the team with ease had the PGA Tour not used a different point system than the International team….nope. J.B. Holmes made it instead.
I don't believe this is an conspiracy, but it is a travesty. It sucks for Koepka. It sucks for fans. And it sucks for the development of young PGA Tour players. The boys of No Laying Up (who are Koepka's number 1 fans) were all over this sham. The graphic below tweeted by NLU sums up the strange selection more than anything, but the full post from NLU is worth a read.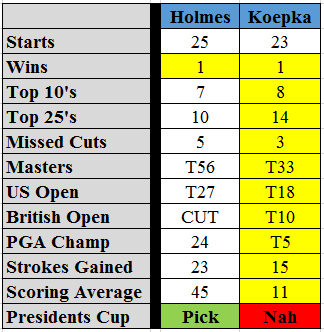 Read the full truther post, also know as the Koepka Kalamity, here. This isn't anything against Holmes. It is an argument for getting the pick right. There isn't a thing in NLU's post I can disagree with, nor would I. Nailed it. Well done fellas, you even managed to quote 4 of your own tweets!
Eric Dickerson Got A Thunderbird And Cash
Southern Methodist University cheats at everything. Fuck…they probably cheat at chess. Their football team got the death penalty from the NCAA in the 1980s. Their basketball team got slapped on the wrist last week when infamous cheater Larry Brown was busted for his players not completing their own school work along with other transgressions. In addition to the hoops issues, their ex-golf coach was also busted for selling clubs to recruits. To punish SMU the NCAA banned their golf team from post season play. That means reigning NCAA and U.S. Am champ Bryson DeChambeau won't get a chance to defend his NCAA title. It also means he has no reason to stick around SMU and play amateur golf past Masters week.
DeChambeau has given his current coach notification of his plans. If he didn't have the Masters exemption lingering he'd probably start using sponsor invites on the PGA Tour when it starts back up in a couple of weeks. BD is ready to play professionally. The NCAA's decision, albeit a shitty one punishing innocent kids (do they do this any other way?), will put a paycheck in DeChambeau's hand a few months early. That isn't a bad thing for his career and it isn't a bad thing for fans that like young dynamic stars in the making.
Twenty Fifteen By The Numbers For Rory
ESPN can be worthless at times when it comes to covering golf. Things have been better for the World Wide Leader since Jason Sobel returned. Today the Bristol boys ran a fun little summary of Rory McIlroy's year. Some of the numbers are staggering. The dude ran 644 miles. Swam about 150. Biked 400 more miles. And did a bunch of other exercises that I want nothing to do with. They even tracked his minutes stretching (6720). What the fuck? Who was counting?
He also hit about 17,000 golf balls, walked over 900 miles on the course, and did over 200 media interviews. I'm exhausted. They also kept stats on his schedule as far as sleep, travel, etc., but those are about what you'd expect for a guy of his worth/talent/stature. This is really just an FYI. I had no clue someone would track this information with such detail. The ESPN piece can be found here.
The article also discloses a fine Rory received from the Tour for his club toss at Doral. Remember that, the 3 iron that found the hazard on the Blue Monster's 8th hole? Finchy hit Rors for 25k for that tantrum. Then Rory apologized and Timmy shrunk the fine to 5k. That's no joke. I'm guessing Tiger just sends a check that he's already signed and his accountant simply fills in the amount and slides it in a pre-addressed envelope after TW wipes his ass with it. No apology enclosed.