No, That Does Not Mean They'll Be Delivered To Your Neighbor
After 10 days off the boys of the PGA Tour were back in action on Thursday in Lake Forest, Illinois at the BMW Championship. The former Western Open run by the WGA is now the third of four Fed Ex events and has a limited field of 70 players. Rory McIlroy, Jordan Spieth, Jason Day, Bubba Watson, Rickie Fowler…..yeah, they're all there. That's the top 5 in the world if you're scoring at home. Almost every top player started the BMW, however, Jim Furyk was forced to WD after 6 holes. It is the first WD of his career. Jordan, Jason and Rickie were paired together for round 1 on Thursday. Golf shots were struck. Golf shots.
Jason Day lead the way with a 10 under score through 17 holes (the round was suspended due to a thunderstorm in the area). Par at the Conway Farms course is 71. Day would have to hole out from the fairway on the 9th hole for the 2nd time in his round to shoot 59 and tie Jim Furyk's course record. That isn't happening, and if it did it might make the internet self destruct. What else can you say about the state of Day's game right now? He's making the rest of the field look like hacks. He dominating off the tee and now he's holing iron shots from fairway bunkers? If there were any more majors in 2015 is there any doubt who'd win?
Jordan Spieth has had himself an interesting week. He met the Dallas Cowboy cheerleaders while attending Sunday night's Cowboys/Giants game with Tiger (NBC didn't even notice him in the box). His receding hairline was discussed in a Golf Digest interview with Seinfeld creator Larry David (Larry says Spieth is fucked and will be bald in 3 years). And now he's in Chicagoland playing his umpteenth round in a row with Jason Day and getting his ass kicked again. Hey, Day is 10 under, Jordan is only 5 back and is playing much better than his past two events that resulted in missed cuts.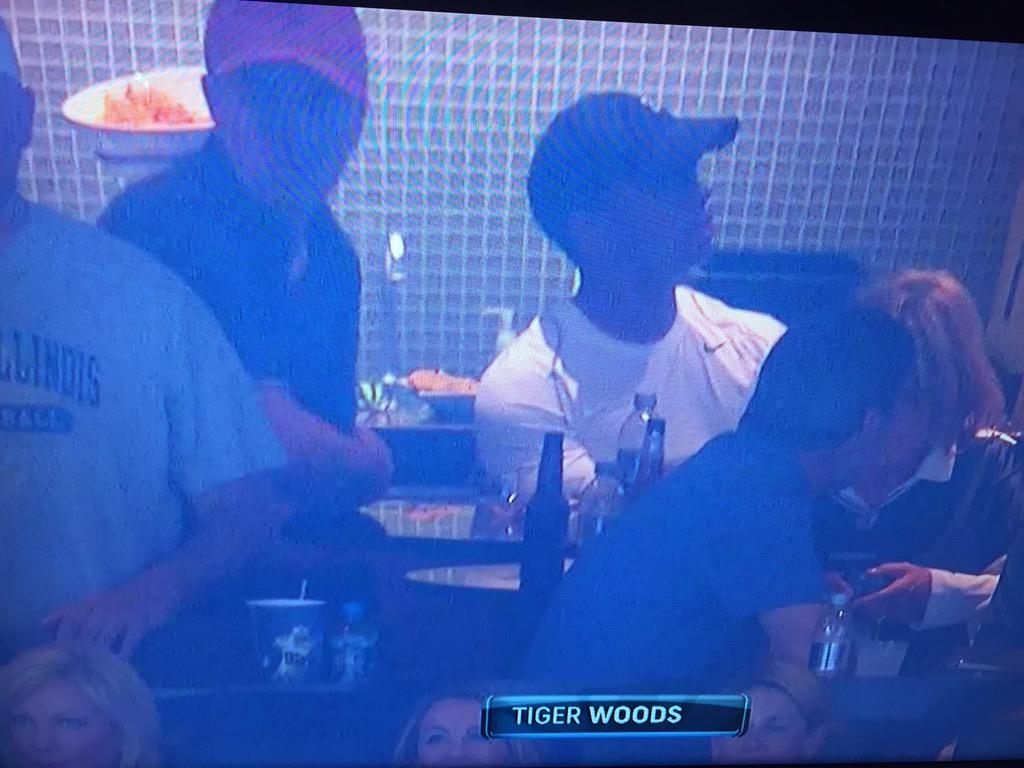 How'd he get to -5? After he watched Day hole out on the group's 10th hole, Jordan dunked a shot of his own for an ace at the par three 2nd hole.
The action at Conway Farms was good while it lasted. Hopefully the weekend is just as entertaining, but don't be surprised if Jason Day runs away and hides from the other 69 competitors.
Haas Takes Bitch Tits For Prez Cup
It has been over a week since Jay Haas made his captain's picks for October's Presidents Cup matches. I bit my tongue about his picks at the time because I was busy and didn't have the energy to spew my thoughts about it. If you missed it, Haas selected Mickelsauce and son Bill Haas for his team. While the Haas pick looks like nepotism from a distance, check that thought before you go any further. Bill was the 11th player on the points list. He was left off by a fraction. He deserved to be on the squad as much or more than any player not in the top 10 qualifiers.
Then there's FIGJAM. Phil was 30th on the points list after his shitty season. He's great in the team room by all accounts. He loves playing in Prez and Ryder Cup matches. He hasn't missed a weekend of team matches for the U.S. in 20 years. I get why Haas went this way but I would have rather Jay ask Bitch Tits to come as a vice captain and go with a younger player.
Phil would have said 'fuck you' to the vice captain thing, but that is his problem. Haas probably should have taken Brooks Koepka. Koepka is young and needs the experience. He's going to play in a good number of these team exhibitions over the next 20 years. Why not get him seasoned like what was done for Rickie Fowler in the 2010 Ryder Cup? In the end it is of course Haas' decision and he'll be lauded or ridiculed for it depending on the outcome of the matches. Or maybe not, They'll play in the middle of the night in the Pacific Rim. Will anyone notice? Will anyone care?
The Golf Channel and NBC Gained 1000 Cool Points
The developing story of David Feherty leaving CBS has finally come to a satisfying ending. The former drunk Euro Ryder Cupper turned CBS on-course analyst for the last 19 years has found a new home with NBC's golf team and the Golf Channel. Feherty sounds genuinely excited about his new opportunity in the interviews he has given. He will work both on the course (I assume when Johnny Miller is working) and in the booth at other times. David will also continue his award winning talk show on the Golf Channel and work more weekday coverage for the network.
The winner in this NBC/CBS hand off is us, the fans. We get more Feherty. We get a rejuvenated Feherty. And we get David fucking with Johnny Miller constantly. That will be good. What I still can't understand is how CBS let him go. From what his announced role is with NBC and TGC, it doesn't appear as though he was asking for much from his former employer. I'll miss David at the Masters, but outside of that this is nothing but a positive for golf coverage.
Oh Scheiße, It's Solheim Cup Week!
Live from Germany at 2 am Eastern, the Solheim Cup will get under way. I won't be watching because this is my golf weekend with the boys, but you go ahead and enjoy it yourself. The word on the street from the Hinterland was that the Americans are a spoiled group of babies who have reputations as stars but resumes of little substance. That's actually about spot on if you ask me. While several of the U.S. players have majors to their credit, shouldn't the big guns have more than a handful of wins to their name?
Captain Julie Inkster must have agreed with the opinion of entitlement to an extent. She barred her team from all the rah rah bull shit they normally pull at the Solheim Cup. No special red, white, and blue nails. No face paint. Her message to her team was simply to be blue collar and to work your ass off. So she got them all lunch boxes.
I think her heart was in the right place, but buying someone a gift to make them think more gritty, more blue collar, more lunch pail….well, that's a bit of a contradiction in itself.
Somehow the U.S. team is favored, but I think they'll get their ass handed to them. Then Michelle Wie will blame Inkster for not letting her wear her special red/white/blue electron tape that makes her body function. Paula Creamer will cry. And Suzanne Petterson will scare their next period out of them. Maybe I will watch.