No Days Off
Jason Day is 73 under par since he the British Open began in July. He finished 1 shot out of a playoff at St. Andrews. He won the Canadian Open. He won the PGA. And now he's won the 1st event of the Fed Ex Cup playoffs at Plainfield Country Club in New Jersey. If you're scoring at home, the Barclays is his 4th win of the year as I've yet to mention his early season victory at Torrey Pines. He's probably be a shoe-in for Player of the Year of Jordan Spieth didn't exist. He IS the hottest player on the planet, and he's doing things right now we got used to seeing from Tiger Woods circa 1999 to 2005.
Calling that a good run is an understatement. Think about how good Rory was in 2014. Now think about how good Jordan Spieth has been this year. And with that in mind, now realize that Day can become number 1 in the world next week if he were to win again in Boston. No shit. What else can you say about the guy? He lapped the field in New Jersey with a 63-62 = 125 weekend. That's decent considering his lame back on Thursday made it look like he might have to WD. He beat Phil Mickelson by 20 shots for the tournament. That's right. He would have had to give Bitch Tits 5 shots a day over the 4 day tourney to have Lefty play him to a draw. He's making it look easy. And I can't recall ever seeing a player walk in as many long putts I have seen Day make in his past two starts. He hits it great. Leads the field in GIR, top 5 in distance, and now he's also at or near the top in strokes gained putting…..wave the white flag fellas. You're not beating Jason Day right now.
If you've poked around the Twitter since Day's final birdie fell on Sunday you've likely seen some talk of Day being in the POTY race. Stop that fucking nonsense right now. He'd need another win and a Fed Ex crown just to start the conversation. Now, if…..and this is a big IF……say Day wins at East Lake and gets the $10 million. Say he plays and beats Jordan Spieth a few times in the Presidents Cup (as well as in singles). If all that happens, I wouldn't fault anyone who voted for Day over Jordan. From Day's reaction to the POTY questions it sounds like he agrees.
The Field
Like an old school Tiger walk, the field at the Barclays laid down for Day once they knew they couldn't catch him. Henrik Stenson hung in there and looks like he'll be a threat in the playoffs. Mickelson was never in contention past Thursday morning. I mentioned how far behind Day he was. He was so out of it that he tried to hit a backward shot on Saturday.
Sang-Moon Bae played with Day in the final group on Sunday. He shot 72 and finished 10 shots behind Day. They were tied for the lead on the first tee. I can't blame Bae for his poor performance. He has a lot on his mind these days. The moment he's done with the Fed Ex playoff this season he starts his 2 year stint in the Korean army.
Bubba Watson was the 36 hole leader at the Barlcays. He was stuck in neutral for the weekend largely due to his horrid putting display. Earlier this year Bubs had made some 700+ 3 foot or less putts in a row. I think he missed 3 in a row at some point on Sunday. Gerry looked like he was about to get hot and start taking things out on caddie Ted Scott, but he somehow checked himself. Either that or we didn't see it thanks to CBS.
The Barclays is only played at Plainfield every so many years. We last saw the old school Donald Ross course in 2011 when Dustin Johnson won before a tropical storm crashed the party. The 6700 yard par 70 layout held its own except fairly well against players not named Jason Day. I played an old school Ross twice last week in a US Mid Am qualifier and it was very much like Plainfield. Private club, renovated layout, and no push over whatsoever. I think if the wind had blown at all in the Garden State this week the course could have proven to be much grouchier. I especially enjoyed the drivable par four 18th hole.
Jordan Spieth and Rickie Fowler missed the cut this week at the Barclays. With the PGA Championship being only a stones throw away from Plainfield next year, the young bucks hopped a ride to Baltusrol to scout the 2016 major championship venue. You can see Rickie's Instagram photo below of him playing the Lower course's 13th hole.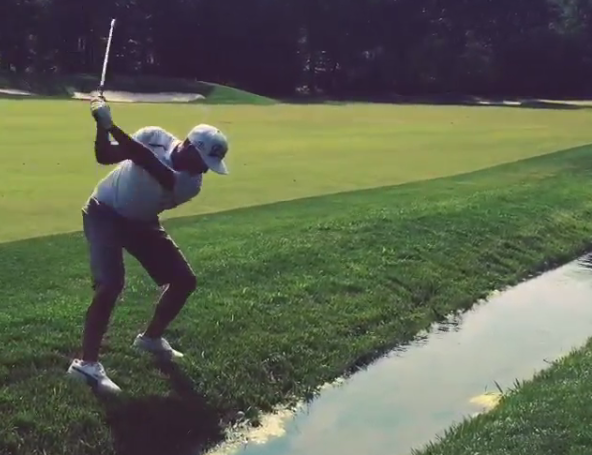 There was also a video of Rick hitting that shot. What I fail to understand is, why do they have carts? And how did they get away with wearing shorts? Members are allowed to wear Bermuda style shorts on the course between July 4th and Labor Day. Tournament players must wear full length pants. They made me do so as a Met Am participant several years ago. I'd be shocked if the rule changed. I think Rick and Jordy got away with one.
Shot Of The Day
Unless you're living under a rock you likely already heard about Brian Harman's anomaly from Sunday at Plainfield. Yes, it is true. Harman had 2 aces in his round. Here's the card: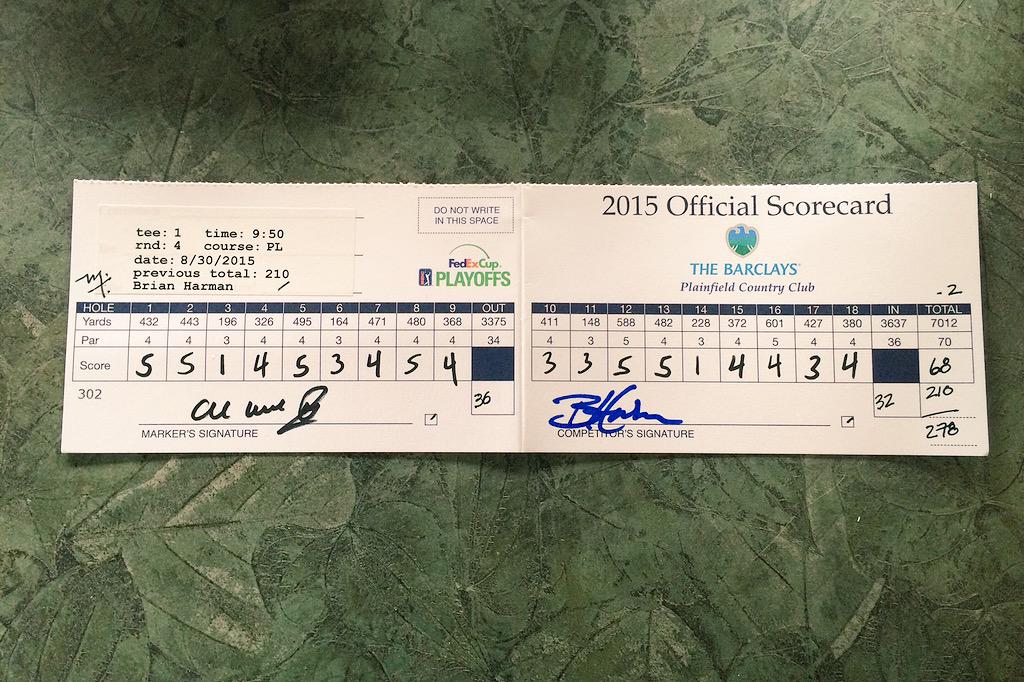 Two aces. Four under on two holes and the guy only shot 2 under? What an awesome/lucky accomplishment. Brian did buy for the media.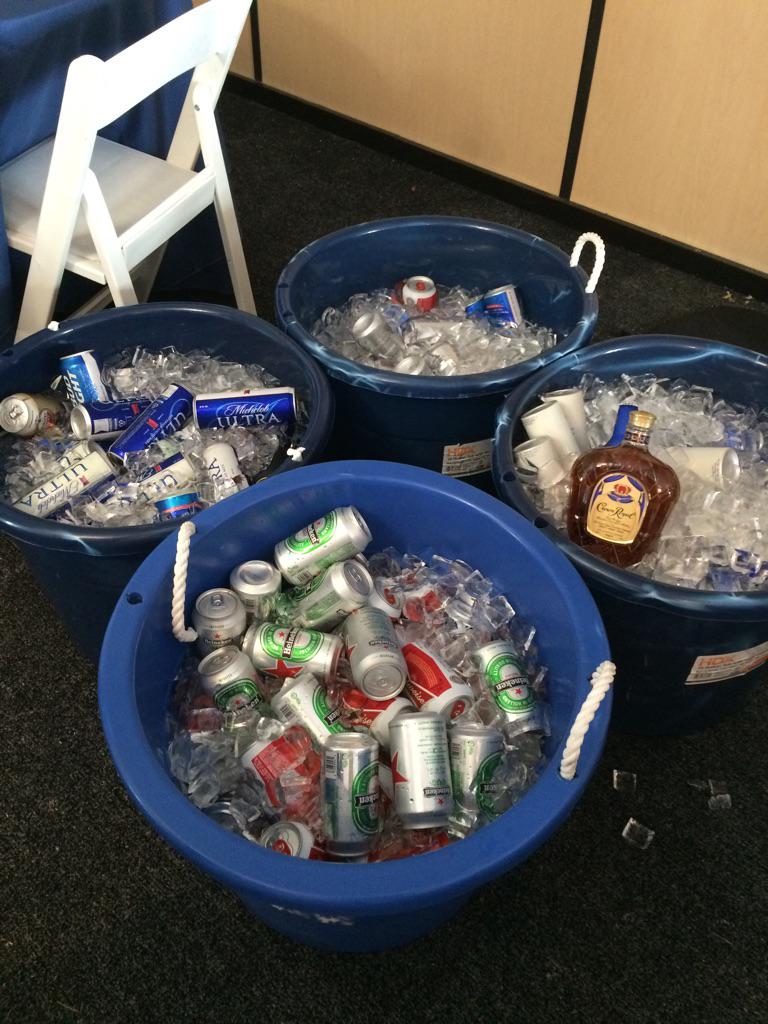 He even splurged for Crown. Classy. The PGA Tour noted that this is the third time in its history that a player has had two aces in the same round.
Great shots, Brian.
Nothing Regarding John Daly Surprises Me Anymore
Several media outlets reported late on Saturday that John Daly was taken from a golf course in Mississippi to the hospital via an ambulance. I think most of us just assumed that this involved alcohol or the end of Big John was near. Well fear not, JD is going to be okay. In fact, he even found his way back to the 2nd day of the tournament he was participating in. This photo is the proof.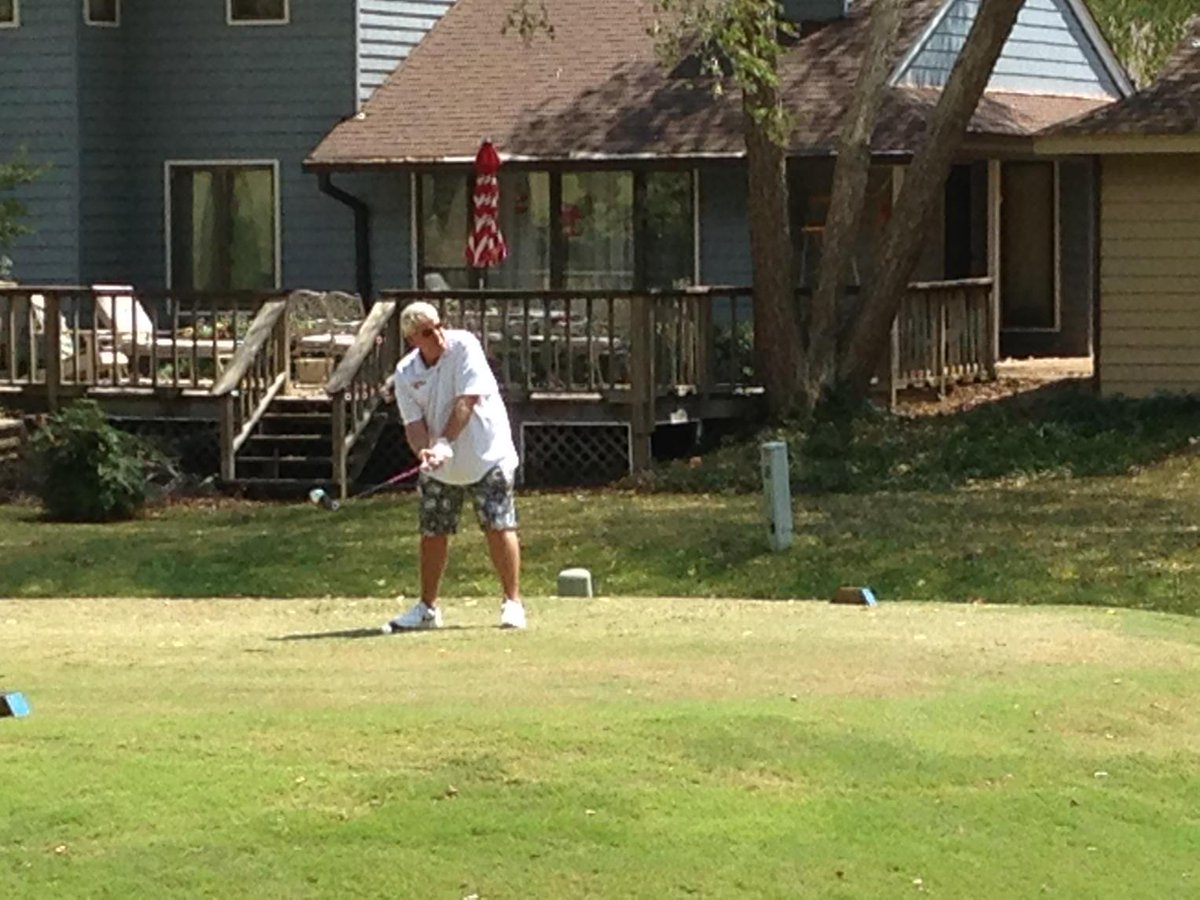 It seems as though Daly visited the ER because of an issue he was having with a collapsed lung. The injury stems from a rib injury he had in 2007. Was that the one he got from his ex-wife kicking his ass?
On To Boston
The 2nd leg of the Fed Ex Cup playoffs in Boston is up next. With the Labor Day holiday, play won't start until Friday. The tournament will end on Monday. Rory will be back. And Zac Blair, who made a big jump up the standings thanks to his T4 finish at Barclays, will be in the field.
I think Zac is excited about it.
Oh, and FYI, be on the look out for a new WAG of the Month this week. September starts on Tuesday. Feel free to make a nomination in the comments.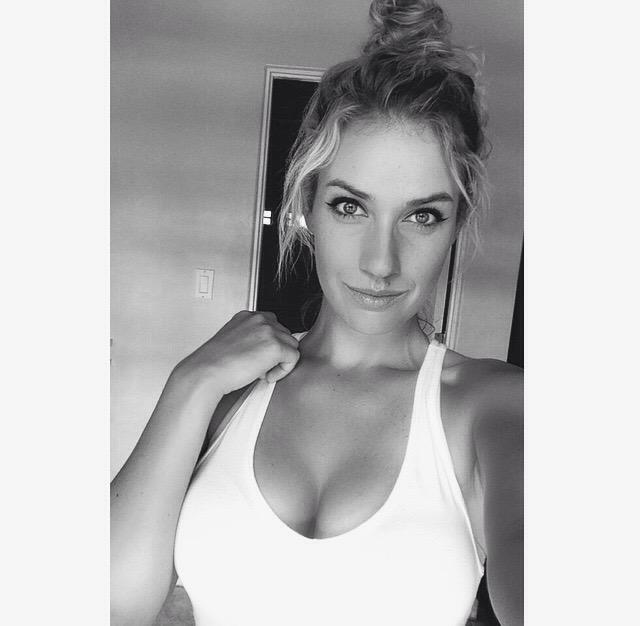 That is one last glimpse at out-going Ms. August, Paige Spiranac. Thanks for the Sunday Selfie, Paige.