I'm Loving It
To think that a hall of fame player would come out of nowhere to win the Wyndham Championship and vault into the Fed Ex Cup playoffs wasn't too far fetched on Friday night when Tiger Woods was the 36 hole co-leader. In fact, any other tournament in his life in which Tiger had opened up in 130 shots or fewer he'd won. Davis Love had other ideas in his head this week thanks to Tiger. Love and Woods played practice rounds together earlier in the week and stroked each other's ego the entire way around the golf course (apparently).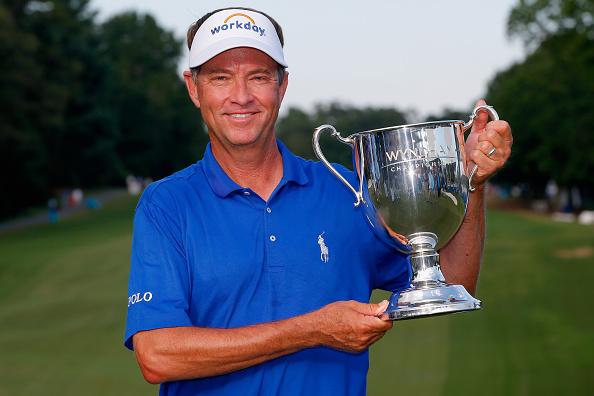 What I mean by that is, the Ryder Cup captain and former world number 1 gave each other pep talks about how they're close to winning again. For Woods, he couldn't escape his short game demons that jump up and bite him from time to time. For Love, he made sure he got in the clubhouse while the guys behind him were stuck in neutral. The next thing you know, he's holding a big silver trophy at the ripe old age of 51. As CBS told us 1000 times, Love is now the 3rd oldest winner in PGA Tour history.
No one saw this coming. I figured Davis was playing the regular tour still just to get up close looks at his Ryder Cup team for next year. I guess he had other ideas. Everyone knows he went to school at North Carolina and has a affinity for events in the state. He's won the old Greater Greensboro Open before (1992 and 2006). As far as Love can still knock it out there, we should have known he was a threat to win. There was no sign of it coming because he's been injured for most of 2015.
Injuries and all, while his contemporaries are chasing Champions Tour money on the west coast, Love winning the Wyndham is one of the most shocking victories of the season. Now he's in the playoffs and headed to Augusta next spring for the first time in 8 years. I doubt he'll win again in the next 12 months, but if he did….could he pick himself for his Ryder Cup team? Could he possibly play well enough from here forward to make the team on points? Probably not, but I'll be rooting for him.
The Field 
If Tiger or Love couldn't win this week, Jason Gore would have been alright with me as a winner. How can you not like Gore? I bet he's been in more Tour pro's weddings than he can count. The big teddy bear of a 54 hole leader eagled the 15th hole to get within one of Love but couldn't muster a birdie on the final 3 holes to tie. The solo 2nd finish did get him into the the Fed Ex playoffs.
Paul Casey and Charl Schwartzel both finished a shot behind Gore. Casey has had a solid year and seems to keep popping up every month at a off event. Charl has been MIA but I'll go out on a limb and say he found something this week in Greensboro. He could be dangerous in the playoffs. And then there's Tiger Fucking Woods. He has us all hard and ready to squirt on Friday with his late afternoon charge to the top of the leaderboard. We've seen some of Friday Tiger having success at times this year. It is weekend Tiger that has me at a loss. I predicted a 70 or worse round on Saturday when he shot 68. On Sunday the bottom pretty much fell out. While DL3 is making a hero's eagle at the 15th, Tiger needing to start a birdie run, chipped it about the 11th green like a 15 handicapper en route to a triple bogey. Game over.
To TW's credit, he did birdie 4 of his final 6 holes to salvage his round, but too little too late. That's been the Tiger saga of 2015. He's not ready for prime time and it is all between the ears. His season is now over. If he really wants to get better we'll see him play fall events in October/November. If we don't see him until his World Challenge event in December….he just doesn't give a fuck. Whenever we seem him, let's hope he's not wearing that hat (above). That. Is. Awful.
Shot Of The Day
Scott Brown is rarely in contention on the PGA Tour. You could walk right past him at the grocery store and not know who he is. On Sunday in Greensboro, Brown was paired with Tiger. Brown wore red (or maybe pink?) like TW, then he let the world get a good look at him with his early round ace.
Do you think he bought Tiger a beverage after that?
What The Fuck Was He Thinking? 
Andreas Harto is a Danish golfer who plays on the European Tour. Harto is far from a household name. On Friday at the Made In Denmark Open, Harto walked up 18 knowing he was not going to make the cut, but he was more nervous than he'd ever been on any green in his life. That is because he was about to do this:
Geez, good thing she said yes. That has to be the worst proposal I've ever seen. First, pace of play. Dude just fucked the group behind him for about 5 minutes. Thanks, dick. Second, you missed the cut, bro! Hey, this is a low point for me. I didn't play well. I'll make no money this week….oh, want to marry me? Yes, most of that is tongue in cheek, soft of. Congrats to the happy couple anyway.