It Is US Am Week!
I love August golf. Fed Ex Cup playoffs start, the PGA rounds out the major season, and the U.S. Am is contested to give us a look at some of the up and comers from the (mostly) collegiate ranks. This year the Am is being played on the South side of Chicago (queue Leroy Brown) at Olympia Fields.
The first two rounds of stroke play were completed on Monday and Tuesday on both the North and South courses at Olympia Fields. Personally, I like Tom Bendelow's South routing (renovated by Steve Smyers in 2007) better than Willie Park Jr.'s North. I think it has more character, but the North is the big brother here and now that the stroke play portion of the event is over, all play is on the North. Oh, and if you think because I've played Olympia I should be providing you with a course review, think again. I don't review private clubs. I am their guest. I'd like to keep it that way.
Wednesday at the Am started with an 18 for 10 playoff for the last 10 spots in the 64 man match play bracket. I would have thought the USGA would have been savvy enough to periscope that, but that is apparently asking too much. Fox did show some of it later so it is entirely possible the USGA was protecting their broadcast partner's rights. Whatever.
Highly ranked Beau Hossler and John Rahm were in that playoff and advanced. Rahm won his first match in 21 holes. Hossler is on his way home after losing. NCAA Champ Bryson DeChambeau is the number 7 ranked amateur in the world. If you're not aware of him, find the Fox 1 and Fox broadcasts of the Am over the next few days. You'll love him.
First, he absolutely fucking pounds his driver. He's hyper aggressive with his approach shots, and he has quite a unique outlook on his equipment. As Fox told us today, each of Bryson's irons and wedges is the length of a 7 iron. This means his wedges are very upright. They look strange when he swings him, but his move looks flawless. He also uses thick Super Stroke grips on each of his wrenches. What a savant.
Yes, he is the guy that wears a Kangol style lid. I believe this is some type of tribute to Payne Stewart as both guys attended SMU for their collegiate golf. DeChambeau had an interesting Tuesday to complete stroke play. The Chicago area received nearly 3 inches of rain from Sunday through late Tuesday. Tuesday's tee times were bumped 90 minutes because of it. Bryson got a bad pairings sheet from a USGA official with the wrong times.
Somehow the error was noticed, but not until Bryson was nearly 5 minutes late for his actual time. According to Fox's Shane Bacon, Bryson was notified and ran to his tee to check in, ran back to his caddie to get a ball, then ran back to the 1st tee and whacked it 320 yards straight down the fairway. The USGA had intended on giving him a 2 stroke penalty for his tardiness but rescinded the penalty (this is unprecedented). The 2 shot swing changed DeChambeau's match play seed by 20 spots. Bryson won his first round match 8 and 6, by the way.
Paul Dunne, yeah…..the kid that played in the final group of the final round of the Open Championship, was given an exemption from the USGA and qualified for match play. He won his first round match and is on to the round of 32. Defending champion Gunn Yang also made match play but is headed home. He gave his opponent a very dick-ish hand shake after his loss. It was bush league.
Maverick McNealy is the 2nd ranked amateur in the world. He made the match play field as the 39th seed. Maverick won 5 times last season at Stanford. He also bombs the ball. And his opponent in round 1 was 120 lb., 5 foot 7 inch Austin Connelly of Canada. Their match felt like David V. Goliath. Connelly took McNealy to the final hole where Maverick prevailed 1 up.
If you're not watching the Am you either have a life or don't love golf. Personally, I can't get enough of it even if it does mean suffering through Joe Buck and Brad Faxon. Fuckson is constantly gushing about how he loves much play, blah blah blah…..we get it Brad. The format is different, but 90% of your audience knows this already. You don't have to over explain it.
Just When I Thought My PGA Hangover Was Gone…
This image came across my Twitter field earlier in the week. I found it quite disturbing. How did I miss this during the PGA telecast on Sunday? Thanks to @BustedCoverage for the great visual. There's no truth to the rumor that it was John Daly looking for his wedge.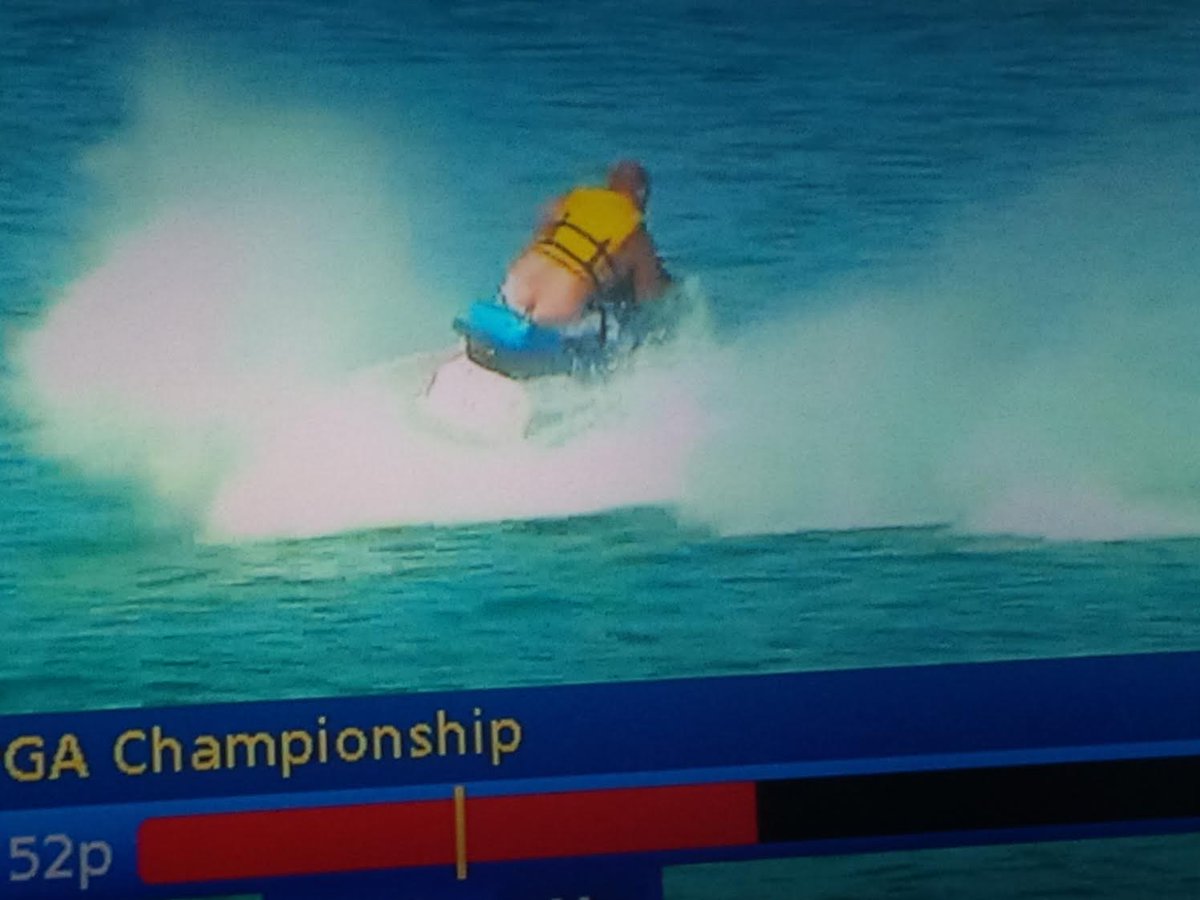 In the wake of the PGA a great debate has started on Twitter from anyone and everyone about who had a better year, Tiger Woods in 2000 or Jordan Spieth in 2015. This really isn't debatable. Tiger is the pick 100 of 100 times. He killed the field if you compare aggregate scores in all majors. He won 3 to Spieth's 2. And the score in relation to par that Jordan wins by 1 fucking shot is meaningless thanks to playing different courses under VERY different conditions. End of argument. If you want to compare Jordan's year, compare it to Rory's 2014. That's a fair fight.
In other PGA hangover/Twitter golf stuff, Jordan Spieth and Zach Johnson both threw out first pitches for MLB clubs on Tuesday. Zach challenged Jordan to see who could do it better and a bet for charity was put on the line.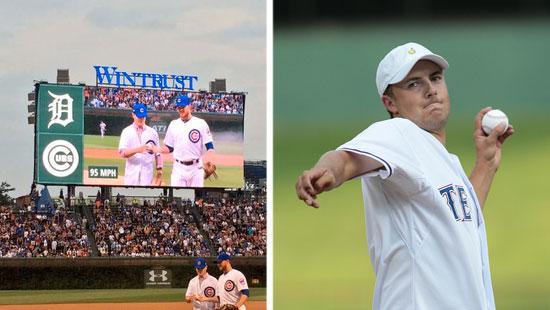 The Cubs said Zach hit 95 mph on the gun. I call bullshit. Does he even hit that with his driver? The Rangers said Jordan threw a hard strike. I guess nobody wins. That image isn't a photo shop hoax. Spieth is left handed except for when he golf and writes.
Two Lost Fathers
By now you've likely heard about Billy Hurley's dad. The former policeman from Virginia went missing a few weeks ago and was found in Texas. He essentially lost his marbles, ran away from home, and then took his own life. Very sad stuff. Today another Tour player's dad's life ended tragically in Texas. Ryan Palmer's dad was killed in an auto accident when his vehicle was struck and rolled over. Send your thoughts and prayers to both players and their families. Life is short. Now go call your dad.