Not Quite In The Books
The weathermen told us that Friday afternoon was the only day of the week in which we'd have to worry about a storm, or any rain for that matter. In the middle of the day a small cell popped up and passed by the Straits course like a boat on Lake Michigan. Around 6 pm local time, a much bigger cell pulled no punches as it attacked the PGA Championship. Golf journos on the scene tweeted about a biblical event. I'll take that with a grain of salt. While I'm sure it was windy and a bit scary in many of the temporary structures, there were no injuries, deaths, or other accidents. A scoreboard fell down and the Golf Channel's set was smashed up. That is all.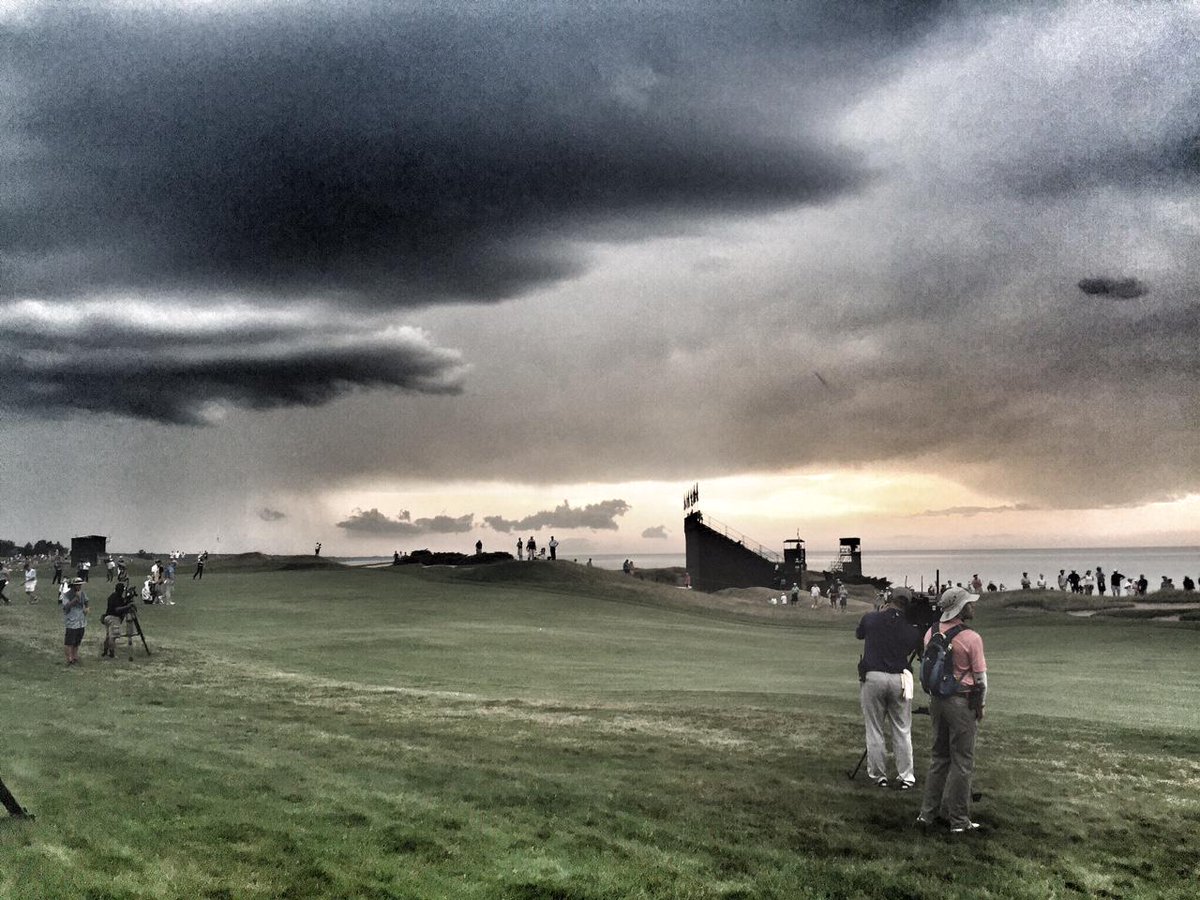 Well, that and play was suspended for the day. We have no Friday night cut for the 2nd straight major. Hey, Tiger plays the weekend again! About a third of the field will come back Saturday morning at 7 am. Some have only a hole to play while others have as many as 7. If you're a leader, your Saturday will be a long one with an early wake up call but then a late tee time for round 3. If you're on the cut line you have a golden opportunity to come back on a soft golf course with smooth greens to get on the correct side of the number. Once again, the draw at a major comes in to play.
Jordan Spieth Again Contending In A Major
This is getting a little old….no, its not. The fucking kid is too good to deny. He plods around the course. He minimizes mistakes. Then he capitalizes on birdie opportunities as they're handed to him. Oh, he also has one of the best short games to ever be seen on the professional stage. Do you need proof? Exhibit A. Jordan and Rory both missed the green at 18 (their 9th) and had difficult 3rd shots. I figured both would wedge on to about 10 or 15 feet and make bogey. There's no shame in that on the 18th at Whistling Straits. Rory caught a bad lie in the long rough and made a sloppy 6. Jordan did this:
And the Twitter world went ape shit. As they should. Out in 33, another couple under on his back nine, and a rock solid 67 has him -6 through 36 holes. He's not the leader, but he'll have a late time on Saturday and he'll be rested having not had to come back early to finish. Remember that.
So how did 1 v. 2 work out after two days? It really wasn't that close as the graphic from Golf Central tells the tale of the tape.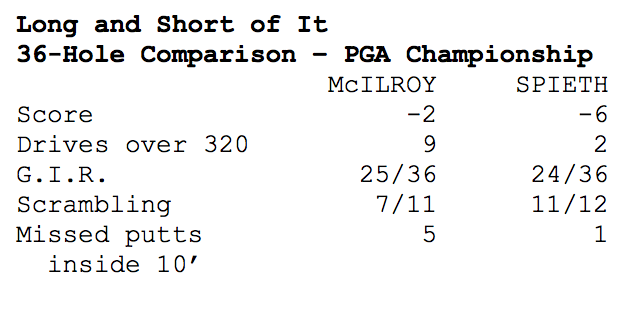 Bomber v. Plodder. Spieth's putter is such an advantage that he doesn't need to rip it and keep up with Rory. Just keep it playable and give yourself chances. He does that better than everyone else in the field.
I Love It When Matt Jones Is Near The Top Of A Leaderboard
Not because I like to watch him play. Sure, he's good, but he's not the uber talent that makes me DVR a golf telecast. No, I like Jones because it means we might see his wife. TNT showed her briefly today. You can't miss her. Yeah, the model with the huge tits. That's her.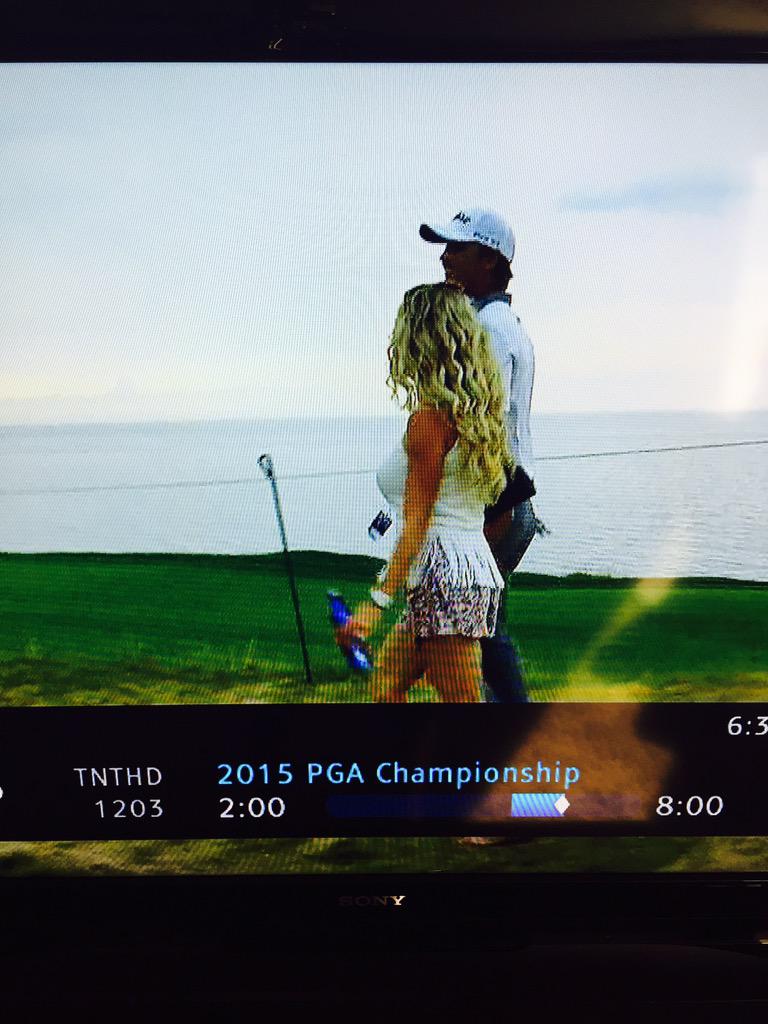 That's a retweet image from @NoLayingUp. I wasn't quick enough to snap an image myself. Mrs. Jones has been the subject of my perverted posts many times before. Just put her name in the search function over there on the right if you want more of her. Oh yeah…her husband….he was ok today. He's 5 under though 12 and tied for the lead at -9. He should be able to come out and go low as previously discussed. Having to sleep with a share of the lead in major might make his morning more interesting than most anticipate.
G'Day
Jason Day was my pick to win. He's done nothing to change that as he too is at -9 and 5 under on his round. I watched most of the 14 holes he's played and he's been rock solid. His good shots are stunning. His bad shots are playable. And his one bogey at the 9th was just a tugged 9 iron to the wrong spot. Watching Day play makes you realize that he's both a bomber and a plodder. He certainly takes his time. I think his extra discussion with his caddie/confidant talking through his shots has driven Dustin Johnson nuts. Homie just wants to step up and hit it while Day wants counsel before he pulls the trigger. This was very apparent at the par five 5th when Johnson played out of turn and knocked his 2nd shot in the hazard.
FYI, Johnson fell back after not getting anything going earlier. He's 1 over for his round and has been all over the map with birdies and bogies after his 6 pars to start. I think he's trending in the wrong direction, but he's only 4 behind with plenty of time to get back into the hunt.
Tiger's Season Is…..?????
Over? No, not yet, but that's anybody's guess. Tiger is +1 through 13 and +4 for the championship. He needs an up and down from over the 14th green, then at least 2 birdies coming home to make the cut. I don't see it happening. And if a missed cut is the result for TW this week that means he's likely done for the year with no Fed Ex playoffs, no Prez Cup, and no more golf…..unless……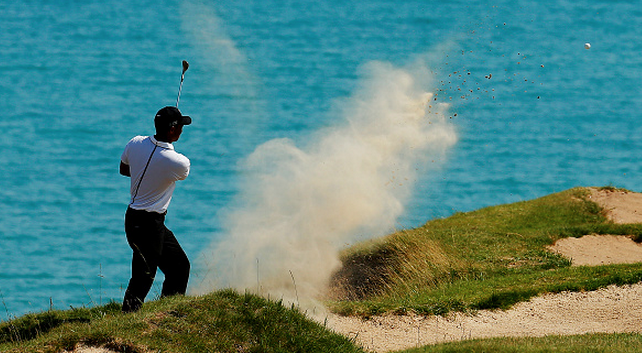 he enters next week's event in Greensboro. No, he wouldn't……well, he did. Tiger Woods let the Tour know that he's entering the Wyndham Championship next week. He did so because the deadline for it would have been Friday had the 2nd round been completed. Tiger's agent clarified that Woods entered it to beat the deadline, but will take the weekend to consider his options. In other words, if he can make a miracle happen and make the cut and rise up the leaderboard he won't be in Greensboro. Whatever happens, he should play the Wyndham. Not because he made a commitment, but because he needs the rounds. If he's serious about getting better he has to start somewhere. If he does play, he'll have to win to have any chance of advancing to the playoffs.
Round 2 Footnotes
FIGJAM shot 73 and is +1 for the championship. He should be playing the weekend unless this little stunt hurt his coccyx.
I don't have a clue what he was doing there. My first thought was that the GIF was fake, but it isn't. And somehow he also pulled it off without a grass stain. Only Phil.
Japan's Hiroshi Iwata probably packed his suitcases to go home after his 1st round 77. On Thursday he had no birdies, a double, and 3 bogies. On Friday he had 8 birdies, an eagle, and 1 bogey on his way to a course record 63. Iwata had a chip on 18 that scared 62 for a moment as it approached the cup. He became the 27th man to shoot 63 in a major, the last being Jason Dufner in 2013. The untouchable 62 will remain just that for at least another day.
John Daly makes the PGA field every year as a past champion (1991). He rarely makes the cut, but he typically provides some entertainment on his way out of town. He often does so with a big number. Today he made a 10 on a par 3 largely thanks to rinsing 3 balls in Lake Michigan. It must have been the club's fault.
I'm okay with a good club toss as long as no one gets hurt. Daly's known for these types of shenanigans and the only thing he could have done that would have been "more John Daly-ish" would have been to pull a cold beer from his bag and drink it on his way to the green after that toss.
On/Off The Air
Because of the 3rd round being suspended golf fans lost out on a lot of live Friday Happy Hour Golf. With the restart at 7 am, will TNT broadcast it? Will coverage be available online? I should hope so, but we have no indication that this is happening yet. Also, when play was suspended the Day/Fowler/Johnson group had been on the course nearly 5 hours and still had 4 holes to play. That is horrific. Why wasn't there a slow play penalty applied to anyone? If they'd played at a normal pace they would have been in before the delay. I'm not blaming them. The whole field plays at this place. It is mind blowing.