So I Was Wrong About DJ
Shoot me. I thought he'd have some PTSD shit going on from 2010. I thought his recent rounds were a trend. I was wrong, so far. It won't be the last time. DJ was anything but off on Thursday at Whistling Straits and the result was a field leading 66. Five birdies, an eagle, and one bogey. That's pretty classy. DJ did have the advantage of being in the morning waive where they clearly had the better conditions before the wind came up. Imagine if he can keep it up. Imagine the pressure he'll face on Sunday. Imagine the train wreck that we'll get to see. It could be glorious.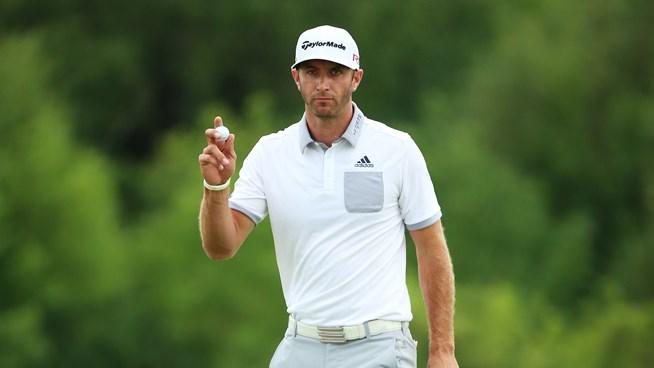 If DJ is going to win the PGA Championship he's going to need about a 7 shot lead when he tees off on Sunday, and even that might not be enough. He'll have Rory, Spieth, and Jason Day likely chasing him. That means the odds of him having a large lead are about 1.5%. Remember when journos were giving him the British a month ago after 36 holes and he finished T50 something? Ok, good. Keep that in mind if this cat keeps this up for a few more days.
Versus Goliath
In contrast of the giant that is Dustin Johnson we find tiny David Lingmerth sitting in solo 2nd. Lingmerth shot 67 and did so in the meat of the afternoon winds. He looked solid and now gets to come back in what we assume will be calmer conditions on Friday morning and try to post a score. He could get to -10 and be 3 shots clear of the field before DJ even tees off. In a 14 month span that saw Rory and Jordan Spieth win 4 consecutive majors, it'd be a shame to close the year's majors with wins by Zach Johnson and Lingmerth, no offense, Dave.
They Still Have Bullets In The Chamber
That has nothing to do with the U.S. Open at Chambers Bay. It means that several big guns positioned themselves nicely with their round 1 scores. My picks of Jason Day and Matt Kuchar are two of the several 68s that were carded. Both were out early like DJ. Both will likely battle tougher conditions on Friday. Anything under par on Friday should keep them in the hunt. My other pick, Bubba Watson, shot even in the calm morning waive. He's probably fucked unless something fluky happens.
Then there's Rory McIlroy. He answered every doubt we could have had about his tender ankle. He had great balance and power, ok…don't over analyze it, he looked like he hadn't missed a single event. After almost 50 days away from golf Rory said he was nervous on the 1st tee, but after that settled in and played well. His 71 might look like he's 5 shots behind, but in the windy afternoon waive Ror's score is more like a 68. I think the 5th hole was the key to his round today. The pic you see here is from his 4th shot on that hole.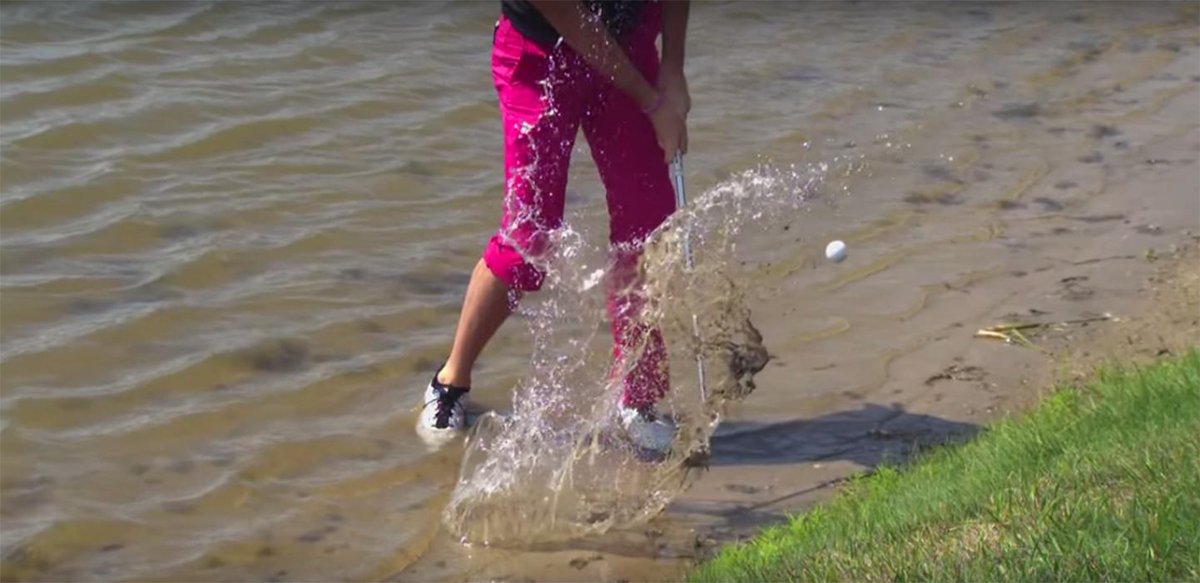 If you missed it, his drive found the bunkers between the fairway and the right hazard off the tee. I had the same shot last year when I played the hole. I laid up down the fairway, but what did I have to lose? Rory pitched out with more of the lip/bank of the bunker in front of him to get up and over. For his 3rd shot he hit a 5 iron at the par 5 green. It bounced off the bank short and into the hazard. With much of the ball above the water line, Rors elected to pitch it out and onto the green. As Michael Breed pointed out on the Featured Group channel, the waves going with direction of the shot helped McIlroy get the ball out. Breed is dead right. Rory was left with about 11 feet for par. You knew he was going to make it to complete the hero par save. And from there his round seemed to be righted.
Jordan Spieth is right there with Rory at -1 after carding a 71 on Thursday. I thought he played pretty awful (for him). He had the lefts off the tee. And yet he still managed his game and made few mistakes. The cliche' is that you can't win a major on Thursday, but you can lose it. Well guess what old Mr. 22 Going On 42 did…..correct, he didn't lose the PGA today. Savvy stuff, but that's all we ever expect from him now.
The Thursday Footnotes
This is what Tiger Woods is now. A fucking footnote. He shot 75. He sprayed it a bit. He scrambled okay. And he didn't make many putts. He did all of that when the morning winds were mostly calm. He's fucked for Friday. I'll set the o/u for him at 73.5 and take the over. Lock it.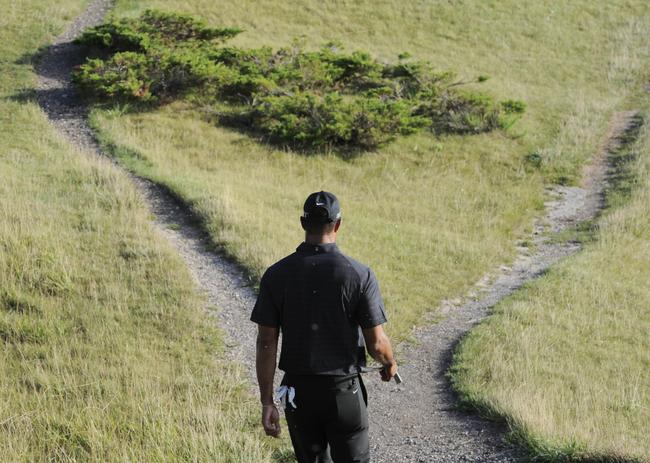 Brooks Koepka's round was fun to watch. The Florida State kid went out in 40, birdied his first 5 holes on the back, then bogied two of his final 4 holes to post a 73. Shit. I'd feel like I pissed away a good round if I made 5 birdies and shot 73.
Keegan Bradley made birdies on his first two holes and last two holes on his way to a 76. He was in the morning featured group with Tiger for all the world to see in the online coverage. He was tough to watch. I had to look away and I can't imagine Tiger and Martin Kaymer didn't have to do the same. The fucking whack job takes forever to hit the god damn ball right now. I think he's getting worse and clearly it isn't helping how he scores. He has 1 top 10 finish since April. None in the last 2 months.