Money Games
Tuesday at a major typically involves Phil Mickelson, some young guns, and a lot of money changing hands on the 18th green. Bitch Tits doesn't do practice rounds. He wants to feel competition on the course before he goes live on Thursdays. This week at Whistling Straits Phil partnered with Rickie Fowler to take on Jordan Spieth and Justin Thomas. Why couldn't we watch this? The trash talking was apparently pretty good with Spieth trolling Lefty about his U.S. Open trophy. Rory McIlroy was also around Phil and took some heat of his own while cutting across the course. Phil telling him to be careful on the stairs was the comment dujour that was overheard.  Rory fought back with a shot at Phil's old, aging legs. Doesn't sound tense enough to be a major, does it? I think that is the environment Phil is trying to create on Tuesdays.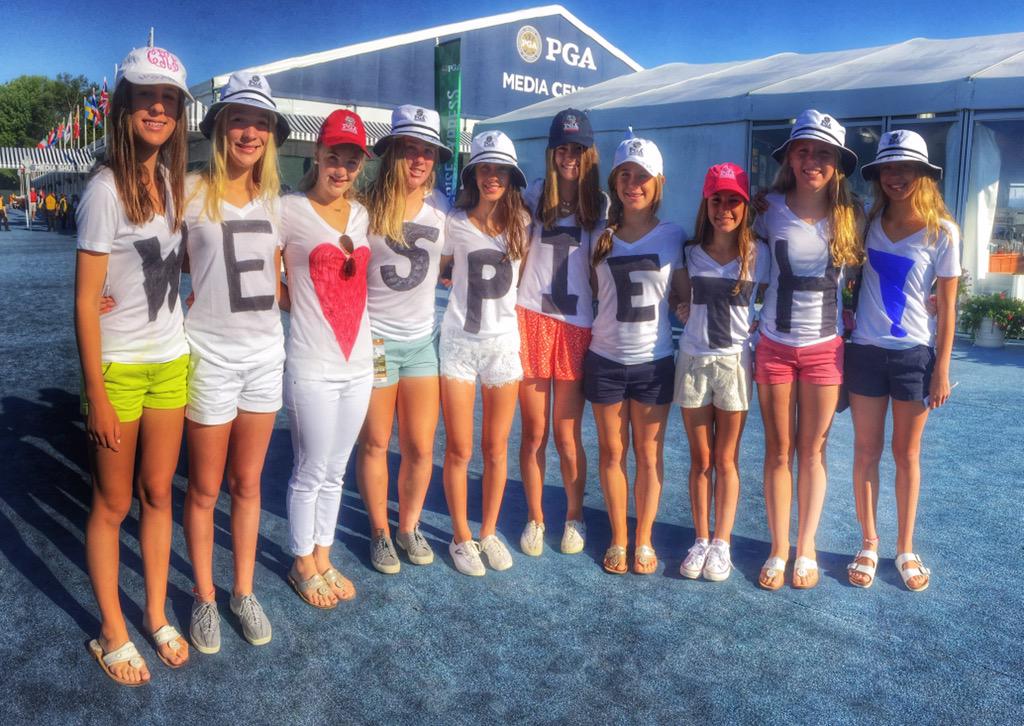 Oh, and Jordan had a few fans in attendance too. How cute. As for the money game, Spieth tweeted that he and Thomas prevailed. He did so with a 20 foot put on the final green. Of course he won. Jordan isn't on the losing end of much in 2015.
Threesomes For Thursday (And Friday)
Unlike the USGA and the Masters, the PGA doesn't fuck around in waiting to release their pairings. The PGA put these out last week but I'm just now getting around to discussing them.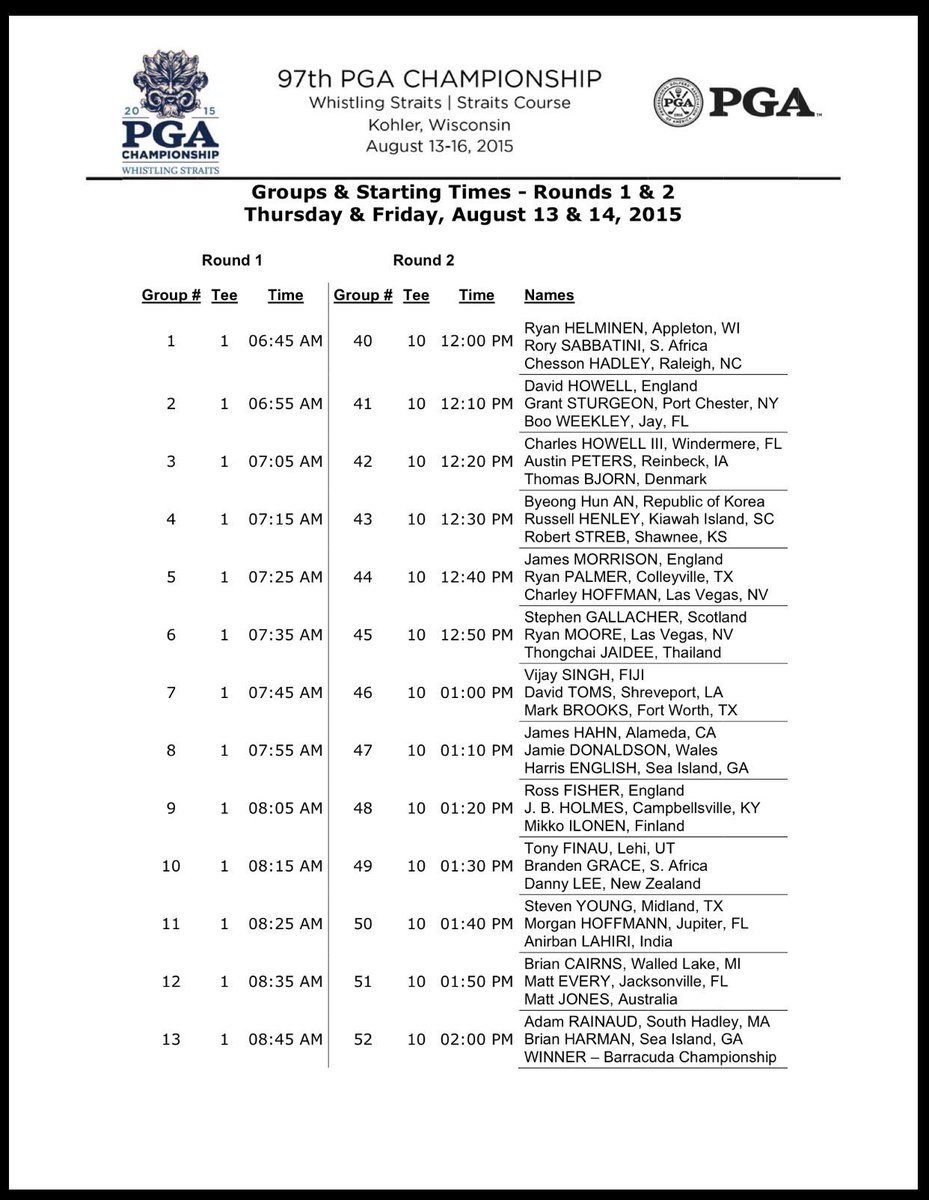 That Finau, Grace, Lee group caught my eye. All three players have had a great few months, although Finau might have plateaued in July.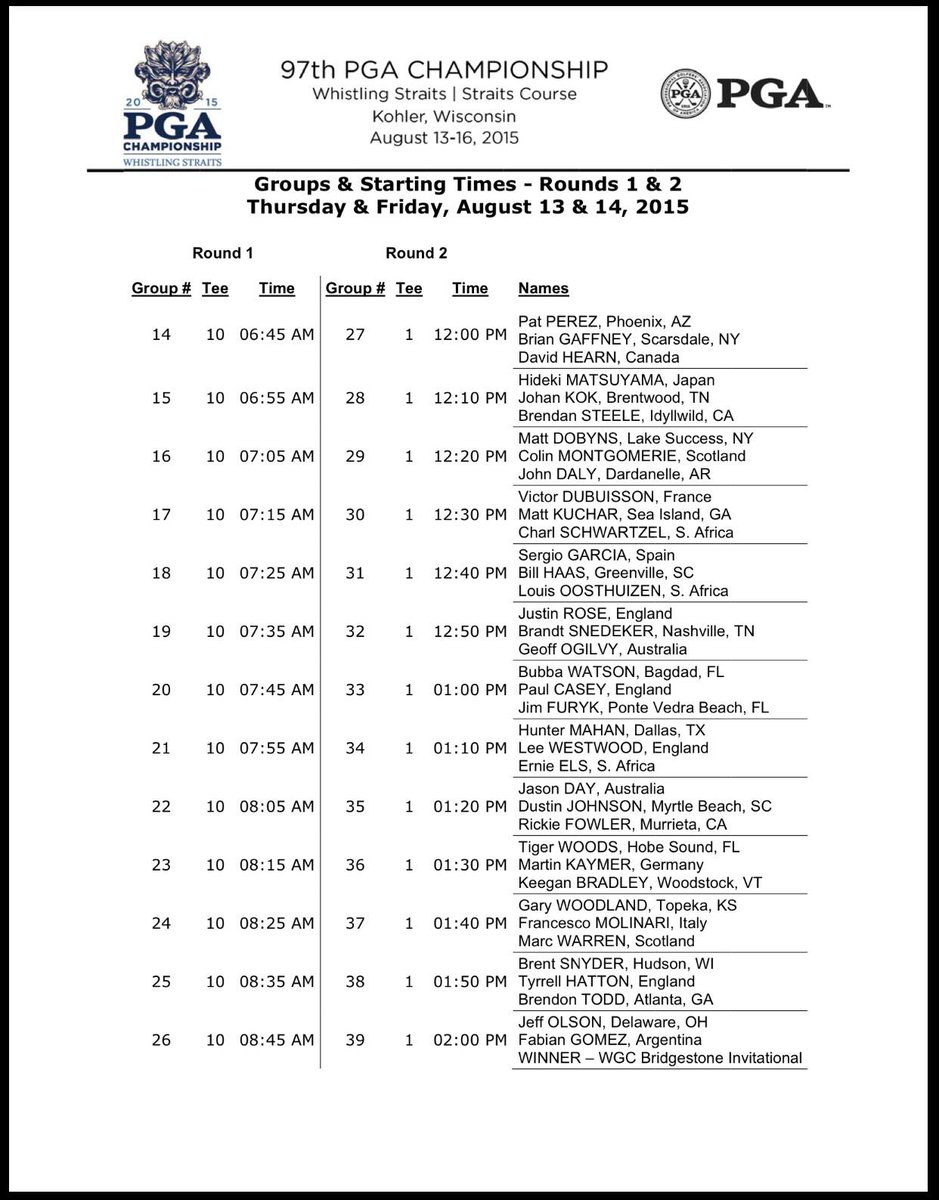 Obviously there are a few headliners here. Woods/Kaymer/Bradley is good, but Day/Johnson/Fowler will have just as many eyeballs. The Watson/Furyk/Casey group is interesting too.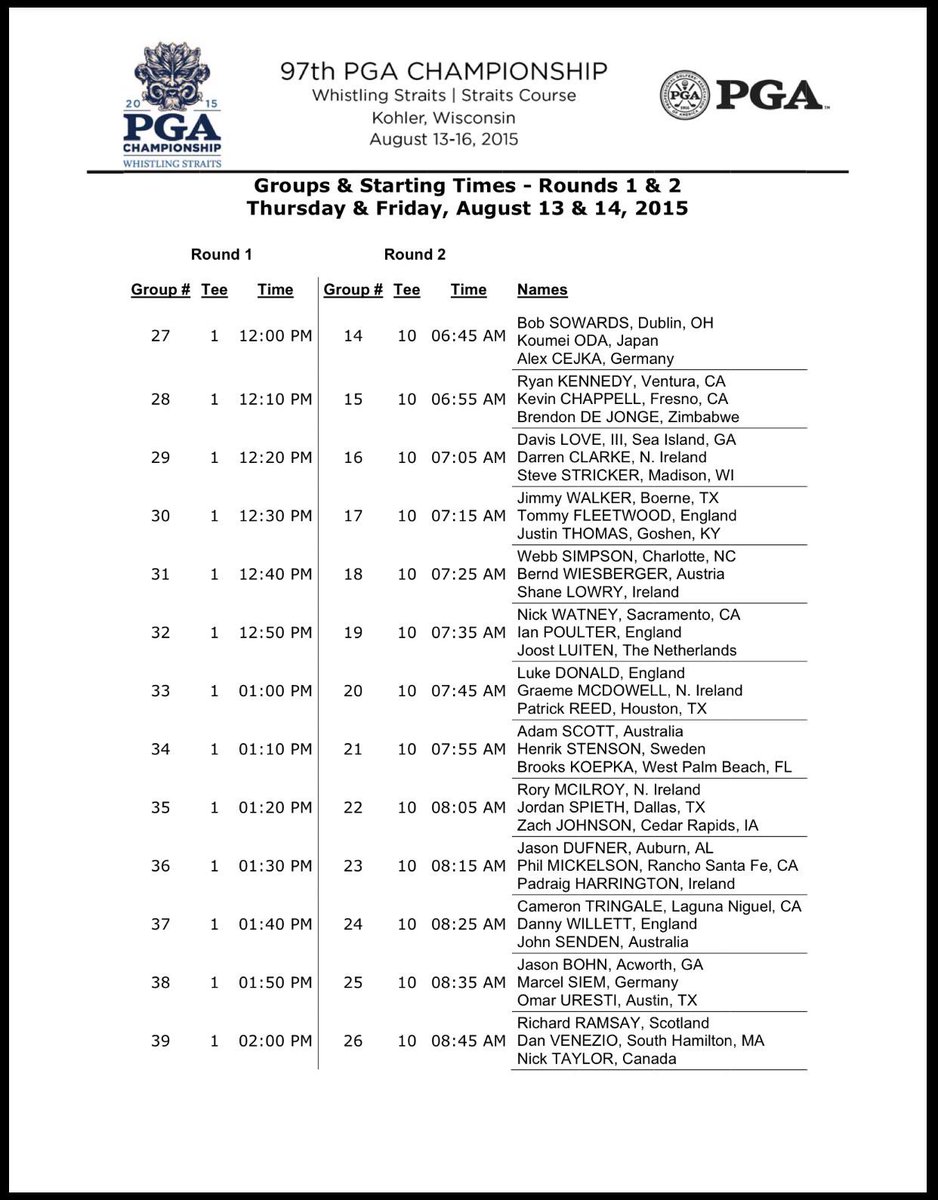 Scott/Stenson/Koepka….shit, someone get @NoLayingUp a box of tissues and jar of lube. I like that the PGA puts so many past champs together. That's how we get groups like Dufner, Phil, and Paddy. Oh…did you think I wasn't going to say anything about the McIlroy/Spieth/Johnson pairing. Yeah, not too shabby. Give the people what they want and put all 3 players on the planet in possession of a major championship trophy in the same group…..yes please. Get logged on early for that 8:05 am group off ten on Friday.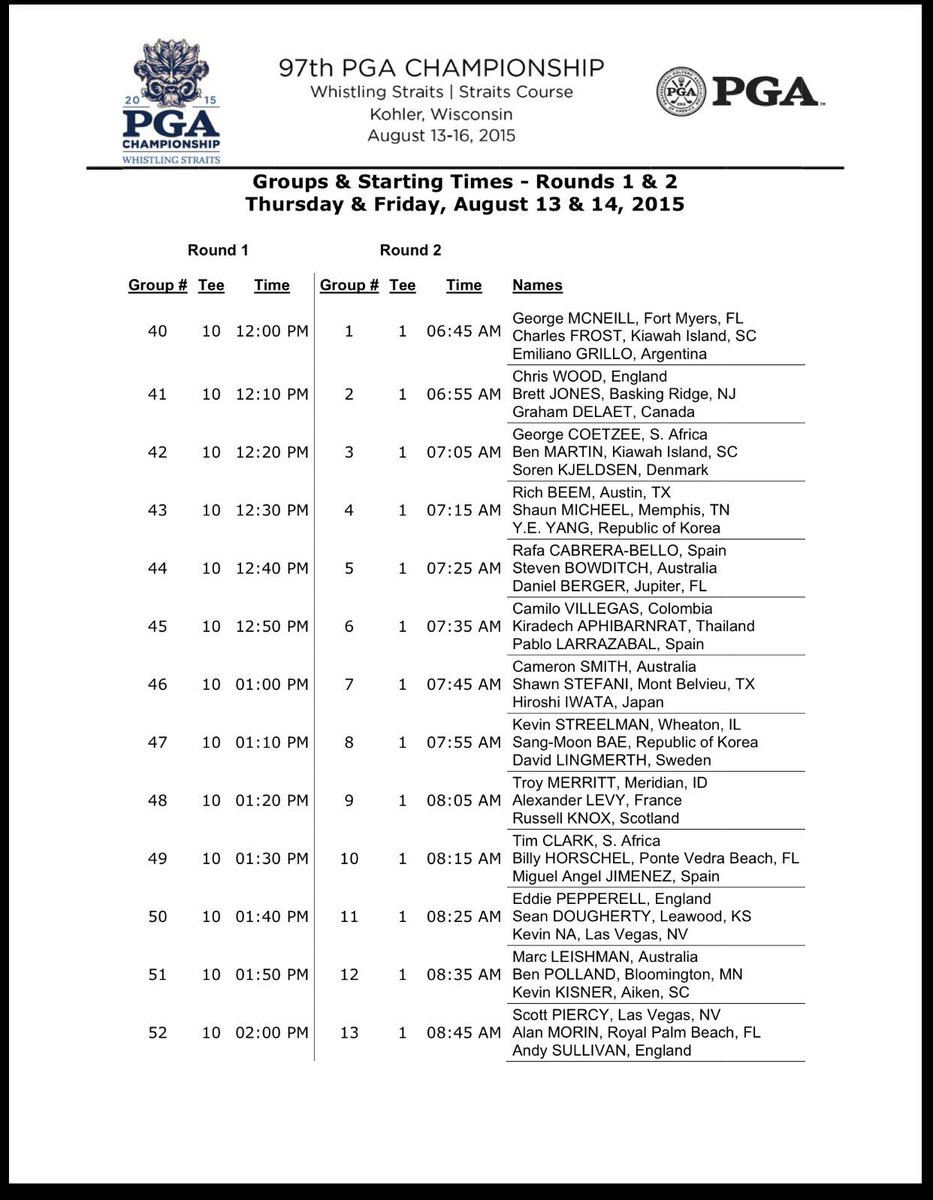 The last sheet is a bit of a bore, but that happens in parts of the draw. Graham DeLaet had to WD which got Sean O'Hair into the field. Maybe he'll pull a John Daly and win the thing as an alternate.
Bubba Plays Nice
In 2014 the PGA of America re-instituted the Long Drive Contest that was started back in the 60s at the PGA Championship. The contest is held during the Tuesday practice round. The winner sends $25K to a charity of their choosing and gets a throwback gold money clip saying they're the champ. 2010 PGA Champ Martin Kaymer was all in:
Too bad the big gay German missed the fairway. Last year Bubba pulled iron on the 10th tee at Valhalla when it was his turn in the contest. He's taken shit for a year for that cowardly act. Today he hit driver and missed the fairway, but at least he tried. That's all we ask, Gerry. Don't be a dick and play nice. Who won? That would be Anirban Lahiri of India with a drive of 327 yards. The course was playing soft today due to Monday's rain.
Queer Or Quirky
One thousand bunkers, hundreds of mounds and moguls, and a huge water hazard that doesn't (shouldn't) come into play. That is the Straits course at Whistling Straits in a nut shell. It is full of quirks, including a man eating bunker surrounded by the putting surface at the 6th hole. I watched a guy take 6 shots in there 11 months ago. Troy Merritt had a much easier time of it.
I don't really like that feature on a hole in most cases. Here, at the PGA, on this course….it just might work. The reason is the PGA will likely make the short par 4 drive-able at some point or two in the championship. If that is the case then a hazard like this 8 foot deep bunker is quite necessary to provide some defense to the hole. Watch for this and other Straits quirks as the championship rolls through the weekend.
While you can't miss that cavernous bunker on the 6th, you certainly can miss others…just ask Dustin Johnson. And just as the PGA did 5 years ago, they've posted warnings all over the property for the players to see to know that all sand is considered a bunker. So DON'T GROUND YOUR FUCKING CLUB!!!!! They've even posted the note at the urinals. And @TwoInchesShort didn't miss an opportunity to send the perfect tweet about that.
Nailed it. Well done sir. I read a lot of tweets today, none were better than that.