No Longer Unknown
I know who Shane Lowry is, but did you before this week? If you did you likely knew him as the fellow Irishman that beat Rory McIlroy at the WGC Match Play event in 2013. If not for that, perhaps you knew him as the guy that was pissed off last year when the USGA put him with Brendon deJonge and Kevin Stadler at the U.S. Open and everyone called it the fat boy group. Either way, you know him now because he's the newest first time winner on the PGA Tour.
Shane has been knocking on the door a bit now, albeit under the radar because he mostly plays in Europe. He did have a top 10 finish at Chambers Bay in June. On Sunday in Akron he took advantage of a choking Jim Furyk, the balky putter of Justin Rose, and half wit Bubba Watson to win the WGC event by 2. Well, all that and a VERY friendly kick off a tree at the 18th.
Leading by one on the final hole, Lowry's 2nd shot from the rough clipped the big tree that guards the green and bound to 10 feet from the hole. His tee shot was so bad he was lucky to find an alley to play from with a shot at the green. Then the bounce off the tree..??? He's living right. As you can see above, Shane thanked the tree properly. There's no truth to the rumor that he bought the tree dinner before he fornicated with it.
With the win Lowry won enough cash to become a full PGA Tour member but for some reason I'm still not clear on why he isn't eligible for the Fed Ex Cup Playoffs. Can anyone explain that to me? Did I hear CBS wrong? I don't think we'll see Shane play in the states regularly, but I do think we could see him contend in and perhaps win a major in the next three years, just not this week.
The Mrs. 
Lowry is engaged to Wendy Honner. He apparently has pushed back the wedding date a few times after proposing about a year ago. Wendy doesn't seem to mind, and why would she? Her future bank roll continues to grow. And as with most tour wives she's far too good looking for her husband. She's not a 10, shit….she's not even a 7, but look at Shane. The USGA, while rude in doing so, was accurate in their 2014 fat guy grouping.
The girl in the middle pic might not even be her. It sure doesn't look like her but Google tells me otherwise.
The Field
Jim Furyk might have ended his 5 year win drought earlier this year at the Heritage, but he did so with a come-from-behind final round 63. That means his streak of blowing 54 hole leads is still in tact. Jim did nothing to change that on Sunday at Firestone as he posted a +2 round of 72 and finished 4 shots behind Lowry. Once is tough luck, twice is close to becoming a pattern, Jim's ability to choke away a 54 hole lead might as well be trademarked at this point.
Bubba Watson continued a solid 2015 with a runner-up finish at the Bridgestone. I've never thought of Firestone, which looks mostly straight from the blimp view, as a course that would fit the eccentric Mr. Watson. The course also doesn't have an extra 2 par 5s for him to devour. But there he was a shot behind Lowry, in the clubhouse, with Lowry starring a bogey in the face that would have put the two players in a playoff. Watson is clearly playing well. He should be dangerous next week at the PGA.
Justin Rose joined Furyk as the Saturday night co-leader in Akron. He also joined him in shooting a shit-stained 72 on Sunday. Rose didn't choke and there's no pattern established of him doing that. He just lost the most important club in his bag at the wrong time. JR shot 63 on Saturday and was electric with his flat stick.
Then ppppppfffffffffffffffffffffttttttttttttttttttttttt. Nothing but a giant turd on the greens on Sunday. CBS caught it right away. After Rose looked good in chipping in at the 9th, Gary McCord and others picked up on Rose hitting putts on the heel of the putter face. He looked like a typical weekend hack with his blade. It was appalling. I'm not sure how fast he can fix that heading into Whistling Straits.
Oh yeah, that Spieth kid was in Ohio for the weekend too. He muddled around even par for 3 days, then got his shit together with a nice Sunday 66 and a back door top 10. Yup, right on schedule for a major next week.
Shot Of They Day
Lowry's aforementioned shot at the 18th hole was nice, but it was mostly luck. Shots of the Day should involve skill, so I'll take another one from earlier in the round that Shane pulled off. After hitting a foul ball at the 10th, Shane was given relief from a structure leaving him with a side angle approach to the green. He only had 100 yards to the hole, but his free drop left his ball in a bird nest. I guess he did okay from there.
Those are the kind of shots that seem to just work out for the guy that wins.
Ooooooooooooo Barracuda
Just play the fucking song while you read this. It helps the vibe. What am I talking about? I'm talking about the opposite field event played in Reno, Nevada concurrently with the WGC event in Firestone. The Stableford format tourney resulted in JJ Henry as the champion. He apparently beat Kyle Reiffers in a playoff for the big trophy. I didn't see a second of it. Those two finished a point ahead of rookie phenom Patrick Rodgers. However, the more interesting story of the event involves Andres Romero.
Romero 3 whacked his 15th hole in round 3. On the next tee he punched a sign and hurt his hand so bad he couldn't hit another full shot. Instead of WD'ing right there he decided to finish his round. How, you ask?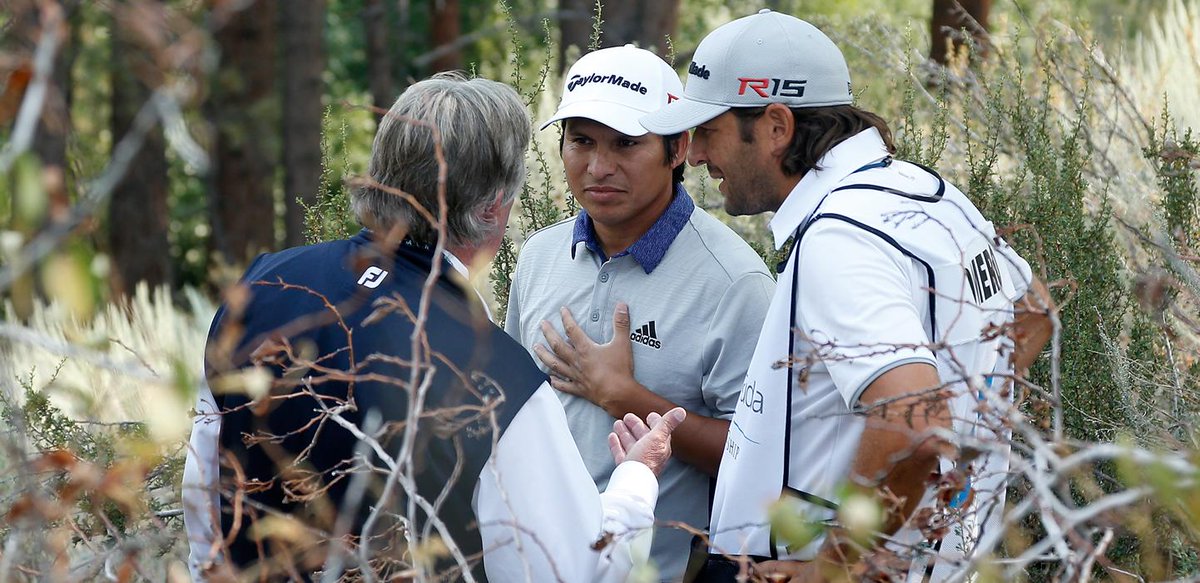 Because of the format a player can at worst score a double bogey. They must subtract 3 points for double or worse. This allowed Romero to simply tee off on a hole and declare his score a double after doing so. Because he couldn't swing he teed off with a putter. While that is hilarious and completely anecdotal, there is no rhyme or reason as to why Romero didn't just walk off the course. This was the 3rd round. The only answer that I can think of is that he must have been awarded last place money for making the cut. I guess stupidity can payoff.