The Ankle Is A Go
Day 1 at the PGA came and went on Monday without much fanfare. There were some weather issues. There was obligatory gushing over a course on the water. And there was Rory McIlroy in the flesh to show us that his ankle is ready to go. He was Instagramming and Tweeting over the weekend hints and clues that he'd be in Badgerland this week. This one sold it for most of us.
He 'looks' good to go. Where is mind is, how rusty he is, and if his ankle can hold up for 72 holes at the Straits is a completely different animal. Walking the terrain there is no picnic anywhere off the fairway. I think he'll make the cut near the number and never seriously contend. We might see the real Rory in a few weeks in the Fed Ex playoffs. If we see even a glimpse of him this week the hyperbole might get out of control.
Playing The Straits
This is your reminder that Pete Dye's Straits course in Kohler, Wisconsin is a public track that you can play. It is ranked in every golf publication's top 100 courses. I've played it, and I've reviewed it just for you. I liked the track but I think much of it is artificial, tricked up, and repetitive. You can read the full review here. 
Of course you can't play it this week. You also can't play the other courses at the resort because they're closed through the championship. If you're headed to the Dairy State for the PGA I highly recommend the Links of Lawsonia and a trip to Erin Hills to fill up your days that you won't be at the Straits. Neither is too far of a drive for the serious golfer and both are worth the journey to check out. You'll notice that for the overall experience I rated both courses higher than Whistling Straits. Neither will be as visually appealing as what you see this week at the PGA, but they are great courses that are decent values and great experiences for the die hard golf nut.
Who Is Wearing What
The PGA is a major, and that means scripted outfits are tweeted out like we're supposed to give a shit about them. I won't lie. I actually do find these kind of interesting. After all, golf companies pay big money for professionals to wear their garb. We in turn see the walking billboards on TV, decide what we like, and buy accordingly for our golf wardrobes. You can't get on the course naked. I digress. Here's who is wearing what:
Rory And Tiger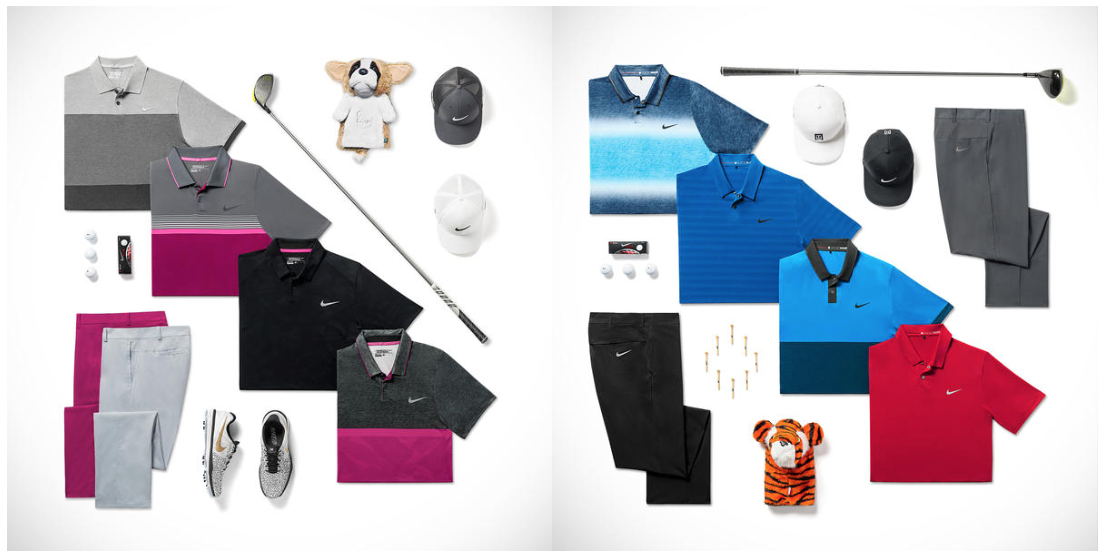 Four shirts for both players looks a bit optimistic for the $woosh boys. Rory's outfits look a bit too similar. Notice that Tiger's shoes aren't shown. That is probably because he's still wearing an older model and not the 2015 TW shoe.
Jordan Spieth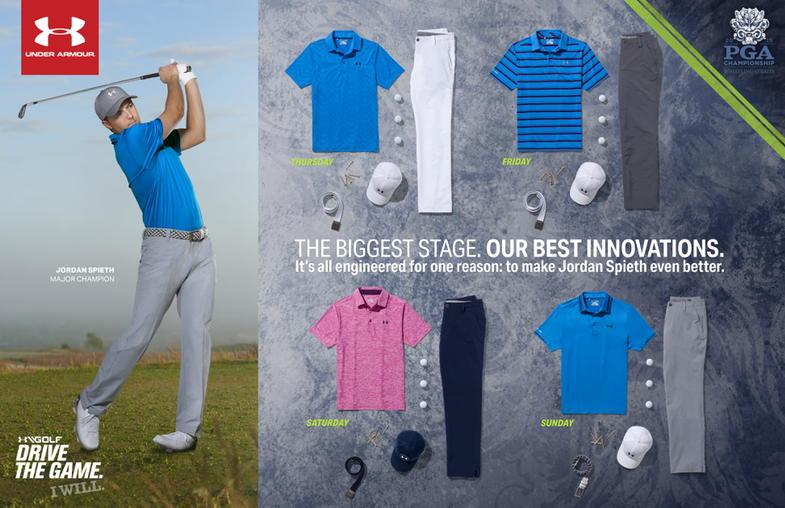 The kid likes his blue and gray. The Saturday pink will be a nice change for him. When UA first sent this out "innovations" was spelled wrong. I wonder who got fired for that fuck up.
Bubba Watson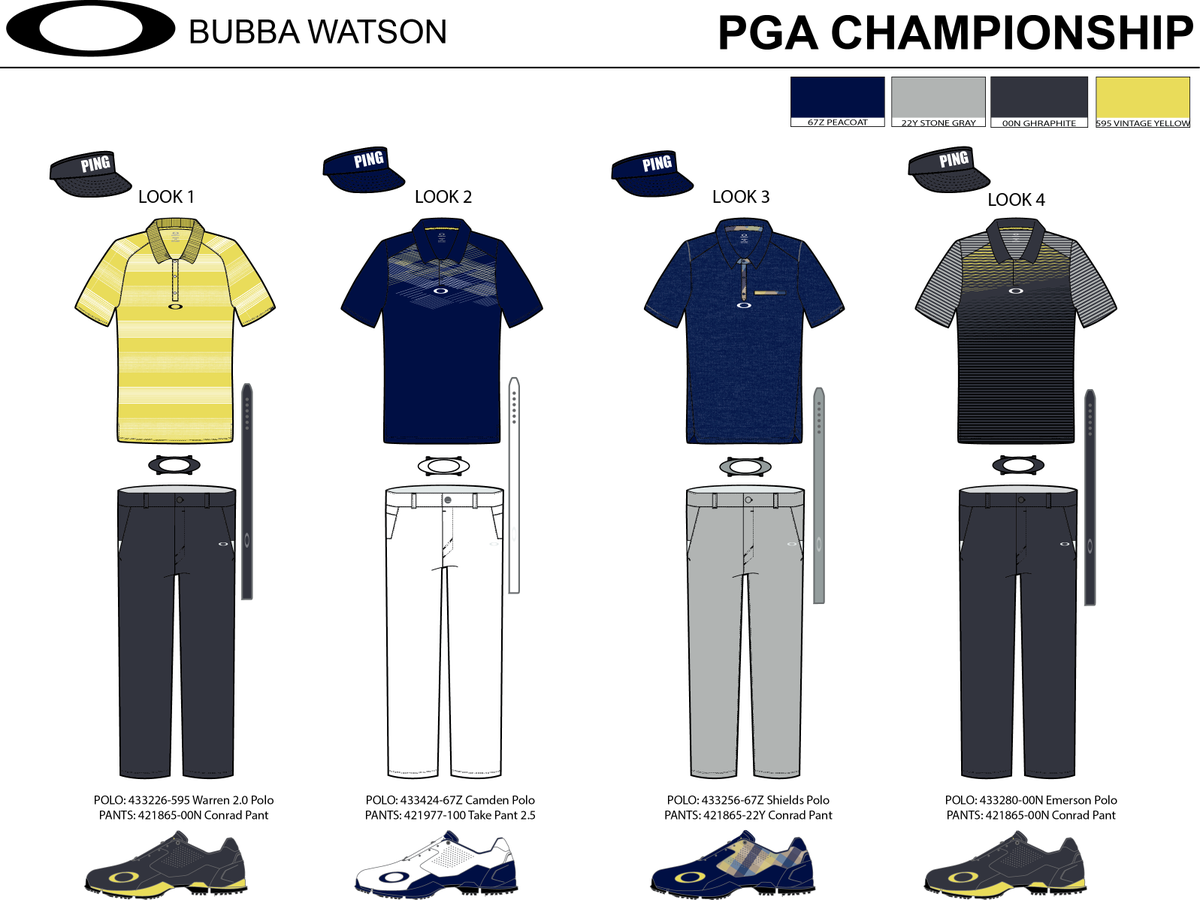 Remember when Bubba won his first Masters in 2012 and he wore the same white/pink outfit for all four rounds? I'm thinking Oakley wants to make sure that never happens under their watch (he wore Travis Mathews back then). Personally, the Oakley stuff isn't appealing to me. Bubba Watson does nothing to help the brand's image in my mind.
Justin Thomas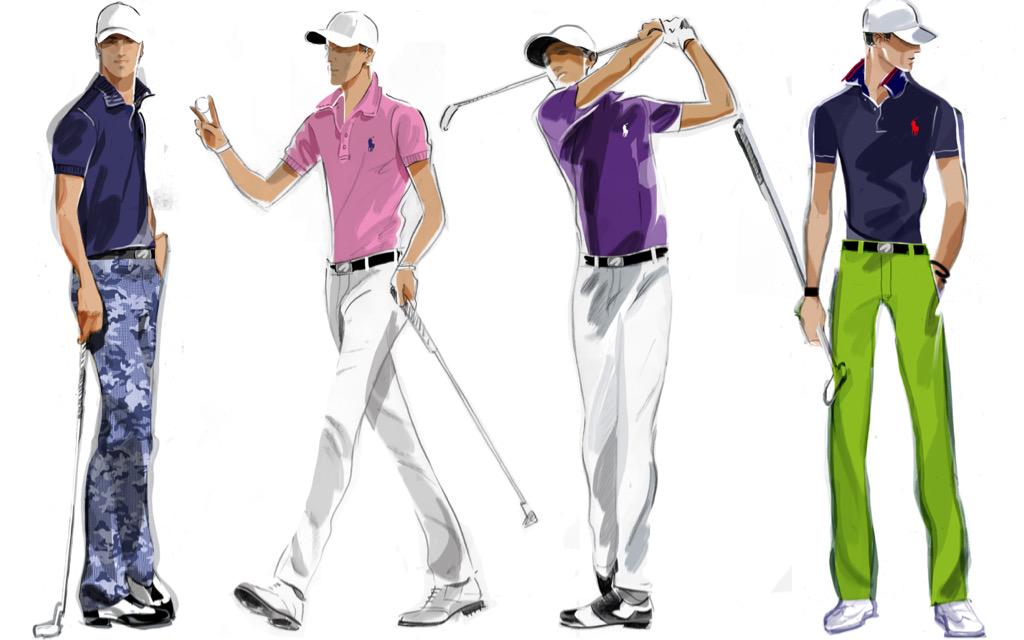 That's more like it. I don't think I'd wear the green pants, but I'll give a big thumbs up to the other 3 selections. Justin dresses pretty well for a rookie.
That's all I've got the stomach for. As always, you can get all the thread talk you want at the Golf Threads Blog. We'll talk pairings tomorrow.