He Didn't See It Coming Either
Troy Merritt missed 5 cuts in a row prior to this week. In the 4 starts he'd made prior to those 5 he didn't finish in the top 50. In other words, his own mother wouldn't have picked him to win the Quicken Loans National this week. Shit, to start with, Troy barely made the cut before going ape shit on Saturday with a 3rd round 61. A ten under par round has a way of moving one up the leaderboard quickly.
Merritt said he felt his swing had turned a corner in the last few weeks but he wasn't putting well enough to show positive results. He credited his crazy good weekend scores to an alignment adjustment he made after his Friday round. What he did Sunday might have been more impressive for the fact that he backed up the 61 with another decent round while having slept on the 54 hole lead. He also held off big names like Bill Haas, Justin Rose, and Rickie Fowler to earn his first PGA Tour victory.
As the cliche' tells us, getting win number 1 is a life changer. It might be even more so for Merritt. He's never even played in a major. Now he's in the WGC field at Firestone next week, the PGA the following week, and the Masters next spring. That run will make him feel like he was flying coach and is now flying first class. Merritt's win also seems to be a popular one with his peers. Twitterverse has been full of congratulatory messages from other players to Merritt.
Oh…did you want me to comment on Troy's wife?
That's all I've got. Her name is Courtney. She married Troy 5 years ago, and if she was at the Quicken, CBS didn't dare show her on the final hole because they cut away fast to get to local news. Blame that on slow play. The final few groups played in 4.5 hours plus as twosomes!
The Field
I picked Rickie Fowler this week so I'm probably the only guy in the world who gave a shit that he holed his birdie putt on the 72nd hole to get 2nd place alone. That matters to fantasy golf nerds. Rickie was pretty good all week. He had an ace, a back nine 30 on Friday, and made a shit-ton of birdies over all four days. He didn't win because Merritt out-played him and made far fewer mistakes. Rick made a bunch of bad bogies, some even on par 5s that should have been birdie holes.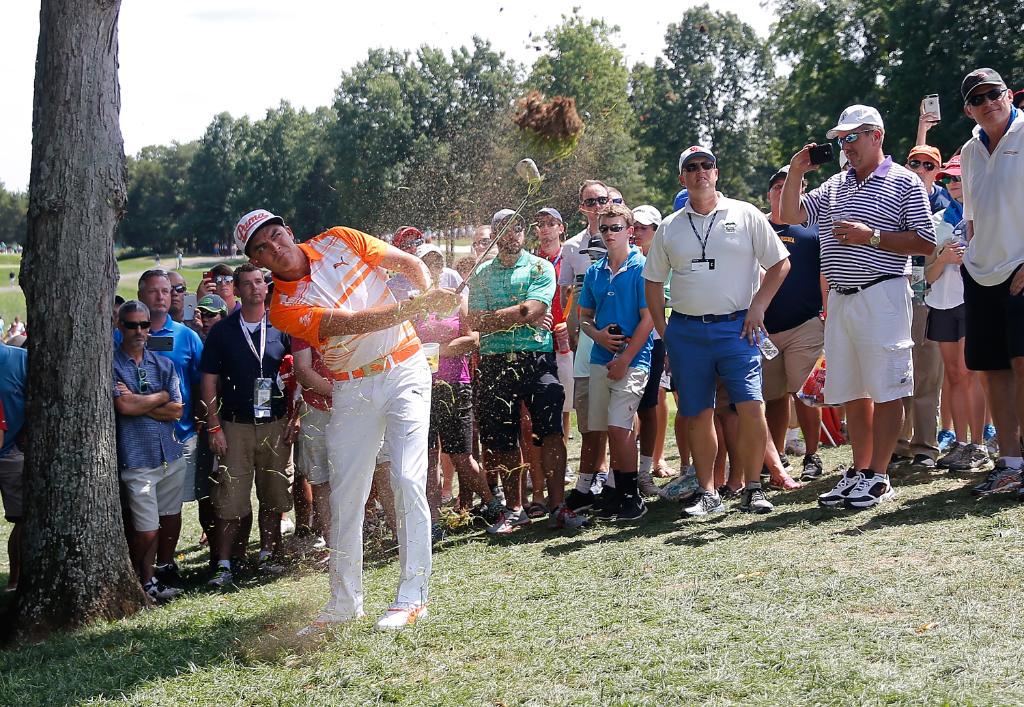 Bill Haas had the lead on the back nine on Sunday. He was a shot clear of Merritt and 3 clear of all others. Then the bottom fell out. Haas made four bogies, a double, and two birdies in his final 9 holes. That obviously isn't going to get it done. I don't think it was nerves causing him to fuck up. He just didn't have it. His tee shots were wayward as he made the turn and he caught a few good breaks to have the lead anyway. I'm sure he won't sleep well Sunday night with the way he finished.
Tiger was at the Quicken, after all, he is the host of the event. He was 3 over after 4 on Thursday and somehow shot 68. He continued his solid play with an electric 66 on Friday. That had him lurking around the top 10 in a tourney for the first time in years. Saturdays are a different animal. I think he felt a little pressure. His game showed it.
He hit tee shots all over the lot like he has most of 2015 and was lucky to shoot 74. On Sunday he managed to make some fixes and shoot another round in the 60s. Several golf writers think he's turned the corner. Sit back, relax, and let ol' ShutFace tell you why he hasn't. It's the fucking Quicken Loans National. The field was weak and he only managed a T18 finish. That doesn't mean much. Tiger himself declared on Sunday after his round that he felt good about having "total control of his golfball". I'm not buying yet. He was better, but this wasn't much different than what we saw at Greenbrier a month ago. He talks about needing reps, getting into competition, etc. If he really meant that, why not play in the Barracuda opposite field event this week in Reno? We'll next see Woods at the PGA. His game isn't ready for Whistling Straits. But who knows, if Troy Merritt's game can appear out of thin air, so can Tiger's.
Shot Of The Day
This is an easy one. With Rickie starting to make some birdies and Troy starting to feel the heat of the lead on him, he stepped up on the 16th hole and hit the shot of his life to increase his lead.
I think he gave McCord the vapors. The million dollar prize Gary mentioned was part of the Quicken give away. Most weeks an ace covers a fan's mortgage for the year (up to $12,000). This week, on the 16th hole only, Quicken would have given $1,000,000 to a random winner if an ace occurred. So close.
WAG Of The Month
July is gone and August is upon us. That means you get a new WAG of the Month in the widget up their on my page. Ms. August is Paige Spiranac. She's not dating a tour player, that we know of, but she's still eligible based on her aspirations for being a professional golfer.
She had a good July, went viral, and looks like she can play. That's all it takes sometimes to get the SFG nod. Enjoy her while you can.