The Phantom Shitter Is Real
(I'm literally going to talk about shit for the next few paragraphs, so feel free to skip ahead if you're above that.)
In my high school days we often were alerted to a strange announcement during class that told us a certain hallway was closed and would not re-open until after our next class. Most of the time rumors of a phantom shitter followed these semi-frequent announcements. Yes, a student (we presumed) sneaked out of their class, took a dump in a strange, somewhat unused portion of the school, and did so completely unnoticed by anyone else in the building. It wasn't a small school. How this happened so often seemed to be a mystery.
The shitter could have been anyone. It was probably more than one guy. However, I did witness a shitter event myself once when my best friend (at the time) and I were on a drunken stroll between parties one evening. He stopped at home (lived on the golf course) and grabbed a bottle of whiskey and a roll of toilet paper. I figured we were about to do some light vandalism on our route. Then he handed me the pin on the 5th green. I could see nothing it was so dark. Thirty seconds later he tells me to putt the flag back in. I could feel it poke something squishy on the other end. I nearly vomited. I was now the Phantom's accomplice.
For the last ten years at the Stavanger Golf Course in Norway, someone else has followed the Phantom's lead. I'm pretty sure it isn't my old friend. I've lost touch with him, but I'm not aware of any trips to Europe. At Stavanger, the Phantom shat in a cup every morning. The offender has never been caught. The course has even tried to put lights near the greens to deter him, but his quest continues. Blogger Ryan Ballengee has the rest of the details here if you're interested. I can't figure out why shitting in a golf hole is appealing to anyone. The dude must want some serious vengeance against that track.
From A Bucket Of Shit To A Bucket Of Beers
The Quicken Loans National hosted by Tiger Woods kicked off today in the greater Washington, D.C. area. Tiger shot a 68 and did so after being 3 over after 4 holes (he's back!!!). Birdies were everywhere otherwise. The Shot of the Day was Dick Fowler's walk off ace in the 9th hole (his 18th). As you can see by the Twit Pic below, Fowler bought the media beers for his ace. No wonder they love him.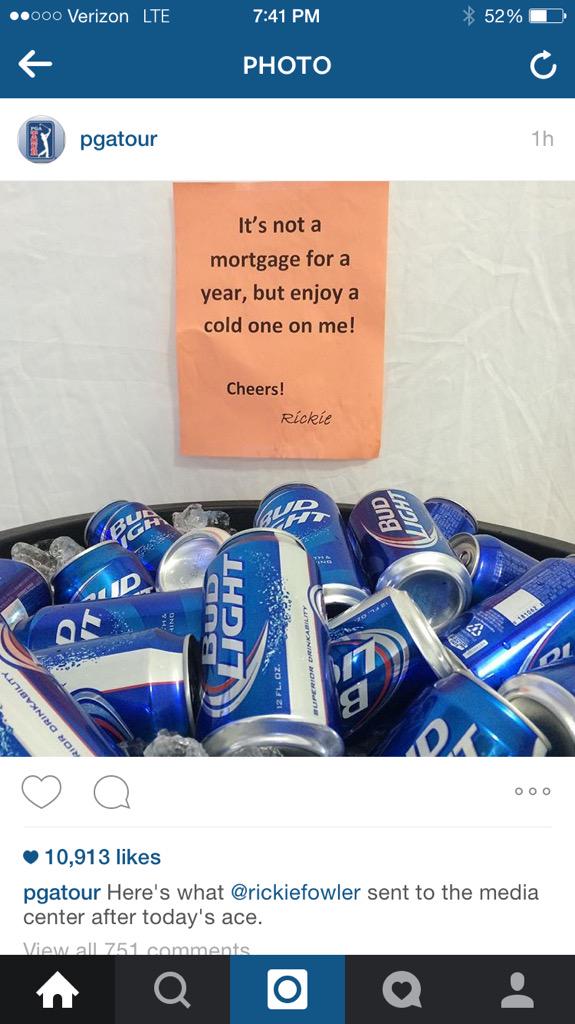 What a guy. Here's a look at Rickie's shot in case you missed it.
Don't get too excited for Rick. I picked him to win this week. That means he'll finish about T32 and not be much of a factor over the weekend.
How Does Your 2016 Look? 
The PGA Tour whipped out its…..ummmm…….schedule for next year today. It isn't terribly exciting. Much was made about Trump's name missing from the Puerto Rico event. I think that has more to do with the course being bankrupt than it does Trump's PR nightmare. His name is still on the Doral event. Tim hasn't shunned the Donald just yet.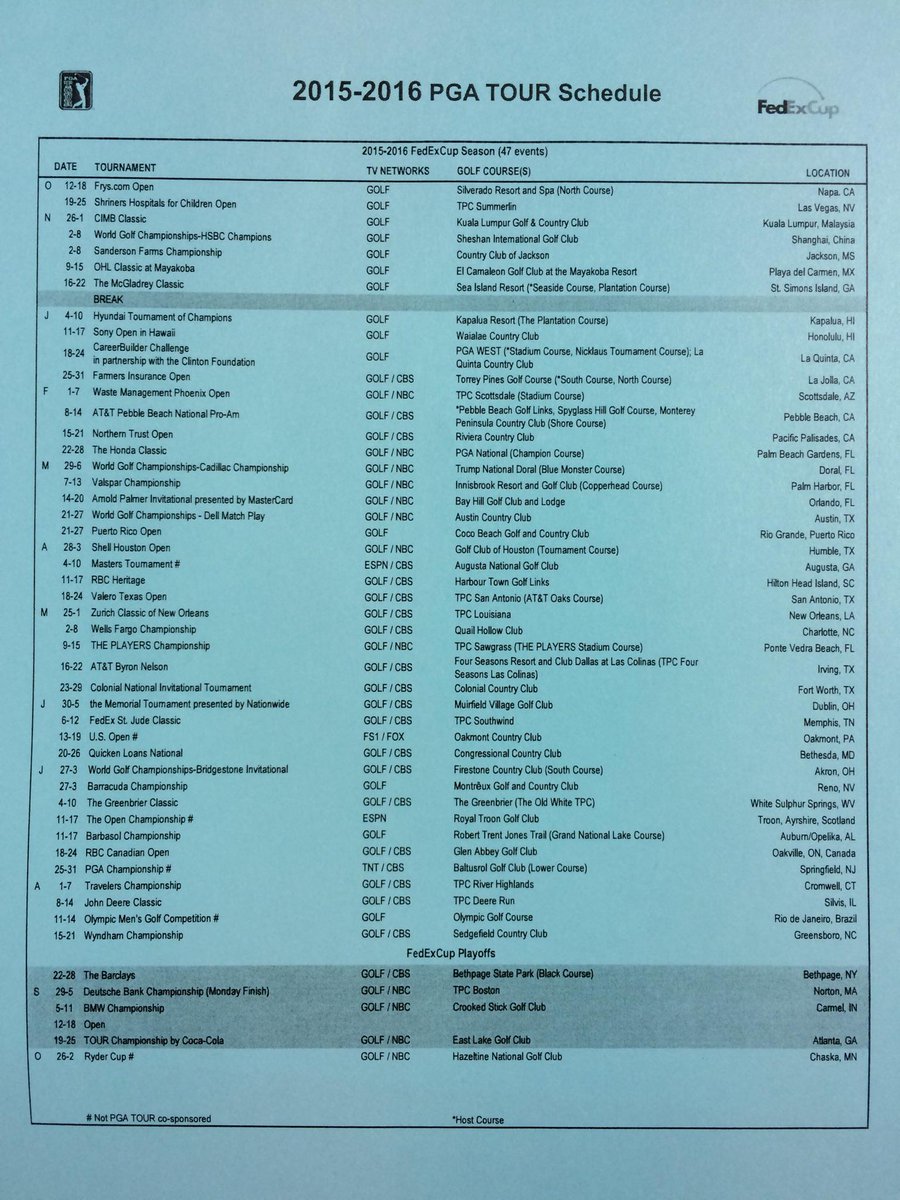 You'll also notice that the schedule is a bit off the norm for much of July and August. The Tour accommodated the Olympics by moving up the PGA and WGC events and re-shuffling everything else as needed. The John Deere will be contested during the Olympics. That means from the Open Championship to the PGA will be a break of only 11 days. There's also a stretch of golf at Oakmont, Congressional, and Firestone all in 3 weeks.
The schedule wasn't even the best thing the tour put out today. I'm always saying how the Euro Tour is far and away more involved in social media, how they market their tour on it, etc. The PGA Tour has made huge improvements in this department in the last 2 months. Today they upped their game in their marketing for their new subscription based online content.
Wow, none of those fuckers can sing. Reed and Thomas were the biggest offenders. That's fine, that is the beauty behind getting them to do it. I think the outtakes tell more of the story.
Good stuff from Hahn. Enjoy the weekend.