I Guess I Missed Hump Day
That's the kind of thing that happens when a major finishes on a Monday. So instead of Hump Day musings, you get…..well, the Day After Hump Day Musings. Yesterday was a slower news day anyway. Shit, today they discovered a planet like earth. A new motherfucking bigger earth!! I'm glad NASA found it instead of Taylormade, because if it was TM then I would have just assumed it is the same old earth with some new paint, higher price point, and different marketing campaign. Ok, time to move on.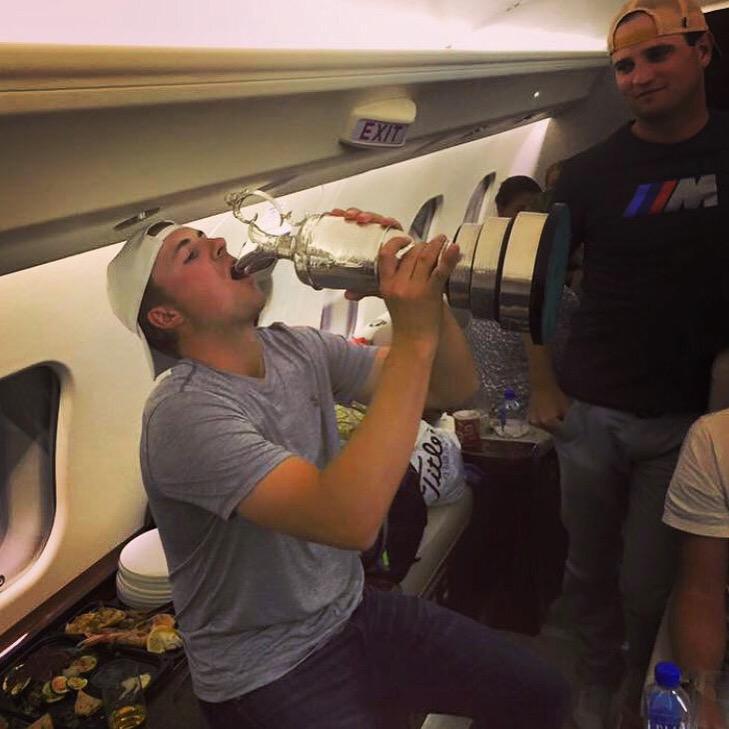 Oh that, that's just your typical same year Masters/U.S. Open champ drinking from someone else's Claret Jug on the plane back from Scotland. Good stuff. In other news we had another Robert Allenby incident on Thursday at the Canadian Open. The professional jerkoff fired his caddie in the middle of the round. From the sounds of it Allenby and looper Mick Middlemo got into quite an argument after Allenby missed a green with what he thought was a bad club choice.
The player and caddie argument became much more heated with witnesses saying both men were equally aggressive toward each other. Allenby said he felt threatened by his now ex-looper. Does that shock you? After all, he has a mangina. The guy will probably make up a story about a group of thug caddies kidnapping him tomorrow and call the news…..oh wait. Even less shocking, Allenby shot 81 and is dead fucking last after round 1. I'm sure this, along with his other struggles of 2015, had everything to do with who was carrying his bag and raking his bunkers. What an asshat. Allenby finished his round with a fan carrying his bag. That's all, nothing to see here, move along.
I've Heard Of Army Golf, But This Is Ridiculous 
A few months ago Sang-Moon Bae was notified by his home country that he'd have to serve in their army. I don't recall the specifics, but Bae planned on appealing the decision. This week Bae made the result of his appeal public. He'll be forced to serve in South Korea's Army. He released the following minimal statement:

The Tour plans on amending their language for injury exemptions to allow Bae to keep his status for when he is ready to come back and play in two years. What condition Bae's game will be in is a whole different story. I'll be rooting for him the rest of the year and when he returns. Its a shame for fans that we'll lose him for any period of time.
Golf Without Borders
While Robert Allenby is at the bottom of the leaderboard in round 1 of the Canadian Open at Glen Abbey, Emilio Grillo is at the top after his first round 64. That almost didn't happen due to a snag with his visa as Emilio entered Canada via Buffalo, New York. Grillo, for some strange reason, played in the opposite-field event in Alabama last week instead of the British Open. It shocks me that he wasn't qualified for the Open.
He placed 10th in Alabama and that automatically gets him into this week's event. His management team knew he had a visa issue so they advised him to fly to Buffalo and drive across the border. At the border he'd be able to fill out and pay for a permit that would allow him as a professional athlete to be in the country for a certain period of time to compete. What a great loophole. Kudos for his team and the Tour knowing it was possible. It might pay off in a big way.
Like My Wife, The USGA Has My Next Nine Father's Days Planned Out
The USGA made some news today as they formally announced the 2022, 2023 and 2024 U.S. Open sites. First, in 2024 the championship will go back to Pinehurst. That wasn't much of a secret. The blue coats loved what they saw there last year and love how the course shows off what minimum water usage can result in. That is their mission right now. They also love the scale Pinehurst can provide with so much property to use for parking, merchandise, etc. There is no word yet on if they'll try for the male/female double open that was executed in 2014 in back to back weeks.
The 2023 site was a little more surprising. The USGA awarded that championship to Los Angeles Country Club's North Course. This grand old lady was renovated in 2010 by Gil Hanse and looks pretty bad ass. I've never played it and know no one that has. The course's pictures have some serious golfer eye candy. We knew the USGA wanted to get back to the West Coast. I'm good with them trying something new from time to time. As a trial balloon LACC will host the Walker Cup in 2017.
Lastly, the announcement of the 2022 site brings the U.S. Open back to a classic site, the Country Club at Brookline. Not having hosted an Open since 1988 when Curtis Strange won, it was long thought to have become extinct to the USGA. That was until the US Am went there a few years ago and was a tremendous success. As with other prior championships hosted by the Country Club, the 2022 iteration will also use the composite course.
Here's the rest of the U.S. Open line up through 2024:
2016 Oakmont (Pennsylvania)
2017 Erin Hills (Wisconsin)
2018 Shinnecock Hills (New York)
2019 Pebble Beach (California)
2020 Winged Foot (New York)
2021 Torrey Pines (California)
2022 The Country Club (Massachusetts)
2023 Los Angeles Country Club (California)
2024 Pinehurst (North Carolina)