Final Round 66s At The Open Don't Grow On Trees
All that firepower, all those other big names, major winners, etc., and we get little Zachie Poo from Iowa as our Champion Golfer of the Year. Sometimes you just have to tip your cap and nod. Job well done, Mr. Johnson. Zach's resume tells you him winning anything is no fluke, except for perhaps a cold, windy, and dry Masters 8 years ago. He's a grinder and a winner, and he might be the best wedge player on the planet. When given the opportunity to out-wedge his opponents he's the guy to beat. Why didn't we have this figured out sooner?
I can't tell you how many times I've said to myself, "self, Zach Johnson's game is perfect for the British Open". And I've always followed that thought with excluding him from ever contending because he will always play the John Deere Classic back home in the states the week before. That event is a major to him. Before this week, with both Jordan Spieth and Zach Johnson contending, I've typically written off the Deere players in the Open. The travel, the difference in the courses and styles, and Johnson putting so much into the Deere should zap him from any thoughts of winning a week later across the pond. Clearly Johnson doesn't think that way. And when his putter finally came to life after being balky almost all season he putt together a final round for the ages.
Just look at my post from the third round. I wrote him off as I didn't even list him in the poll question. I didn't say he had no chance, but I knew 15 under was the number and I didn't see a 66 coming from Johnson. He putted out of his mind all fucking day. He made lengthy putts, he stuck wedges, he gutted out a key bogey in the playoff, but his birdie putt at the 72nd hole of the championship will become part of his legend.
That got him into a playoff with Louis and Marc Leishman. All Johnson did from there was birdie the first two holes of the four hole aggregate format. When Louis' par putt missed at 17 (3rd hole of playoff) Zach had just one bullet left to dodge from Oosthuizen at 18.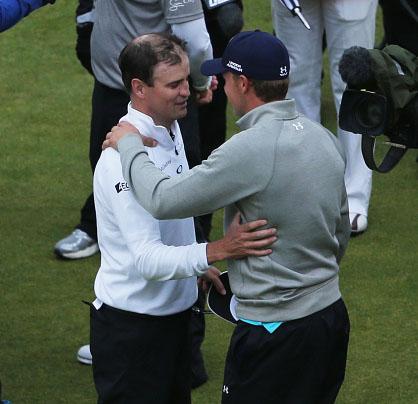 When the dust settled on the playoff, there was Johnson's wife to great him, followed right up by Jordan Spieth who finished a shot out of the extra session of golf but stuck around for 90 minutes to cheer on Zach. Classy kid.
Immediately after Zach's name went on the jug golf journos took to Twitter and their columns to suggest that he's now put himself in the Golf Hall of Fame. If this is the case, then the Hall requirements need to be changed. Zach is a great player, but his 11 career wins aren't Hall-worthy. Two majors is a fantastic career, but it shouldn't make you an automatic entrant into that level of greatness. Now, if he wins four more times, as I expect he will, the conversation changes.
Winners & Losers
This is how we roll for ever major. It is time for the week's winners and losers:
Winners
Zach Johnson – For all the reasons noted above, Zach is the big winner of the week. He finally got his 2nd major. He silenced all the doubters saying the Old Course is for bombers. Now he's on the cusp of a Hall of Fame career. He's this generation's Corey Pavin if you ask me, but Corey never got a 2nd major.
The John Deere Classic – Jordan Spieth wins it, Zach finishes T3, and both come to the Open and put on a show for 5 days. Add in a free flight to the British Isles from Silvis on the Air Deere Charter and the JDC's popularity among better players might be on the rise.
I say this a bit tongue in cheek, but it could happen. I think the JDC works when the Open is at St. Andrews because it gets you in the frame of mind to make birdies and hit good wedge shots. Playing Carnoustie a week after TPC Deere Run might be like unwanted shock therapy.
Jordan Fucking Spieth – Some whack ass media outlets said he choked. Go fuck yourself USA Today. Yes, he did four putt, but he's all guts and came right back with consecutive birdies after his gaffe. Four putts happen at places like St. Andrews. Jordan struggled on the greens of the Old Course all week.
He had more 3 putts this week than he'd had almost all season otherwise. I'm sure he's kicking himself for the putting woes given that he was still only 1 shot away from a playoff. Given all that, given some of the weather he got stuck in, given the John Deere win the week prior, and then mix in the pressure of the Grand Slam…..yeah, the kid did all right.
Amateur Golf – Nine amateurs qualified for the Open and 5 made the cut. Then almost all of them contended at some point or another. Jordan Niebrugge from Wisconsin finished with the silver medal for low am. Ollie Schniederjans put on a show on Monday to shoot up the leaderboard. And Paul Dunne was a co-leader after 54 holes. This was a live advertisement for the virtues of college golf and how well it now prepares young players to be professionals at the highest levels. I do think the course set up that allowed for so many wedge shots by the entire field helped the ams, but still….this is freaking the Open at St. Andrews. Dunne was the only kid that showed any fear at all and that didn't happen until he teed off in the final round. Can you blame him?
The Old Course – Too short, too old…. the Old Course at St. Andrews doesn't want to hear it. The 144th Open at the Old Course resulted in a phenomenal championship, even if I don't agree with the winner it gave us. The birdies binges on the front nine, the teeth of the course coming back to town, the Road Hole, and the pitches into 18 after crossing the Swilican Bridge. What else can you ask for?
Exciting golf, quirky shots, and unpredictable weather….yeah, I'll take that every time. The course isn't too short. It is fun. And when the wind blows it is plenty hard to make the best players in the world think a little more than they'd like. Don't change a thing, especially having players hit over a hotel, or into it like Phil did today (above).
Losers
Dustin Johnson – If you went to bed on Friday night and woke up Monday afternoon and asked me who won the Open, I'd say "Johnson" and you'd say well of course Dustin won. When I corrected you to tell you it was Zach you'd slap me and tell me I had the wrong Johnson (that's what she said). It is unfathomable that the guy everyone wanted to hand the trophy to after 25 holes finished T49 with David Duval. Oddsmakers had him at a 2 to 1 favorite when he went to bed on Friday! DJ played the weekend 6 over par. With his length, after his start, that's ridiculous. He said he was over the Chambers Bay loss. Clearly that isn't the case. As soon as adversity struck at St. Andrews he crumbled. The dude will forever underachieve. Don't burn yourself on that hot take.
Zach Johnson's hair – Need I even say more? You guys all saw it or have taken note of it before. The little man is as bald as contemporaries Jim Furyk and Geoff Ogilvy, yet he's trying to hide it like Donald Trump.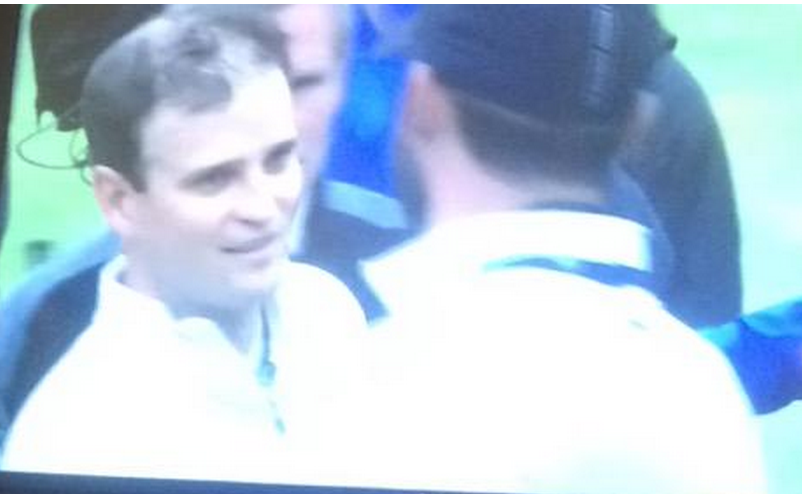 Next time homie walks in to a Great Clips, because you know that is where he gets his wig snapped, he needs to ask for the zero on the clippers. He should probably bring Matt Kuchar with him.
Tiger Woods – This is getting old. I'm sick of talking about him, but another missed cut and another lost weekend at a major means he makes the loser list again. It is sad. I have no idea where he goes from here. What else is there to say?
Productivity – It had to be proper fucked all over the world today. The final round of the Open was on when you got to work and went long after you finished your post lunch dump. How the fuck were you supposed to get anything done? Instead you occupied large amounts of company bandwidth to stream the Open and watched every second of it with a fake spread sheet open on your 2nd monitor. Don't lie to me.
Hey, that's the price they pay for making you work on what should have been declared an emergency golf holiday across the globe. Monday finishes aren't ideal, bu they're better when you have a whole round to plan your day around. If this had just been a 4 or 5 hole thing it would have sucked.
The R&A – I'm not calling the Royal and Ancient losers because of anything thing they did during the championship. I thought the course was set up well. I think they truly had their hands tied during the 10.5 hour delay on Saturday. Why they're on the list in this post is because they hate Monday finishes. That's not what they do. This was their first in 27 years.
On top of that, they also lost Ivor Robson's and Peter Dawson's service going forward as both men worked their final Open's on Monday. I covered Ivor earlier this week so I won't rehash that. I did enjoy his final calls today from the first tee. He's a treasure. Dawson is a more controversial figure for golf's largest governing body. He's done plenty good for the game and has always been known to stick by his guns. Most would see that as stubborn, I simply think he's a bit old school and knows what he wants. Losing two pillars in your championship will hurt the R&A going forward. Hopefully the hurt will only be short term.
On Wisconsin!
In less than one month we'll be focused on a sliver of property along Lake Michigan for the final major of 2015. I'd call it Glory's Last Shot, but that is copyrighted. Fuck you CBS, I did it anyway. If the final round at the Straits is half as good as what we saw at the Old Course golf fans are going to be just fine.
I have no predictions, it is too far away to tell, but you have to think that Jason Day has had too many close calls to not finally knock one off at Kohler.