I Need A Cigarette
Round 3 at the Open was intense. It was also exactly what we needed after a washed out Saturday. And if you had an amateur that was the 2nd best player on his college team this spring as your 54 hole co-leader, please get the fuck out of here right now. You must be a wizard or warlock.  I saw Paul Dunne's name for the first time earlier in the week when he was playing practice rounds with GMac. I thought, "oh, cute story, a fellow Irishman who also played collegiate golf at Alabama-Birmingham who McDowell is taking under his wing". Now the 5'8″ 160 lb. amateur is looking like Francis Ouimet on the wrong side of the Atlantic.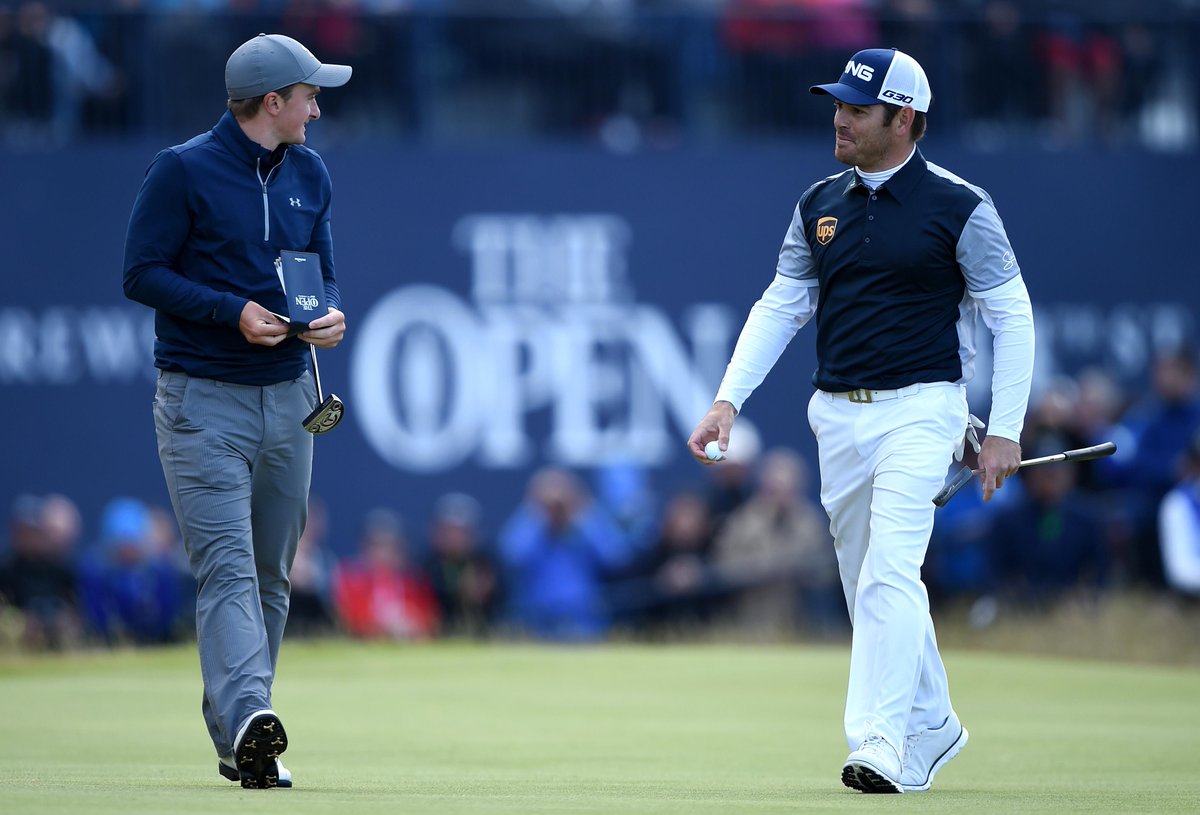 Fuck me, he looks like he's 14. I believe Mr. Dunne has exhausted his NCAA eligibility and could be turning pro at any moment. He'd be smart to do so on Tuesday because his stock will never be higher. I find it interesting that he's already sporting Under Armor as if there is a deal in place. If there isn't, there will be by noon on Tuesday. They owe him.
Dunne's playing partner on Sunday was Louis Oosthuizen, whom Dunne said was a role model of his and his presence in their game made his round more enjoyable and special. This must have also agreed with Louis because he too is now tied for the 54 hole lead. Their game was 13 under for the day. We should have seen that coming from Louis. He played well at Chambers Bay and was the 2010 Champion Golfer of the Year via winning the British Open at St. Andrews. I backed off picking Louis because he played poorly at his post Chambers Bay events. Clearly the course agrees with him. He'll be hard to beat. As for Dunne, pencil in a 74 and a nice ovation as he finishes tomorrow. His story was fun but an amateur winning a major with such a studly leaderboard around him isn't going to happen (even though Jordan Spieth thinks it could).
Worth The Wait? 
With all the shit the R&A took yesterday for their set up and their play/no-play decisions, the leaderboard we've got now with 18 holes to play tells me they made the right call. Halting play for 10.5 hours let the players' skill decide the tournament instead of luck. When Sunday dawns some 20 big time players will have a chance to win the Open. As a fan that is all you can ask for. There's also some data going viral about wind speed at St. Andrews and how much of an outlier the Saturday conditions really were.
That's staggering. Will Paul Azinger apologize to the R&A for the stupid accusatory comments he made on the air after reading this? Don't hold your breath.
Big Spiethy
When the 2nd round was completed journos and various media outlets were treating the 2015 Open like Dustin Johnson had a 6 shot lead. Euro oddsmakers moved him to a 2 to 1 favorite due to all the money coming in on him. Then this walking wet fart shot 75 as the entire field passed him by at light speed. He made one birdie, on his 15 th hole, before making 3 bogies to finish and drop off the leaderboard faster than an Ian Poulter shank can find a hazard. He's Dustin Johnson. This was bound to happen. Homie checks out on Sundays (even though only in the third round at this point) of majors. He had wedge into 6 of his first 7 holes and was over par. He should easily shoot under 70 at the Old Course with his length. This is all in his head.
Jordan Spieth on the other hand seizes almost every opportunity presented to him. He's one shot off the lead and one good round away from continuing his quest for the calendar year Grand Slam. I'm not betting against him at this point. He'd be in the lead with the other 3 players at 12 under if he handed butchered 4 shots from with in 90 yards at the 9th hole. He will have his say tomorrow. He always does. And if he does come home with the Claret jug he also earns the world number 1 ranking. Christ, he did all this on Sunday while playing a Sergio. He should received a special medal just for that from the R&A.
Process Of Elimination 
As I said above, about 20 guys have a chance to win. Everyone back to an 8 under score is legitimately in it. Of the -7s, I think Fowler, Reed, and Matsuyama have enough fire power to get their shot too. You have to figure one of the players at -12 shoots at least a 69 to get to -15. If that's the case, a player at minus 7 has to shoot 64 to get to -15. Dustin Johnson could do it, but I think today fried him, and I'm already burying him. No one is talking about Patrick Reed. If he shot something low and posted early the internet might break.
Scott, Goosen, Rose, and Garcia are all at -9 and all very dangerous. So is Leishman, but after his 3rd round 64 it will be hard for him to back that up with something 66 or lower. I'd put Harrington in the same breath as Leishman. His 65 will be hard to back up too. That leaves one more legit contender I haven't mentioned, Jason Day. He hasn't gone on hot streak yet, but he's played well almost all week. He's tied for the lead, but Spieth is where all the focus is. Dunne is in over his head. A Louis/Jason battle, with Jordan barely falling short, seems to be the most likely scenario in my eyes.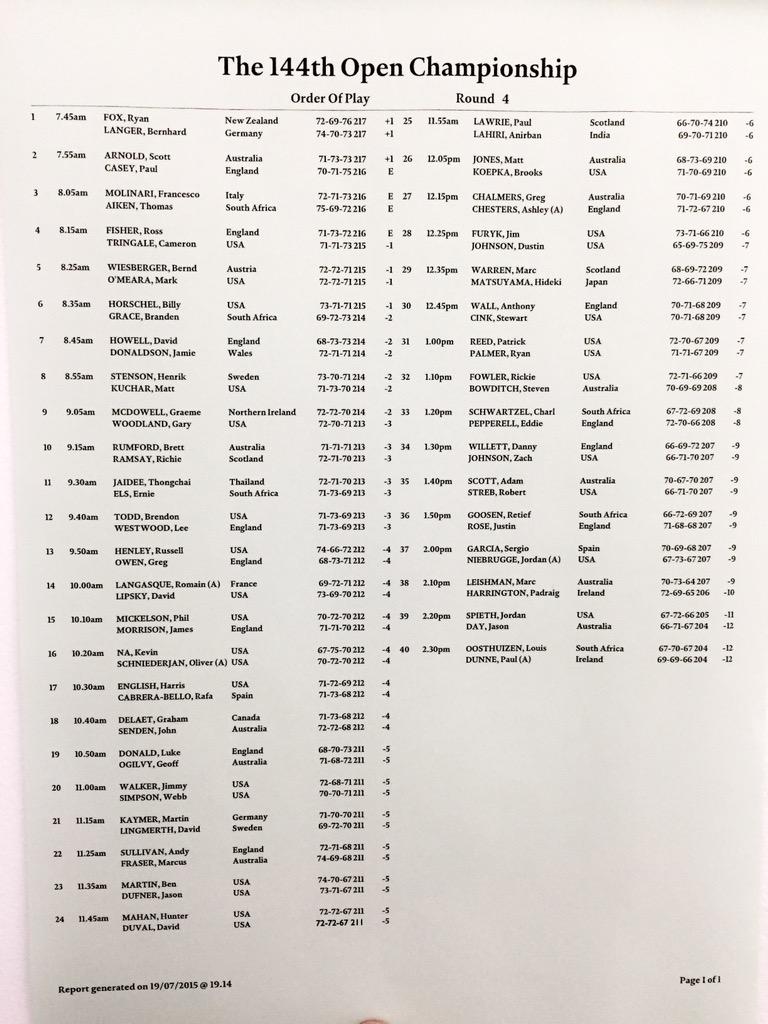 A Case Of The Mondays
Nothing could blow more dick than having a major finish on a Monday while most of us are at work. I'm tempted to call in, but the reality is if I can't play golf then I won't waste the day. I have my principles. So who ya got? Who's leaving Scotland as the Champion Golfer of the Year. Hit the poll and make your claim.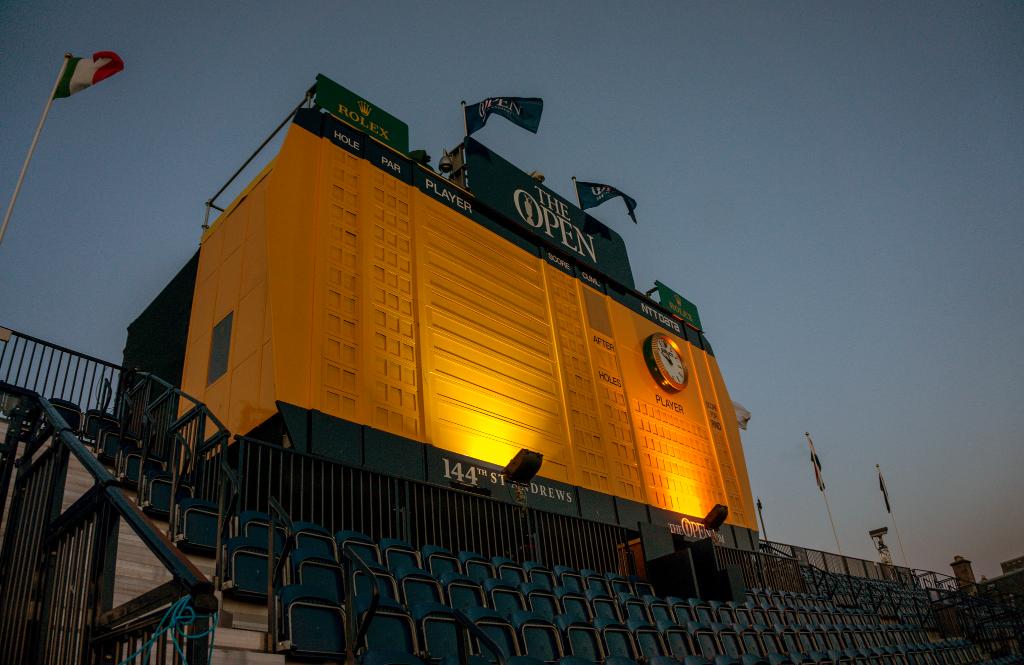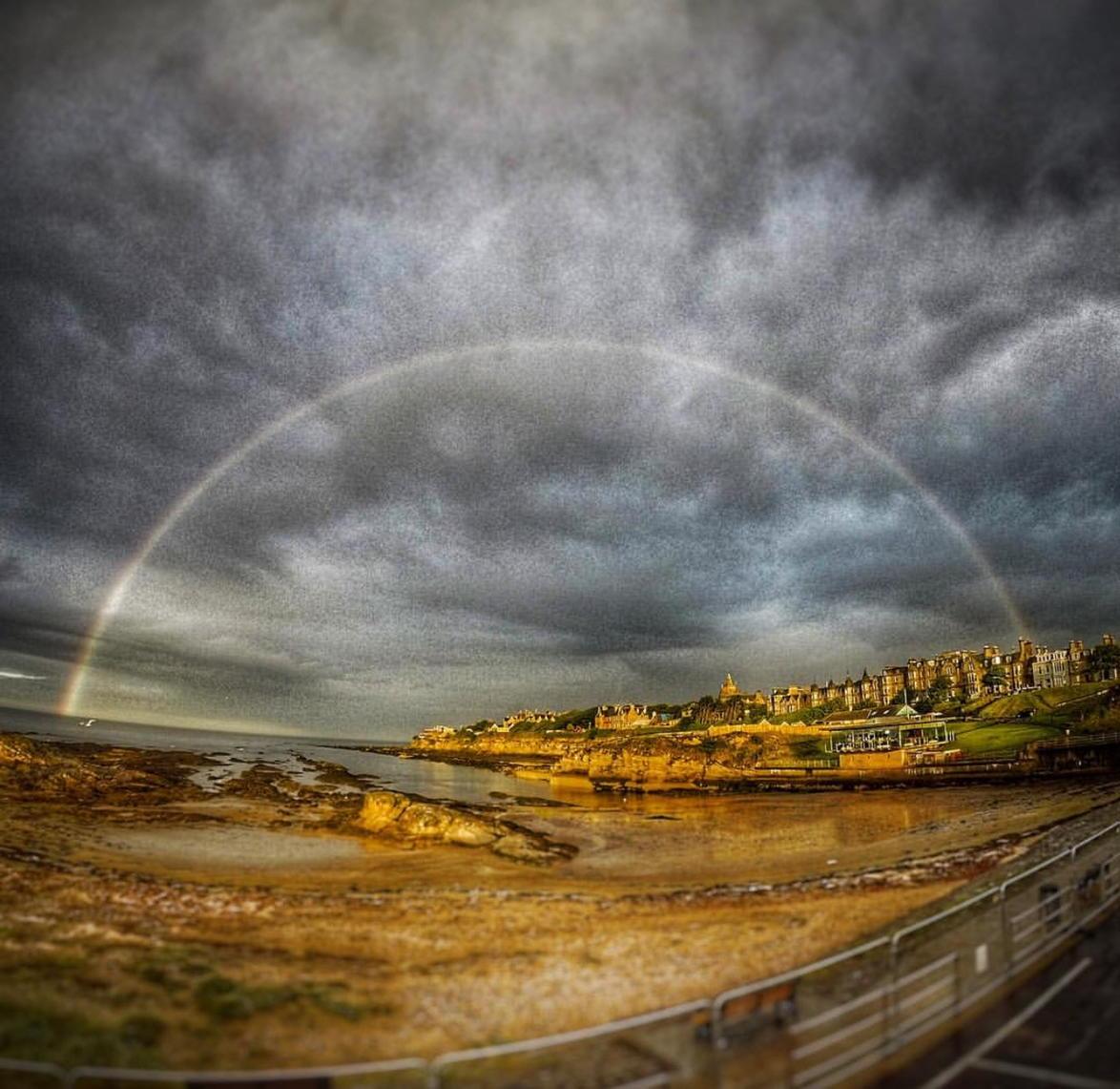 Oh yeah, that pic…..wow. Might be the coolest British Open picture that doesn't show the golf course ever. There's no truth to the rumor that Rory is sitting on the other side of the rainbow with lucky charms and a pot of gold.