We're Fucked
Call your boss, plan your excuse, work on your sick voice for the call… no one is going to work on Monday because the Open Championship final round will be played that day. Why? Because the 3 hour rain delay on Friday meant play was suspended due to darkness in the evening. About a quarter of the field had to come back early Saturday to finish. When they did resume play severe winds forced another stoppage of play because balls were being blown while on the greens. The R&A expects to get play started around 4 o'clock in the afternoon. That means they've lost almost the entire day and the tourney is fucked because it was already delayed.
The decision was as right as starting in the first place was wrong, and it sounds like Brooks Koepka started the movement by refusing to play out on 11 after an official told him to do so. As you can see by this ESPN graphic from earlier on Friday, the winds are much worse the further away from town you get. The 11th gets the worst of it.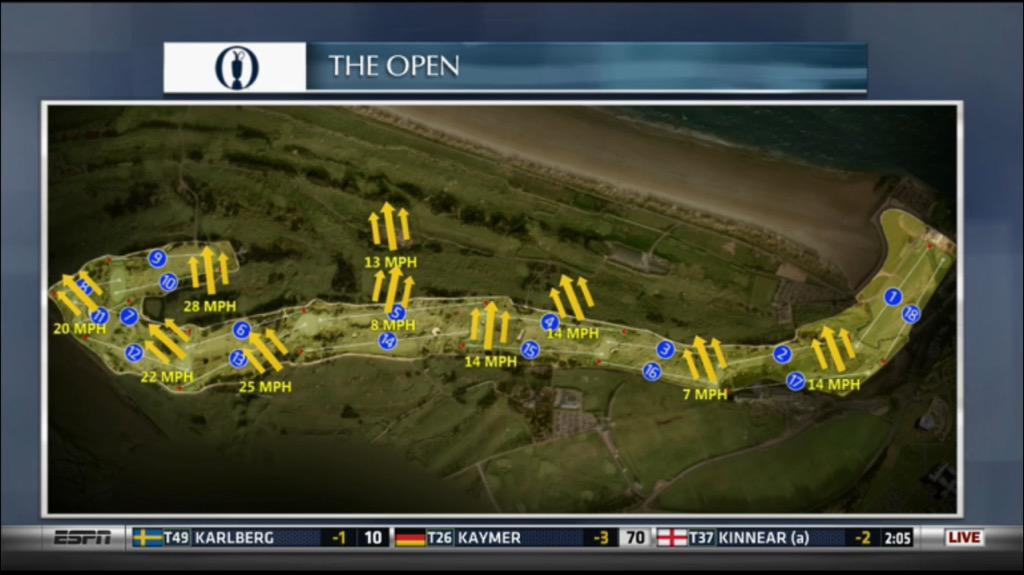 The result should be that the guys still out there will have much better conditions to finish round 2 later day. And rounds 3 and 4 will be birdie friendly on Sunday and Monday. Oh, and Tiger will miss the cut no matter what happens unless he birdies in from 14. Good luck.
Good Bye Tom
The three hour Friday delay meant that Tom Watson's Friday tee time was changed by a few hours. His final hole would be played near 10 pm local time, which is still light enough to finish in Scotland this time of year. The scene was surreal as he said good bye to the fans, the Open, and the Swilican Bridge. He also stopped to thank life long caddie Bruce Edwards who passed a handful of years ago.
Several players took in the sight of Watson leaving his stage. Graeme McDowell even broadcast it on Periscope without saying a word. The low light levels with the flashes bursting in the background to go along with the R&A building behind him being dimly lit besides a single chandelier made Watson's moment almost eerie. The shame of it was that several fans didn't wait around to see it happen so late in the evening. I've often criticized Watson as a Ryder Cup captain, but no one can belittle his accomplishments and play in the British Open. His play and class will be missed.
Nice Fucking Sweater, Nick
Nick Faldo also said good bye to St. Andrews on Friday. He'll be back in a few years at the Open to play Muirfield and say his good byes to the championship he won 3 times. All week Nick had been pulling out old sweaters from his closet that he wore when he won his Opens in the past. To say good bye and cross the Swilican Bridge he pulled out this old eye sore.
This was after another gem earlier in the week.
Who knew Nick even had a sense of humor?
Hang In There
There's a lot of golf left to play, and hopefully you've cleared your Monday schedule accordingly. There certainly are some quirky championship factoids lurking thanks to all these delays. Danny Willett lead the Open when he walked off 18 on Friday. Now he's going to go a whole day without hitting a shot. Which reminds me, if you're not familiar with Willett, check out his wife who is a former SFG WAG of the Month.
Dustin Johnson hit 8 shots before play was suspended again Saturday morning. Did some of the shots he, Louis, and Jordan hit today cost them the Open? David Duval warmed up, went to his hole, then didn't play a shot because he was stuck on the death march that was the 11th hole. Whoever rides this out will be a patient, patient man.