The Monday Playoff We Didn't Get
Dustin Johnson missed a 4 foot putt on the 72nd hole of the U.S. Open that would have put him in a Monday playoff with Jordan Spieth. The R&A (ironically) put DJ and Jordan in the same 1st and 2nd round pairing at the Open Championship as if to say, "do it again, please". The two super stars didn't disappoint on Thursday. Their group was off early and both posted 31 in relatively benign conditions for St. Andrews. The turn homeward wasn't as friendly, but neither was the weather. The result was DJ putting all his critics in their place for the time being in shooting a 65 to put him in the lead. Spieth followed with a 67 that wasn't what I would call his cleanest round.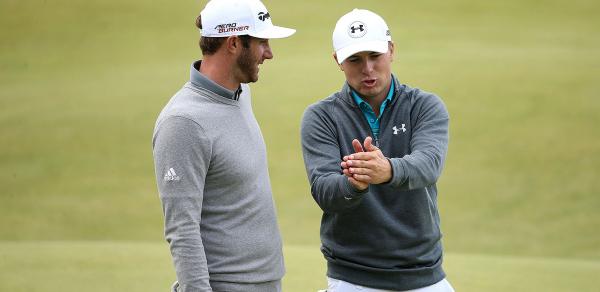 Thursday of course doesn't make up for DJ's U.S. Open gaffe. We're not even half way home. If Johnson keeps his foot on the gas like we saw on Thursday he'll be there until the end. What he does from there will either change his legacy or cement it. Another gaffe seems likely, like a big O.B. ball on 17 on Sunday with a 2 shot lead. If something like that happens you can bet your ass Spieth will be there to take advantage.
Too Early
No matter what Spieth and Johnson do for the next 3 days plenty of other studs will have their say in this championship as well. Oosthuizen, Day, Zach Johnson, Goosen….fuck, even Garcia and Mickelson aren't out of it as they survived the afternoon weather after it turned sour. The bitch of it is that the afternoon wave that got the worst of the Thursday weather will likely get the worst of it again on Friday, which is the exact opposite of what most predicted. We should have known the golf gods would shine on Jordan Spieth again.
A reader pointed out that I forgot to say my pick in a post this week. Via Twitter I said Henrik Stenson and -14 would win. Stenson shot a 73 in round 1. He's likely out of it, but tomorrow's weather will provide more insight on who's legit and who can go home. Speaking of going home…
Zero For 29
That would be Tiger Woods' record for his last 29 majors. I told myself last night that Tiger actually had a chance in this one because of his comfort level with the course and because he was showing signs of improved play. His opening round 76 is only good enough to be in T139 position. In two words, fucking pathetic. David Duval beat him by four shots! This guy told us 24 hours ago that he wasn't dead yet and that the media shouldn't bury him because he's still young. Remember the AARP comment?
He may not be dead yet, but there's more people digging his golf grave than there is etching his name on any major trophies for the future. What did he do wrong today? He didn't drive it particularly well, but his wedge game and putter were fucking awful. It is clear to anyone paying attention now that he neglected this part of his game while getting healthy and changing his swing. He'll shoot 74ish tomorrow and go home. Then he'll show up to Whistling Straits and do something similar. Rinse and repeat. This shit is getting old.
Fuck ESPN
There is a reason ESPN has left the golf broadcast business for 50 weeks of the year. They're not very good at it. Well, what they show is fine. I like their angles, shots, graphics, etc. The rest of it? I tolerate Andy North. He's harmless. Scott Van Pelt is getting a bit too talkie. The rest of these guys can eat a cock. Strange is a fucking turd. Zinger, he called Tiger a hack today. While that is the current state of TW's game I think Zinger has a small cock and has some serious penis envy of Woods' 14 majors. He obviously has at hard-on for hating on Tiger.
Mike Tirico talks too much too. Hey, little guy, this isn't a thesaurus contest. And if I get more than 2 minutes of Rinaldi per hour I might break my television this weekend. All that being said, did you see their sweet ass studio that rotates with a joystick (that Tirico probably sits on for fun during commercials)? It was bad ass. The structure can be rotated so that the background behind Tweedle Dee and Tweedle Dick can be shown either as the clubhouse and 18th green or the Road Hole back from the green to the tee. Well done their boys from Bristol.