Press This
Like I told you yesterday, as the week goes on things will get more exciting with more factoids and press conferences happening. On Tuesday at the Open Championship, an R &A member farting would have been more exciting than anything else going on. It was a whole lot of nothing, in other words.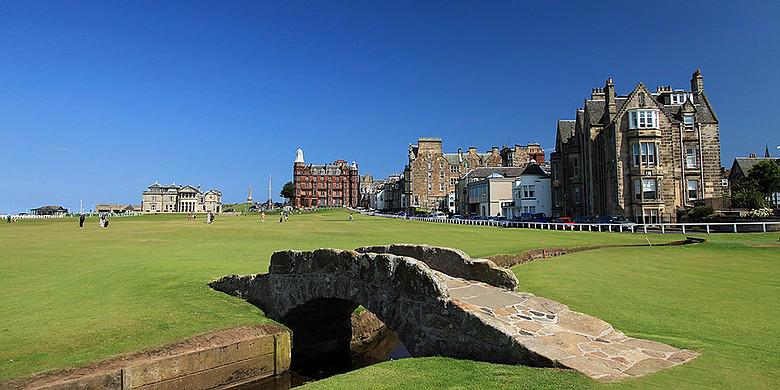 What I did find interesting came from Tiger Woods' presser. Tiger commented plenty about how much he loves playing St. Andrews. And he went on to say that "before he dies he wants to play it backwards". That sounds funny, but if you're a die hard golf nut you already know that the Old Course was once played backward on certain days. In modern times this has been done away with because the routing involved many cross overs that would hold up play now. Still, the reverse routing explains several bunkers on the property that appear way out of place. They're not for the original routing you see today. They're for the old reverse routing, and they've never been removed. Consider them golf fossils, if you will.
If you're as fascinated by this old way of golf as I can be at times, I highly recommend the this post on Golf Club Atlas that explains the theory in much greater detail. In 2016, the reversible course concept will be brought back to life. Where, what, huh? Yes, you heard me. Notable golf architect Tom Doak was given the opportunity at Forest Dunes in Northern Michigan. I've always thought Forest Dunes needed a 2nd course to compliment the original that is so good. Next year they'll have it, plus one. Doak's new track will play one routing on even days and will then be reversed for odd numbered days. I believe this is Doak's way of paying homage to St. Andrews.
DeLaet Got His Sack Back
Graham DeLaet took a commercial flight to Scotland and arrived late last weekend ready to play the Old Course. But there was a problem. His clubs didn't make the trip. Titleist staffers on site at St. Andrews got a back up set together for him and DeLaet went about his way in practicing for the week. Then on Tuesday the unnamed airline finally got his sticks and bag to him in Scotland. They looked like this:
You just can't make this stuff up. http://t.co/CWyEQXIPcK—
Graham DeLaet (@GrahamDeLaet) July 14, 2015
Apparently GD's protein shake that was in the bag exploded at some point in its trans-Atlantic flight to make it look like it was dug up on an archaeological dig. That sucks, but I'm sure cleaning them up will make them perform just fine. DeLaet's issues make me ponder, why didn't he just play in the John Deere and take the charter from Illinois to Scotland?
I Know It Is British Open Week, But We Still Need Eye Candy
Five months ago I shared with you a trick shot video made by the San Diego State ladies golf team. If you don't remember, let me refresh your memory. On that team was Paige Spiranic. Paige is an aspiring LPGA member who just exhausted her NCAA eligibility. The Colorado girl is now blowing up the internet with her good looks and professional aspirations. Take a peek.
She can move it. That is a big rip. Now watch her play with balls.
Golf Channel's Big Break recently announced a hiatus. If the shows producers find Paige, and they likely already have, she might just revive the expired show all on her own.