Spieth Loves Silvis
Who doesn't? No really. Middle America is beautiful this time of year. So muggy, humid, and those fun violent storms that blow through out of nowhere….. how perfect. Still, TPC Deere Run is the only place Jordan Spieth wanted to be this weekend. He said as much within 30 minutes of winning the U.S. Open 3 weeks ago, but he backed it up with his effort this week. In case you missed it, Jordan opened his John Deere Classic with a pedestrian round of 71 on Thursday. He looked disinterested and rusty. He could have easily gone through the motions on Friday to miss the cut and head off the Scotland….no, not this kid. He never gives away a shot let alone a tournament. Spieth is the ultimate grinder so he got back on the horse and rode it harder, and he got another trophy for his efforts.
I'd bet you anything the kid tried his best to match the same outfit he wore in 2013 when he won the Deere for the first time. He doesn't mess around with stuff like that. And he wasn't messing around when he showed up to the TPC course on either Friday or Saturday. His 64 got him back into the event and on the right side of the cut. His 61 on Saturday was just plain nutso. He went out in 30 and the #59watch alarm sounded, especially with the Deere course playing as soft as it was from the heavy Saturday morning rains. He stumbled to open the back side, but a birdie, eagle, birdie finish will make up for a lot of ills.
What is the worst thing about shooting 61 in round 3???? Having to back it up in round 4 with so many birdies lingering out there for your competitors. Jordan struggled with that today and Peter Kostis told us that from the jump. He said didn't have it on the range and he was over par through 11 until he made birds on 4 of his last 5 holes. That's the thing about great players, if they don't have to have it on the range, they'll find it on the course. Jordan limped around to stay in contention, then made enough clutch putts to find himself in a playoff that lasted two holes with Tom Gillis. Then Tom Gillis remembered who he was and Jordan snatched his 2nd JDC title away from the 46 year old journeyman.
Every time the kid wins we see shit like this. Get used to it. And now he's off to Scotland, on the John Deere charter flight, to try to grab his 3rd major of 2015 and continue his chase of the Grand Slam. Are you betting against him?
The Field
You'd weep for Tom Gillis if you knew he didn't just get paid 600K for playing golf for 4 days. He also got into the Open Championship next week with his high finish in Silvis. The veteran tour players was thisclose to being the oldest first time Tour winner in forever. He played great until his mistake off the tee on the 2nd playoff hole. His only other mistake of the day happened at the par three 16th. Gillis made bogey on one of the easiest holes a tour player can play when he air mailed the green. Did he get greedy or did adrenaline kick in? At 18 in the playoff for the 2nd time he also got greedy with his aggressive recovery shot that found the pond short and left of the putting surface. That error essentially ended the tournament. I like the fact that Gillis lost being aggressive, but I wonder how he'll sleep Sunday night knowing the outcome of both decisions.
If it wasn't for Jordan Spieth they've be renaming the JDC after Zach Johnson. The Iowa boy is on the board of the tournament and he's now played the course in the 60s for 28 straight mother fucking rounds. That's crazy. He also loves playing in front of what he considers his home town crowd….well, except for the guy with the air cannon.
Damn that was funny. And it caused the Twitterverse to wonder if Zachie-poo shit his pants a bit after being lit up like that. Luckily for all involved the interruption had no impact on the outcome of the tourney. In the end Johnson finished one shot out of the playoffs thanks to a harsh birdie lip out on the 72nd hole.
Danny Lee won at Greenbrier last week and had the daily double in mind when he woke up on Sunday morning paired with Jordan Spieth in the final group. Lee made 1 bogey through 54 holes of the Deere. On Saturday, due to heavy rain, the field played lift/clean/place in the fairways. When Lee got to his ball in the 4th fairway on Sunday he calmly marked, began to clean it, and then realized he fucked up. The Tour deemed that the players would play the ball down on Sunday. Lee simply flaked out, like he does, and forgot. A one stroke penalty was assessed resulting in a bogey for the hole.
Even with that gaffe D. Lee found himself tied for the lead with Spieth and Gillis on the final hole where he missed the fairway off the tee and made only his 3rd bogey of the week to drop to a T3 finish. That's not a bad few weeks for a guy that hadn't done much in his PGA Tour career up until July.
Is Fowler Ready?
Rickie Fowler would have been listed among the favorites in the British Open next week at St. Andrews no matter what he'd done this weekend at the Scottish Open. Then he went and pulled a Jordan Spieth. What I mean by that is, he birdied 3 of his final 4 holes after a meh first 15 to win the tournament by one shot over Matt Kuchar and some guy I've never heard of.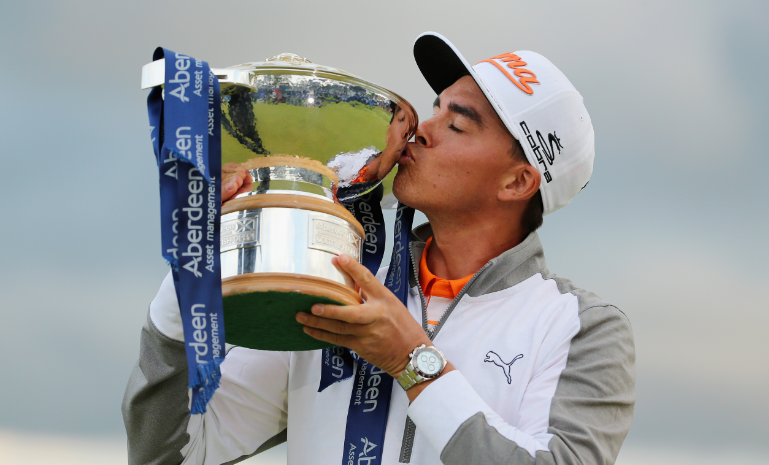 That is a great win over a great field and shows how his form is back after his missed cut at the U.S. Open. Rickie seems to like links golf. He's been trending favorably at majors. I expect several people will pick him next week. His closing holes at almost all of his wins have been similar to what he did today in Scotland. He blitzed Quail Hollow late for his first win. And he went crazy at the Players to post a number good enough to get in to the play off he later won. Where Fowler seems to struggle is when he has to sleep on the lead. If he can lay in the weeds at St. Andrews and play from a few behind while also a few holes ahead of the leaders next Sunday I'll like his chances.
Shot Of The Day
John Deere, Scottish Open, and the women's U.S. Open all on the same weekend…..that's good news for those of us sitting around with a newborn child. Sadly, the ladies USGA Championship is the one I watched the least of. The leaderboard was dull and mostly foreign. Ko was up there with no real chance. And Stacy Lewis is boring. South Korea's In Gee Chun ended up winning. I have no fucking clue who she is. What I do know is that the ladies gave us the Shot of the Day from their version of the National Championship.
A few comments here. First, kudos to Wie for grinding out a U.S. Open when her leg is clearly unhealthy. She's come a long way from the girl who 'quit' at Sebonack two years ago. Second, (slow clap) tip of the cap to the USGA for making a hole late in the back nine that could be driven by these chicks. If I had watched more of the tourney, or if it had been closer, that would have been exciting. Lastly, 235 yards? Really? I know many of the ladies don't hit it that far, but wow. Why give the whole field a shot at it? I don't think any hole should be played under 260 for them.
On To The Hold Course
And with that we're on to the 3rd major of the season, the Open Championship being held at St. Andrews. The Royal & Ancient sets St. Andrews as the Open venue every 5 years. I'm jacked for it and that means SFG will be posting every day during the week. Consider yourself warned.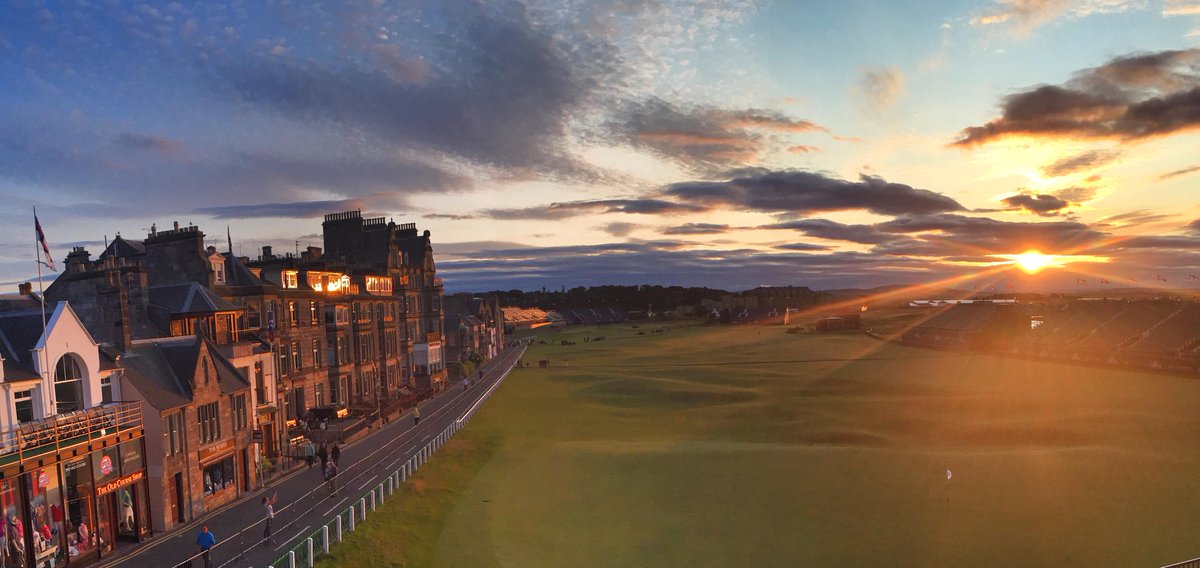 I'll give you my pick later in the week. For now I can tell you that it isn't Tiger, and he played in the 2014 Ryder Cup matches. Also, there were some live tweets from St. Andrews regarding practice rounds on Sunday. It seems as though Mr. Dufner and Mr. Woods were out together for a friendly 18 holes. That should kill the rumors of Tiger burying his bone in Duf-daddy's ex.