No, We Cannot Go Two Weeks Without Musings
Not going to happen. I wouldn't do that to you. But I did need a week off last week in the midst of my U.S. Open hangover, new baby coming home, and all kinds of other shit I do besides write for your reading pleasure. Plus, there wasn't much going on other than a bullshit rumor about TW and Mrs. Dufner. This week? That is a different story. Of course by now you already know that Rory McIlroy is an idiot that played futbol the week before the Open Championship and got hurt. He apparently ruptured his ATFL ligament, whatever the fuck that is.
My assumption is that he rolled the ankle in a really bad way. I did this 6 years ago when I was still in my 20s and played pick up basketball. I haven't played since. My injury happened in February and was healed for my golf season, but it still hurt and took a long time to mend. My injury was the right foot. Rory's is on his left leg/foot. That is going to impact him much more as the side he shifts to. In other words, he's not going to peg it at St. Andrews. There is zero percent chance he plays even though Rors says 10%. I don't care what kind of treatment and therapy he has access to, this is a major set back (pun intended). We won't see him until Firestone and even then he won't be quite the same.
Then to pile on poor Rory Fox News 'broke' the story on their airwaves and their anchor broke her feelings about McIlroy to all of America.
WTF? Did he kick her dog or something? That woman is Lisa Montgomery. I know nothing about her, nor do I care. She later explained that she called him a leprechaun instead of something much worse because she thinks the way he dumped Wozniacki last year was shitty. Ahhhh……scorned women can be so entertaining.
Color Me Shocked That He Was Once Vijay's Caddie
On my side of the pond, at the biggest women's major, the caddie for Sei Young Kim was disqualified from the event. Yes, the caddie was DQ'd. This asshat's name is Paul Fusco and he was ejected for taking cell phone pics of the USGA's notes and hole locations for later this week. Somehow, without proper credentials, Fusco sneaked into the bowels of the USGA's think tank and performed his espionage.
I don't know what made him think this was a good idea. He's a veteran tour caddie. He knows better. In some countries they'd cut off his fingers for this act. I'd like to know (honestly) what Kim knows about it. Did she order the code red? If he didn't do this entirely on his own, which I know would be tough to prove, then she should be DQ'd as well. If I ran the USGA he'd be banned for life from all my events.
Trumped By The PGA
Last week Donald Trump made some stupid/racist comments about Latinos. I ignored them because they came from Trump. He's an entertainer so who gives a shit? This week liberal golf journos got their panties in a bunch about Trump and started demanding that the PGA of America and the PGA Tour move their events away from Trump courses. The PGA of America didn't pull their Grand Slam event from the Donald, but today Trump announced that the two parties agreed to move the Grand Slam so that the PGA didn't have to deal with pressure from protesters, sponsors, etc.
Will the Tour and Donald do the same thing at Doral for 2016? So far mum is the word. The Tour has played at Doral since the early 60s. I suspect they don't want that to change and they don't want to scramble to change that week around on relatively short notice. The only solution that is a win/win would be for Trump to sell Doral. That isn't happening. This could just blow over quickly and be forgotten, at least until the protesters show up on South Beach during the tournament. Stay tuned.
Steroid Stallings?
Two time PGA Tour winner Scott Stallings was suspended by the Tour on Tuesday for 90 days. He's out of action until October 7th. That means no Fed Ex playoffs for him. I think he may still be eligible for the PGA and British Opens as they aren't events put on by the Tour, but don't quote me on that. So what did Scott do to feel the wrath of the Ponte Vedra mafia? He apparently took a banned substance, but he did pass his drug test after said substance was taken. Hmmmm…….
Stallings said that he took something for chronic fatigue as recommended by his doctor. He found out it was banned after the fact and reported it to the Tour in March. Jason Sobel of ESPN tweeted this statement from the Tour and Stallings: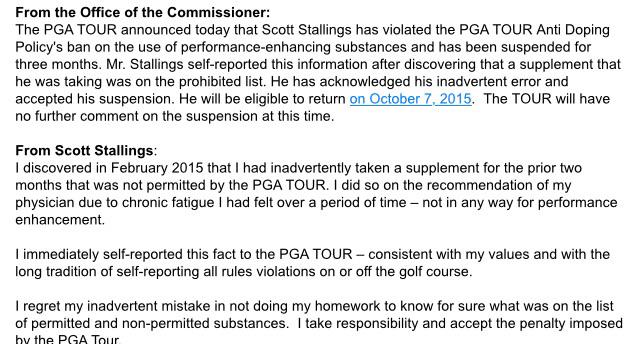 Now the mystery is, why did it take 4+ months for Scott to be suspended? My guess, they threw him a bone for self reporting. He got to play enough events to make some money and also play in the Greenbrier where he earned his first big tour win. Does Tim Grinchem Finchem have that big of a heart? Doubtful, but possible.
It is more likely there was an appeal of the original suspension. Stallings lost the appeal after it dragged out a few months. Hence the late announcement coming Tuesday.
On The Lighter Side
The European Tour has , over the last 7 years, produced several videos that feature the unique talents of their players for marketing purposes. This one is similar, but appears to have been made by Audi instead of the ad wizards of the ET. It features Joost Luiten and an art museum in Amsterdam. Have a look:
I think I could pull that off. Joost did hit the green on the other side. I'd probably need a small bucket to find the putting surface. I'd like to know how many swings he took at this. Were there any windows shattered? And what the fuck does it have to do with Audi? Crazy Euros.