No Wonder Why He Has Carpal Tunnel
One week ago gave Danny Lee gave away his driver to a fan in Hartford after he used it on his final hole. This week, with a new stick in the bag, former U.S. Amateur champion Danny Lee now has his first PGA Tour victory. To get win #1 all Danny had to do was survive a 4 man playoff after each guy posted 13 under par for the week. Lee birdied the 71st hole to match the leaders in the clubhouse at that number. Then Danny hit the green on the final hole and left a 20 footer short that could have potentially won the tournament. On the first playoff hole he found himself in that exact same spot and canned the putt after having a previous look at it. He and David Hearn then went on to play a 2nd playoff hole in which Hearn's bogey gave Lee the Greenbrier crown.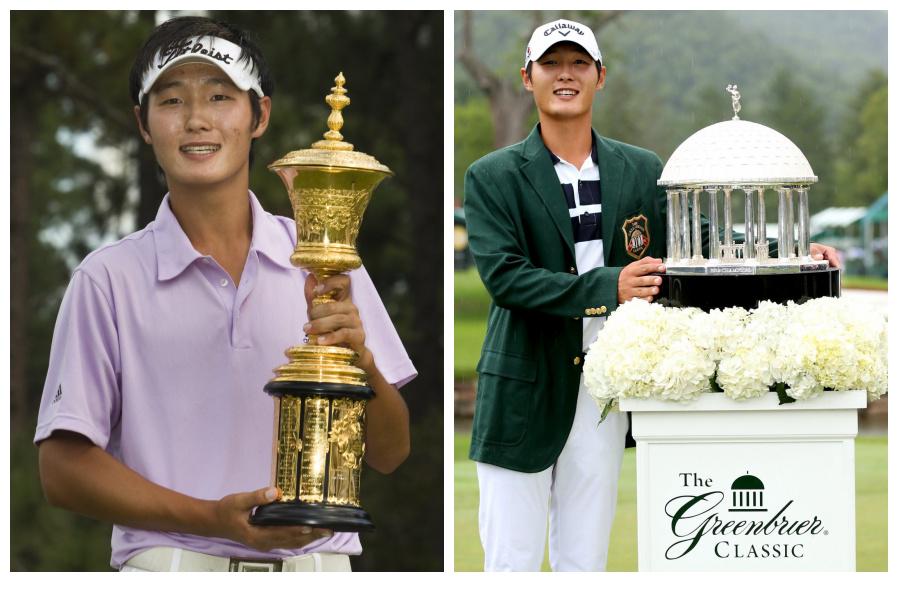 Lee's Tour career has been all over the map. As a former U.S. Am winner he was once considered a can't miss star. In the 7 years since his Am victory Lee has played several other tours and had his chances to win on the big tour, but it hasn't happened for him. Not everyone is Jordan Spieth and is made to win and win big at such a young age. Lee was barely 18 when he won his USGA title. I'm sure he matured a bit in those 7 years in order to get to where he is today.
My buddy Hwang has always been mystified by Lee and how he behaves, talks, etc. If you saw Lee's post round interview on CBS, you saw what I'm talking about and what Hwang has always observed. Growing up in New Zealand and Korea likely means that when he's thinking he is translating his own thoughts before they actually leave his lips. That makes him look like he's not all there, or….he's high as a kite. Either way, Lee's way is part of his charm. He's quotable too, just ask ESPN's Jason Sobel: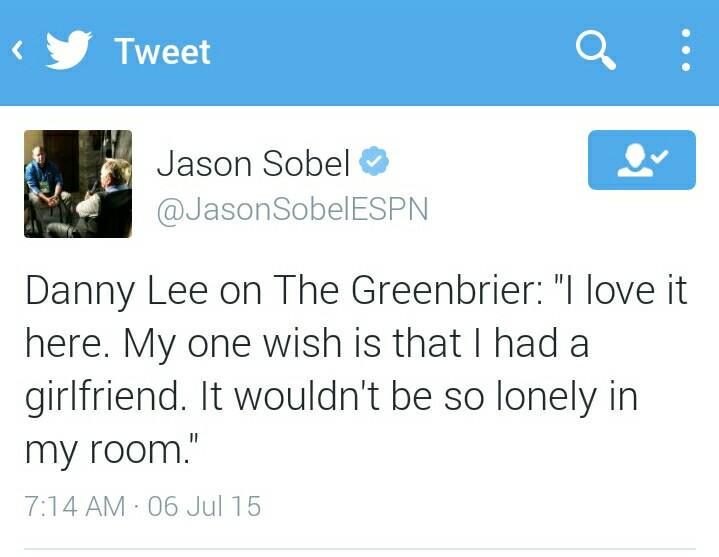 Does Jim Justice not allow pay-per-view porn at the Greenbrier? I don't believe that's possible because he's had Tiger play there twice now. Whatever the case, Lee won't be lonely much longer. Seven figure bank accounts and winning on Tour will make you plenty popular with the golf groupies.
The Field
Robert Streb made all sorts of noise with his play today. Streb tossed his putter back to his caddie after he left the 9th green and it snapped into two pieces when it landed on Robert's golf bag. That kind of shit happens. I've done it. Usually it happens because the club has been previously abused and already has a kink or weak point in the shaft, bond, etc. Robert even admitted that this might have been the case while assessing the issue with CBS after his round. So what did he do without a flat stick for 9 holes?
But he didn't just putt and limp in using his wedge….no, no….fuck no. He made 5 birdies with it on the back nine! They were 3 inches, 4 feet, 27 feet, 10 feet and 8 feet. Yes, he made an 8 footer, with a wedge, when he needed it to make the playoff on the final hole. Then for the playoff he replaced his putter (as he was allowed to) after the round was completed with his back up sitting in his locker. You'll never see such drama around replacing a putter again during a Sunday telecast. Unfortunately for Streb, he didn't birdie the 18th hole in the playoff and was bounced from the action after Lee and Hearn made birdie.
Kevin Kisner joined Streb in leaving the fun early and has lost 3 playoffs this year on tour. That has to be some kind of record. He's lost all 3 since April. Everyone and their brother knows that Kevin is close to winning. Kisner knows it too as he tweeted as much after the round. He didn't hit a bad shot on the playoff hole he played, but he was the recipient of some shitty luck. His ball bounded barely over the green and landed in cabbage that Kisner couldn't advance his next two shots from.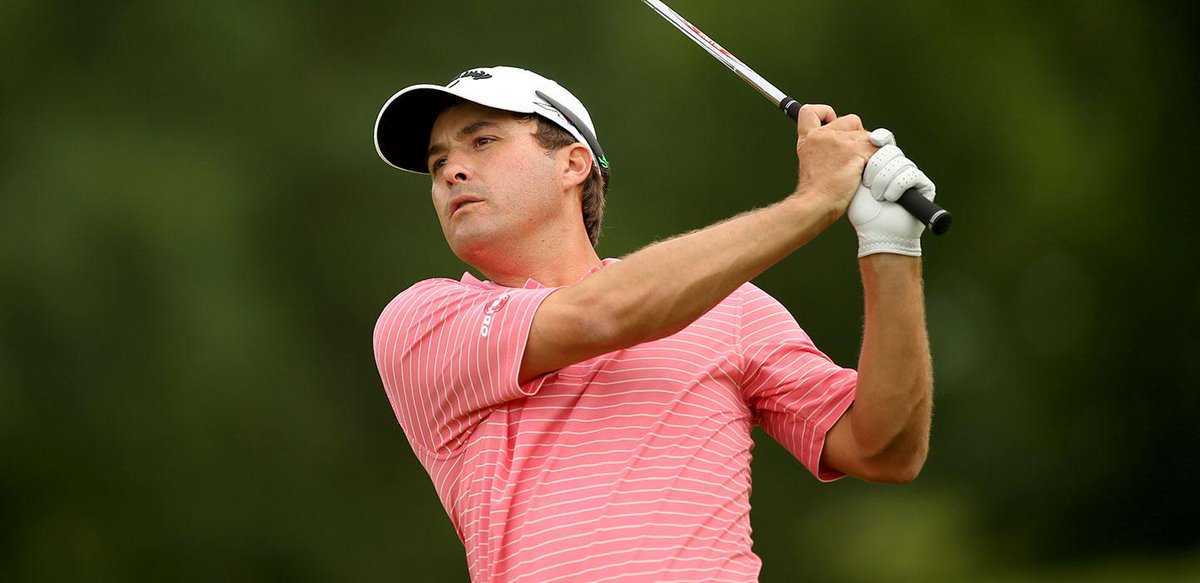 When CBS came on the air I thought the Greenbrier was Justin Thomas' to lose. He was at 13 under and had some birdie holes in front of him in which he could have got to 15 or 16 under. Then this happened:
Of course he also missed the longer come back putt and the result was a 4 putt. That's a double after hitting the green with a wedge. Thomas made things even more messy with an 8 at the 16th hole. He's coming. The John Deere next week would be just about the perfect place to get win number 1. He'll get over this one quickly I bet.
Rookie Tony Finau is also making golf fans take notice of him over the last few weeks. First his play at Chambers Bay stood out. Now he's showing up on the first page of the leaderboard with some regularity. The big hitting Samoan kid is another young buck to put on notice for his first win coming soon.
Tiger The Poon Hunter
Tiger Fucking Woods made the cut in West Virginia this week. He had 3 rounds in the 60s and his final round 67 could have been closer to 63 if he made anything on the greens. Is the Big Cat back? No fucking way. Not yet. But fans can now have some hope that he'll keep getting a little better from here forward. Next for TW is the British Open at St. Andrews. If he contends there…..IF……… then…..just maybe…..it will be safe to expect an actual win form him in 2015.
Oh yeah, and there's that whole Amanda Boyd (Dufner) thing going on. Unless you were passed out from alcohol poisoning (which is entirely possible) over the holiday weekend, you probably heard the interweb rumors about Boyd and TW getting their fuck on. Several 'publications' reported on Wednesday that Woods and Boyd had started hooking up and that is why the break up with Lindsey Vonn happened. Woods' agent immediately took action saying that there is nothing to these rumors and they're 100% false. For some reason my gut says that Steinberg is probably telling the truth this time. Remember when Amanda released her latest Instagram bikini pics in May? That was the week of Tiger Jam in Vegas. It appeared that she was in Florida or some place more tropical with her dog. If those two were fucking there'd be no dog photos from that week because she'd have been hidden in the bowels of a casino in the desert. I call bull shit, but nice try tabloids.
Shot Of The Day
Greenbrier owner Jim Justice pays the fans in attendance at the 18th hole for every hole-in-one made on that hole during the tournament. The amount grows with each shot. $100 for the first, $500 per for the 2nd one which was hit by Justin Thomas, and $1000 per for a third. Needless to say the fan areas around the 18th green were quite popular over the weekend. Alas, no one made an ace and Justice got to keep some of his billions of dollars. The absence of a big money ace also means I'm still in search of a Shot of the Day.
It was painful enough to write a post last week about Bubba winning in Hartford, now I have to again consider him for the Shot of the Day? Oh fuck me. I didn't have much else to choose from and this eagle at the 16th was sporty.
So talented, yet so annoying.
Hey @PatPerezGolf
This is a personal matter. If you're not into it, bail now. If you're Pat Perez, read up. Last week I noticed that PP had blocked me on Twitter. I have no idea why. Did I make fun of his lettuce? Call me butt hurt, but I like Pat and thought I'd been complimentary of him in the past. I also have featured his bride on here a few times and even made her a WAG of the Month after the couple wed around New Year's Eve. When I brought this up on Twitter a reader defended me and Pat favorited that tweet. You see why I'm a bit confused?
Anyway, if any of you know why Pat took this action please feel free to comment. If it wasn't in error, that's fine too. My list of blockers is growing, and I have no problem reading tweets of those that have blocked me 2nd hand. Onward and upward.