New Meaning Of FIGJAM
That has always stood for "fuck I'm good just ask me". Now we might need to be replaced with "fuck I gamble just ask me". We all know Phil bets on everything and that's how he plays his way around a golf course too. Gambling is in his DNA so no one should be surprised when ESPN and other outlets report that nearly $ 3 million of Bitch Tits' cash has been transferred from Phil to an illegal gambling outfit. Some of the original questions surrounding this amount of money were about laundering it, and Phil's involvement in that crime.
According to contact made by ESPN's Outside the Lines with prosecutors, Phil isn't going to be charged with any wrongdoing. He may have to appear in court later, but not as a defendant. In other words, he'll be off the hook because he's a client of the gambling operation and not a partner. You'll have to hold your Bitch Tits in prison memes for another time. But now after dodging an insider trading scandal and the tax comments he made in the past, he might want to start sending Christmas cards to the IRS and researching lawyers. Its only a matter of time for for FIGJAM steps in it again.
A Very Public PGA Tour Tickle Fight
Last week in Hartford Will Wilcox decided to play some music of Drake's on the range while practicing. Tunes are pretty common these days as many ranges both public and private. Wilcox isn't a 60 year old grumpy fuck. And no one on the range should have been either. I would have thought this would be accepted by his peers without much of a complaint. But there's always some "get off my lawn" dickface around to ruin the fun. In this case it was Brendan Steele. Steele went to the Tour officials to complain. Wilcox found out who ratted him out. The rest of the story happened right there on Twitter for all to see.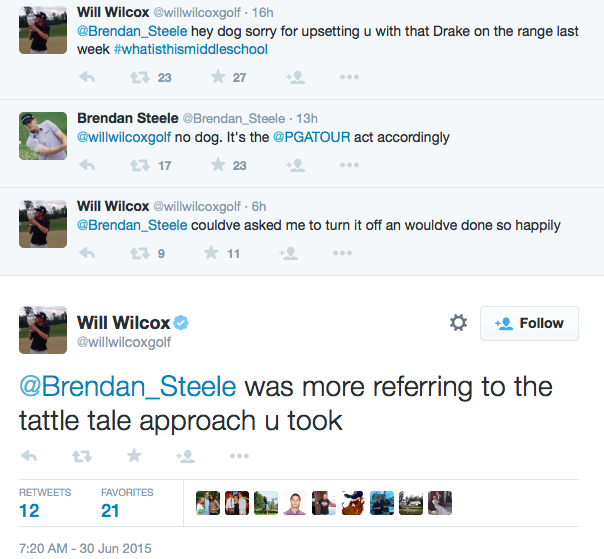 What a little bitch. I've never liked Steele because of his demeanor, his swing, and the way he plays. I don't know anything about him personally, but those superficial characteristics were enough to turn me off. Now this…..fuck it. He's right there with Bubba. Wilcox has it right. If this was really bothering him, why not ask Will himself to turn it off instead of being a bitch about it?
We'll Remember Him, But He Won't Remember Himself
Peter Oosterhuis stepped away from CBS broadcasts a few years ago with little to no explanation as to why. He still worked Golf Channel air time most weeks so his disappearance felt more like a semi-retirement. That is pretty common career path for a guy in his 60s. Sadly, it turns out Peter withdrew from TV for reasons related to his own health.
On Monday evening of this week Peter and his wife announced to the world that he is battling Alzheimer's disease. Oosterhuis said he began to notice something was wrong when during broadcasts he could only comment on what was on his screen. He rarely could remember his own thoughts otherwise. Now he'll step away from golf to fight the disease, but we all know there is little hope of beating it.
PO has always been one of my favorites calling action from golf tournaments. The former Euro Ryder Cupper was eloquent, excitable, and well informed in what he did. I'll miss his calls and wish him the best in his battle. Good luck Oostie.