I Was A Week Off
The way Bubba Watson was gaily Periscoping about Chambers Bay last week I thought he'd have a pretty good chance to win the U.S. Open. It pained me to say it. Luckily for us I was dead wrong. Gerry missed the cut and 'scoped off the Hartford to get ready to play in the Travelers Championship. Watson has the best scoring average of any Tour player in Hartford since he first won there in 2010 so it should be no surprise to anyone that he won again in Connecticut this week. As they say, horses for courses. Watson's 1st round 62 had the field chasing him for the weekend but his feeble mind let the field back in to the championship…..well no, it was more likely the softer conditions with a weekend filled with rain hitting the area.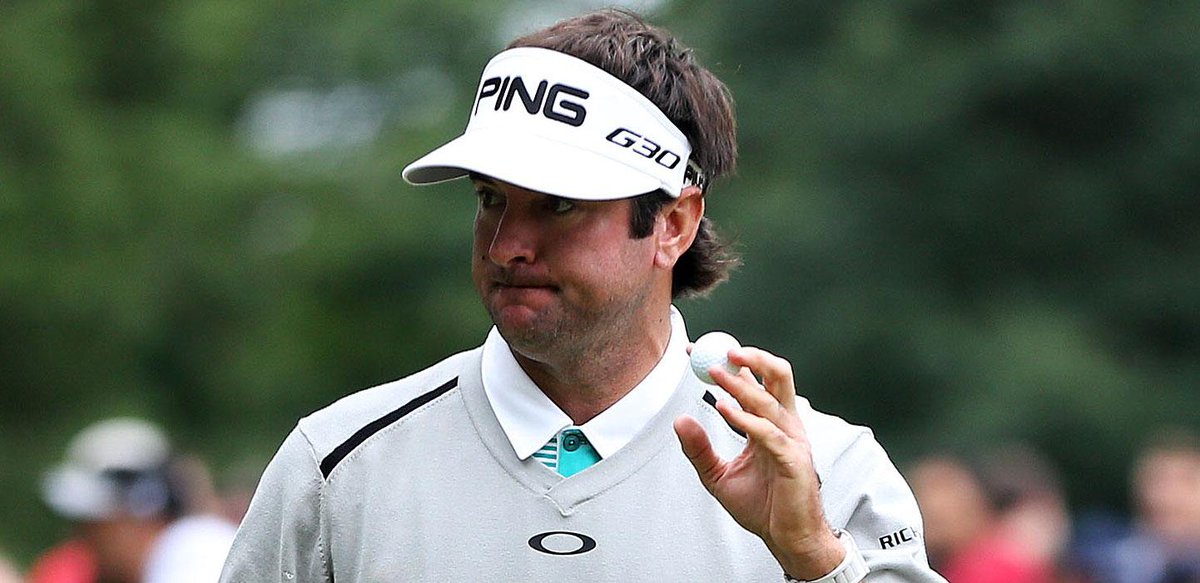 Bubba doesn't like rain, which might explain why he hit a lot of head scratching shots on Saturday and Sunday. But he typically followed those up with a moment of brilliance. For example, this nifty wedge at the 2nd hole was amazing and lead to a birdie. According to the Golf Channel telecast a fan told Watson he'd have to punch a 4 iron under the tree. Bubba told him, "that's why I'm on this side of the ropes and you're on that side".
Just when you want to like him, just when he pulls a shot off like that, he becomes the dickless fucktard you want to punch for his cocky comment back at a fan. For a while there I thought it was going to be another scary day for Watson's caddie, Ted Scott (#prayfortedscott #PFTS), then the bunker took the brunt of Bubba's bitching for Ted.
Gerry regrouped with a string of pars and then an all-timer of an eagle at 13 when he hit an amazing 5 iron out of a fairway bunker on to the green. From there this should have been Bubba in a walk. Nope, he made it interesting on the 17th but minimized the damage making only a bogey. Paul Casey's fine play meant the two would duel in a playoff which Watson won thanks to a birdie the 2nd time around the 18th hole and Casey skulling a bunker shot across the green.
Another win puts Watson at 8 for his career and back up to 3rd in the world golf rankings. That will have the Bubba haters on high alert, as it should, and the dude will probably contend again soon. He has a home at Greenbrier where next week's event will take place. And you know he'll be in the thick of it at Whistling Straits later this season at the PGA.
I Find It Hart To Root Against Americans
But Bubba can make Euro Ryder Cuppers look cuddly to anyone. I don't particularly like Paul Casey, but I would have had no issue with him stealing the Travelers from Watson on Sunday. His 64-65 weekend almost did just that. I've seen Paul play in person a few times. In fact, he hit one of the worst shots I've ever seen from a professional in a practice round when he shanked a 3 iron at Medinah's 13th hole. He also had a shank in L.A. earlier this season when he played well on Sunday. Those foul balls are why I half expected Casey to blade his sand shot on the 2nd playoff hole. He's quite capable of shit like that. Paul will be ok. Did you see Mrs. Casey? Yeah, not bad, minus the weird hair coloring thing she had going on. This is Paul's 2nd wife. Her name is Pollyanna Woodward. The couple met at a F1 race a few years ago after Paul got divorced. Here's a look in case you missed her.
Seems as though she was a candidate for Ms. England not too long ago. How's the sweater meat? Pretty good, but likely fake. This video shows all.
Check please.
The Field
Brian Harman and Graham DeLaet probably won't sleep too well tonight knowing they both could have won the Travelers. DeLaet played his way into contention with a tidy 64 on Saturday. Then he puked all over himself to start his Sunday and was too far behind once he righted the ship. Harman simply made too many bogies, but will likely get over his disappointment when he sees the paycheck. Then there's the case of Keegan Bradley who was my pick this week.
Keegan shot a 64 on Thursday to temporarily take the lead until Gerry Lester Watson posted 62. He loves the Travelers because he's from the northeast. The golf course should be perfect for his game. So color me a little confused as to how he can shoot only level par for the final three rounds. Methinks something his bothering him. His OCD pre-shot routine on Friday afternoon was taken to a whole different level.
I don't claim to have much sanity left in my brain, but that might have destroyed what was left. Holy fuck does he have some demons in that over-sized melon. How does he pull the trigger once over the ball with all that shit going on? I think it is a girl problem. She's begging for a ring, he doesn't want to get married yet, and so this is the result we see. Keegs, shit or get off the pot, for all of us.
Pablo Should Call Keegan
Pablo Larrazabal has his personal life figured out, and look where his golf game is. Pablo sat out last week and watched the U.S. Open at home in Spain. He didn't qualify but his tweets made it easy to see how motivated he was to play well again. He practiced hard and now he's got a new trophy as he won the BMW International Open edging Henrik Stenson by a shot.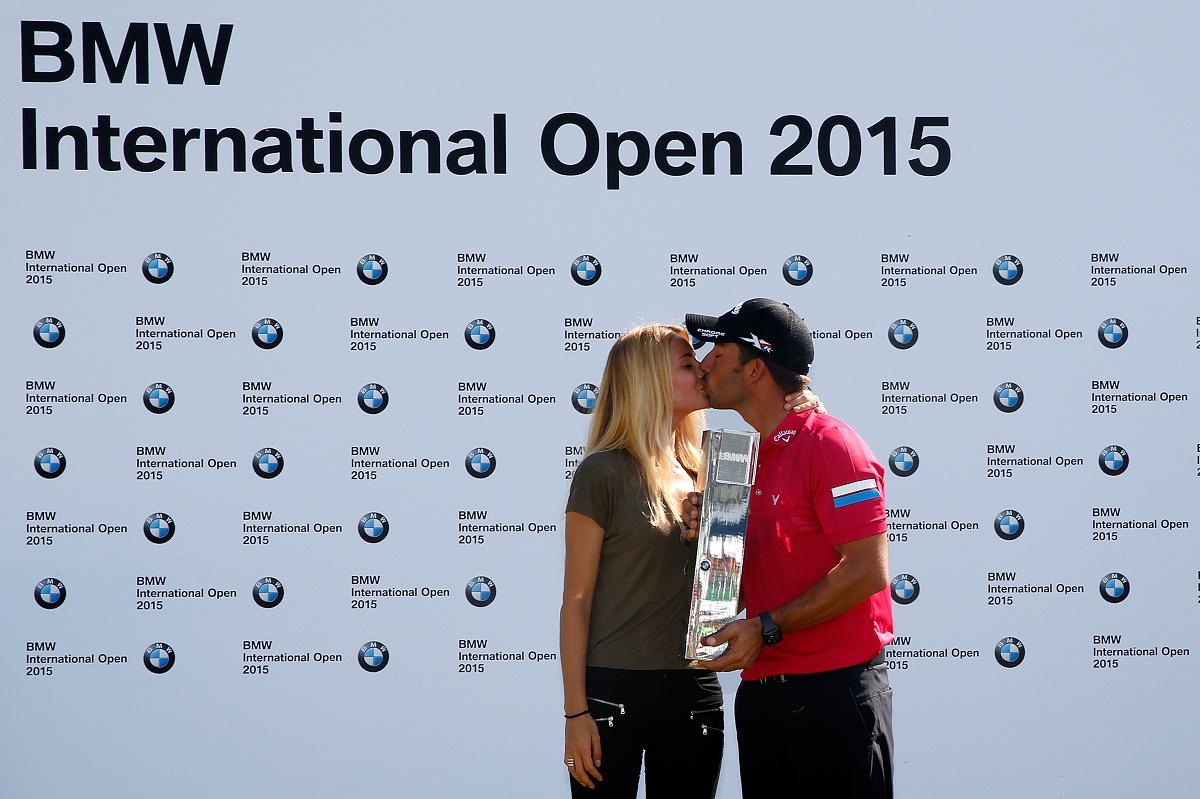 Larrazabal should be a stalwart on the Euro Ryder Cup team, in my opinion. He's starting to win with more regularity and just might make their squad next year. He's also getting hitched later in 2015 to Gala Ortin. SFG is a big fan of Ms. Ortin as she's been the WAG of the Month once before. She's also why I like it when Pablo wins and why I want him on the Euro team next fall.
Shot Of The Day
The 5 iron shot I described above that Bubba Watson struck from a bunker to make eagle was pretty fucking good. But its Bubba, he's a dick, and we see him do shit like that all the time. That means it isn't the Shot of the Day. Besides, this dunk from Paul Casey is a cooler shot anyway. Take a look:
A 700k check, a wife with a nice rack, young son, and the Shot of the Day. That's a decent weekend for Mr. Casey. Good for him.