They All Count The Same
Twenty-one year old Jordan Spieth has two majors. Re-read that and think about it for a second. Tiger didn't win his 2nd major until he was 23, but he was playing as a professional for about the same amount of time that Jordan has now when he won his 2nd. Those two are in some very rarefied air.  As you all saw watching the late action on Sunday, this one was handed to Spieth thanks to Dustin Johnson and his putter. Like I said above, that doesn't matter, they all count the same and no asterisk will go next to this win in Jordan Spieth's Golf Hall of Fame resume.
Spieth's amazing birdie putt at the 16th had Twitter handing him the trophy. The putt could have been legendary had he not fucked up the next hole so bad.
The shot at 17 was him caught in the moment. He knew he'd just won his 2nd major. After making double, he knew he hadn't and he played like it. His resolve is incredible. To gather yourself after making a double that could have cost you the national championship and hit two shots into 18 have a chance at an eagle was the most impressive thing he did all day (until he dodged Joe Buck's question about the greens after the round). I'm sure his mindset on the tee was that he had to make four to have a chance at a playoff. He probably would have beaten DJ had their been a playoff anyway and he was shocked when Johnson's birdie putt missed. I love how his dad helped him to realize the moment he'd won and that he had to accept what had just happened with humility and without feeling sorry for DJ. His support team is a huge reason as to why he's as successful as he is. His parents, his sister, brother, caddie…..that's why at 21 he can play and act like a 35 year old veteran of professional golf.
Talent Doesn't Always Produce Results
The 2010 U.S. Open, the 2010 PGA, the 2011 British Open……the theme is apparent with DJ. The moment is too big for him. He's too prone to a bone headed moment when it is time to be clutch. I called him a choker right after he missed the point. I think that's accurate, but the two shots he hit under pressure up to the 18th green say otherwise. I also think that if anyone other than his brother had been his caddie on the 72nd green he would have told him to gather himself and given some words of wisdom to produce a different result.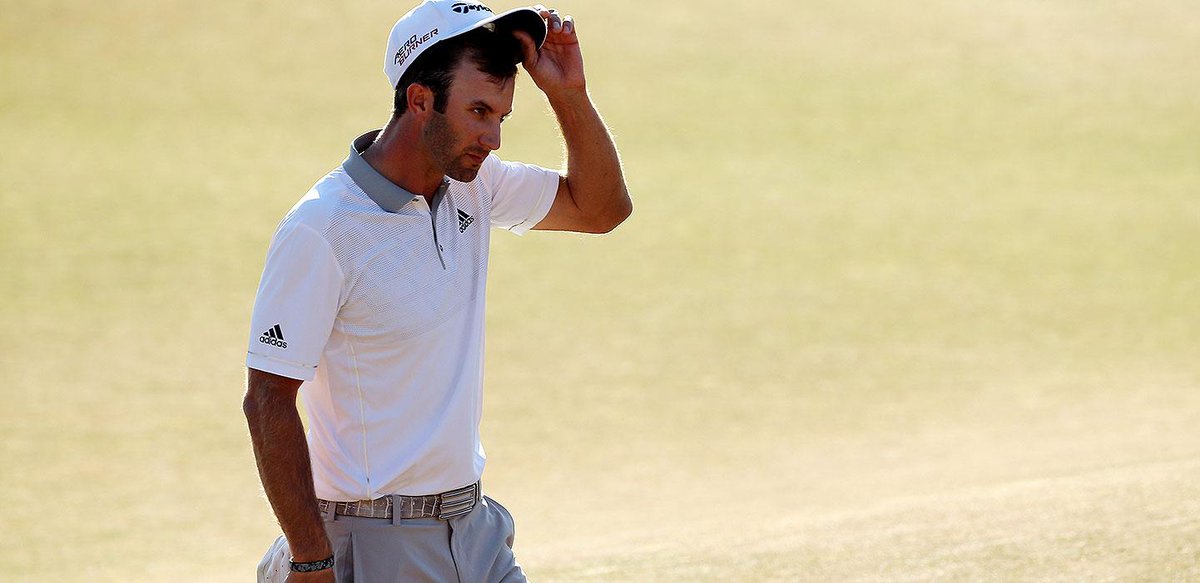 What is lost in that last missed birdie putt is the fact that DJ missed a ton of those all week, especially on Sunday. If he makes a field average amount of those putts he wins his first major by at least 3 shots. From tee to green he was the best in the field. That track was built for him. If he can't make it happen there with the way he played I don't know if it ever will. Coming back from more heartache will be a hard hit story line for some time to come with Johnson. At least he had Paulina and Tatum to go home to.
Look at DJ's arms, their son has to be that harry. Monday is Johnson's birthday. I can't imagine it will be an enjoyable one. If he's not bothered by the U.S. Open outcome he's in the wrong profession.
Winners & Losers
Every major gets a run down of winners and losers for the week from ShutFaceGolf. This one is no different.
Winners
Jordan Spieth – Jordan won, so he gets top billing here. That never changes. The boy king has closed the gap between he and world number 1 Rory McIlroy and could over take him with a win at St. Andrews. He's 21. He has 17 million dollars in the bank. And he has a cute girlfriend. The dude even tells the USGA to set up their golf course and they listen! Now he has a 2nd major to go with that green jacket he won in April.
Louis Oosthuizen – Snoozing Louis hasn't shown up much in the professional golf world since he lost a Masters playoff to Bubba Watson in 2012. He's been injured with various neck and back injuries. I feared his career may go the way of Fred Couples. I might just be wrong. After an opening round 77 playing with Tiger and Rickie, Louis shot 66, 66, 67 to close out his weekend and finish one shot off the winning score.
That is some real historic shit. And a back nine 29 on Sunday at the U.S. Open while in contention…???!!!!!!?? Insane. It is a shame he couldn't pull off a win. He'll now be a heavy favorite at St. Andrews next month where he won his only major.
Jason Day – Day's all-timer performance on Saturday gets him on the list. If he'd done that on Sunday they'd already be making a movie about his life. He battled vertigo and shot a 68 under tough conditions to grab a spot in the final Sunday pairing.
Day's final round 74 will be forgotten. He made a million fans for what he did Saturday. He'll eventually get his major. And the class he showed with DJ on 18 was just another reason to like him.
The USGA – Yup…they're a winner. They went to a new venue and pulled off a great tournament. So fucking what the greens sucked. That's not their issue. They didn't plant poa annua in the fescue greens. They had a great leaderboard. They had an awesome finish. The course set up was exciting. Sure, they fucked up when they switched 18 to a par 4, but it was one day and it still made things interesting. Mike Davis has to be a company guy and say things how he does to the press and the players. What is he supposed to do when the players complain, cancel the championship and move it to another course? U.S. Opens have been tremendous since he took over. Leave Mike alone.
Cameron Smith – Another 21 year old makes the list of winners. He's a nobody in golf right now and he tied for 4th at our national championship. The Aussie would still be in college if he were an American. His T4 finish came about with his eagle at the final hole set up by this shot:
That got him into the Masters and next year's U.S. Open. He's now won 800k on the PGA Tour this year and is nearing temporary membership status.
Losers
Dustin Johnson – I hate to call the 2nd place guy a loser, but after that choke he has to be on the list. Then he no-showed on the trophy presentation where he would have received a silver medal. Poor form, but he was signing autographs for fans and I can't imagine wanting to be at the ceremony after that collapse. Last night on Twitter I compared this choke to Davis Love's from 1996. Love and Johnson are both talented long ball hitters. Both hit great shots into the 72 hole of U.S. Opens and had a chance to win or playoff and lost with 3 jacks. I wasn't sure Love would recover from his loss but a year later he took the PGA at Winged Foot. Dustin will get his too and might do so as soon as August at Whistling Straits.
Fox – This one was obvious. What did they do well? The tracers, the graphics, I liked Corey Pavin and Mark Brooks, and Norman was mostly fine too. Anything Norman was off on could be fixed if he works at it. They also had Holly Sonders. On Day 1 I said she needs to show viewers more of her and I think Fox made the appropriate change. I liked what she brought to the broadcast. It was a nice change from the norm.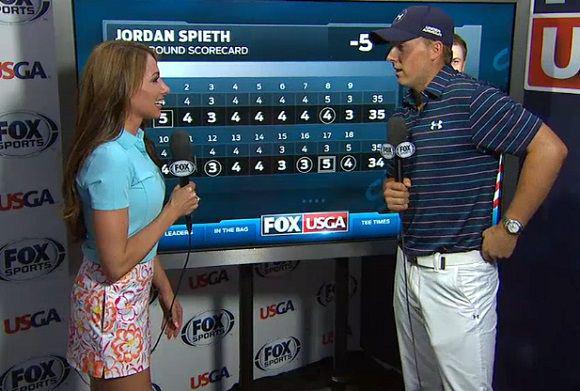 Everything else blew dick. I'll start with Joe Buck. He was disinterested and barely knew Adam Scott shot 64 on Sunday. Fuck this ass clown. If he's back next year I'll start a hashtag to have him banned. It wouldn't take much to pull that off because I'm yet to hear an positive opinion about him on this broadcast. The football guys were out of place too. I'd probably replace Julie Inkster as well as I don't think she brought much to the broadcast.  If I were to grade Fox as a whole I'd give them a C.
Chambers Bay – Personally, I did like the course and would love to play it. It was worth taking an open there once but now that we know its shortcomings I'm not sure we'll see it again. Not having spectators at certain holes should have been figured out well in advance and been a reason not to use the track as a host. And the greens….that's just bad luck and bad timing, plus the USGA pushed them a little too much.
I had no problem with the layout itself and liked the flexibility of the setup. The main reason I put the course on the 'Loser List' is because of the bad PR it got and the fact that I can't see the USGA going back to it.
Tiger Woods – 80-76 and a missed cut. He looked as lost as ever with no signs of improvement. Where'd the guy go that broke 70 at the Masters? How can he be so far removed from that?
To say he's done right now is a big leap but it is much smaller of a leap than it was 4 weeks ago. Homie has 3 rounds in the 80s his year. That is 2 more than he had in the prior 20 years and 3 more than I've had in 2015. What the fuck is going on? I have no answers and I'm guessing he doesn't either. The next time he plays will be at Greenbrier where he missed the cut in his only prior appearance.
FIGJAM –  Philly Mick was 3 under after his first 9 holes of the U.S. Open. Golf Channel was ready to give him the trophy. He was also fresh off a top 5 finish from the week before in Memphis. Then he played his final 63 holes in 16 over par. Normally when Phil isn't scoring it is because a slew of big numbers is killing him. This week it was an alarming lack of birdies. His shit play over the last three days probably means he'll win at St. Andrews. There is no figuring out Phil.
Moving On
Two majors down, two to go. We're halfway to a Spieth-slam and a showdown with Rory at St. Andrews awaits. That'll be fun. Jordan says he'll still play in the John Deere (where he first won) the week before the British Open. That is a bit surprising because it will hurt how he prepares. It shouldn't be too far out of left field though because the kid is very loyal to those that got him to where he is. John Deere is part of that.
As for next year, the U.S. Open goes back to a more traditional track in Oakmont. There won't be any complaining about those greens unless they're 'too fast' for the complaint filled tour pros.