I Have No Idea How We Got Here
Stopped at the range on the way home, walked in the door for dinner, and then spent the rest of my evening watching my wife birth kid #2. How dare this little tyke mess up my U.S. Open viewing!!!!!!!????!!!!!!! Looking back at the leaderboard it appears as though things on Friday went about as expected. Players playing in the afternoon struggled while Spieth and others off in the morning got some good work done. Phil's 74….I think we all saw that coming. DJ shooting 71 and hanging in there is actually a decent round, but making bogies on 3 of his closing 5 holes has to make him feel like he whiffed on a great opportunity.
The result of Johnson back tracking is a co-leader pairing of Jordan Spieth and Patrick Reed, Ryder Cup partners from last fall. That will make for great Saturday TV, and if you get a run out of a FIGJAM or Rory as the appetizer, this championship will be just fine. I'm sure it'll be good enough to pass the time in maternity/recovery ward with new kid #2 getting indoctrinated into my golf world.
While Phil struggled on Friday, Louis Oosthuizen took advantage of the morning conditions and posted a fine 66. That's 11 shots better than than his Thursday effort. I'm sure no one thought he and Bitch Tits would be tied going into the weekend after their 1st round scores.
Among the story lines of the leaders on Friday was Jason Day's collapse, not his score, but physically collapsing as you see in the image above. Jason has been dealing with vertigo for 5+ years and even withdrew from the Byron Nelson in May after battling dizziness in a pro-am round that week. He finished his round even with the scare and the word on the street is he's going to play on Saturday.
Making Friends In the Worst Way
Nick Hardy is a underclassman at Illinois, he's an amateur, and he was fighting to make the cut on Friday at the U.S. Open. As luck would have it, Nick held the weekend fate of 15 men in his hands as he played his last hole of the day. Par meant those 15 guys are out. Bogey meant they're all in and playing for good money early Saturday morning. The kid made his bogey and probably got a whole bunch of 'attaboys' on his way through the locker room later.
Does Your Husband Play, Ian? 
If this isn't your first visit to my site, you know by now I despise Ian Poulter. The fucktard has blocked me on Twitter for criticizing him so I don't miss an opportunity to fuck with him. He took to Periscope to show how he was preparing for his round on Thursday by watching the action on Fox. Since I'm not blocked on Periscope, I found small amounts of joy in harassing him. I guess I'm not the only one who does this.
Ha ha ha……and of course he's got such rabbit ears he has to acknowledge the heckling. Great work from the Washington crowd.
Stupid Is As Stupid Does
Right on schedule the USGA decided to change the 18th hole to a par 4 on Friday and the 1st hole to a par 5. The players loved the change, just ask Jordan Spieth.
At first I thought they were just bitching as that has been the pattern this week. Then I saw Golf Channel and Frank Nobilo break down how the hole changes when the 525 yard tee is played. Frank nailed it, there's no place to hit a driver with those angle. And Jordan's point about hitting 3 iron off the tee and 3 wood into the green is spot on as well. I don't think Mike Davis gives a fuck. I also think we'll see it play as a par 4 at least once more over the weekend.
On The Lighter Side
The 2012 U.S. Open champ, Webb Simpson, made the cut on the number (thanks to Mr. Hardy). That means the gag of the week gets to keep on giving. For some reason I'm yet to hear the locker room dudes at Chambers keep screwing with his name plate.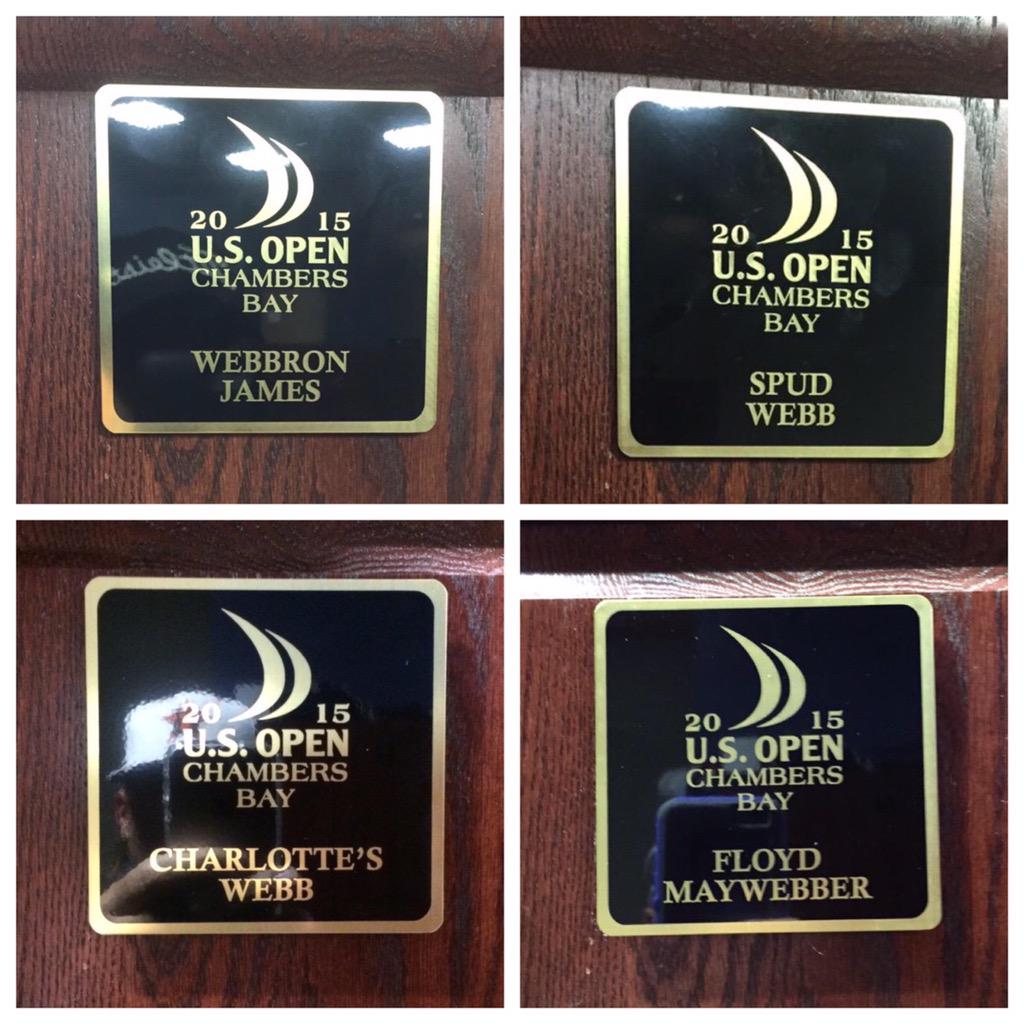 Well done. Floyd Maywebber is the best of the bunch.
Good Bye Tiger
FYI, Tiger sucked again on Friday and shot 76. Not only did he suck, but Fox pretty much stopped showing his round. Why? They showed his whole fucking disaster of an 80 on Thursday, why not keep the train wreck going?
Adam's Vine says it all. That is where Tiger's game is right now. What happens next is anyone's guess.