Crispy And Crusty
Thanks to the USGA and the cooperation of Mother Nature, Chambers Bay is right where course set up wizard Mike Davis wants it right now……dry and more dry. You don't believe me? Check out this tweet from competitor Lee McCoy.
That is insane. I realize this area isn't turf players are expected to play off of, but that stuff is dead. It can't come back. Why not water it just to save the grass? And at what point with dry fescue make a player slip thanks to wearing soft spikes on it? The other issue I have with these conditions is the fact that a lot of luck will be involved with who wins based on the bounces they get. It isn't fair, and that is golf, but do you end up with a deserving champion based on these elements? It certainly does make the 7600 yard track play shorter.
To counter such conditions several players have put 2 irons in their bag for the week to replace hybrid and/or fairway woods. Hmmmm…….if the idea for doing that has something to do with keeping the ball on the ground, I'm not sure why it makes sense. I think hitting it higher with woods and hybrids will give you a better chance of keeping your ball in play and on greens. Wind shouldn't be a factor. If the decision is based on the ease of hitting the irons off the fried turf, then I get it.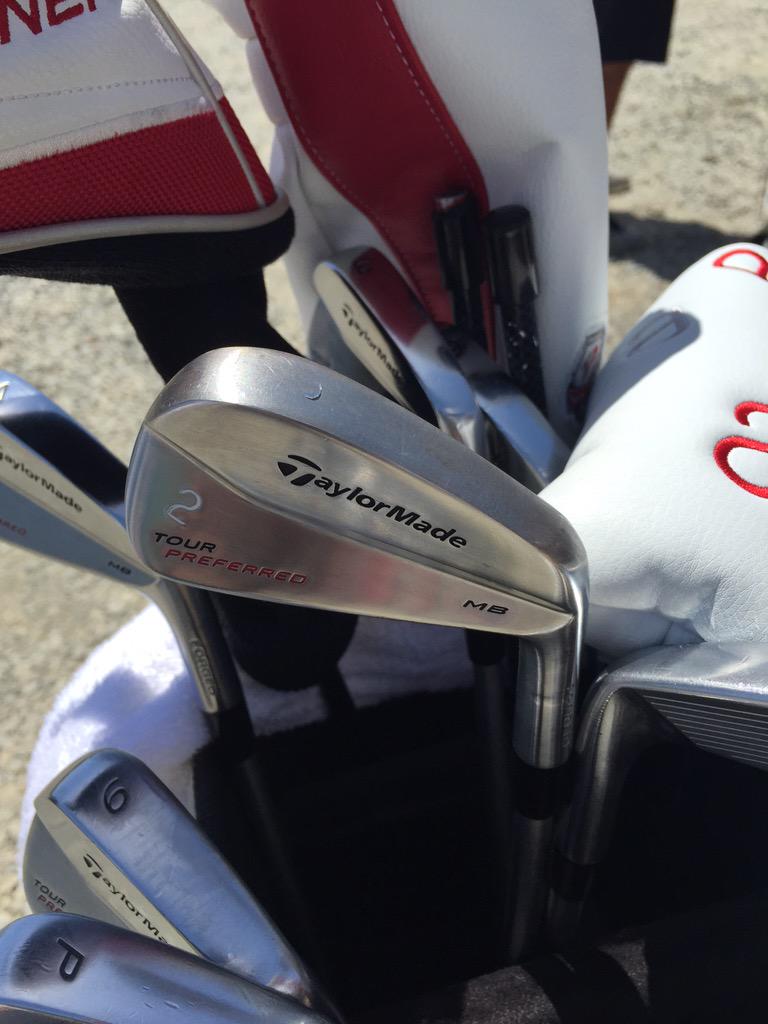 That is the deuce of Justin Rose. He even has a special grind from the tour van that took the digit off the bottom. That is why you see it stamped on the site (via John Wall). A lot of the Taylormade staffers have similar looking sticks in their bags for Chambers.
Press This
Tuesday at most big tournaments is when the big boys sit down with golf journos to discuss life. At a major, you get other non golf types that ask stupid questions and make pre-tourney pressers pointless. If you missed Phil's, Tiger's, Rory's, or Jordan's (which was Monday) you didn't miss much. In summary, Phil likes the course, Tiger thinks it is hard, Jordan is trying to embrace it, and Rory isn't worried about his recent missed cuts. Seriously, that's about it. I heard the 15 year old kid was entertaining but I missed that one entirely.
Meanwhile, in all other things Tiger Woods, reports from the course are that he looked pretty good. Jason Day played with him and agreed. Some video of him on the range even showed less head dipping and a smooth tempo in his swing. Too bad he rarely brings "Ranger Rick" to the golf course. He also had this bizarre rehearsal move going on as shown below.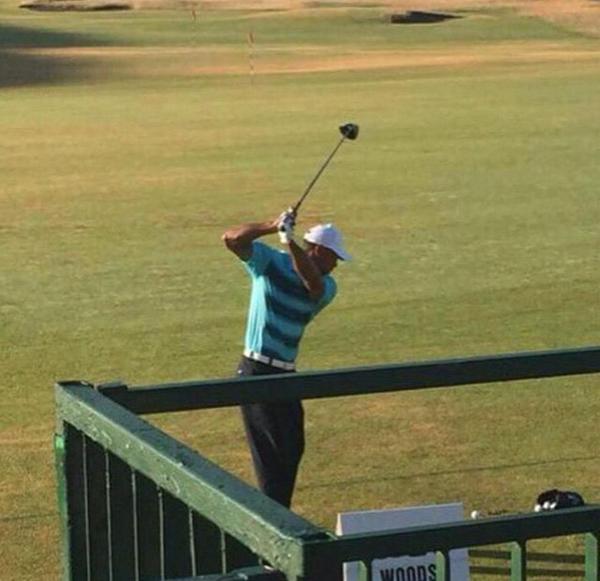 No, he wasn't mocking Furyk. Honestly, I have no fucking clue what he's trying to do there.
Barstool Bubba Take
If there's anything you should take note of from Tuesday it's the following take from Barstool Sports. Seemingly prodded by the crazy putt I showed you yesterday that Bubba tweeted last week from Chambers Bay, Barstool took the opportunity to open up and tell us how we feel about Bubba without us really knowing it. I know when I read it I thought, "yeah….that's it, perfect." I'm guessing you will too. The hot take can be found here and I'm sure those guys would appreciate the click. I've also put it below because its just too good not to share.
Shut up, Bubba.  Just shut the fuck up.  Stop saying "You're welcome" after you do trick shots.  It's not cool.  Nobody thinks it's cool except you.  That video perfectly sums up Bubba Watson.  Was that putt awesome?  Hell yes it was.  A super cool video and representation of just how fucking crazy the greens are gonna be at Chambers Bay next week.  But he ruined it, right at the last second like he always does.  He's always THIS CLOSE to being the cool guy but then he screws it up somehow.  It's always that way with him.  His name is Bubba.  That's awesome.  He drives around on hover craft golf carts.  That's awesome.  His golf game is self-taught, he doesn't need a coach and it's an extremely fun style to watch.  People love watching him crush drives. But his personality sucks.  No amount of trick shots or 350 yard drives can make up for it. It's exactly why Bubba was voted Least Likely To Help In A Street Fight by the other Tour players. The guy sucks.
That is what he does. He ruins shit you should enjoy. He ruined two Masters, he's ruining cool stuff on Periscope, he ruins Ryder Cups, and he very well could ruin this U.S. Open if he wins it.
Happy Birthday Bitch Tits
Phil Mickelson's birthday has become a U.S. Open week tradition, sort of. Today FIGJAM turned 45 years old. Read that again and let it sink in. He's only 5 years away from his Champions Tour debut. I remember thinking how old Hale Irwin was in 1990 when he won the open at Medinah. If Phil won this week that would make him the 2nd oldest open champ next to Hale.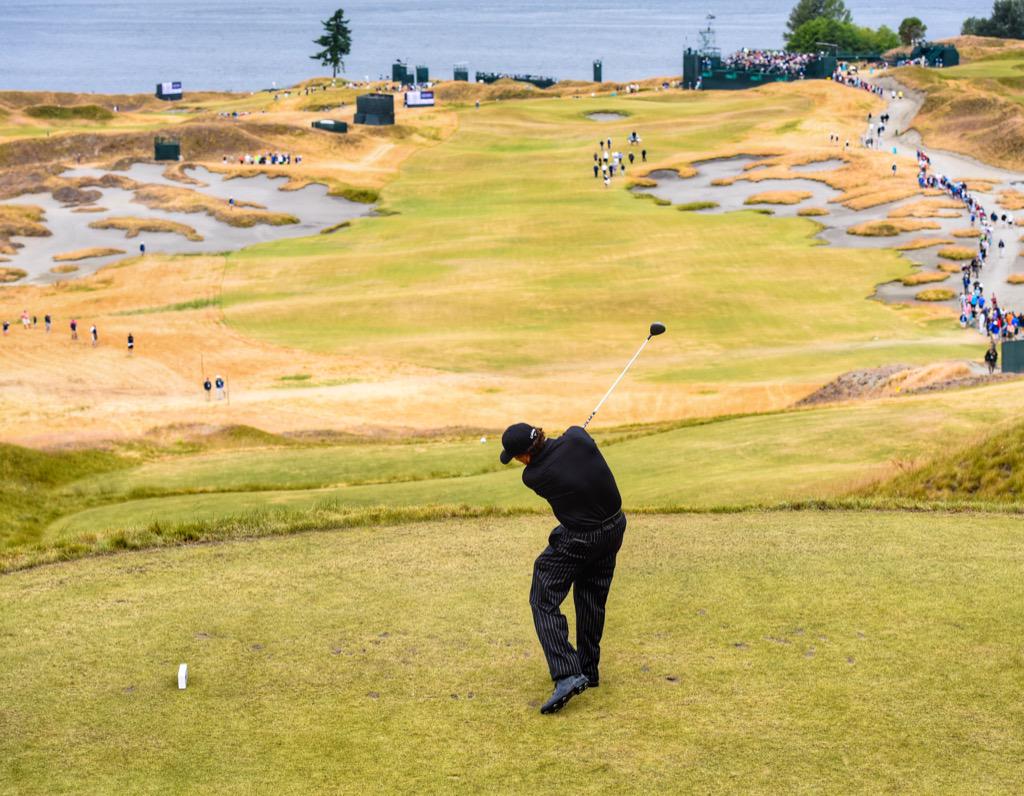 It would also complete his career grand slam on the 50th anniversary of Gary Player doing so. Hmmm……..Phil clearly loves the course, but him winning would almost be too much for the golf world to take this week. I'd have to mute Joe Buck if Phil pulls this off on Sunday night.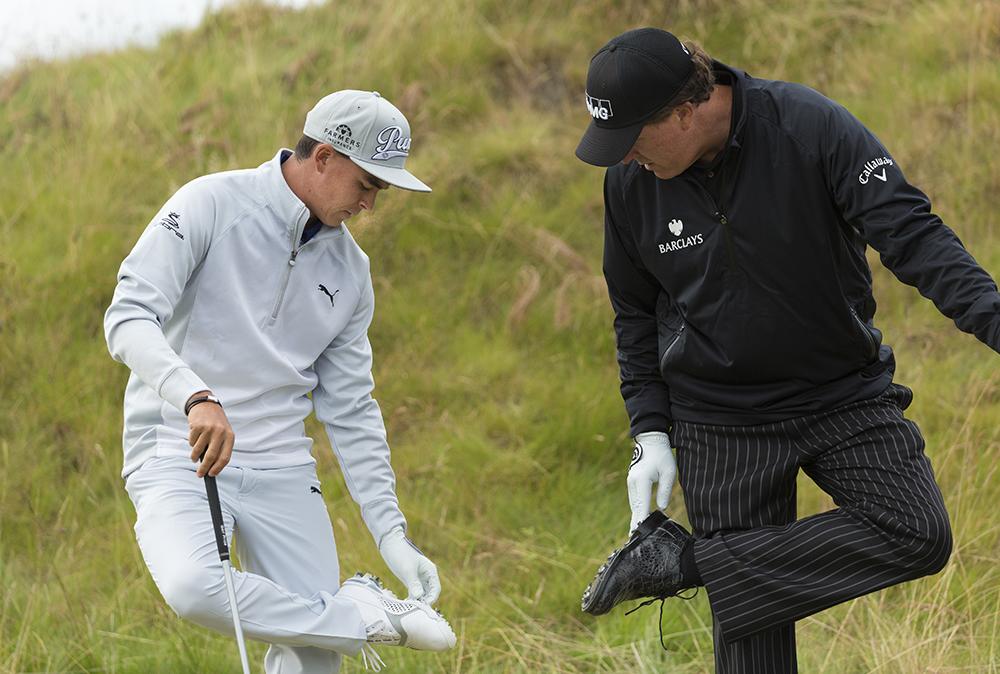 How did Phil celebrate getting halfway to 90? He walked around Chambers having 'Happy Birthday' sang to him everywhere he went by the fans. He also had a big money match with Jimmy Walker, Brandt Snedeker, and Rickie Fowler. Rumor has it that Jimmy and Brandt let Phil win for his birthday. Nice.