Quit Your Bitching
The U.S. Open hasn't even started yet and the players, golf journos, and golf traditionalists are already bitching about it. That must mean the USGA has done its job properly. Some of the players are starting to wrap their head around a different type of U.S. Open. I think Jason Day is one of them. He retweeted this fun little shot from the 18th tee today.
That snippet of video shows you some of what Chambers Bay has to offer. The ruins of the old buildings on the quarry site provide a lot of character and make the track look like it was made from an old Tiger Woods EA Sports video game. I think I'm going to love watching this, but I'll need to ignore the bitching to do so. The players are complaining because its only Monday and the course is firm and fast. They're afraid of being embarrassed by posting big numbers. Shut up and play. Par doesn't matter one fucking bit. I'd gladly post +27 for four rounds if it meant winning a major championship.  Also, their concern would hold more water (pun intended) if the wind was going to be more of a factor. According to various forecasts, there won't be a day that has wind above 10 mph. That is fairly calm on a course of this style.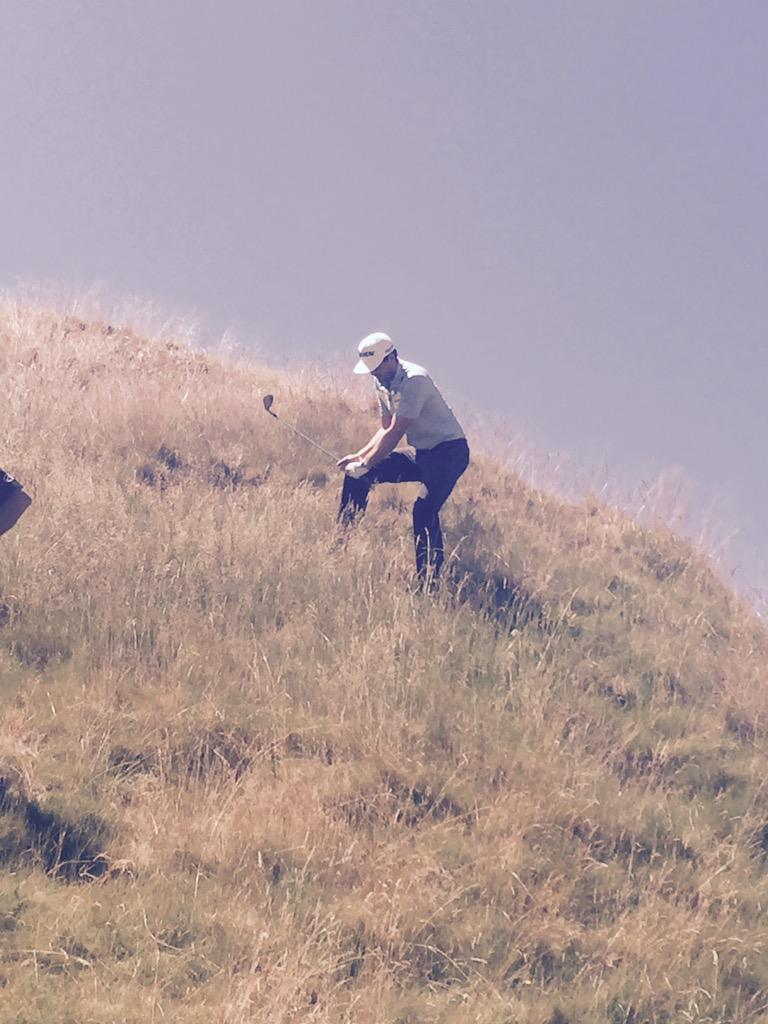 One legitimate complaint heard throughout the Chambers Bay open will be about the terrain. As you can see by the picture of Keegan Bradley above (tweeted by Jason Dufner during their practice round) you need to be part mountain goat to traverse the grounds. While this will test the fitness of the contenders, it will also be a disaster for journos and fans trying to get around the property. The whiny media is already complaining about their commute to the course via shuttle too. We've heard all this before when the PGA was at Kiawah. Please folks, just talk about the golf. We don't care about your shuttle rides and lousy accommodations. Your life isn't a struggle.
And lets settle one more thing while we're here. The course is long, but it's not too long. When you get 75 yards of roll off a driver and several of your tee shots play down hill, the 8000 yard course will play much, much shorter. The 546 yard par 4 getting much attention will probably play more like 450 if compared to the saturated courses most of us play.
The King Of Complaints? 
When there is complaining to be done, Gerry Watson can usually be found at the front of the line. That isn't the case this here, at least not yet. Bubs got to the Pacific Northwest last week and is showing his fans what he's up to via Periscope. I tuned in to see what his shenanigans were, mostly to mock him, but it turns out he's been pretty entertaining. First, he and his whacky group act like stoned teenagers for much of each broadcast. I'm serious. They're bouncing of the walls, look at me……its weird. That part I can do without, but the rest is really interesting. Bubba has given us a inside look at his practice rounds, his prep, tweaking his equipment in the Ping trailer, and several candid moments in the courtesy car with his boys. I highly recommend tuning in.
I think Watson is embracing all that is Chambers Bay. Before he found Periscope, he tweeted this video of a putt from one of his first loops around CB.
Crazy. That fucker went viral in about 6 minutes. I can't believe I'm saying this, but I really like his chances because of how creative he can be. The course is very similar to Whistling Straits from what I can tell. You probably forgot that Watson lost the 2010 PGA in a playoff at Kohler.
50 To 1 Should Be 500 To 1
Tiger Woods has made his way to Chambers Bay. He came in early over the weekend to get a few extra looks at the golf course as advised by the USGA's Executive Director, Mike Davis. He could play it 100 more times and it wouldn't matter. The U.S. Open is not the place to show up in hopes of finding your game. Last we saw TW was in the midst of his train wreck of a weekend at the Memorial. I can't imagine he can make the cut this week, but he showed up anyway and had some new gear in tow.
He tweeted the pic below and told his followers that the new head covers alongside Frank were Father's Day gifts from his son and daughter.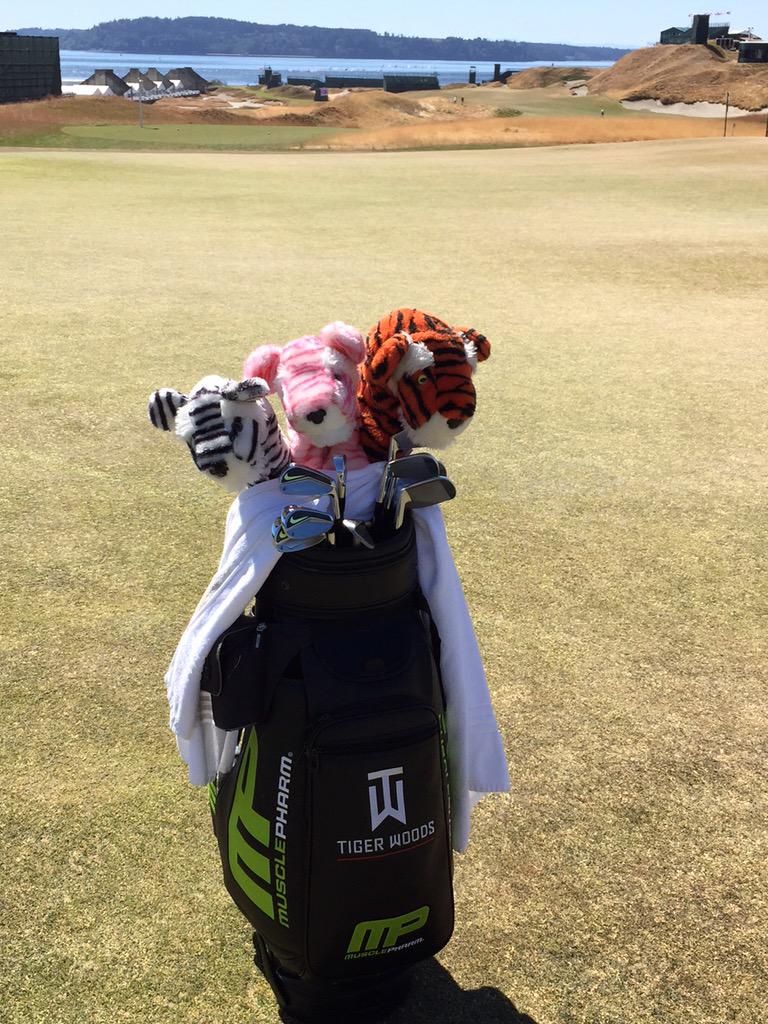 Well, now that we know that we can get on with our lives. The rest of the all-things-Tiger news for Monday was pretty quiet. That'll change tomorrow when Golf Channel's Tiger Tracker is on site reporting on anything the Big Cat does. There's no Rory news from Monday either, but Nike did release the $wooshed duos scripted outfits for the week.
I'm pretty sure Nike doesn't make either of their head covers so I find it strange that they show them with their outfits for each major. Otherwise, both have pretty clean looks for the week….I'm in.
On The Tee
The USGA announced tee times late on Friday afternoon last week and to my surprise there is no sign of their usual 'Prick Pairing'. Twenty five years ago this would have been whatever group Scott Hoch was in. Now I'm not so sure who got that nod. Mike Davis was a little pissed at FIGJAM after the 2013 open at Merion, so the prick group might be Phil and Bubba's. What did El Pato due to deserve that?  There's also no 'fat guy' pairing like we had with Shane Lowery and Brendon deJonge last year.
Because the times were made last week you will see a few 'TBDs' on the docket. Those were spots saved for any player that jumped into the top 60 in the world rankings as of today. No one made that leap over the weekend so several alternates were added to the field. One of those was Kevin Chappell, the tour pro who missed a short putt to eliminate himself from a 5 for 3 playoff last week at his sectional. Good for him.
Also of note in the time below is Michael Putnam, the first name on the sheet. He's a local and he also hit the first ever shot at Chambers Bay when it opened in 2008. Now he gets the first whack at a ball in the courses first major. Well done, Mr. Davis.
All times below are Eastern.
First hole-10th hole
10 a.m.-4 p.m. — Michael Putnam, United States; Marcus Fraser, Australia; TBD.
10:11 a.m.-4:11 p.m. — Garth Mulroy, South Africa; Richard Lee, United States; Lucas Bjerregaard, Denmark.
10:22 a.m.-4:22 p.m. — Jason Allred, United States; a-Kyle Jones, United States; Cody Gribble, United States.
10:33 a.m.-4:33 p.m. — Phil Mickelson, United States; Bubba Watson, United States; Angel Cabrera, Argentina.
10:44 a.m.-4:44 p.m. — Liang Wen-Chong, China; David Hearn, Canada; Hiroyuki Fujita, Japan.
10:55 a.m.-4:55 p.m. — Robert Streb, United States; a-Lee McCoy, United States; TBD.
11:06 a.m.-5:06 p.m. — George McNeill, United States; Masahiro Kawamura, Japan; Cameron Tringale, United States.
11:17 a.m.-5:17 p.m — Henrik Stenson, Sweden; Francesco Molinari, Italy; Brandt Snedeker, United States.
11:28 a.m.-5:28 p.m. — Jim Furyk, United States; Miguel Angel Jimenez, Spain; Colin Mongtomerie, Scotland.
11:39 a.m.-5:39 p.m. — Brooks Koepka, United States; Russell Henley, United States; Byeong-Hun An, South Korea.
11:50 a.m.-5:50 p.m. — Jason Dufner, United States; Marc Warren, Scotland; Matt Every, United States.
12:01 p.m.-6:01 p.m. — Brandon Hagy, United States; a-Matthew NeSmith, United States; Sebastian Cappelen, Denmark.
12:12 p.m.-6:12 p.m. — a-Nick Hardy, United States; Alex Kim, United States; Rich Berberian Jr., United States.
4 p.m.-10 a.m. — Jason Palmer, England; Roberto Castro, United States; Andres Romero, Argentina.
4:11 p.m.-10:11 a.m. — a-Denny McCarthy, United States; D.A. Points, United States, Shiv Kapur, India.
4:22 p.m.-10:22 a.m. — a-Bryson DeChambeau, United States; Blayne Barber, United States; Billy Hurley, United States;
4:33 p.m.-10:33 a.m. — Geoff Ogilvy, Australia; Ernie Els, South Africa; Retief Goosen, South Africa.
4:44 p.m.-10:44 a.m. — Bo Van Pelt, United States; Charlie Beljan, United States; Tony Finau, United States.
4:55 p.m-10:55 a.m. — Lee Janzen, United States; a-Ollie Schniederjans, United States; Darren Clarke, Northern Ireland.
5:06 p.m.-11:06 a.m. — Daniel Summerhays, United States; Thomas Aiken, South Africa; Danny Lee, New Zealand.
5:17 p.m.-11:17 a.m. — Jordan Spieth, United States; Jason Day, Australia; Justin Rose, England.
5:28 p.m.-11:28 a.m. — Tiger Woods, United States; Rickie Fowler, United States; Louis Oosthuizen, South Africa.
5:39 p.m.-11:39 a.m. — Jimmy Walker, United States; Zach Johnson, United States; Ian Poulter, England.
5:50 p.m.-11:50 a.m. — Ryan Moore, United States; Anirban Lahiri, India, Erik Compton, United States.
6:01 p.m.-12:01 p.m. — a-Jake Knapp, United States; Tyler Duncan, United States; Matt Mabrey, United States.
6:12 p.m.-12:12 p.m. — Michael Davan, United States; a-David Riley, United States; Andrew Pope, United States.
Thursday-Friday
10th hole-First hole
10 a.m.-4 p.m. — Troy Kelly, United States; Seuk Hyun Baek, South Korea; Cameron Smith, Australia.
10:11 a.m.-4:11 p.m. — John Parry, England; TBD; a-Jack Maguire, United States.
10:22 a.m.-4:22 p.m. — Tim O'Neal, United States; Stephan Jaeger, United States; Kurt Barnes, Australia.
10:33 a.m.-4:33 p.m. — Gary Woodland, United States; Victor Dubuisson, France; John Senden, Australia.
10:44 a.m.-4:44 p.m. — TBD; Morgan Hoffmann, United States; Bernd Wiesberger, Austria.
10:55 a.m.-4:55 p.m. — Marcel Siem, Germany; Alexander Levy, France; Brian Harman, United States.
11:06 a.m.-5:06 p.m. — Hideki Matsuyama, Japan; Graeme McDowell, Northern Ireland; Matt Kuchar, United States.
11:17 a.m.-5:17 p.m. — Dustin Johnson, United States; Adam Scott, Australia; Sergio Garcia, Spain.
11:28 a.m.-6:28 p.m. — Martin Kaymer, Germany; a-Gunn Yang, South Korea; Rory McIlroy, Northern Ireland.
11:39 a.m.-5:39 p.m. — Patrick Reed, United States; Chris Kirk, United States; Jamie Donaldson, Wales.
11:50 a.m.-5:50 p.m. — Webb Simpson, United States; Keegan Bradley, United States; Kevin Na, United States.
12:01 p.m.-6:01 p.m. — a-Sam Horsfield, England; Shunsuke Sonoda, Japan; Oliver Farr, Wales.
12:12 p.m.-6:10 p.m. — Kevin Lucas, United States; Pat Wilson, United States; a-Cole Hammer, United States.
4 p.m.-10 a.m. — Tom Hoge, United States; Brad Fritsch, Canada; Tjaart van der Walt, South Africa.
4:11 p.m.-10:11 a.m. — Brad Elder, United States; a-Beau Hossler, United States; Jamie Lovemark, United States.
4:22 p.m.-10:22 a.m. — Ryo Ishikawa, Japan; Luke Donald, England; J.B. Holmes, United States.
4:33 p.m.-10:33 a.m. — Lucas Glover, United States; a-Bradley Neil, Scotland; Marc Leishman, Australia.
4:44 p.m.-10:44 a.m. — Ryan Palmer, United States; Joost Luiten, The Netherlands; Danny Willett, England.
4:55 p.m.-10:55 a.m. — TBD; George Coetzee, South Africa; Alexander Noren, Sweden.
5:06 p.m.-11:06 a.m. — Brendon Todd, United States; Branden Grace, South Africa; Thongchai Jaidee, Thailand.
5:17 p.m.-11:17 a.m. — Billy Horschel, United States; Paul Casey, England; Lee Westwood, England.
5:28 p.m.-11:28 a.m. — Bill Haas, United States; Charl Schwartzel, South Africa; Hunter Mahan, United States.
5:39 p.m.-11:39 a.m. — Shane Lowry, Ireland; Ben Martin, United States; Stephen Gallacher, Scotland.
5:50 p.m.-11:50 a.m. — Charley Hoffman, United States; Camilo Villegas, Colombia; Tommy Fleetwood, England.
6:01 p.m.-12:01 p.m. — Mark Silvers, United States; a-Brian Campbell, United States; Cheng-Tsung Pan, Taiwan.
6:12 p.m.-12:12 p.m. — TBD; Jared Becher, United States; Sam Saunders, United States.