The Week Before A Major, Where Tournaments Go To Die
Unless of course that week is a WGC event like the one played before the PGA, the above statement is generally true. Very few stars show up for San Antonio, Memphis, and Quad Cities events prior to the first 3 majors of a calendar year. Shit, even CBS' 'stars' don't show up to call the St. Jude Classic and they're not even working the U.S. Open next week. Yes, Jim Nantz, Gary McCord, and Nick Faldo sat this one out while Finchy and McAtee brought us the action. Thank god we still had Feherty. No one paid attention, no one watched, and a player ranked between about 280th in the world came home with the crown.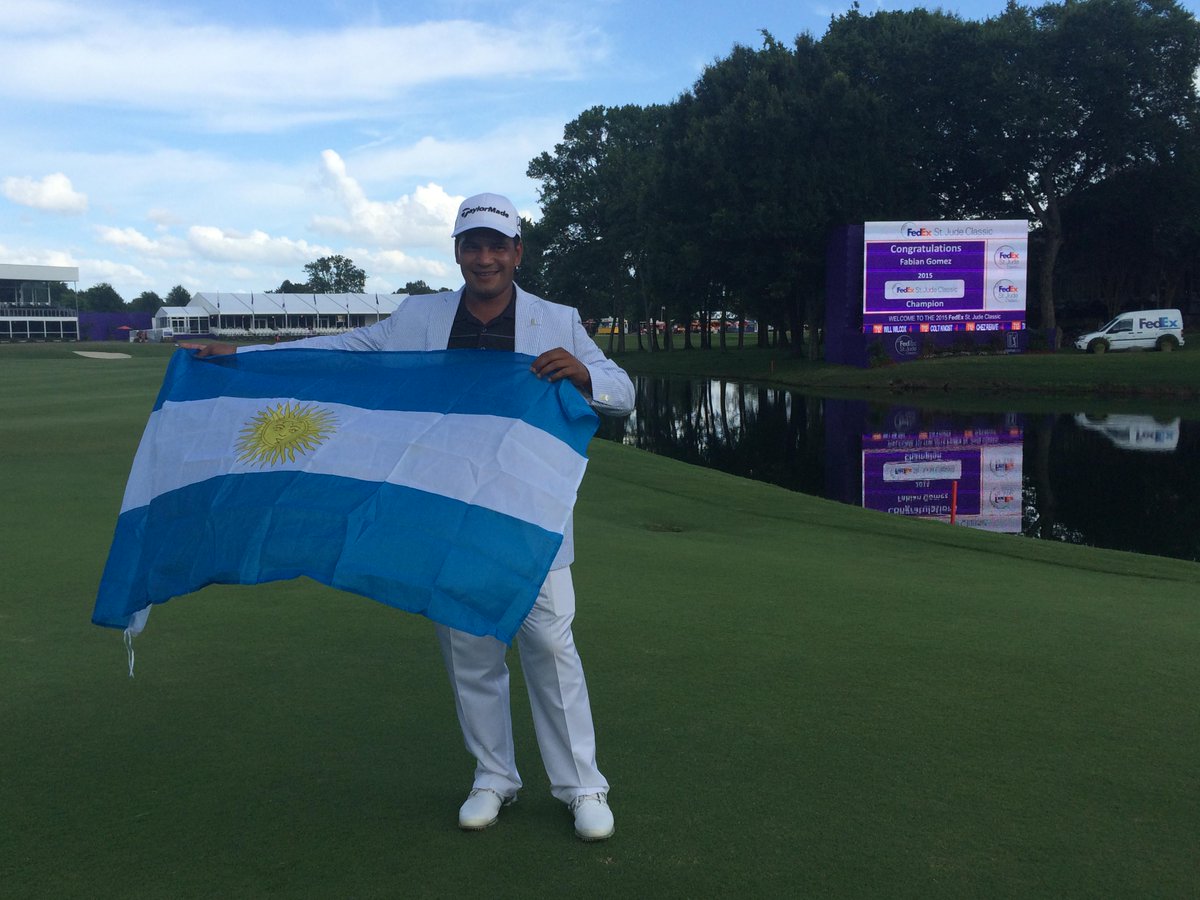 And there he is. That is Fabian Gomez, a 36 year old journeyman from Argentina who had never won on the PGA Tour until today. He was very impressive in his win, but don't get too excited about his chances of becoming the next big thing on Tour. Twenty-one years ago this event was won by another 1 time winner, Dicky Pride (yes, I just wanted to reference Dicky Pride one time on this site). My gut says Gomez career will mirror Pride's when all is said and done.
That being said, Gomez's four days in Memphis were anything but a fluke. He shot either 66, 67, or 68 all four days on a pretty tough golf course. He also exuded nothing but a cool and calm demeanor on his way to victory. There were no signs of a Bob Garrigus meltdown (…..heee heee heee…….swampass).  In fact, he tried to play his 72nd hole safe but instead he gutted the fairway, hit the middle the green, and knocked in this bonus birdie to win the tourney by four shots.
I'll give him style points for that. He looked like he'd done all this before. Sadly, his post round interview told us nothing. Through his translator he gave us the same old cliche' vanilla bullshit answers. The Google machine turns up nothing for a hot Latina wife I expected/hoped to see. However, based on his PGA Tour mug shot, I do expect him to be the lead villain 14th Fast and Furious movie.
Bowditch, Lingmerth, and Gomez….those are the names of the last 3 winners on the PGA Tour. Ugh. And as the AP's Doug Ferguson points out, picking a winner each week is mostly futile.
A major championship next on the schedule couldn't come at a better time.
The Field
The object way in the distance of Fabian Gomez's rear view mirror was Greg Owen. He and Gomez shared the 54 hole lead and were neck and neck through 11 holes on Sunday. He was playing steady at -1 under par until he rinsed his tee shot at the 12th hole and made bogey.
While he avoided the big number, he clearly lost his mind for the moment and I think that cost him. Gomez took control of the tourney and never looked back.
FIGJAM was in Memphis this week as he loves to play the event before a major. I do like that he works this way and I wouldn't be surprised if the 4 rounds at TPC Southwind were just what he needed to find some confidence heading into the U.S. Open. His final round 65 certainly won't hurt. That also grabbed him a T3 finish, his third top 5 in his last five events.
Current Fed Ex title holder Billy Horschel also played in Memphis this week and shot 65 on Sunday to back door a top ten finish. Maybe that will get him going. Outside of Billy and Phil, Dustin Johnson was probably the only other so-called top ranked player in the field this week (Koepka exception noted). Johnson's appearance didn't last long. He was +3 through 7 and ejected with a WD citing that he was ill. That is a veteran Anthony Kim move if I ever saw one. Of course I picked DJ as my winner in fantasy golf this week.
Fuck me.
Shot Of The Day
The action in Memphis was so lame that I couldn't provide you with a Shot of the Day from TPC Southwind. So why not give this one to the ladies who were playing Westchester Country Club in New York for the KPMG PGA Championship? Inbee Park won…..oink…..and she did so with an incredible -19 under total. The course looked awesome too. Outside of that, you didn't miss much except this sweet little shot from Hyo Joo Kim.
Ahhhh….nothing like seeing a 145 yard shot release 30 feet. The game the ladies play is not familiar to me, but a great shot nonetheless.
Site News
Fuck this shit, it is now U.S. Open week. As with all majors, I'll post every day of the week to try to fill you in on the comings and goings of the day. This would be a big week for the SFG household simply because of the open, but its also the week my 2nd child is due. If a day goes by without an update, then the Mrs. went into labor.
If that does happen, I'll do my best to live tweet the birth until she breaks my phone and/or punches me in the face. Hey, now I have an idea for my first Periscope event! Talk to you then.