Getting Tuned Up For Chambers Bay
Everybody and their trans-gendered father that is playing in the U.S. Open at Chambers Bay is starting to tune up for the championship by getting early looks at the host venue. Phil has been there, Tiger, Jordan Spieth's caddie, Billy Horschel, Ian Poulter, and anyone else you can think of. Now some of the media is starting to get in the mix. I've been enjoying Golf Channel's Matt Ginella showing us bits and pieces of the course via Periscope. Even Fox has put the full court press on their coverage and previews starting this week. Check out their latest ad featuring Rickie Fowler.
Shit. That was clever and sharp, but why would Rick agree to do it and put that kind of pressure on himself? He probably tried to win the Masters Par 3 Contest too.
Tiger and his pals landed in Washington on Monday morning to get in some immanent time with the USGA's latest championship venue. TW played all 18 in about 6 hours to make sure he saw every nook of the course. Joey, Steiny, and others were with him so he wasn't lonely on the course. The group did take a break at the turn during some shitty weather that rolled in. Then they got up on Tuesday and did the same thing all over again. I wonder why didn't he go last week when he had nothing going on instead of trying to cram it in to this week when he's actually working?
In his pre-tourney presser today at Memorial Tiger said he was wowed by the course because of all the options that are available in how it is set up. He also noted that he needed to get reps in at the course based on USGA Executive Director Mike Davis' comments about needing to know the course to play it well. The locals and few journos that saw some of Tiger's swings thought he looked pretty good. We also know that Tiger did a lot of putting from well off the green. What Tiger shoots as Chambers Bay is anybody's guess. Put me down for two 74s with a slight chance at making the cut.
Yeah, Phil was in Washington too, but a few days before Woods. He and short game guru Dave Pelz went last weekend when the weather was much warmer. Bitch Tits even wore shorts! If you ask me, this is now or never for Phil in the U.S. Open, his most coveted tournament. The 2nd place finishes add up to a lot of scar tissue he has to get over. I think the course suits him. He's done his homework. Finish the job, FIGJAM.
Ohio Is Beautiful This Time Of Year
In theory, central Ohio should have postcard-like weather in June, yet nearly every year a monsoon hits Buckeye land and rinses Jack's place like convertible in a car wash. The course, Muirfield Village is my personal favorite non-major track that the big boys play every year. I always say I'd give Billy Payne a kidney to play Augusta National. I'd probably give some Muirfield Village member a naked picture of my wife to play their track. I say that tongue in cheek because MV is the birthplace of the infamous nude Holly Sonders pics.
If it wasn't for the incessant tweets from the players about how good MV's milkshakes are, I'd probably like the Memorial even more. I'm not going to give you any kind of preview of Jack's show. No Laying Up has that covered for you here. I do like William Haas' chances this week. He's my pick.
Natalie's Still Got It
Believe it or not, Natalie Gulbis still plays golf. She got married last year and sunk to near the 300th ranked player in the world as of last week. She hasn't lost her looks, and she can still play a little too. As a matter of fact, Gulbis qualified for the Women's U.S. Open this week with a course record 66.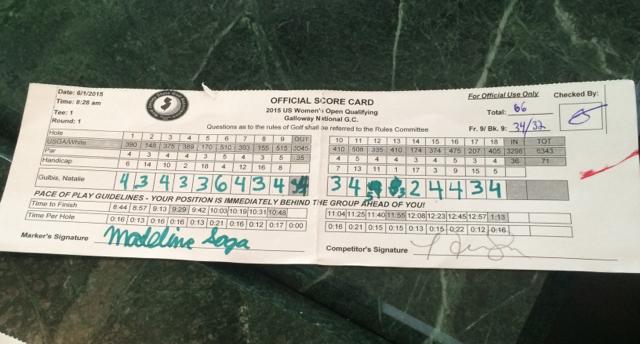 Great round. Tough course. I suppose you'll all get pissy with me if I don't show you a pic of Natalie while talking about her, right? Okay, here you go.
http://instagram.com/p/3cNNT-Go5W/?taken-by=natalie_gulbis