DJ Khaled Said It Best
That's right, I'm giving you a little hip hop flavor today and its all because of Chris Kirk. Why? Well, here's the song for those that don't know it:
Kirk should put that on his bag. All he does is win. Taking the title at Colonial today means Kirk has won 4 times now on tour. His 3 wins in the last two years is more than anyone save Jimmy Walker and Rory McIlroy (both have 5 wins). That puts him in some pretty neat company when you look at it as Golf Channel's Will Gray does here:
Kirk took care of business on the weekend by shooting 65-66 and posting -12 while the groups behind him on Sunday stepped on their dicks. Winning is winning, but this isn't the first time Kirk has taken advantage of mentally weak players fucking up behind him in the final round. Whatever the case, the former Georgia Bulldog is living right and taking advantage of the opportunities he's given.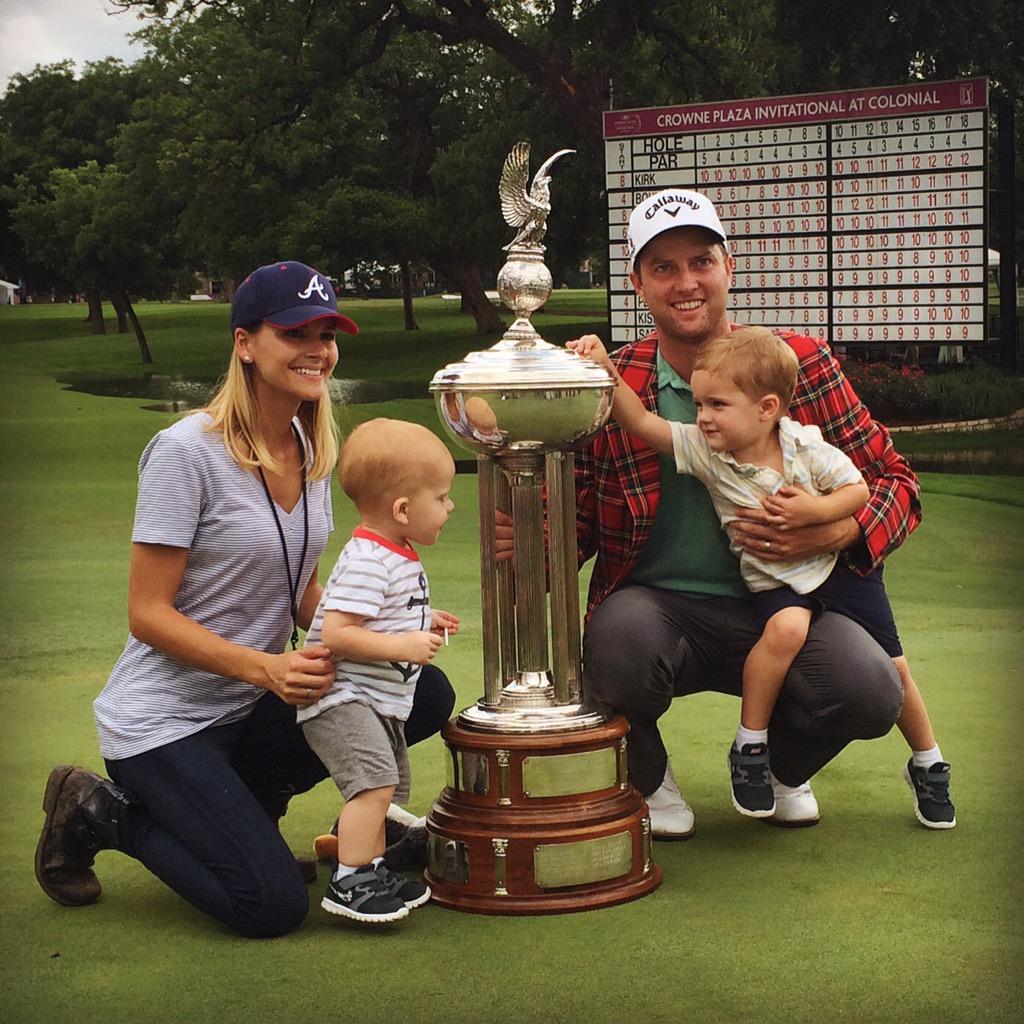 Kirk told the media after his round that this win was meaningful to him because he is a former Ben Hogan award winner. Colonial is known as Hogan's Alley and Hogan Award winners receive the award at the club. Kirk came here in 2007 as the Hogan winner and fell in love with the atmosphere and the event. Winning at Colonial as a professional was something he always dreamed about. Stuff like that makes Chris an easy guy to root for. His wife is another reason (more on her later).
What I like about Kirk is how he plays. His heart may be racing 200 beats per minute inside that wiry frame, but his syrupy back swing and smooth tempo make you believe that he barely has a pulse. That'll serve him well when he's thrown in to Ryder Cup matches over the next few years. Yeah, you read that right. Kirk is a sure fire Ryder Cup member for Team USA. He's too good to overlook anymore.
His Better Half
Kirk's wife is hard to miss when on the screen, isn't she? I'm a big fan, and I've discussed Mrs. Kirk plenty following each of his wins. There isn't much more I can say about her.
She's gotta be in my top 5 favorite tour wives. Why? First, she looks like a real person. Second, she looks like that after two kids. Third, she married Kirk and he knows she's way better looking than he is and he acknowledges it publicly. She's like the anti Amanda Dufner.
The Field
The field staff that is……yeah the guys that made Colonial playable at all this weekend. Perhaps you've not seen anything in the news about Texas but it has rained like a mother fucker there for a few weeks. The image below gives you an idea of what the staff had to do to make the course playable.
Yes, the players got to clean and place everywhere except hazards, but the tourney was finished on time and all 72 holes were played. That's almost a miracle. People in some areas of Texas are building arks and 70 some players played golf for 4 straight days in the middle of that shit? Well done. It was weird to see players moving their balls in rough and bunkers, but sometimes you have to be sensible. The tour made the right call.
Were you surprised to turn on Colonial and see Jordan Spieth in contention? Of course not. One of the best bets in sports in 2015 is Jordan Spieth making the cut and contending until the final hole of the tournament. He did exactly that this week playing near his Texas home. For Jordan, its a 'what-could-have-been' weekend. He did a bit of everything and much of it was sloppy golf that wasn't pretty to watch. But as always, when he needed to be gutty and find something, he did just that. After a costly 3 putt, Jordan found himself needing birdie at the 72nd hole to match the clubhouse lead of -11.
No shit he made it. He was a cunt hair away from Kirk's final putt missing and being in a playoff. Another 2nd place showing doesn't hurt the check book or his Fed Ex Cup standing.
Brandt Snedeker's game came back to life this week in Ft. Worth. Sneds had a putt to tie Kirk at the last hole but missed it low. He's been AWOL since his win at Pebble but made a few fixes with his instructor and appears to be back on the right path. Ian Poulter played in the final group with Kevin Na. We knew how that would go before it even happened. Perhaps two of the biggest head cases on tour sleeping on the lead and playing in the last group…….that is a train wreck we all want to happen. Na was shit and rinsed a few balls on his way to a +2 72. See ya!
Poulter shot even but was awful down the stretch when he needed a few birdies to try to catch Kirk. Yeah, he choked, and yeah….he went to Twitter to defend his bullshit.
The only thing more definite than IJP not winning on Sunday was the fact that he'd be tweeting something stupid about his result later in the day. I really don't like Poults, and yes it has something to do with the ass hat blocking me on Twitter, but its easy to see the guy has talent. If he were to shut down his Twitter account and try to block out the distractions of the outside world I think his on course results would be much better than the punchline he's becoming.
Shot Of The Week
In Europe, Rory McIlroy missed the cut at the flagship event of the Across the Pond Tour. Once that happened who gave a fuck? Of course the BMW Championship continued without him and great shots were struck. Tommy Fleetwood holed out for an albatross (don't you dare call it a double eagle).
Nice shot, but holing a mid to short iron for a double eagle isn't the same as running a prayer in the jug with a fairway metal. On top of Fleetwood's gem, the Mechanic had his own nominee for the Shot of the Week from Wentworth.
Yeah, the fucking guy did it again. That's 10 hole in ones for his Euro career, which is a record. It is his THIRD…..yeah THIRD of the YEAR and 2nd in 2 weeks!!!!!!! Holy shit. The man is living right. And he again has the SFG Shot of the Week.