Do You Know The Difference Between Jelly And Jam? 
Tiger doesn't call his event the Tiger Jelly, but that isn't the punch line of the joke. In case you missed it, Tiger Woods didn't play at Quail Hollow last week because he was busy hosting his annual Tiger Jam in Las Vegas. Tiger Jam is where TW and his celeb 'friends' get together and do golf outings, concerts, and other things to benefit Woods' foundation. Sounds great if you're one of the fortunate ones that attends. The big news from Tiger Jam is that Tiger cleaned out billionaire Mark Cuban at the poker table. Considering a few of the trades Cuban has failed in with his beloved NBA franchise, this shouldn't surprise anyone. To lament his lost Cuban grabbed some unsuspecting woman's phone and made the following video:
Holy fuck Tiger looks old in that! I guess that's what he looks like at about 1 am when he's been on a drinking binge. This might be enough of a scare to make me stop drinki……ehhhh……fuck it.
As for the musical performance at the Jam, seems as though ginger heart throb Ed Sheeran was on hand to cry about chicks breaking his heart for the masses. Tiger of course ate it up with his relationship with Lindsey Vonn still visible in the review mirror.
Because of people like Ed Sheeran we can change the course of people's lives. http://t.co/1i4l3ONzIw—
Tiger Woods (@TigerWoods) May 17, 2015
Sheeran must have put him in the mood. He was later spotted with these broads. They're from Poker Stars or some other site like that which furnishes working girls for 'entertainment' purposes. I'm sure nothing that you haven't seen in a typical porn clip happened the rest of the night with Tiger and the poker chicks.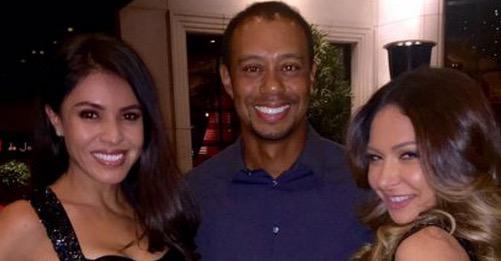 (Photo credit to BustedCoverage.com)
No Champions Tour For Rory
In more wholesome golf news, Rory McIlroy is in England this week to attempt to defend his BMW Championship title on the Euro Tour. In a mini media blitz before the event Rory told the BBC that he can see himself retiring at 40 and he won't play the Champions Tour. Whoa, what, huh?
McIlroy turned pro in his late teens. He claims that a 25 year career will be all he needs to accomplish what he wants to in golf. That means he'll probably play well into his 40s, but he won't push it when he's not competitive at the level he expects to be. I think that is an easy thing for him to say now, but I assume his perspective will change once he's actually 40. I know he'll have other interests and distractions in life by then. Rory is thoughtful in that way. His world is bigger than just golf. But no 25/26 year old can fathom what life will be like at 40. Youthfulness is blind like that. I don't think he'll be playing senior circuit events in Florida when he's 55, but I wouldn't be surprised if he's still trying to compete with the young bucks in majors like Greg Norman did a few times.
In more Rory news, the World Number 1 took to Periscope late on Sunday evening to share his trans-Atlantic flight with his fans so they could see how he was celebrating his recent victory. Because I'm old and have a day job I didn't catch the Periscope invite in time to partake. From what I've read about it, the ordeal was thoroughly entertaining. Rory's crew was jovial, took questions from fans, and roasted his caddie (JP shown above) relentlessly. One girl asked JP to prom while another fan asked if the caddie ever gets laid. I swear I wasn't in on this.
More and more golfers are figuring out ways to use Periscope and/or similar technology to engage their fans. I love it, but only when it is done right. Bill Horschel showed his fans some of his practice round from Chambers Bay this week. That's perfect. I only wish that these 'events' could be archived so that they can be re-watched. Am I missing that somewhere or is this the intent? Help an old guy out of you know what I don't.