Don't Hurt'em Rory
There isn't a mercy rule in golf. If they didn't make one for Tiger Woods they're not going to make one for Rory McIlroy. Perhaps they should. The 7, 8, and other large margins of victory in Rors' wins is beginning to feel a bit stale. Oh, don't get me wrong. I watched, and I'd watch any victory this kid has even if he's up 20 shots. He's a talent. Period. One of the best ever. We love to watch greatness just as we did with Tiger in his prime. Soak it in folks. This is again rare air.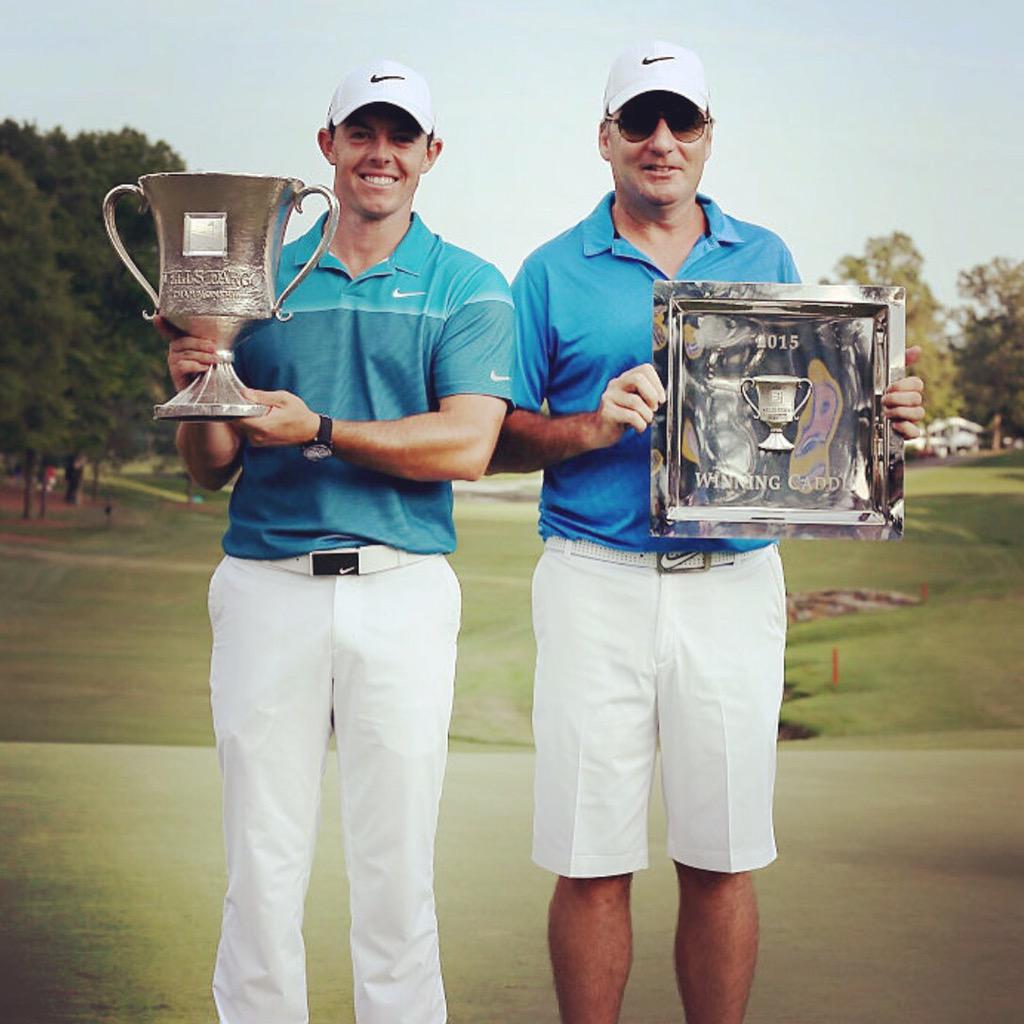 What the fuck am I talking about? I'm talking about Rory McIlroy winning the Wells Fargo Championship at Quail Hollow by 7 shots. It wasn't even that close. When Rory teed off on Saturday he was a few shots behind some guys going low that were already out on the course. That didn't last long when Rory went out in 31 shots on the front nine. He already has the course record of 62 from his final round in 2010 when he came from behind to win after barely making the cut. So how could he top his front nine 31 and course record? He came home in 30 shots, and there was no luck involved whatsoever.
Rory bombed drives in the center of the fairway and flagged iron and wedge shots all weekend long. His new course record of 61 included no putt or shot made from further than 14 feet. Get the fuck out. When he's hitting it that good how can you expect anyone to beat him? On top of that, Rory freely admitted in his post win interview that the course fits his game very well. No shit. There are two driveable par 4s and four par 5s he can easily reach in two. His par at the course might as well be 66. The way he dominates it is reminiscent of Tiger at Bay Hill, Torrey Pines, Firestone, etc.
When you play that well and beat the field by 7, you probably set a few records along the way. McIlroy shattered Anthony Kim's tournament scoring record of -16 with a -21 total of his own. What is even more impressive is that the club's new greens are supposed to be more firm and fast than the old ones in preparation for an upcoming PGA Championship in 2017. That means the course should be harder overall. Not this week. Not for Rory McIlroy.
He also hit 42 drives over 300 yards this week. Read that slowly to yourself again. Now realize he only had a chance to hit 'drives' 56 times in 72 holes. He also hit a few 3 woods and irons of tees. My rough estimate is that he hit 42 of about 48 full swing tee shots. I realize the track was firm and fast, but having 85% of your drives go that far is a bit silly/sickening. No single hole in the tournament captured Rory's dominance like the way he played the 16th in the final round.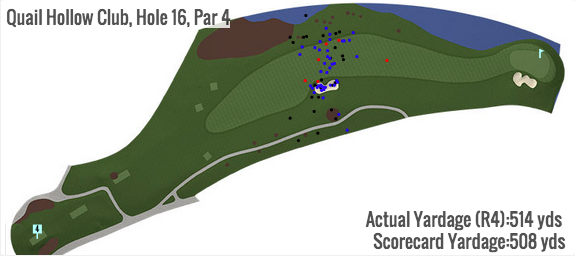 The 1st hole of the Green Mile is supposed to be a bitch. You see that red dot down in the center of the fairway? That's where Rory hit it, 364 yards, center cut. Then he flagged his gap wedge for a kick in birdie on a 514 yard par 4. It does play slightly downhill, but CBS reported today that it was playing into the wind. How is anyone else supposed to compete with that? Oh and you know what? McIlroy putted pretty damn well this week too. That's been the weakest part of his game for about a month with the exception of a few clutch putts he made in the WGC Match Play. Enter putting coach Dave Stockton to give Rory a tune up before the Wells Fargo began this week. Problem solved. Dominance restored. I believe Stockton did this at Congressional in 2011 and at one other blowout Rory win. The formula seems simple.
I assume he'll next attempt to defend his BMW Championship in Europe. Remember that win at Wentworth? Its the one that set everything back in motion for Rory again…..right after he dumped Caroline. And since the break up there have been 23 starts made with 7 of them ending in Irish $woosh victories.
The summer of Rory might just getting started. Paging Mr. Spieth, Mr. Jordan Spieth…….
The Field
With Rory in domination mode, the only story line left for CBS to sell us on was the plight of young Patrick Rodgers. Rodgers is a Stanford boy who broke many of Tiger Woods' records while in Palo Alto. He currently isn't a Tour member but could have secured unlimited sponsor exemptions for the rest of the year by winning solo 2nd place money at the Wells Fargo. This would essentially make him a full blown member but he'd have to wait to get Fed Ex points and other little perks of membership until 2016 (unless he were to win).
Rodgers is part of the super class of young guns that are taking over professional golf. He was impressive all week at Quail Hollow and seemed to be on the verge of something great with a 5 under total in 6 holes during the middle of his final Wells Fargo round. Rodgers' two water balls leading to a double bogey-bogey close on 17 and 18 cost him the solo 2nd place check he desired. He'll still have a few chances to get the money he needs for his 'membership'. One decent showing should get it done. Hopefully Nike can get him some better swag for the next time he plays on camera.
What a typical showing for FIGJAM. Missed cut at the Players, contend at Wells Fargo. We should have seen it coming. He plays Quail Hollow better than anyone not named Rory McIlroy. Bitch Tits had a few hole outs, a few scrambling pars, a few what the fuck moments, but overall looked like a guy who's game was peaking in time for the lead up to a U.S. Open. Oh, and there's this little nugget from Golf Channel's Justin Ray.
Wow that is hard to believe. It also shows me that Phil simply doesn't give a fuck about non-majors anymore.
Young gun Justin Thomas had it going at Quail Hollow this week. That's no surprise to anyone paying attention to the professional game. Every week Thomas is seemingly withing striking distance of the leaders, but he's yet to seal the deal. The Green Mile walk on Friday ruined his round and cost him dearly on his way into the weekend. He dropped 3 shots and instead of being in the top 5 at the start of Saturday he was playing early as a dew sweeper. Thomas made the most of it by grabbing the lead early on Saturday with a -8 through 16 round. Then Rory teed off and you know what happened.
I really enjoy watching Thomas play. He's phenomenal. But he needs to figure out how to grind out more pars on his bad holes and not make big numbers. That sounds obvious and I'm sure JT is thinking the same thing. He's got a lot of firepower. It is only a matter of time before he figures it out and gets himself a trophy. Hey, did you know Thomas and Patrick Rodgers are roommates (tongue in cheek for CBS bringing it up 53 times during the broadcast) ?
Another overused CBS anecdote from Sunday is the fact that Webb Simpson is a member at Quail Hollow. Yeah, we get it guys [insert members bounce joke here]. Simpson had his best showing in months playing a home game but looked completely over matched on the same golf course and in the same group as a dominant McIlroy. A T2 showing and a shank free weekend equals a successful showing from Webb.
Shot Of The Day
There was a hole-in-one at Quail Hollow on Friday (see prior post). It was nice, but I'm only giving out a Shot of the DAY award in this post. That shot is the wedge Rory hit into 16 green after blasting his longest drive of the day.
With one shot Rory made a very clear statement that there is no doubt who the best of the best is right now. Everyone else, thank you for your participation.