Let The Clubs Do Talking
By now you've heard about the anonymous PGA Tour player poll that named Rickie Fowler (and Ian Poutler) as the most over-rated player on Tour. In all the discussions I've had on this topic since the poll came out its clear to me that no one who's informed about professional golf agrees with this sentiment. Perhaps that belief should have changed for the better when Rick posted top 5 finishes in all 4 majors last year, but winning is likely the only thing that will prove that thought wrong forever. Misinformed, uneducated, or whatever the case was with the poll, Fowler came to TPC Sawgrass with a chip on his shoulder this week due to the bullshit. Then he let his clubs do the talking.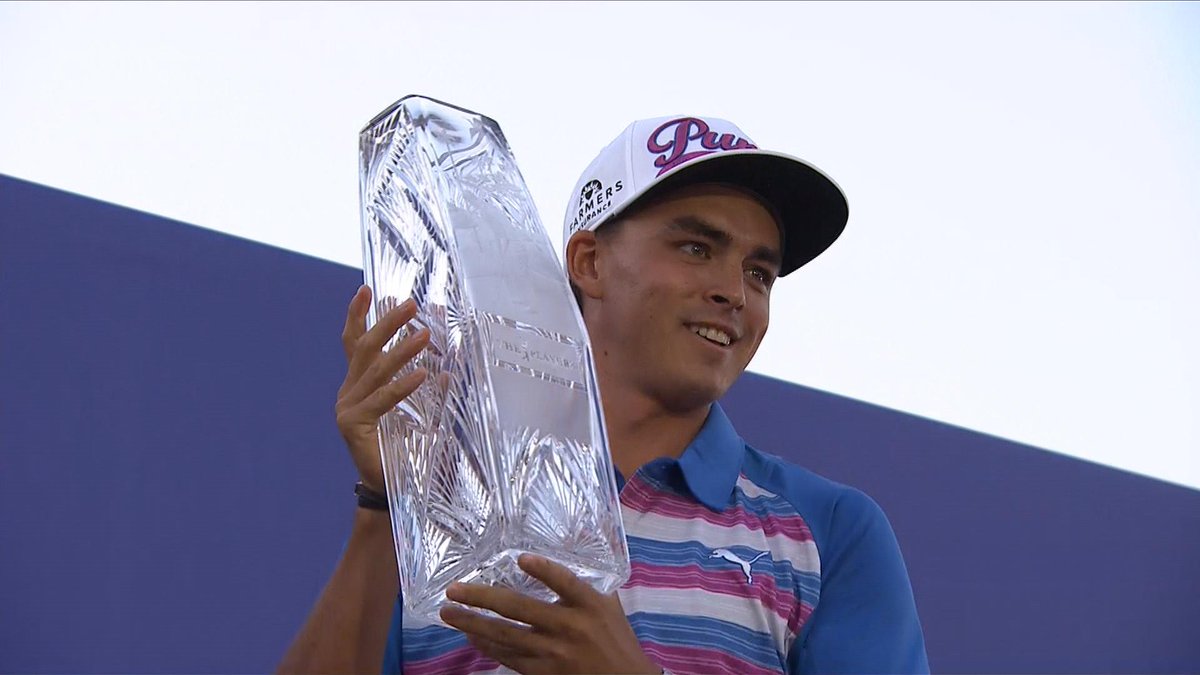 Fowler jumped up the leaderboard early on Thursday but some sloppy play late in his 1st round made what could have been a lower score result in only a 69. The same score again on Friday followed by a Saturday 71 had me thinking he might be out of it (let the record show I did pick him as one of the four guys I thought could/would win on Saturday morning – read prior post). On Sunday, standing on the 13th tee one over for the day I stuck a fork in him. Shit got crazy immediately after that.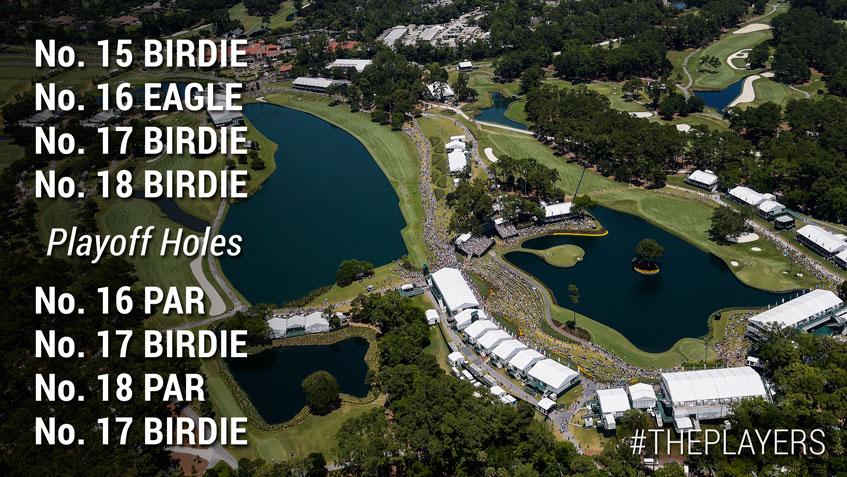 That graphic doesn't even include the birdie he made on 13. Rick played his last 10 holes (including the playoff) in 8 under. The last 4 in 11 shots. No one has ever done that before at Sawgrass. That run includes some of the toughest holes on the PGA Tour schedule! He was incredible. Even crazier is the fact that he finished his final 6 holes of regulation in 6 under par and that wasn't good enough to win the Players outright. Clutch shots from Sergio Garcia and Kevin Kisner down the stretch meant that Rick was going to have to earn his big win in a 3 hole, 3 man, aggregate playoff.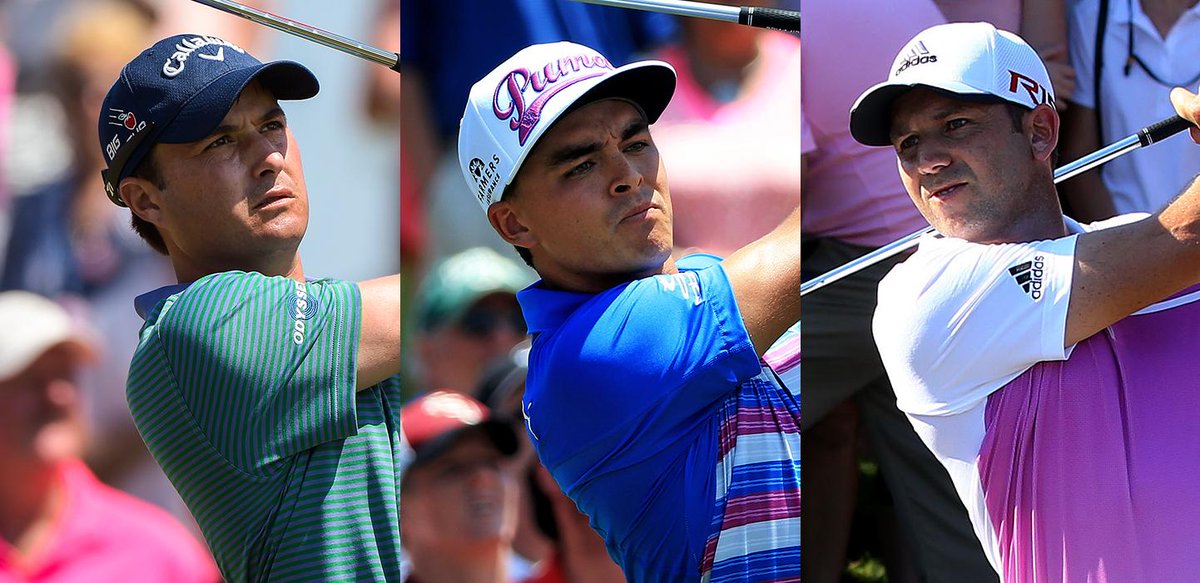 Fowler's scores on the last 10 holes he played don't tell the whole story. There wasn't any luck involved, he hit bullets, lasers, whatever the fuck you want to call them…..long sonic-boom blasting drives, precision irons, and clutch putts. He did fan his first tee shot of the playoff and scuffed a short wedge on the 3rd playoff hole, but everything else was flush. He was clutch.
Homie hit some of the longest drives for the week at 18 on the 72nd hole and final hole of the aggregate playoff. He swung without fear off that tee and outdrove Garcia and Kisner by 50 yards (they did hit 3 woods, but still). And to finish things off, the wedge he hit on 17 in the sudden death playoff….well……it doesn't get any better.
Shot Of The Day
And that shot was so good it is the Shot of the Day.
With Kisner already close, Rickie took dead aim and knocked it to near gimmie range. Once Kisner missed Rickie aggressively knocked in his 4 1/2 footer for the biggest payday/win of his career. A party with his mom, sister, and girlfriend ensued. That's a nice Mother's Day present. But why was Fowler's mommy on her way to the airport to catch a flight while he was still on the course? She and his sis were at the Jacksonville airport and checked in for their flight when they got wind of Rick's back nine charge. It didn't take them long race back to Sawgrass to see their boy get his trophy. Fowler's 2nd shot at 16 in regulation could have won the SOTD award just as easily if so many clutch shots hadn't happened after it.
That was very similar to a shot Freddie Couples hit at 16 on his way to victory in 1996. Ironically, Fowler once dressed up as Fred for Halloween.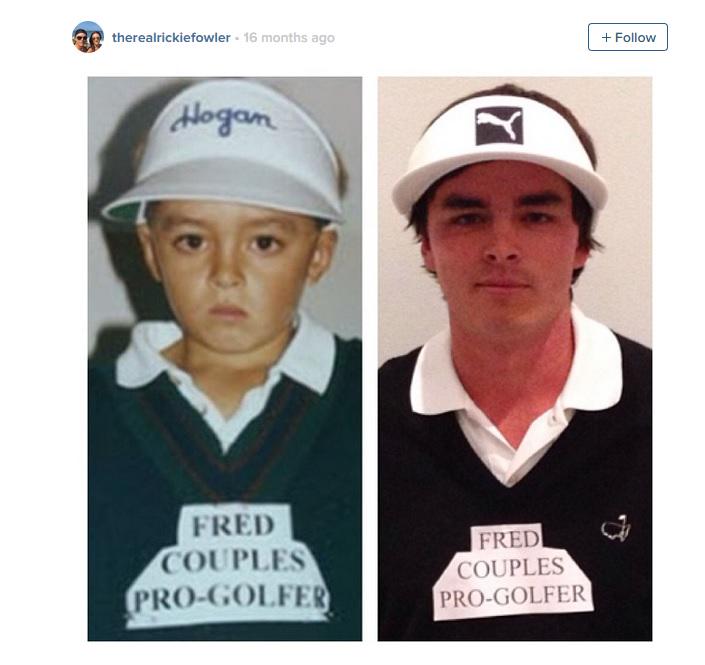 Fowler strangely did not wear his traditional Sunday orange today at the Players. My guess is this was simply due to most players incorporating pink in to their garb to celebrate Mother's Day. Now that he's won sans orange, will he go back to it the next time he plays? I think all-orange is now dead for Rickie, it should be, but I'm superstitious. How could the hacks at Sawgrass not ask such an important question to him in his post round presser?
Rick's Chick
Yeah, the girl in the yellow you all saw Rick lip lock after he won as you rooted for her top to fall down, that's Alexis Randock. She's been dating Fowler since last year and was the ShutFaceGolf.com WAG of the Year for 2014. I guess you can say I have an eye for these types of things. Alexis is a 'retired' bikini model. She went to Arizona State. She's a solid 9.5.
http://instagram.com/p/0Gag5KlWuk/?taken-by=alexis.randock
I know a few of you will be expecting her to be the June SFG WAG of the Month. Sorry to break your spirit, but she isn't eligible. As the reigning WAG of the Year, she held down the month of January. She can win again for the year, but I can't in good faith make her a repeat WAG of the Month winner in the same year. I am a man of principle if I'm anything.
The Field
Where do you start? None of the guys in the playoff deserved to lose. Sergio, outside of the shot he hit in his socks from the cartpath, was damn fantastic on Sunday. Of the contenders, his 4th round 68 was only bettered by Fowler's crazy run. When he made his shoeless bogey I figured it wasn't Garcia's day. He showed a ton of guts to birdie 16 and 17 (THAT PUTT!!!!!) to tie Fowler and he damn near won the thing on 18 with another birdie.
Journeyman Kevin Kisner was even better than Garcia down the stretch on Sunday. He also birdied 16 and 17 to tie Fowler and Garcia at -12. He played the 18th hole to perfection except for the fact that his 9 foot birdie putt somehow stayed high. He was solid in the playoff too, but simply got beat by Rickie. This was Kevin's 2nd playoff loss on Tour in 4 weeks as he got beat by Furyk at the Heritage in April. Don't feel too bad for him. He's still taking home close to $900k for his efforts at the Players.
Ben Martin was the 4th guy to get to 12 under on Sunday at Sawgrass. Ben's ball striking was the shakiest of the contenders on the final nine holes. His flaws caught up with him when a wayward tee ball on the 72nd hole lead to a bogey and him missing the playoff. Bill Haas had the opposite problem as Martin. Bill struck it great, but he missed two putts under four feet to miss the playoff by a shot. The good news for Bill is that he finally had a top ten finish in a major/Players championship. Read that again and let it sink in.
I'm (Almost) Starting To Like Ted
With Fowler having answered his critics by winning the Players, does that mean Ian Poulter is now confirmed as the most over-rated player on Tour? One former PGA president thinks so.
That's a tweet from Ted Bishop, the guy that previous called Ian Poulter a little girl and was impeached from his presidential post at the PGA of America for doing so. As you can see, Ted went to bat for Fowler after his victory and couldn't resist another shot at Ian. That's perfect. Of course, Ian couldn't respond with anything other than a Ryder Cup comment. That is all he has. What a chump. Ted probably should have just kept his mouth shut, but that old coot just can't resist. What the fuck does he have to lose at this point?
Feeling Out Fowler
Without a doubt, Rickie Fowler answered the critics who previously doubted him at the Players Championship. Fowler is a good player who is great when his game is on. He's uber aggressive as shown by his shots at the pin on 17 and his ability to bomb drives with no fear on 18 all five times he played it this week. He's good for golf. Kids love him. He signs autographs for everyone. He makes birdies in bunches. Drives fast cars. And dates models. The Players couldn't have a better champion in Fowler and the victory somewhat validates his major run last year. Its hard to believe this was only win number 2 for Rick, but win number 3 won't take 3 years to show up like win number 2. Congrats to him for coming up big today. I hope you bought Puma stock on Friday.