I Didn't See That Coming
Who did? Jordan Spieth has been on an absolute nut busting streak over the last 6 weeks on Tour. Tiger Woods has barely been seen but for four rounds at the Masters. A missed cut seemed like a sure thing for TW while a top 5 finish or better was the logical prediction for Jordan. That's why we love golf. You have no idea what game will show up once you get to the course.
Hey, Tiger barely made it, but the grind was fun to watch. He's making enough birdies to be leading the tournament but he can't rid himself of the bad swings that lead to bogies and doubles. Making the weekend is huge for him. More reps, more competitive golf, and more eyeballs for the PGA Tour. He had to birdie his last hole on Friday to get under the number. When his putt went in he gave us a good old fashioned fist pump. He knows what the extra golf could mean for him and he still believes he can win this week.
Jordan will be fine. He needs a reboot and a few home games in Texas to get back to normal. He also got a ton of bad breaks this week. That's my fault because I picked him in my fantasy pool. Sorry bro.
Na Na Na Na, Na Na Na Na, Na Na Na Na……Goodbye
Kevin Fucking Na and Jerry Kelly are leading the players through 36 holes, but you already knew that. I highly doubt either of them wins it. They both are too jittery to hold up under the pressure of the players. Pencil in some weekend 74s or worse for that duo and call them done. I'll take Brandon Grace, Rickie Fowler, Bill Haas and Rory to be at the top of the leaderboard when business closes on Sunday. Cream rises, shit sinks, sorry Jerry. Na's meltdown will be entertaining, that's a sure thing.
If you're not swinging well at TPC Sawgrass frustration can be a hard thing to hide. Just ask Jonas Blixt. He had enough of his driver after hitting it in the water on the 18th hole so he rid himself of it.
Too bad for Blixt that he had 9 more holes to play at Sawgrass after that. Blixt shot 80 and missed the cut by 10 miles.
Phil Mickelson also missed the cut at the Players this year. He hasn't made the cut since he won it in 2007. After his round he murmured to himself that he's not sure how he ever won on this golf course. It is the square peg to his game that is a round hole. I have to agree. How the fuck did FIGJAM ever win the Players?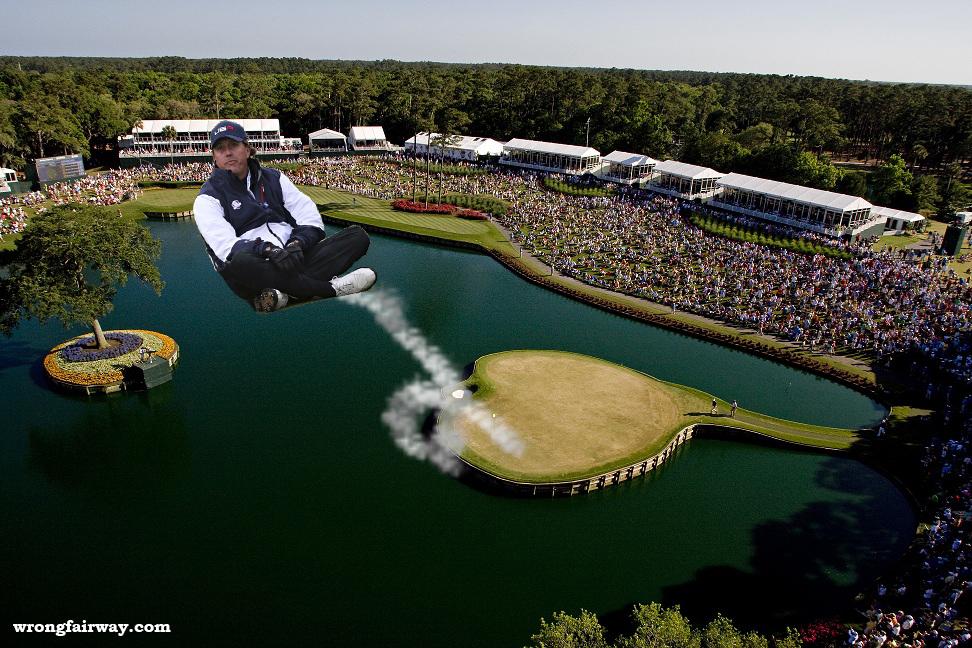 Photo courtesy of @Wrong_Fairway
Aaron Baddeley is also headed home for the weekend from Ponte Vedra. Badds made a 7 on the famed par three 17th after hitting his tee shot in the drink. He was well on his way to missing the cut but was asked to go with a PGA Tour official as he walked off 18. Seems as though Aaron's drop on 17 was in question and the Tour wanted to review the video with him. It was decided that Baddeley violated rule 20-2 by not holding his hand at shoulder height when executing his drop. Yeah, that's a rule. I knew it, but I've never seen it actually questioned. And the fact that they added a stroke to a guys score that meant nothing is damn hilarious. That's like an NBA ref watching video of a lane violation to not count a missed free throw when there's 10 seconds left in a blowout game. Badds took it well. How could he not? Can you imagine if Tiger had been in his position and that penalty would have made him miss the cut? There might have been riots.