Foxy Holly's Return
Holly Sonders left the Golf Channel almost a year ago and we've barely seen her since. How sad. Golf's former 'IT' girl will be back soon so do not fear you pervy freaks. As you know, Holls signed with Fox and will be part of the robot network's U.S. Open coverage and NFL Sundays. She's also celebrating her 2 year anniversary of being Golf Digest's cover girl in May of 2013. To mark such an occasion the GD folks caught up with Holly and shot a video to show a day in the life of. If you need a Holly fix, a peak will fill that void.
She looks different, doesn't she? It could be her hair style. It could be that she had work done. What do you think? Whatever the case I'll be happy to have her back on the air. Outside of how she looks I think she's pretty solid at her actual job. Too bad she wasn't on more of Fox 1's coverage of the U.S. Four-ball that aired on Tuesday.
Done With Vonn, Who's Next? 
Tiger was up early in Ponte Vedra today to get in his practice round for the Players Championship. Then he sat/stood for questions with the media where he told them he feels good, but tired, and he made some more swing tweaks (uh oh!) since the Masters. Also, his hand is fine. While on the range he was hugging everyone in sight as he did at the Masters and found time to tell jokes with old coach Sean Foley.
So why is he tired as he told the media? TW said he hasn't slept much because the anniversary of his dad's death just passed and that is always hard on him. Also, the break up with Vonn cost him some sleep. I'll take his word for it. The break up has only been official for 48 hours and there are already odds out on who his next fling will be with. Paddy Power set the lines at 7 to 1 for Elin, 16 to 1 for Cameron Diaz, and 20 to 1 for Jenna Jameson. You can see the rest of the list here. Personally, if I were Tiger, its Emily Ratajkowski or bust. Elin is the safe bet.
Speaking Of WAGs…
Remember when we heard that Rory couldn't make the Vegas fight last weekend so he watched with media while still at Harding Park? His agent ordered pizzas…..??? Yeah, well, here's the pic form that get together.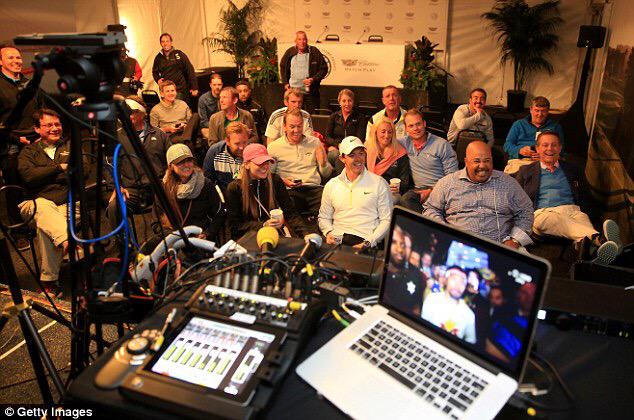 I saw this on Sunday and thought nothing of it. Then SFG reader Dave Kateeb pointed out to me the chick sitting next to Rors. Doesn't it look like she has her hand on his leg? Dave also said there was another image circling with her holding his hand. If you look close enough I think you can tell this is his latest girl, Erica Stoll. He went to see her recently in her home town. Now she's in San Francisco with him and he wins. I think its fair to say this one has gone from booty call to full blown canoodling.
Chew, Sweat, And Alimony Payments
That is what I'd imagine the PGA Tour's new cologne smells like. You read that right. The PGA Tour released PGA Tour Prosport cologne today. Why?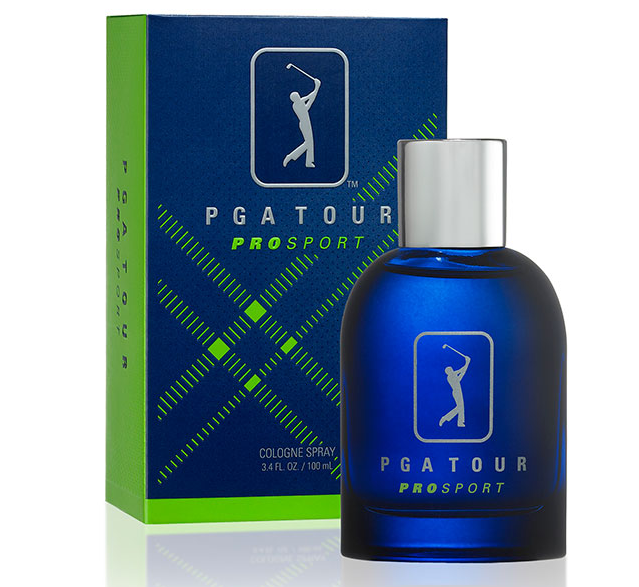 There's expanding your brand, then there's being a product whore and not knowing where to stop. I think the Tour has pushed way far over to the 'whore' end of that scale. Lets all hope this is never available in a store we shop in, or worse, in a Father's Day gift we open.
A Yeti Sighting
The day after the last edition of Hump Day Musings was posted the golf world had its very own yeti sighting and I've yet to have a chance to talk about it. Yup, Anthony Kim, in the flesh, at a Vegas club of all places. Where else would you think we'd see him?
The rumor is that Kim was in town for the Mayweather fight Rory was supposed to see. I don't think its any coincidence that we see Kim and the 2nd Entourage movie trailer comes out in the same month. Seeing Kim's image gave me hope that perhaps a public appearance means he might golf again on Tour. Then reality set in that he probably already collected his $17 million in insurance money so why not go to Vegas and spend some of it. It doesn't suck to be AK, but golf fans surely miss him.
New Month New WAG
If you hadn't noticed, a new WAG of the Month has been crowned at SFG.com. I went old school with the original golf WAG, Mrs. Ben Crenshaw. You may call her a MILF or a GILF as that's probably accurate. Obviously she doesn't look the same today so perhaps you can consider this a lifetime achievement award. A well earned one, in my opinion.