If He Didn't Look Like Gumby I'd Be A Big Fan
Rain, rain rain…..it wouldn't go away, not for the first 3 rounds of the Zurich Classic played outside of New Orleans. The tournament was delayed by weather, darkness, and fog at some point every day this weekend. The Tour staff, the course staff, and the players hung in there and somehow/some way brought the close of the tourney in on time for TV on Sunday afternoon. I didn't think it would be possible, but when you play in threesomes off both tees all weekend you can make up some ground.
Justin Rose and Jason Day were the 54 holes leaders when the dust settled on round 3 Sunday morning. Because of all the delays, players were not re-paired, and Rose and Day weren't in the same group together. Rose finished in style about 3 or 4 holes ahead of Day and the other leaders by making birdies on his final two holes. This putt at the par five 18th allowed him to post 22 under. Now Day, Cameron Tringale, and others had to try to catch JR.
Yeah, that's a Zurich shirt on Rose while he's flexing on the 72nd hole. Funny how that seems to work out. There's was also an RBC patch on Furyk's shirt when he won last week at the RBC Heritage. Golf isn't rigged. I swear. But it does have its own sense of irony.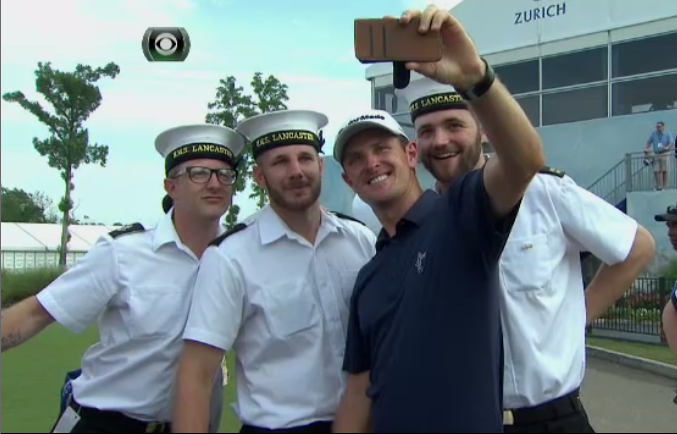 That's what Rose was doing while he waited out his competitors after he finished. Justin loves seamen. He also loves soggy courses as his U.S. Open victory at Merion in 2013 was a bit damp. This win makes 2015 the 6th straight year in which Rose has won on Tour. He's going to be ranked about 6th in the world on Monday morning. His slow start to 2015 is now long gone as he's finished T2-Win in his last two starts. Something got him going at Augusta. He was my pick to win this week, but a first round shank had me leery of his game on Thursday. That shot was just an anomaly.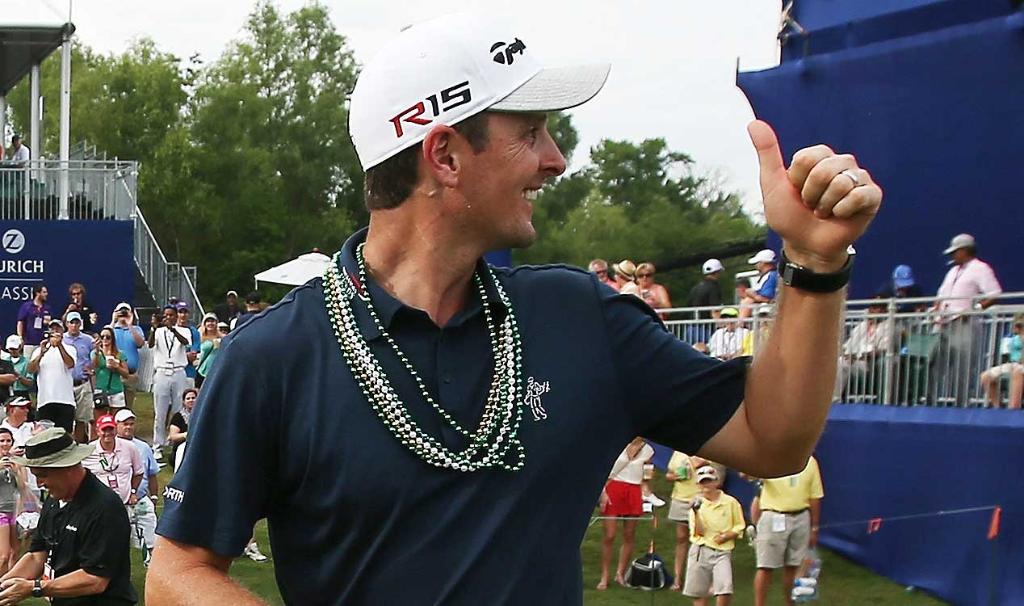 He's found his form, and he's always dangerous at Muirfield Village, but I don't see a lot of other places coming up on the calendar that Justin plays well at. Good play going forward would be somewhat uncharted territory for Rose.
The Field
I can't say enough about the job everyone must have done in New Orleans to even make a Sunday finish possible this week. Rain delays, the sheer amount of rain, I was shocked to see that they could make it happen. That's even with a fog delay on Sunday morning. As good as the players on the Tour are, the staff might be even better. Those guys are good. Here's a virtual tip of the internet cap to them.
That's Cameron Tringale. You might know who he is. You might know him because he's a tenant in Rickie Fowler's house. Tringale has never won on tour, but he keeps getting closer and closer. He probably should have been the guy with the trophy at the end of this week. Rose kind of stole it from him. A win for Cam would have been 8 of the last 10 champs in New Orleans being first time winners. He played great and I liked the guts he showed going for eagle at 18. I think the analysis from Kostis and McCord on his swing was dead on and telling as to why Cam hasn't won. Sometimes your best just isn't good enough and Tringale saw that happen today. Tough break.
If Jason Day could putt and hit about 5% more fairways for a week he'd have a helluva season going on. He's sooooooo good, and then he hits shots and misses putts that make you scratch your head. Does he lose focus? Does he swing too fucking hard? I couldn't tell you. As a fan of Day's its a little disappointing to see him struggle when he's in contention.
On Friday night the cut at Zurich looked like it would be -4 under. That's low. Then when the 2nd round finally ended on Saturday morning the cut moved to -5. Holy shit. It isn't shocking because of the wet conditions and soft golf course, but a guy shooting 70-70 for the first two rounds probably felt pretty good about the way he played. Then he's looking to change his flight at the airline counter on Saturday afternoon instead of playing. The PGA Tour is not for the meek.
Shot Of The Day
Soft track, all those flagged iron shots, and not one of the leaders could hole one to give us a proper Shot of the Day. When that happens, or doesn't, you go with the next best available. D.H. Lee made an ace at the 17th hole on Sunday and some dude got 12 months of mortgage payments made for him by Quicken Loans because of it.
Great shot. Before that moment Lee was best known for flipping off a fan at Congressional nearly two years ago.
Yeah, that guy. Good stuff, Mr. Lee.
As The Crane Flies
On Friday afternoon Ben Crane played the par four 6th hole a bit differently than the rest of the field. As you can see in the pic below, Crane went AWOL from his own hole by teeing it up aimed 70 yards left of his own fairway. As Crane walked through the long grass on the way to his ball on another hole he murmured, "shortcut".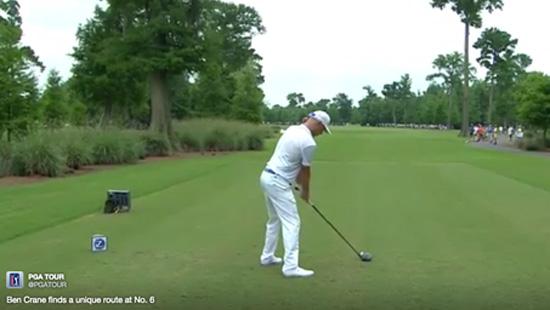 I'm normally not a fan of Crane but outside the box thinking like this is always fun for fans. Crane's strategy reminded me of the Hinkle Tree story from Inverness.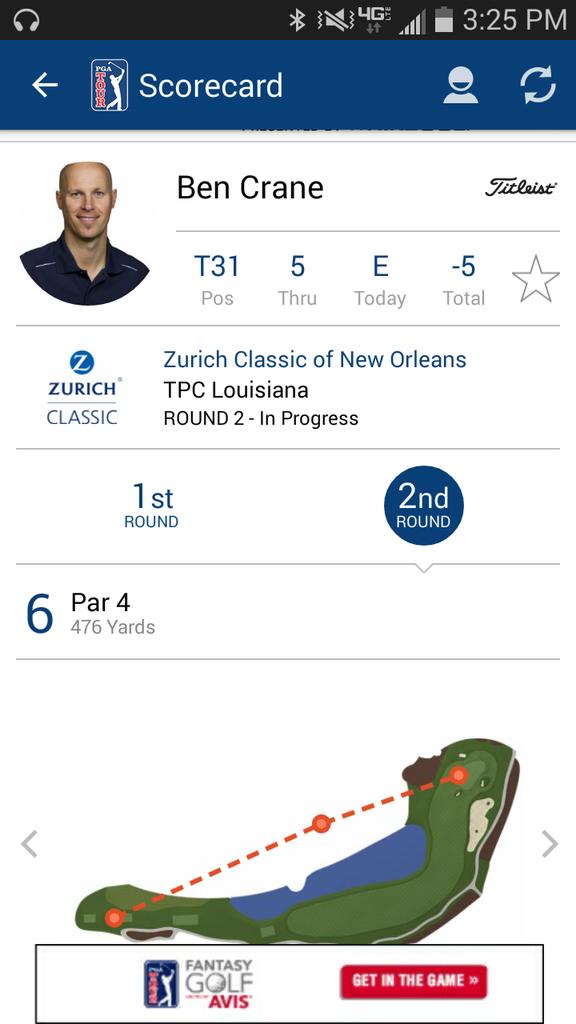 I'm not aware of any other players following Ben's lead for the rest of the weekend, nor did the PGA Tour staff plan to plant trees near the 6th tee box to thwart future attempts to play left of the hole.
I Don't Give A Flying FIGJAM
Next up, the WGC Cadillac Match Play Championship. This year the format is new, the venue is new, but one thing that isn't new is Phil Mickelson not playing. When the Match Play was previously played in late February, FIGJAM used his kids as an excuse saying that he wanted to be away with them on family vacation during their spring break.
Phil had committed to play in the 2015 WGC Match Play, but on Sunday he told Golf Digest and Golf Channel that he's withdrawing due to 'personal reasons'. Bummer. Hopefully Bitch Tits and family are alright and he's ready to go for the Players.