Bring Back Fanny
Nick Faldo is a 3 time Open Championship winner and a 6 time major winner (his other 3 wins all being the Masters). Yesterday the BBC reported that Nick will make his final start in the Open Championship this July at St. Andrews. Nick won the Open there in 1990 and the R&A will celebrate Sir Nick's 25 year anniversary of his victory with this send off.
The 57 year old hasn't had much interest in competitive golf since he took his current gigs at CBS and Golf Channel. I'd imagine the competitive juices left him once he knew he couldn't contend as he'd like to, or as his mind thinks he should. For my generation, if it wasn't for Tiger Woods, Faldo may have been the most heralded major champion that we ever witnessed. I wasn't alive for Jack's prime. I didn't see Watson's heroics. Rory and Phil haven't surpassed old man Faldo yet. Nick was the number 1 player in the world for much of the 90s. I think his fall from golf's good graces have allowed people to forget how good he was.
I'm happy to see that he'll get his moment at St. Andrews. He deserves it. I hope long time caddie Fanny Sunesson comes out of retirement to take Nick's bag for the week. His last walk across the Swilcan Bridge will be a proud one.
Rory Rolling In Rochester
In mid-January I speculated about the relationship of Rory McIlroy and one Ms. Erica Stoll. You may recall Erica as the chick who got Rors to the 1st tee on time for his match with Keegan Bradley at the 2012 Ryder Cup. My theory in January was that the two have been together before and she was a booty call. She still might be, but he hasn't been spotted with other chicks lately and Gold Digest reported that he went to Rochester, NY to see Stoll last weekend. You don't go to Rochester to see a chick unless you're into her. Not when you have his bank account and better things to do. He's into her. Period. And its easy to see why.
What I find amusing is that Golf Digest wastes time on shit like this. For this site, hey, gossip and hot chicks is what I do. That's why you're here. My wit certainly isn't the reason. Golf Digest and media of that ilk shouldn't stoop to my level.
Your Regular Dose Of Jordan Spieth Being Awesome
The current Masters Champ is still on a roll. I told you after the Heritage that he was heading back to Austin to present a country music award. He did just that. And with the help of CBS's Kyle Porter, you can see that Jordan is properly labeled in his green jacket.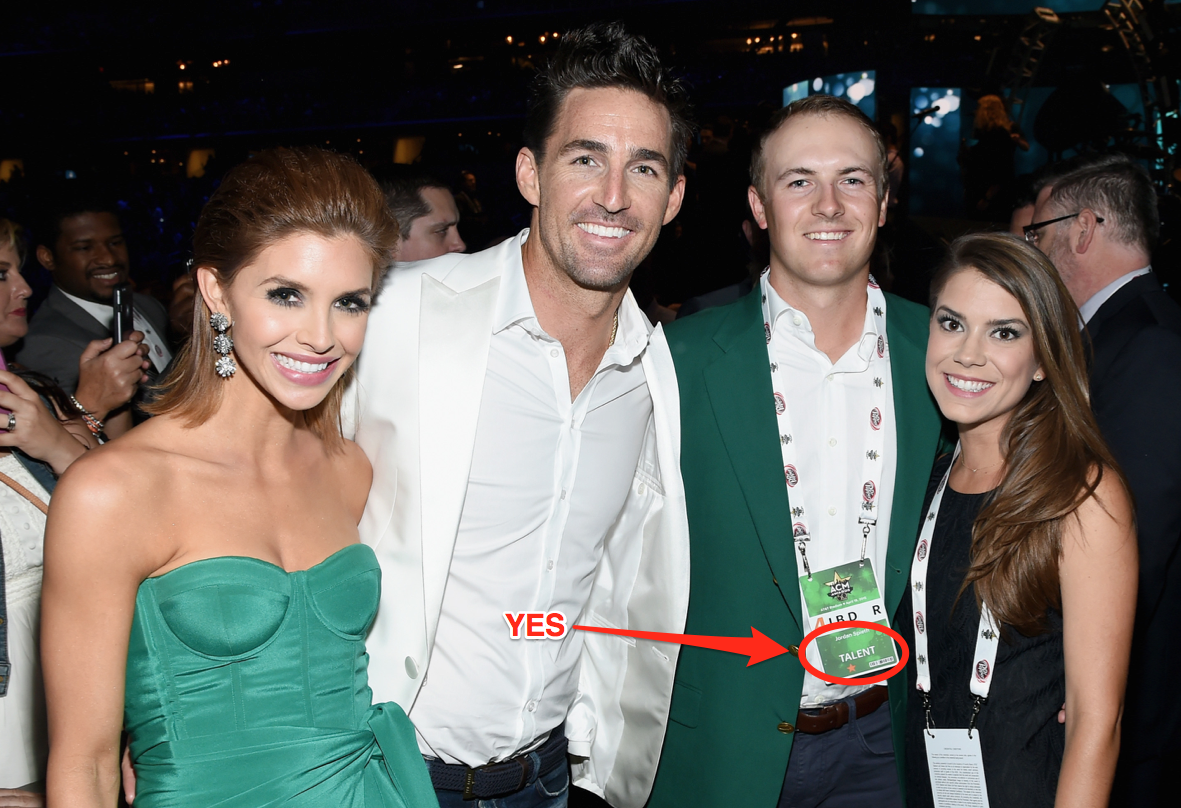 Then there's this…..Golf.com decided it would be fun to have an actress dramatically read every word Spieth said to his ball during the final round of the Masters. Yes, they stole the idea from a YouTube user that had already put the clips together in a mash up that was pretty damn good, but Golf.com executed it to perfection. Hit the link for the goods.
Poulter On His Period
Another day another Twitter blow up from Ian James Poulter. This time Poults got mad at a UK journalist questioning why Ian and certain other Euros don't play in the Tour's flagship event at Wentworth. Didn't Lee Westwood get this same lecture a few years ago? Poulter went to Twitter to defend himself by giving examples of how he doesn't play well there and it isn't worth his time to try to.
First off, if Ian avoided events he didn't play well in, wouldn't he only play in about 2 per year? Hi-oh!!!!!!! Gotchya you fucking wanker. No, but seriously, Poulter's argument is a fair one, but there is something to be said for being a 'company guy'. Jordan Spieth playing last week in the Heritage after winning the Masters shows that. Ian simply needs to be better at public relations. If you don't want to play, fine. Just shut up about it and don't acknowledge these kinds of articles. That's like trying to block everyone on Twitter that says something bad about…..oh wait.
From Now On All Markers Should Be Called A 'Knox'
By now, after some of his 'heroics' of the last few Masters, you hardcore fans know who Jeff Knox is. In short, Knox is the best golfer at Augusta National and when an odd number of players makes the cut he accompanies the 1st player off so they do not play alone. Knox has become a legend for winning a money match as a marker against Sergio Garcia and Rory McIlroy. He also holds the course record of 61 from the Member Tees.
So what else do we actually know about the guy? Well, his family is from Thomson, GA, which is about 30 miles west of Augusta. His father, Boone Knox, was a member at ANGC. Boone passed away a few years ago. My sources say he was a larger than life figure in Thomson – and Augusta. Boone was a banker who owned and operated the Thomson bank which was eventually bought by Regions. The elder Knox also developed apartments and other multi-family properties to make big money in real estate. The family owns Belle Meade, the local country club in Thomson. Belle Meade is a decent course but it would look like a wart compared to ANGC. If you saw Knox playing on the weekend at the Masters, you may have noticed his golf towel was from Belle Meade.
The Knox family is charitable and they established the Knox Foundation that gives out grants to community groups. In fact, the family donated 200 or 300 acres on the nearby lake to the Boy Scouts to establish a permanent camp/retreat there. Jeff Knox runs the foundation and takes responsibility for  the family's money.
Despite the reputations that some other members – especially legacy members – have, Jeff is known to be very normal, personable, down to earth and friendly. Local members are expected to host other members' guests or PGA players when they come in town to play the course. As the best golfer, Jeff regularly is the one asked to host the better PGA players and not surprisingly, he is almost always competitive with them.
Somehow, Knox has never won the Georgia State Am, but was runner-up a few times. He did win the Georgia Mid-Am two or three times. He regularly qualifies for the US Mid-Am, but has not had as much success in it. His older son, Lee, played at Alabama a few years ago and was a senior when they won the NCAA title. However, Alabama is so damn good that the younger Knox didn't get to play much while in school even though he won the Georgia State Am twice.
Knox is a bit of a dying breed. In the past local members were more plentiful, but now there are only about 30 or so. Many of those are father-son combos, like Boone (before he passed away) and Jeff Knox. From what I've been told, up until about 10 years ago, if your father was a local member, you lived here, you were moderately successful, and you weren't a fuck up, you could reasonably expect that you'd get invited to join. However, my understanding is that Billy Payne isn't nearly as fond of legacy memberships as some previous chairmen.
So there you go. Now you can say you learned something today, even if it was just a few tidbits about a guy who plays in the Masters but doesn't have to count his score.