He Dried His Tears With $15 Million
Jim Furyk's last PGA Tour win was the Tour Championship in 2010. You probably remember it. He had his hat on backward. It was raining. Think about how long ago that feels to you. Now imagine you're a top tier Tour player and you haven't won since? It's probably a lot like being really good at your job but getting passed up for a promotion a few times a year. Not only do you not get the pay off and the credit for what you're doing, but you have to watch another guy steal your glory. That's like blue balls for your career.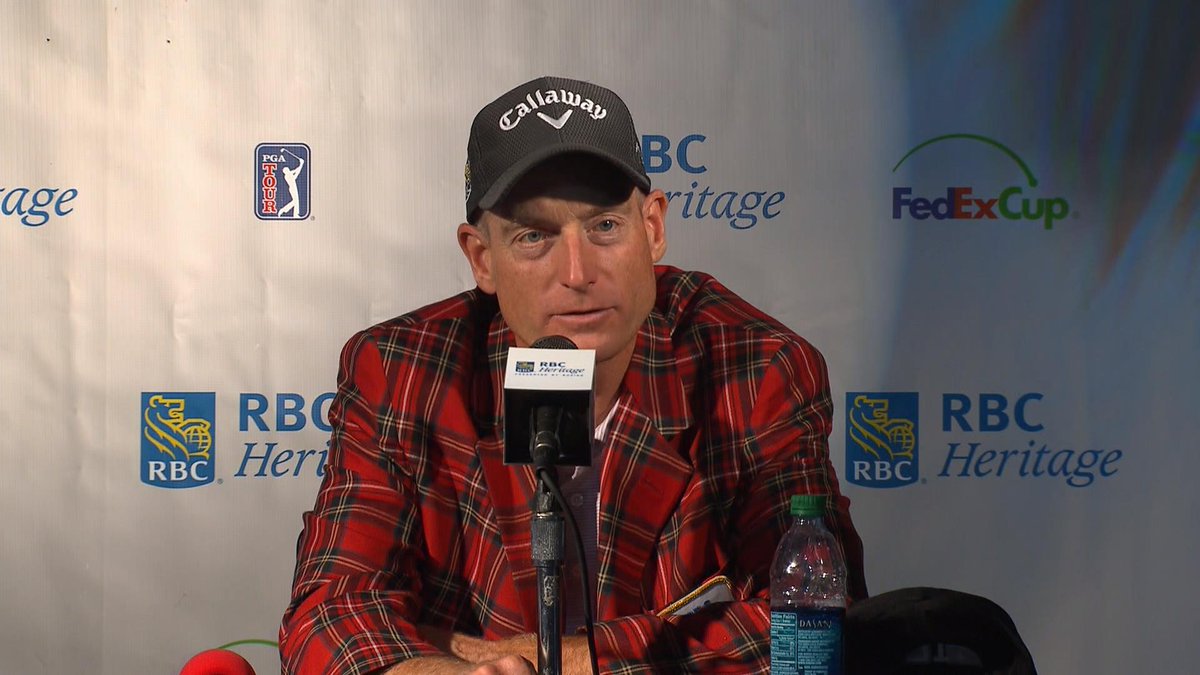 Furyk finally got to shoot his full golfing load from a 5 year back up thanks to his final round 63 at the RBC Heritage Classic. Jim posted 18 under and then waited behind the 18th green to see if anyone could equal him. Little known Kevin Kisner did just that by making a clutch birdie. The twosome came back down 18 in the playoff and matched birdies, then Furyk hit it a little closer than Kisner on 18 and made his birdie putt after Kisner missed. If you're keeping track, that is 10 birdies in 20 holes for Jim on Sunday.
That clip of Jim's winning putt tells the story of the frustration he's felt during his drought. Clearly this thing was becoming an annoying wart for him to deal with. He played great today, and after making 18 pars to begin the tourney on Thursday, going 18 under over his next 54 holes is pretty much abusing the golf course. Still, I can't help but wonder if Jim would have got it done if he'd have had to sleep on the lead overnight. I'll still doubt him next time he's in that position.
Out-Kicked Coverage
The theme among PGA Tour pros is that they've married well above the level they should have thanks to their big bank accounts. The theory holds true 95% of the time. Look no further than Mr. and Mrs. Furyk for the greatest example of this truth. I've been posting hot wives and girlfriends pictures on this site for over two years and thanks to Jim choking 12 times in that time frame I've never been able to show his wife, Tabatha.
You've likely seen her in their Web.com commercial where she's condescending to Jim and belittles his husband abilities to the world.
Tabatha Furyk is lovely, and Jim looks like the damn bald eagle Muppet. What a couple.
The Field
Kevin Kisner is a nobody to even the biggest PGA Tour fan, but he didn't play like it this week. Kisner posted 4 rounds in the 60s and probably outplayed Furyk over the course of 4 days. His gutsy birdie on the 72nd hole to force the playoff shows what he's made of. I'll be perfectly honest, I was rooting for him to win. Hopefully we see more of the him and this wasn't some one-shot-wonder week.
Jordan Spieth kept his promise to the Heritage and made it to Hilton Head after his whirlwind media tour of New York. Spieth showed up exhausted and shot 74 in shitty weather on Thursday. Just won 1st major, green jacket in hand, why not mail it in on Friday and go home to rest? Not this kid. Jordan came out firing and shot 62 on Friday to fly up the leaderboard and into contention. He ended up T11 after rinsing some balls in hazards on the weekend. Then he flew home to Dallas to present and award at some country music show. What a life.
Shot Of The Day
Nothing from Hilton Head can top what Sei Young Kim did last night in Hawaii at the Lotte Championship. If you missed it, this Golf Channel video sums it up well for you. First, she chipped in when she had to just to force a playoff with Inbee Park. Then, on the first playoff hole……well, just take a look for yourself.
You can't call it a walk-off because Park still had to hit her shot, but that's a damn fine way to win a golf tournament. The look on Park's face on both shots is hilarious. She's stunned, pure disbelief, she must have felt gutted. Thanks for the highlights, Ms. Kim.