I Hope He Is Snorting No-Doz
I don't remember Tiger Woods showing up on every talk show or news outlet in New York City immediately following his Masters victories. This must be something new. Perhaps it is even a contractual obligation. Adam Scott made the rounds in 2013 and Bubba did the same in 2012 and 2014. Now, after breaking every record at the Masters you can fathom, Jordan Spieth is taking his turn doing the same with his precious green jacket in tow.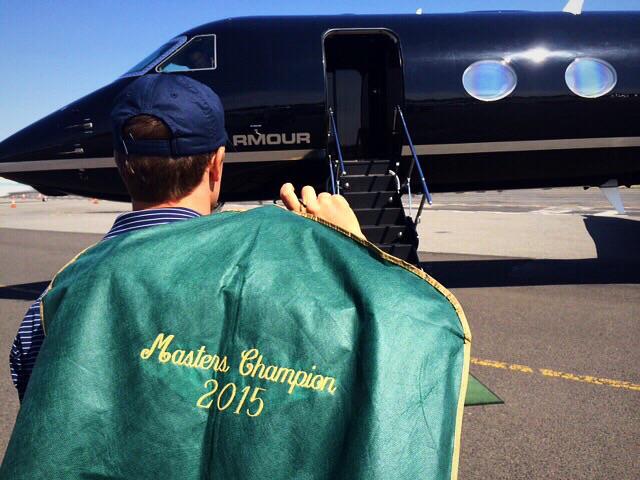 That's Jordan taking the cushy Under Armour jet from Augusta to NYC on Monday morning. The kid did Letterman that evening, the today show on Tuesday, and interviews on CNBC, ESPN Radio, Golf Channel, and another dozen or so media outlets in between. I heard him on the Dan Le Batard radio show on Monday where he continued to lead the field by giving a great (and playful) interview to Dan.
Le Batard asked Jordan if he ever goes back to Austin to see his class mates still in school at the University of Texas. Of course he does. Then Dan pressed on to ask the good stuff, like "did you let all your buddies try on the green jacket?" Yes, he did. And this one, "do you drink too much and puke in a bucket when you go back to Austin?"  It was clear Jordan didn't want to be 100% honest with either answer, but Dan pulled the truth out of him. Yes, the 21 year old Master champ with millions in his bank account goes back to campus, sleeps on his buddy's couch, and gets so fucked up that he pukes in a bucket every now and then. Fuck yeah! Good for him.
His selfie from the top of the Empire State went viral and the lights on the landmark were green in his honor.
All too good to be true. Then his story got even sweeter when somebody somewhere decided they'd dispel the myth of Jordan being a silver spoon country club kid. Jordan went to a very well-to-do private high school in the Dallas area. You'd think he didn't have to pay tuition simply because of his golf abilities. That isn't the case. Spieth had to work for his tuition, and he was grateful enough for his opportunity to be there that he wrote this thank you letter to the folks that granted the scholarship he earned through a work grant program.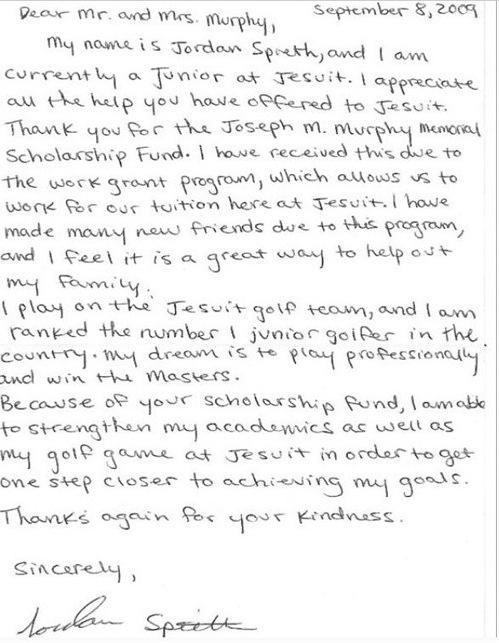 Next he walked on water. No, I kid. But he does seem to be too good to be true at this point.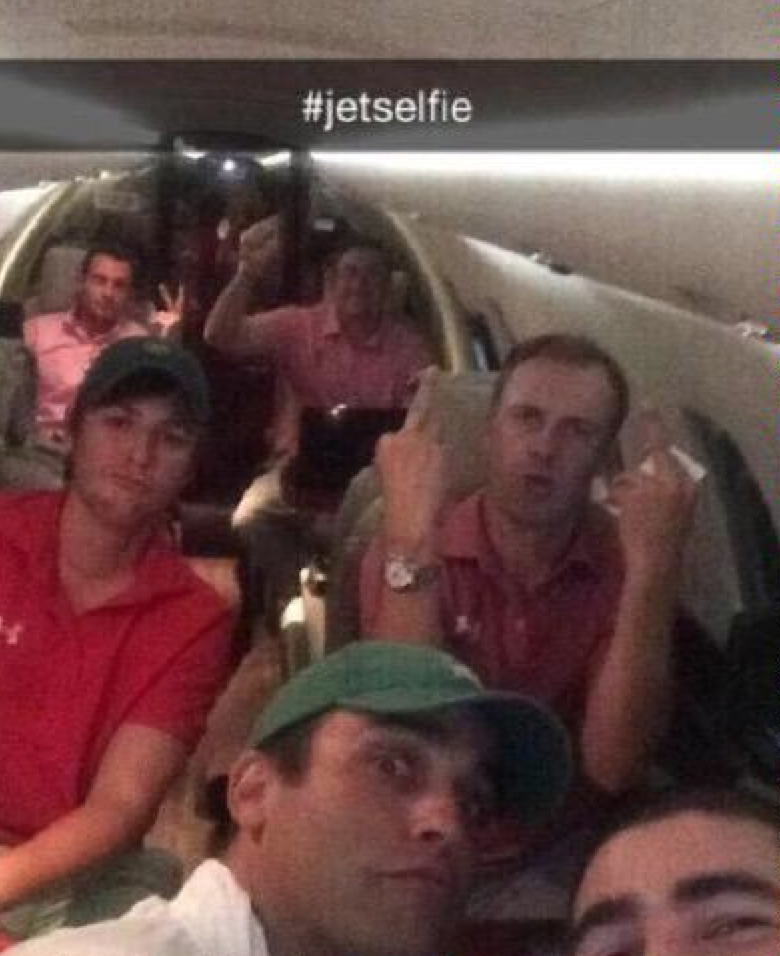 Ahhhh…..there we go. Double birds to his pal taking a candid shot on the jet. He's probably responding to a dig at his hairline. What's next for Mr. Spieth? He's on his way to Hilton Head to keep his promise to the Heritage tournament. He's also on the cover of this week's Sports Illustrated.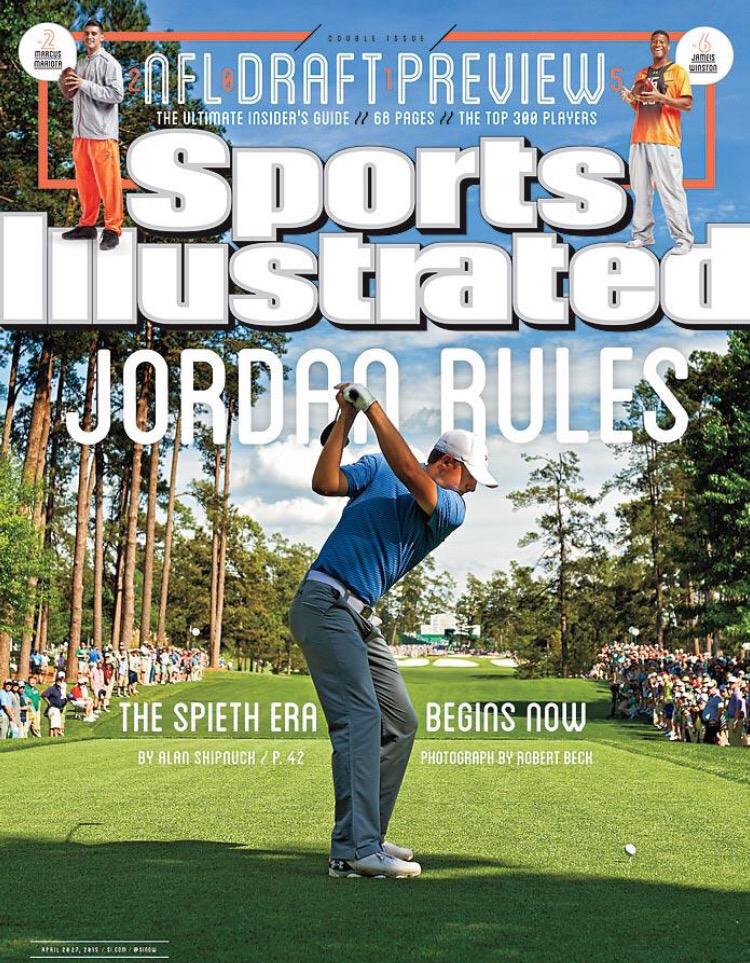 SI has been taking a lot of shit for using the word 'era'. The cover and the use of the phrase is nearly a carbon copy of Rory's cover after the 2011 U.S. Open at Congressional. I guess the Rory era only lasted 4 years.
He's Still Teaching A Kid
In the storm following Jordan's record setting win, the story of he and caddie Michael Greller getting together is starting to get more attention. Greller and Spieth teamed up out of luck. Perhaps you'd call it destiny. Jordan was in the field at the U.S. Junior being played at Chambers Bay a few years ago. Greller caddied at Chambers during his summers off from being a 6th grade math teacher. He made $55,000 a year teaching.
Spieth contacted Greller based on the recommendation of fellow (now) pro Justin Thomas. Thomas was too old for the U.S. Junior at the time. There was a hitch that almost made this partnership not happen, Greller had already agreed to loop for another participant. Whomever that kid was, he ended up withdrawing with an injury and Greller let Jordan know he was available. Greller worked for Spieth at other events following their U.S. Junior partnership and when Jordan decided to turn pro he called Greller with an offer.
Greller is married to his wife Ellie, she's also a teacher. He now had to contemplate quitting his job and hitting the road with a 19 year old kid with no status on any tour versus staying in his stable life at home with her. From how the story has been told it sounds as if she pushed him out the door to follow this dream. She didn't want him to regret seeing Jordan win the Masters in 10 years and wonder what could have been. Smart girl. The Greller's bet on Spieth and the dividends are now immeasurable.
There Is No Truth To The Rumor That He Was Also Given A Bowl Of Soup
Part of the beauty of the Masters field is that it has several amateurs in it that have been invited based on their performance in a prior year USGA event. The U.S. Mid Am champ is always invited and is really the only true amateur (non-collegiate player) in the field that isn't a pseudo tour pro. This year that man was Scott Harvey.
Harvey shot 76-81 and missed the cut at the Masters by a bunch of shots. So what would you do next if you're Mr. Harvey, you're at the Masters, and you've just had your weekend open up? If you said 'buy one of everything in the Augusta National merchandise area', you win! According to various tweets, golf journos, and ESPN's Darren Rovell, Harvey spent $8500+ on Masters swag. Well done, and worth every penny.