Kid Took The Air Out Of The Ball
Masters Sunday is supposed to be about a charge up the leaderboard, drama throughout the round and echos from Amen Corner. For two years in a row now that has not happened. Last year Bubba was without challengers. This year was Jordan Spieth dominating the course and keeping the competition at arms length no matter how many eagles were made. Why didn't we see this coming? Jordan was T2 at Augusta last year. And his prior 3 starts on the PGA Tour were 2nd, 1st, and 2nd place finishes.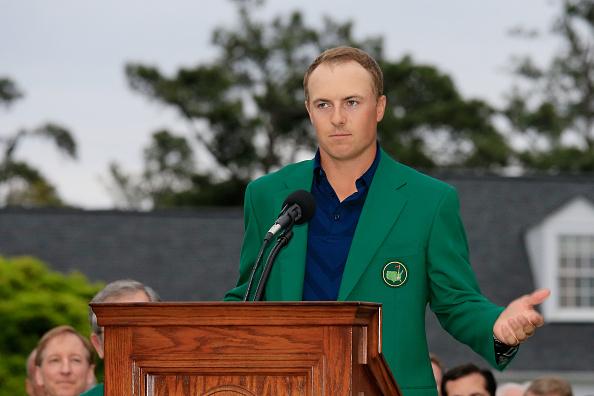 Jordan isn't the best player on the Tour in any one area, except probably the overall statistical category, but he has no weaknesses. None. Put that in his bio. Where he beats the field is between the ears. He out thinks them, he has confidence in his ability, and he prepares himself better than other players of his caliber.
When you watch Rory McIlroy hit a golf ball and compare that motion and result to Jordan Spieth's, they are worlds apart. Their games are apples and oranges. Rory is world number 1 for a reason. He's uber talented. Jordan has plenty of talent of his own, but he beat Rory this week in his brain and his preparation. He played 3 of 4 weeks leading up to the Masters. Rory played the only week that Jordan took off. When Spieth got to Augusta he was warmed up for a race in the the midst of a good lather. Rory was still trying to knock the rust off from not playing since Arnie's event and get stretched out.
Jordan also has toured ANGC many times with mentor Ben Crenshaw and Ben's caddie Carl Jackson, taking notes, more prep, etc. Have you ever heard of Rory going around Amen Corner with a former champ looking for an edge? I haven't. Last year Spieth played Amen Corner in +2 for the week. This year, on Wednesday morning, he went around Augusta's back nine with Tiger and Crenshaw. He recalled his own experiences last year there and he played the same 3 holes 7 shots better in 2015. You think that might have helped him a bit?
On his way to victory, Jordan set just a few records. I'm not sure I can even list them all.
– Youngest first round leader at Masters (21).
– 36 hole scoring record at the Masters and in the majors (-14).
– 54 hole Masters record (200, -16).
– Most birdies in a Masters (28).
– Low 72 hole total, (tied with Tiger at -18).
He also became the first player to ever be -19 at Augusta and is the 2nd youngest Masters champion next to Tiger. (Breaths) That's a lot.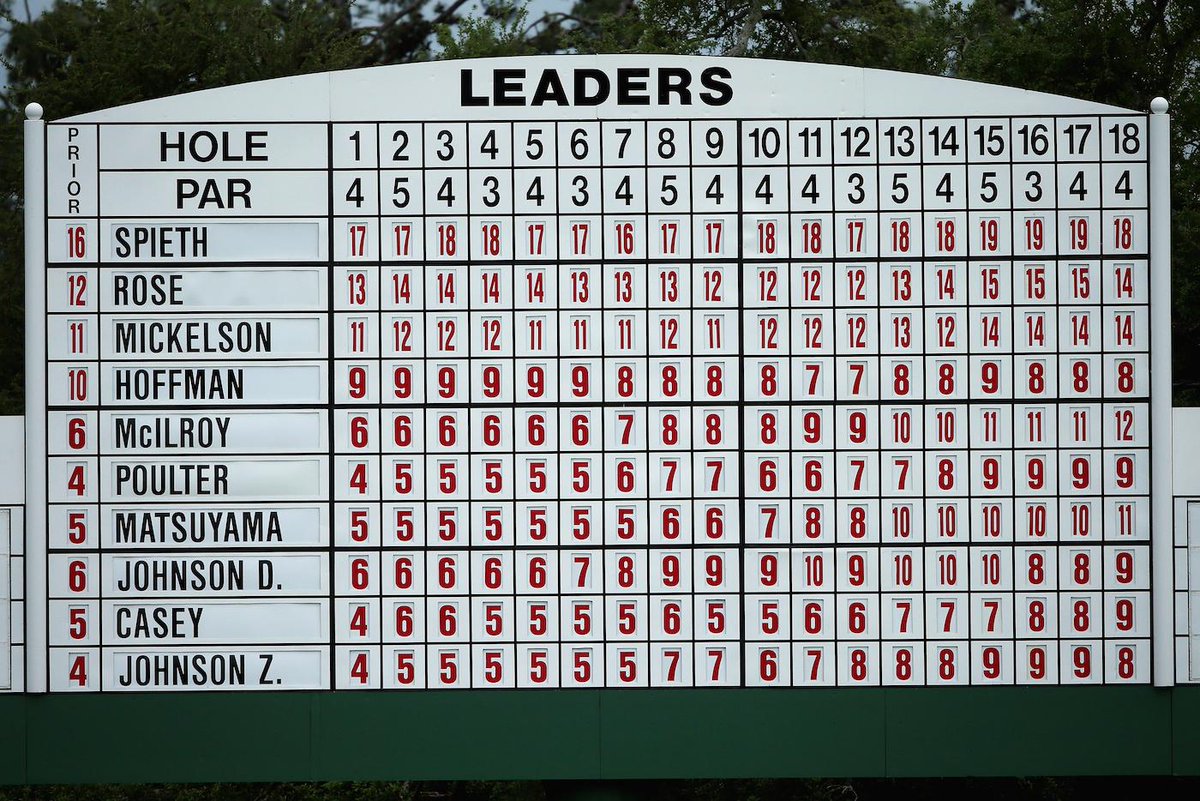 There's a debate going around the Twitterverse right now and on Golf Channel about Jordan's lack of firepower off the tee being something that keeps him from winning more majors and Masters down the road. The debate is really more about distance trumping a hot putter. Jordan is going to give up yards to Dustin Johnson and Rory McIlroy, but he's not going to give up trophies. There are plenty of ways to skin a cat and it's not like he's hitting 5 irons where others are hitting wedge. The difference is minimal. The debate is stupid. Ignore it if you see it.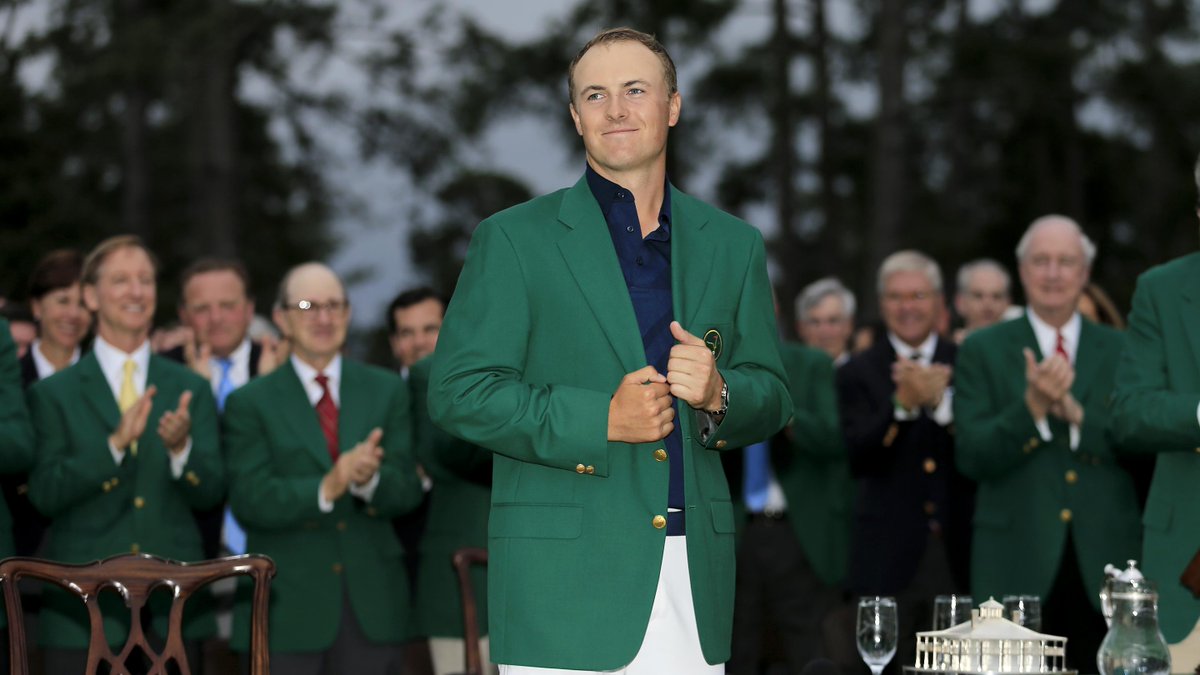 Jordan is a true champion, and not just on the course. He's almost boring because his answers in pressers are so well thought out, poignant and simple. You'd think they were handed to him by a P.R. person. Besides yelling at his ball with nearly every shot he hits in the heat of competition, Jordan is nothing but class and composure. His acceptance speech at the green jacket ceremony was all class. Everything he does is. You can look no further for more evidence of this than him keeping his prior commitment to play in next week's tour event at Hilton Head even though he's exhausted from the grind of the Masters. He gets it. Little things matter to him.
I'm not a professional golfer. I cannot provide Jordan with any worthwhile advice that he can't get somewhere else. However, if I could tell him one thing it would be, DON'T CHANGE A THING.
Winners And Losers
You might have forgotten how we roll here at SFG after a major. If you're unaware, I give my winners and losers after the big weeks on tour. Let's get to it.
Winners
Jordan Spieth – The tradition here is to make the tourney winner the big winner on my list. That's only logical. For Spieth, he's a winner for the records noted above, his new green garment in his wardrobe, and for doing it all in class.
Life is pretty good for the kid right now. He recently bought a multi-million dollar house in the Dallas area and his cute girlfriend was named the ShutFaceGolf.com WAG of the Month. That's no coincidence. These broads should be lining up to be June's WAGoTM for this site so their guy can win the U.S. Open.
Tiger Mother Fucking Woods – If you've read my drivel here after other majors you know that Tiger has made my list of losers for all 8 that I've reviewed for the last two years. My stance has been that if Tiger isn't winning the tournament, the only 4 tournaments that matter to him as he's stated publicly, then he's a loser for that week.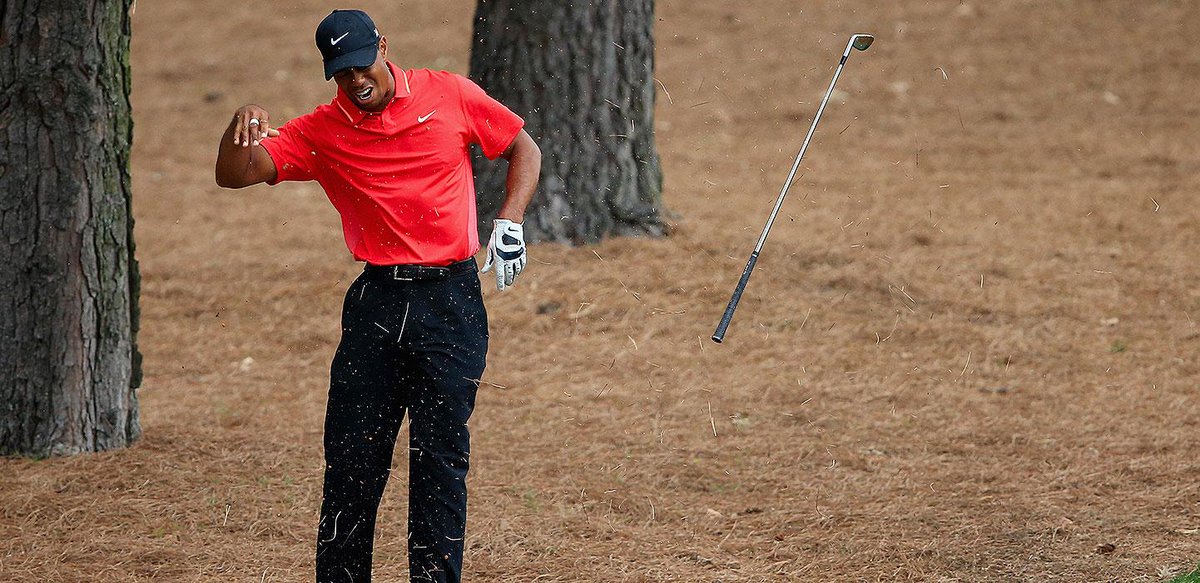 I'm dialing that back today. The greatest golfer of my generation hadn't even finished 4 rounds of a championship with a cut in about 9 months. He surely hadn't done so under par with two rounds in the 60s. His bookend 73s be damned, he played some decent golf this week. Yes, going 2/14 in hitting fairways on Sunday is terrible. But think of where he was at Torrey Pines. Think of the doubt that we had as to if he'd even play a week ago. He solved his short game issues and he can compete again. These are steps in the right direction.
He's also presumably healthy, no matter what we saw on the 9th hole today. His comment about popping his bone back in place had to be tongue in cheek. Joe LaCava should tell him that tree roots can't injure your hand if you hit it in the fairway.
Ian Poulter – Ugh, this one pains me, but I try to give credit where credit is due. IJP had himself quite a weekend at Augusta National. The green-in-regulation number might be a typo….no?? You verified it? Well fuck.
I guess we should just be thankful Poults didn't really contend and CBS didn't show his bullshit while he played well. Eat a dick, Ian.
Under Armour – Ummmmm…..duh. I bet two years ago UA was wondering if they should retire their golf product line. Hunter Mahan. Gary Woodland. Not exactly guys that can carry your merchandise into the winner circle like you need them to so you can grow your brand. Enter Jordan Spieth.
I read a tweet this weekend about UA resigning Jordan mid-contract at the end of 2014 to a ten year deal. If that is the case, the guy that had that idea should be given a parade at UA headquarters. Now if only UA would start making shit I'll actually wear. Spieth's shoes are FUGLY.
Phil Mickelson – Like Tiger above, I've often put FIGJAM on the loser side of this segment. I can't this week. He played great, he simply got beat by a guy that played better. Phil ended up T2 with Justin Rose thus completing his career slam of runner up finishes in majors. The 14 under total would have won the Masters almost any other year. Phil joins a handful of guys to pull off the 2nd Place Slam. One is Jack Nicklaus, and Jack is the only guy on that list that ever completed the career slam.
Losers
Rory McIlroy – SFG is a tough room to win over, so you shouldn't be surprised to see world number 1 and winner of the previous two majors on the loser list. High expectations that aren't lived up to don't help him either. Rory has also beat 99.3% of the golfers he has competed against in the last 3 majors thanks to his T4 finish at the 2015 Masters. Yet here he is, with another back door top 5 thanks to his lack of preparation as I noted above.
He was in danger of missing the cut on Friday and went 15 under over his last 45 holes or so. I don't think Rory's lack of prep at the Masters only hurt him this year. I think it's ongoing and something he needs to consider adjusting ASAP for next year. He's simply a better player when he's more tournament tested. His run at the end of last year proves it.
Bubba Watson – Gerry didn't play his best this week, but that's not why he's on this list. He's on it because while he was waiting around Butler Cabin to help put Spieth's new green jacket on he was tweeting out stupid trivia questions for his sponsor.
In a way, it is satisfying to see him doing that just one year after his walk in the park victory.
Las  Vegas – The house always wins, how can Vegas be a loser? Well, the gamblers of Twitterverse say the most total money came in this week on Tiger to win. However, the most total tickets were on Jordan Spieth. Those are going to pay out somewhere between 10 to 1 and 8 to 1 at most books. No, Vegas won't take a bath or lose money, but there is a significant amount of liability here in who is owed money.
Pace Of Play – One theory I believe in about the pace of play problem in our game is that slow play was learned by fans of Jack Nicklaus. Jack took forever to get ready, make decisions, and actually play his shots. He still does. I think fans that saw Nicklaus play tried to emulate him and his methods.
If I have one complaint about Jordan Spieth it is that he takes fucking forever to play shots. By the letter of the law he could have been given 15 penalty strokes this weekend. It would never happen, nor should it, but him doing it doesn't help solve the pace of play issue. It isn't just Jordan. The entire Masters field averaged 5+ hours before the cut was made. They quickened up a bit on the weekend in twosomes, but they still should be better/faster.
Justin Rose – I'm not putting him on the loser list because of how he played. He, like Phil, went 14 under for the week and would have won 95% of the Masters played with that number. Only David Duval has ever posted a lower total than Justin and Phil did this week without getting a green jacket for the effort.
No, Justin makes the loser side of my ledger because he continues to wear his wife's sunglasses on the golf course. They are as gay as cum on a mustache.
Shot Of The Day
If Jordan Spieth had stumbled once, just once on the back nine today this Shot of the Day could have been epic. Instead, it was just a really cool moment followed by some crazy back-nine-Masters-roars.
Yes, a Phil roar on Sunday sounds a little different from those made for almost any other current players. Great shot Phil. And how many of you thought he was going to hole the next one on 16 with Bones tending the flag?  FIGJAM!
Cold Turkey Is Best For Withdrawal
Well this fucking sucks. We're done. That's it. Gotta go cold turkey on no more Masters for 51 weeks. I guess all good things must come to an end. Spieth's victory isn't stunning, it is a fulfilled destiny. The Men of the Masters couldn't have a better champion. Well done.