Jordan Spieth Wears a 42R
After Friday I wasn't ready to call this one. After 16 holes today I was about to call it, then Jordan opened the door just a crack with his double bogey at 17. His wayward shots coming home might not make him sleep too well tonight. He's played brilliantly for most of the tourney and now doubt could be creeping in. His four holes over par today didn't look like the same guy from rounds 1 and 2.
Don't get me wrong, I still like his odds, but I think only two guys have a chance to catch him unless he implodes. I could see him shooting a 76 tomorrow, and if that happens about 10 guys are still in this.
Chasing It
Amazingly, Phil is in 3rd and only 5 shots back from Jordan. He's got a legit chance. If Jordan doesn't fuck up, a 65 from Phil would make things interesting. His wardrobe on the other hand, well I'm confused as fuck about that.
His pink look was pretty tight today. He said it was inspired by his recent time with Arnold Palmer. I liked it, but his shoes were the best part of the whole get up. They were some sort of crocodile skin.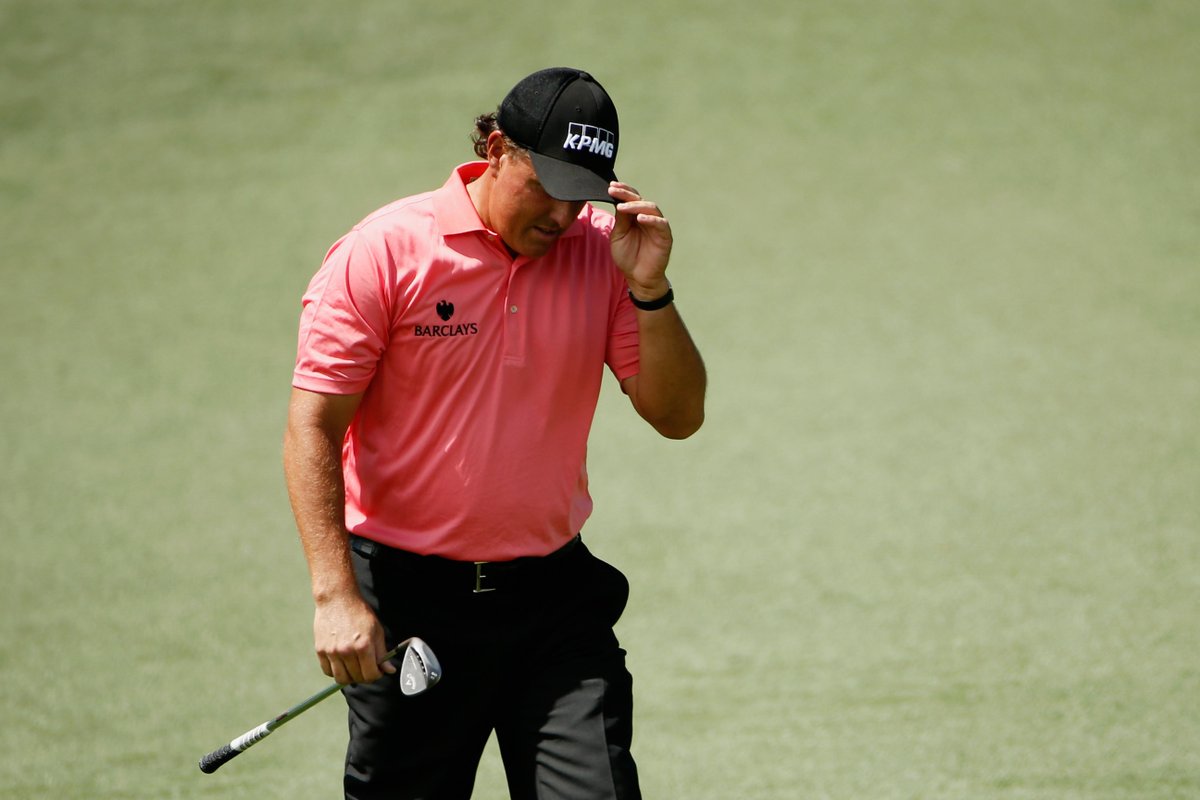 Justin Rose is the other guy that could get in Jordan's shit and win on Sunday. I'm counting Hoffman out. I don't think he can go low enough. I think he'll be happy to take his top ten and come back last year with good intentions. Rose isn't having that. He's got bigger things on his mind.
Ewww…..gay.
All kidding aside, Rose is a major champion that can make enough birdies to hunt down Spieth. He was 7 under for his last 13 holes on Saturday. That included four straight birds from 13 to 16, ending in this hole out:
Spicy. Rose also has the luxury of playing in the final group with Jordan. He'll know where he stands at all times on Sunday. He's dangerous.
Tiger isn't going to win on Sunday, unless he shoots 61. He ten shots back. But his 68 on Saturday was another step in the right direction. And there's also this:
Snap hook 170 yards into the junk….and he made a fucking birdie!!!!!! He chopped it out to 175 yards, hit it to 10 feet and drilled the put. Vintage Tiger! He's back! Of course he paired with Rory tomorrow which makes for must see TV. Why can't they be closer than 10 shots???!!!? I guess we oversold that Sergio-Tiger pairing. Did Garcia even play today?
Who Ya Got? 
Third round of a major, that means it is a tradition to poll you guys to see what you're thinking for Sunday. Who's going to win? I expect you to say with an 85% result that Jordan Spieth will win, but maybe I'm wrong. Hit up the poll and be honest.