A King, A Knight, And A Bear Walk Into A Club
Stop me if you've heard this one. Some folks think the Masters starts with the Par 3 Contest on Wednesday. I disagree. Wednesday is an exhibition of giggles. Thursday counts, but the whole ball of wax doesn't start rolling until living legends hit ceremonial tee shots. From Sarazen, Hogan, and Nelson, to now Player, Palmer and Nicklaus, the Masters begins after we all pay homage to greats at the first tee on Thursday morning. This year was no different, and if you'd like to see the Big 3 do their thing I've got you covered.
Palmer's ball was low and left. Player straight down the middle. Nicklaus hit a high fade that leaked out to the right side. All three balls were retrieved, signed, and given to the club. Rickie Fowler and Bubba Watson were up early to see the legends whack it. Like Gerry and Rick, we should enjoy these guys while we've got them, they won't be doing this forever.
Trevor Immelman Says Hello
First rounds at Augusta are not where the tournament is won. We know that. Only 1 first round leader in the last 3 decades has gone on to win a green jacket (2008, Trevor Immelman). That being said, Jordan Spieth was damn near flawless today and had his sights on the course record for much of the back nine. In fact, Jordy should have tied it if not for a sloppy bogey from the fairway at 15. Still, 64 on Thursday isn't fucking around. The kid played great.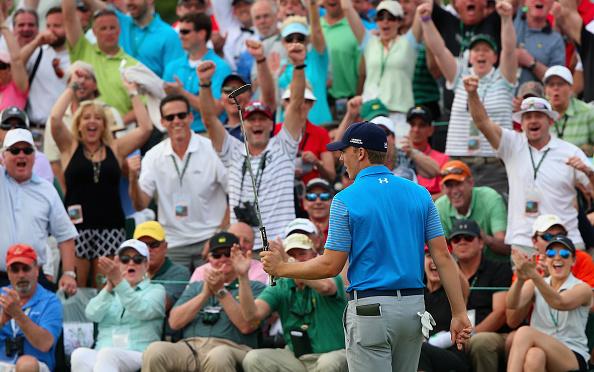 Here's some of the numbers from his round. He hit 15 greens, 11 fairways, and was 3rd in the field in putting. Putt that all together, post a 64……well, that is good enough to make some folks drool.
Take a look below at the hole-by-hole. He'll kick himself for that bogey at 15 with only 228 yards left to a par 5. That's borderline criminal, especially after making 6 birdies in the prior 7 holes. His flashiest highlight of the day was nearly jugging his 2nd shot from the right rough on 14.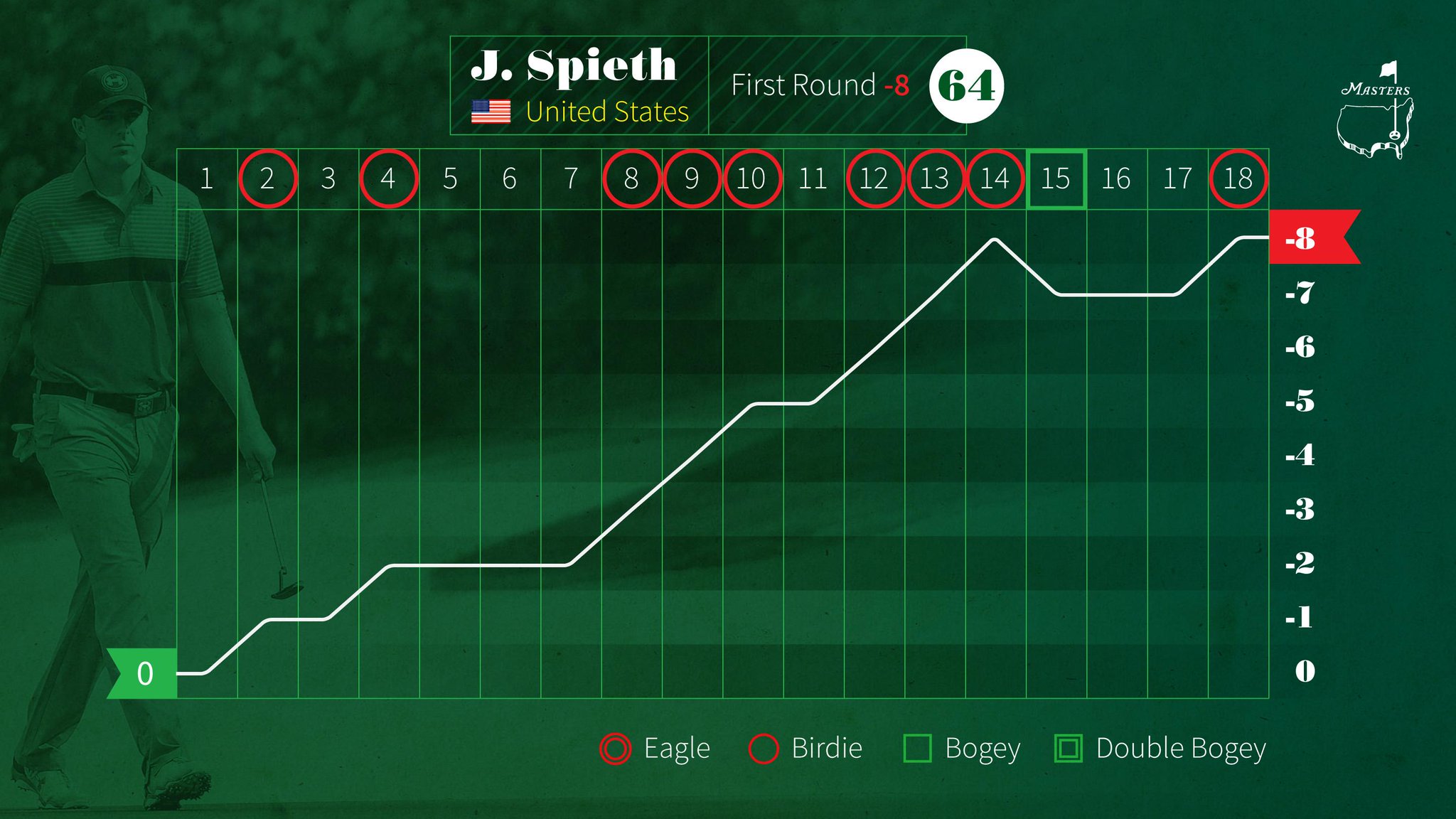 Jordan acts like a veteran instead of a 21 year old. Golf announcers say that all too often. Where this cliche rings even more true is in his post round interviews. He told ESPN's Tom Rinaldi that there's a LONG way to go. He knows the field will be trying to run him down tomorrow. A 3 shot lead is nothing at Augusta. I've seen some "experts" in Twitterworld saying that if Spieth can post something in the 60s on Friday and get done before the weather turns sour that the tournament is his. No. Even then, 36 holes on this course……anything can happen.
The Haves
If you're under par on most Thursday evenings at Augusta you're typically right in the thick of the tournament. Some people smarter me at Golf Channel have pointed out that this year might require something a little better than just breaking par to be in the hunt.
That would mean the 2015 Masters is down to Russell Henley, Sergio Garcia, Charley Hoffman, Ernie Els, Jason Day, Justin Rose, and Jordan Spieth. I don't think that's accurate. The -2s and -3s are still right there too, in my opinion, but we'll get a clearer picture once play has concluded tomorrow.
Jason Day is clearly in the mix. The Aussie had a slow start with 7 straight pars then nearly canned a 75 footer at the 8th for eagle. A look at his card from there shows you how the rest of his round went.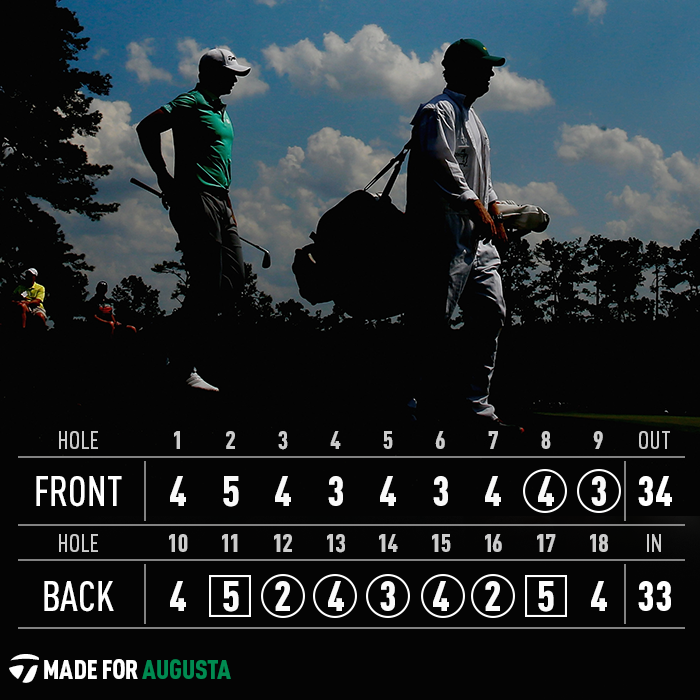 He was scorching hot from 12 to 16 making 5 straight birdies. Damn he's fun to watch when he's on. Jason told Rinaldi that he didn't play that great today. Huh? If Day betters his 67 tomorrow he'll be the guy to beat on the weekend, not Spieth.
Ernie Els was damn near magical today. He almost made eagle at 13 then turned back around and got his crystal with an eagle at 15. Only a closing 3 putt at 18 kept Els from solo 2nd. Rory drove it on a string by hitting 13 of 14 fairways. I don't think he could have shot worse than his 71. Tom Watson has 40 years on Rors and shot the same score. Watson is now the oldest Masters competitor to break par at ANGC.
The Have Nots
Bitch Tits played with Rory and bettered him by a shot. Phil will make enough birdies over the next 3 days to win, but he'll make enough bogies or worse to keep him from contending. Of course, typing that and stating that he can't win means he'll probably shoot 66 on Friday and contend to the end.
Then there is Tiger. He three putted his first hole for bogey and never found the good side of par. He never really had a chance. His short game was clearly back and that allowed him to put band-aids all over his round to shoot 73. Tiger seems to refuse to try to hit a draw, which is vital to a right hander at Augusta. He hit some bizarre shots, some great recoveries, but overall didn't have a clean enough round from tee to green to ever threaten breaking 70 or finishing under par. His 9th hole, shown below, could have been a breaking point. Instead he salvaged bogey and held the thing together.
TW looks like the guy we saw play last summer minus a bad back. He's still jumping at the ball when he wants to swing hard and this typically leads to an erratic result. He has no chance to win this week.
When I saw Ben Crane's name in the field this week it took me a few minutes to remember that he actually won a tournament last year to get his 2015 Masters invite. Ugh. Therefore I had quite a chuckle when I saw Crane's effort on the par three 12th today.
Crane finished with a tidy 79 which included a 41 on the back nine. It wasn't a good day to be named Ben at the Masters. Mr. Crenshaw, playing in his last Masters, guaranteed that he'd miss the cut and end his Augusta career on Friday by posting a fucking 91 on Thursday. That's rough. Maybe ESPN will stop showing his scores on Friday while they peak in on him finishing his final hole.
Some Sci-Fi Plant Shit
The membership at Augusta National has always been more forward thinking than the rest of the golf world, unless we're talking about a diverse membership. In 2014 the iconic Eisenhower Tree on the 17th hole was crippled by a severe ice storm and eventually chopped down. Rumors about replacing the tree swirled for much of last spring, instead that area of the hole has been left open.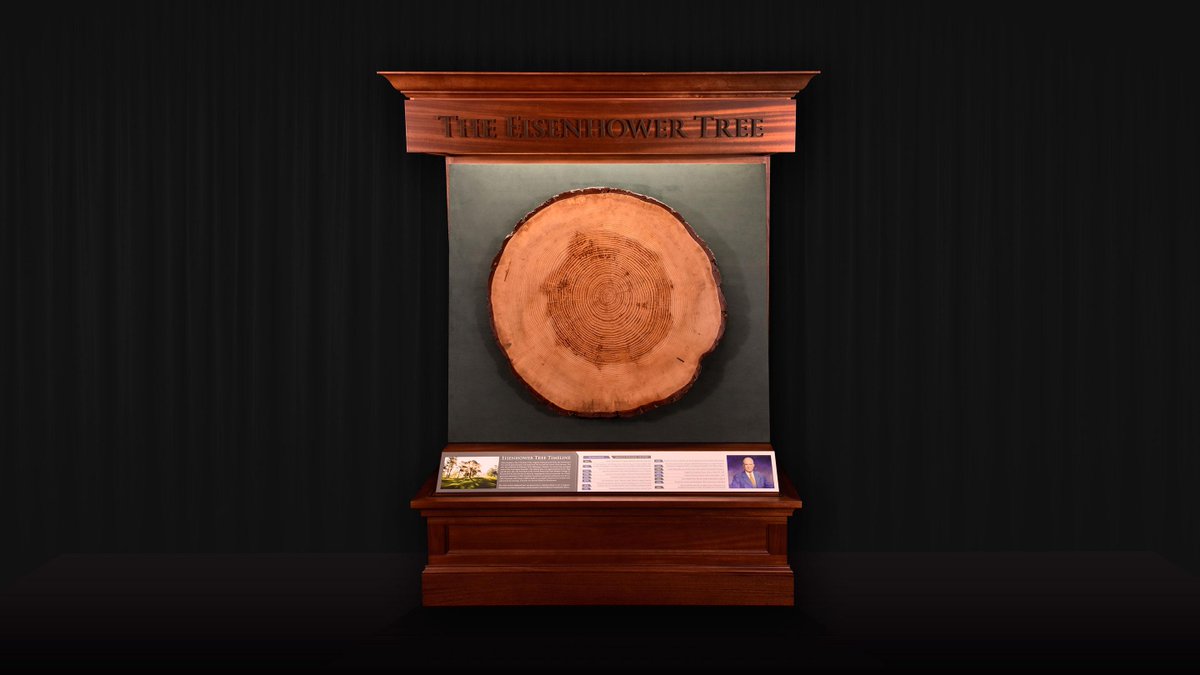 Earlier this week we found out that ANGC saved a few cross sections of the tree. The one shown above is on display at the Masters this week and will then be shipped to the Eisenhower Museum eventually. Other sections were given to Arnold Palmer and Gary Player. Palmer loved it. He's the big reason why Ike got into golf to begin with. Player told some journo that he hated the tree to begin with.
The Men of the Masters also birthed some saplings from the Ike Tree's DNA. My guess is someday they think they'll be able to plant them in the same spot even though it'll take 60 years to grow to the same size. Good luck with that.