As I Predicted
In January I wrote some tongue-in-cheek predictions for 2015 for entertainment purposes only. For the Masters I predicted Kevin Streelman would win. Well lookie what we have here, Kevin Streelman walks away from Augusta with some hardware……the Par 3 Contest trophy that is.
Streelman won by beating Camilo Villegas (more on him later) on the 3rd hole of a playoff. Streels is shown above with his caddie for the day, Ethan Couch. Ethan was chosen as Kevin's caddie to make his wish of attending the Masters come true. The 13 year old has an inoperable brain tumor. It isn't cancerous, but it is interfering with his balance, nerves, and other things. His long term prognosis is unknown. Streelman knew as soon as he won in Hartford last year that he was going to do something like this for the Masters. Then he heard about Ethan. The Couch's story hits close to home with Kevin because of the extensive ICU treatment his daughter received when she was born.
Word on the street is Kevin might have to keep Ethan on the bag for the weekend or longer. He's 1 for 1 as a looper, don't mess with that mojo. Hang in there Ethan.
50 Masters And Still Having Firsts
When ESPN did their pre-par-three chatter on SportsCenter this morning they spoke to Jack Nicklaus about his participation in Wednesday's contest. Scott Van Pelt got Jack to say he'd make a hole-in-one today, then this happened:
Wooooooo! Jack said that is the first ace he's had on any course at Augusta National. That is almost hard to believe. Jack wasn't alone paying bar tabs today. Trevor Immelman had an ace and Camilo Villegas had TWO!!!!!! No wonder he was in the playoff with Streelman.
Villegas had a third ace last week at his home course, the Bear's Club. Fuck him. Save some of those for the rest of us.
Who's Your Caddie? 
Most of you know that the Par 3 Contest at the Masters is for shits and giggles. And that is why the majority of the field has either their kid, wife, girlfriend, or other non-regular caddie on their bag for it. As I told you yesterday, Rory McIlroy had a One Direction member toting his sack. This bro hit his tee ball in the water on nine on his only swing, then fell on his face when talking to the lovely Kirsty Gallacher of Sky Sports.
I'm guessing that she's made many a guy fall on their face in her day.
Rickie Fowler had girlfriend Alexis Randcock…….errrr……Randock on his bag. She easily won the best looking caddie award.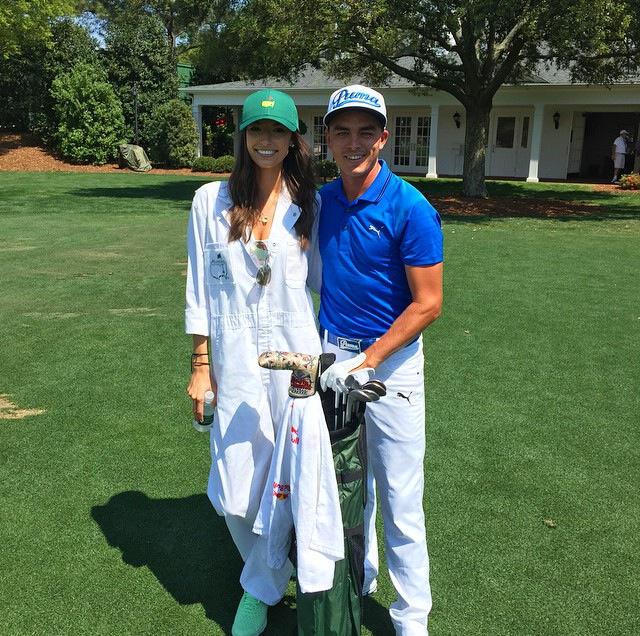 Ellie Day was the runner up. I'm digging her new blonde look.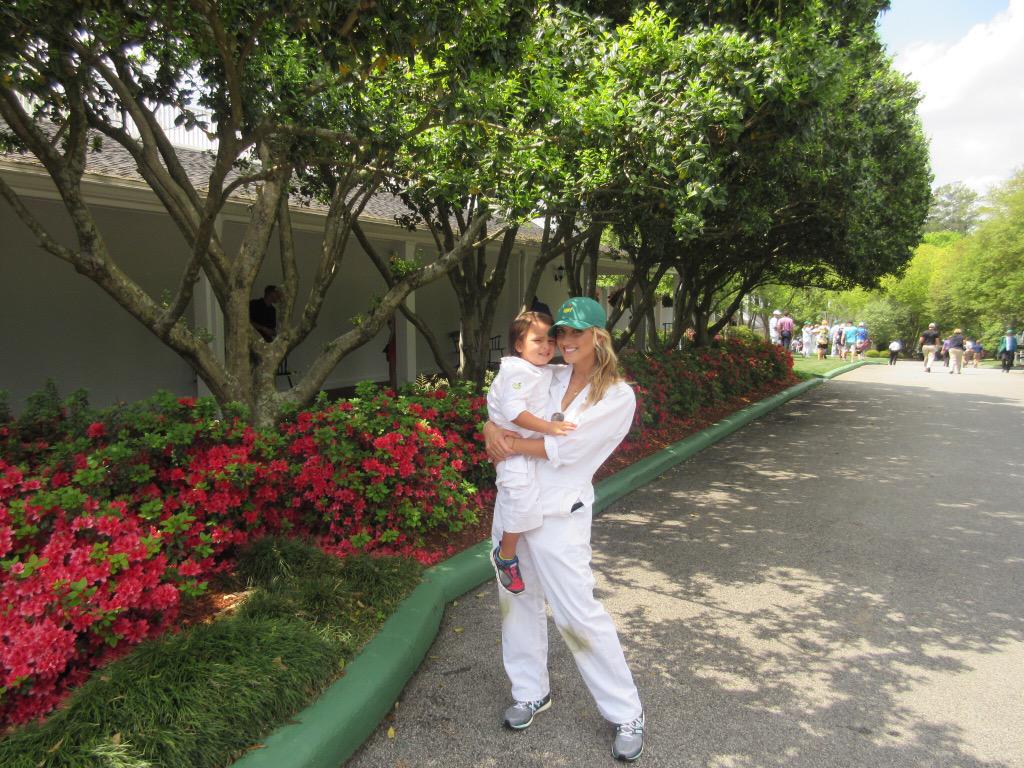 Hmmmm……her boobs look different. Is she pregnant?
And Everything Else
Outside of the Par 3 Contest, the big course is open until 3 pm and players can log more practice rounds until then. Jordan Spieth played the back nine with Ben Crenshaw. When Tiger saw them he told them he was a single and asked to join. Crenshaw later told the media that Tiger looked pretty good.
On Tuesday Phil and Rickie Fowler took on Brandt Snedeker and Dustin Johnson. Phil's team lost the match on 18 when Phil 3 whacked. No word on what the game was on Wednesday, but this tweet did come out: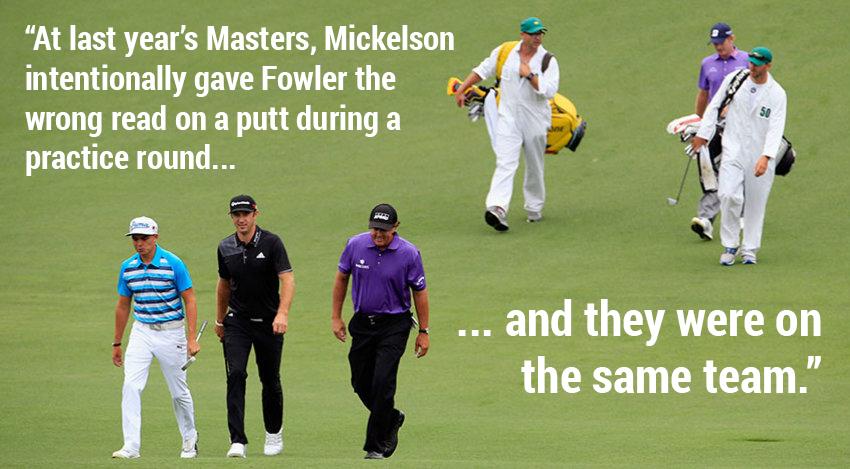 Does that surprise you? That is so FIGJAM, and almost as good as Phil telling the rest of the guys at the Champions Dinner about the origin of Adam's Scott's 2013 side dish.
Zero Hour
Earlier this week there was some doubt about whether Arnold Palmer be healthy enough to hit his tee shot tomorrow. He responded to Golf Channel's question as follows:
Arnie followed that up by saying he'd hit it past those "two turkeys". He later heckled Crenshaw on the 1st tee of the Par 3. I guess he's feeling froggy. Its on, and its time to get the party started. All the pregame is over. The course is prepped. The players are ready. And after honorary starters Palmer, Player, and Nicklaus hit there ceremonial tee shots at a quarter to 8 tomorrow we'll be knee deep in the greatest golf tournament of the world. Enjoy every second of it.