We're Going Streaking
Lydia Ko, what else can you say about her? We should all stop for a minute and appreciate her streak that just ended. In case you're somehow unaware, on Thursday Ms. Ko tied Annika Sorenstam's consecutive rounds under par streak of 29. Ko did so after struggling for much of the afternoon at the ANA Inspiration Championship and making a clutch birdie late to get under par.
TANGENT WARNING: What the fuck is the ANA Inspiration Championship? Yes, I know it was the Kraft Nabisco. Yes, I know it was the Dinah Shore. So why stray from either of those names besides the fact that the sponsor has changed? The LPGA has enough branding/image issues. Stars like Ko, Thompson, and Wie have helped the game survive and start to come back since Annika and friends retired. Why mess with what one of your majors is actually called?
Back to Ko. I suppose she's a bit lucky to have tied the streak when she did. You'd have thought that would have taken some pressure off her, but perhaps trying to break it as well as playing a tough golf course set up for a major made it come to an end on Friday when she shot 73. Whatever the case, the streak was an amazing accomplishment and I tip my hat to her. That fact that she's 17 is mind blowing.
I think this streak needs to be put in perspective. The longest streak of such on the men's tour is 26. Lydia and Annika obviously surpassed that. I think its most comparable to a hitting streak in baseball. The longest of such was Joe DiMaggio's 56 game streak. Is Ko's streak more impressive? Maybe not, but it is up there. If the LPGA mattered more in minds of American sports fans every media outlet in existence would be covering it like flies on shit.
Sexy Lexi? Ummmmmm……..You Tell Me
Like many golf outlets, including this one, Gold Digest has promoted itself with the use of good looking women. Their May issue has become dedicated to fitness. Two years ago they featured (then) Golf Channel personality Holly Sonders in snug outfits with her tits popping out. I loved it, but it didn't make me go buy the magazine. Last year they followed the Sonders M.O with Paulina Gretzky on the cover. That caught a lot more flack for the fact that Gretzky has little to do with golf beside having a child with a current tour player (and she wasn't even pregnant at that time). I think said flack caused the GD staff to make their selection a little more carefully this year, and young super star Lexi Thompson got the nod.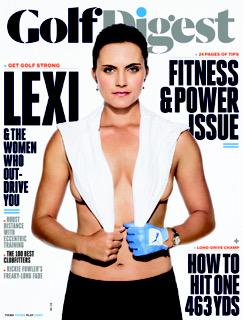 Good for her, good choice, but I didn't need to see her little tits flopping out the side of the towel. I think she's a tremendous talent. I think she was a great choice. I think they could have showed her legs, etc. So why go topless? Hey, I'm all for that in most cases, but I don't find her attractive. Her eyebrows need to be waxed too.
Selecting a bonafide women's golf star didn't shut up the haters for this issue. For reasons opposite of mine, they also questioned why she's topless. They should be more bothered by the premise that a few words in this publication can teach a weekend hack to hit a 463 yard drive. That's pure bullshit.
So what do you think about Lexi's cover? I'm not debating the choice, but simply….do you find her attractive? She's old enough now to look at in such a way, but I don't. I'm not sure why. I think she's a great athlete. I think she might end up being the greatest female golfer of all time, but I wouldn't touch her with your dick.
How many beers?